Successful participation in the "Certificate in Advanced English" (CAE)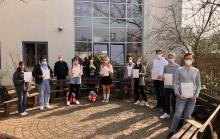 Eight high school graduates received their well-deserved Cambridge certificates "Cambridge English: Advanced" or "CAE" for short. The globally recognized certificate has been awarded at our school for the 15th time since 2005 and confirms that the graduates have an excellent knowledge of English. Since January 2020, the students have been carefully prepared for the exam in a two-hour course by Ms. Schrecker, a "native speaker". The certificates were again awarded this year in beautiful spring weather and in a warm atmosphere by the headmistress, Ms. Manig, and the representative of the Lions Club Wiesbaden Mattiacum, Dr. Schrecker, to be handed over.

The language of the course was exclusively English and the course content mainly related to the areas of everyday life. Most recently, examination papers were repeatedly practiced on the sometimes unusual task formats and corrected by the course instructor. The Cambridge certificate facilitates access to many universities abroad - a language test is no longer required - but is also valued by many employers in Germany as proof of excellent language skills. The school community congratulates the graduates on their top performance and wishes them to make good use of the certificate in their upcoming applications for a university or vocational training position.

To the CAE exam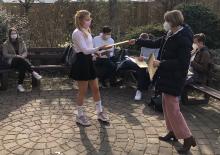 On Saturday, December 12th, 2020, the oral and written exams took place at the VHS Mainz. All eight GMB candidates have passed the exam and receive the CAE (C1). One student even earned the CAE at the highest level C2 - an excellent result! The efforts and efforts of the AG participants have paid off and the course leader was "rewarded" for her commitment with these great exam results.

On the future of the CAE at the GMB
In the future, too, we at the GMB would like to ensure preparation for the renowned Cambridge certificate, which can open (international) doors for later professional life.
The starting shot for the new CAE course will take place this year at the beginning of the new school year 2021/22. We will inform you in good time.
We are pleased that we have an experienced "native speaker" at our side in Ms. Schrecker as a course instructor and that the Lions Club Wiesbaden Mattiacum has supported us as a loyal partner in this school project for over 10 years: THANK YOU!