Which plugins does WordPress allow
11 WordPress plugins that will help you create great content
F.
Did you know that WordPress rules over 25% of the internet? And what about the fact that there are around 44,000 different plugins that you can install?
The statistics fill volumes and each one shows that this content management system is the best of the best.
While a lot can be done with a WordPress powered website, there is one thing that is not possible - creating high quality content. You still have to do that yourself.
Given that over 80% of B2B marketers employ a content marketing strategy, it's important not to be left out. That's not to say that you should spend all day blogging content, even if it's definitely one of the most effective content marketing techniques out there.
Maybe content creation is just your thing. Maybe that's natural for you. On the other hand, it can of course also be the case that it is an area in which you can stumble.
Since longer posts generate more traffic and achieve higher rankings, it's important to never be careless when creating your blog content. "Quality over quantity" is the right strategy.
The aim of this post is to help you create great content with the help of various WordPress plugins. And there's a lot more to it than just writing.
Of course, I don't expect you to use every single one of these plugins. But no doubt some of them will help you improve your current strategy.
1. Word Stats
"A collection of word counters, keyword counters and readability analysis for your blog."
When you hear the term "linguistic diagnostics" what comes to mind? Probably not much at the moment, but that will change as soon as you install the Word Stats plugin.
This tool gives you access to a number of other tools that will help you improve the quality of your content.
My favorite feature is the reports as it allows me to analyze content based on a specific author. The reports have the following to offer:
number of words
Type of article in numbers and percent
Top 20 keywords
A graph showing the monthly word count by article type
But best of all is a diagnostic table that links to posts that require your attention. These include posts that are too short, too difficult to understand, or posts with too many keywords.
How your content can be read is important to your success. Use the Word Stats plugin as a guide to creating higher quality content.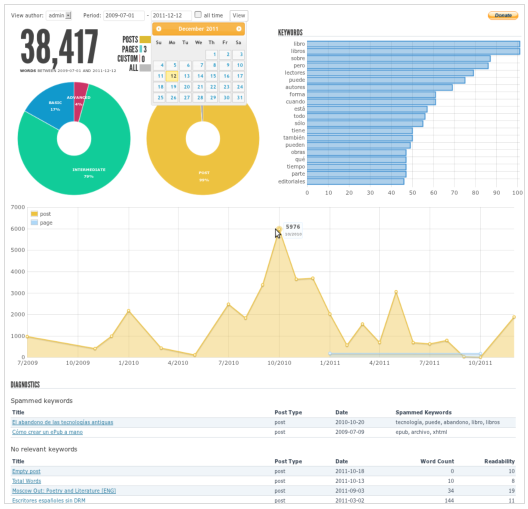 2. PrePost SEO
"WordPress SEO plugin: plagiarism check, duplicate content, dead links, keyword density, content, meta tags, image optimization, etc."
There's not much this plugin can't do. Are you worried about duplicate content? Done. What about the keyword density? Here, too, PrePost SEO does the work for you.
Some of the top features are:
Link counter
Finding dead links in your texts
Calculating the keyword density
Analysis of meta tags
Suggestions for improving your content
Optimization of the headings
As you can see, the PrePost SEO plugin is a real all-rounder. From content to search engine optimization, you can fully rely on the analysis of this tool.
Tip: Using the plugin will also help you become a better writer. Over time, you will learn what your content should look like and what better to avoid.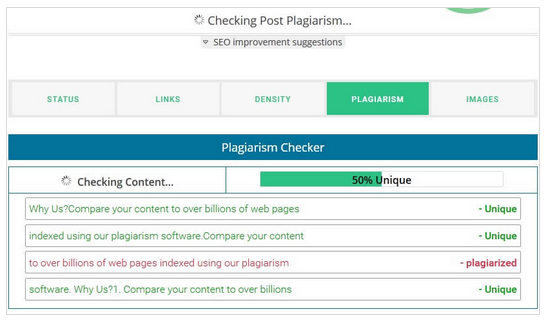 3. Editorial Calendar
"Editorial Calendar provides an overview of all your posts and allows post management via drag and drop".
When creating content, it can quickly happen that the organization, schedules and management are forgotten. And all of this is no less important than your content itself.
The editorial calendar plug-in helps you manage your content and thus ensures that you always provide fresh content - and at the best time for you and your readers.
Some of the best features are:
Overview of all your posts and the date of publication
Drag and drop support
Easy access to the status of every post
Tools to manage posts from multiple authors
Let me put it this way: high-quality content will be of little use to you if it rotates as a draft on WordPress.
As soon as you have installed the plugin, it will immediately be easier for you to manage and organize your blog. You want to create great content. But you also have to make sure that the content is seen by your audience at the right time every time.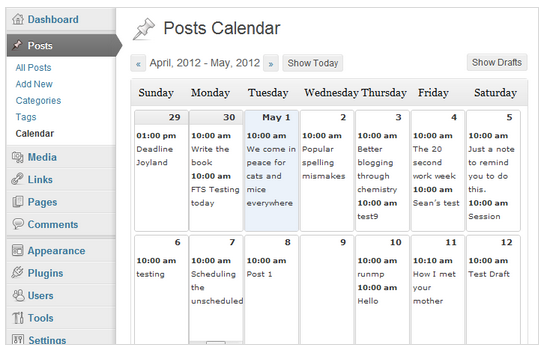 4. WP Keyword Suggest
"This SEO plugin offers keyword suggestions from the autocomplete of Google, Yahoo, Bing ... up to 250 keyword ideas."
The plugin, which is also one of the easiest to use on this list, will help you assign the best keywords to your content. Thanks to the way it extracts information from Google, Yahoo and Bing, you'll never have to worry about the best keywords for your next post again.
Take for example the topic of "keyword research". Of course, you know what the main keyword will be. But there are others that will help you empower your content and improve your chances of generating long-tail search traffic.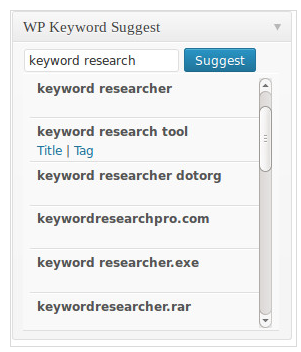 This example shows you a long list of suggestions related to your main keyword. Some of them fit, while others are not so good. But this plugin will definitely give you food for thought.
WP Keyword Suggest isn't the most advanced plugin out there. But when it comes to creating better content, it's definitely worth a second look.
5. Easy content templates
"This plugin allows you to create content templates to quickly create new posts and pages."
No two contents are the same, right? For this reason, it can happen that you want to present your content in a different format.
With the Easy Content Templates plugin, it is child's play to create content templates in advance for later use. You can keep these templates private or share them with other authors. This enables you to present your content in a unique way.
For example, you could create a template for regular blog posts. You may also have one for posts about competitions. And if you want to show lists on your blog, you could also create a special template for them.
All in all, this plugin gives you the opportunity to enhance the overall impression of your blog by varying the appearance of your posts.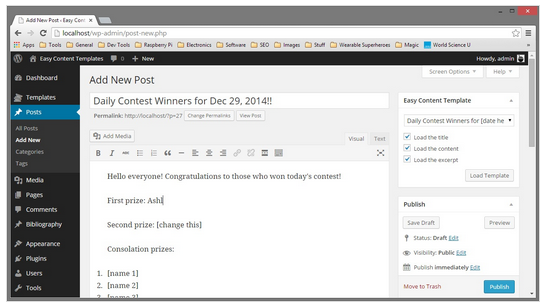 6. Search Everything
"Search Everything expanded the search functionality of WordPress in three easy steps".
As your blog grows, it becomes harder to keep track of all of your publications, so it can sometimes be a challenge to provide your readers with new information and advice.
The Search Everything plugin helps you overcome this problem by allowing you to find everything you need when creating new content.
The plugin recently went one step further. According to the manufacturer, it allows you to "browse and link posts while you are writing".
Here's an example: You're working on a guide to SEO tools and want to link to older posts on the topic. Instead of the hassle of searching manually, this tool does the job for you.
The application is very simple. Activate the plugin, set the options and start a search.
Most blog owners want to grow their blog into an influential voice in the industry. While you're creating new posts, plugins like this one will save you valuable time without sacrificing quality that can negatively impact your audience.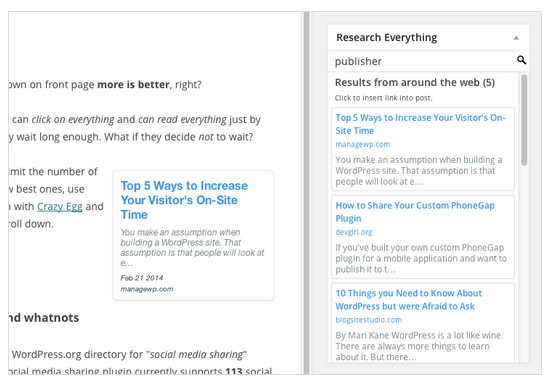 7. Add Link to Facebook
"Automatically add links from your published posts to your Facebook pages, groups, etc.".
Great content is a good start, but there is more to success. Don't forget that content that nobody knows is of no use to anyone. Therefore, it's important to reach your target audience in as many ways as possible.
And that's exactly why the Add Link to Facebook plugin is so practical.
The configuration is simple:
Once you've done that, you can use the plugin to share your content between your blog and Facebook and back and forth.
Of course, there's nothing wrong with manually adding links to your content on Facebook. In fact, sometimes that's even better. But there are also situations in which you might need a little help. Then the plugin can help you.
It doesn't cost you a dime to experiment with this plug-in. Ultimately, you will probably soon realize that the best way to share your content on Facebook is to increase your reach.
A tip: The plugin can also help you to better understand what kind of content is best received on Facebook. Then you no longer have to puzzle around so much which content will be worthwhile in the future.
8. SEO Internal Links
"SEO Internal Links automatically provides SEO-effective internal links for your website, keyword lists, no-follow and much more".
Of course, you understand the importance of original content. You also understand the importance of quality content. In fact, you probably know that long-form content has the best chance of getting that coveted first page on Google.
But even with all of these details in mind, there are still things you can do to improve the user experience. For example, you can include internal links to other content that supports your post.
The SEO Internal Links plug-in makes this a breeze as it does this job automatically.
Since the plugin is fully configurable, you don't have to worry about it negatively affecting the user experience or the search engine ranking of your website.
Some other functions of this plugin are:
The configuration of your own keywords and URLs
Optimized admin panel for easier use
Creating your own keyword list
You can write the world's best blog post on a specific topic. It is not 100% complete until you have built in a reasonable number of internal links. With this plugin you can save time not to neglect this important strategy.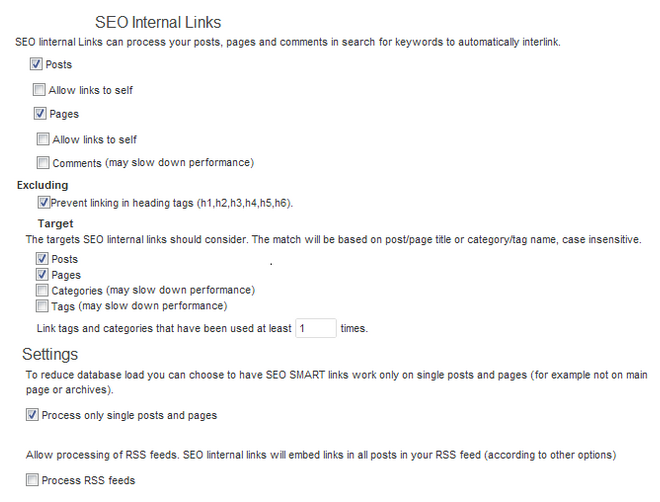 9. Zedity
"Easily create 100% visual posts and pages with professional results without any coding knowledge".
This plugin has more than just an interesting name because it is one of the best and most user-friendly plugins out there. It allows you to enhance your posts with unique designs.
Here's a glimpse of the editor's configuration page:
Here you can incorporate a whole range of different design elements and drag and drop them around the page until the look is perfect. Here is an example:
It's been proven that what you say and how you say it has a direct impact on your traffic, branding and search engine ranking, among other things. But that doesn't mean your posts have to be boring.
With the Zedity plugin you can drastically change the look and feel of any page without using a single line of code.
You should test this exceptionally flexible design plugin extensively. Create a post and experiment with some design elements to figure out how the tool can help you present your content in an extraordinary and engaging way.
A few minutes are enough to find out how it works. With time and more experience you will see that you can use many functions well.
10. ImageInject
"Easily add pictures and photos to your posts! ImageInject searches the vast Flickr database for Creative Commons photos on any subject ".
Who said that "content" is limited to the written word? In order to equip your blog with real great content, you have to think about more than just your words, namely also about the images and photos that you want to use.
There are many advantages to using images, such as:
SEO benefits
Splitting the text for better readability
Added value for the content, e.g. illustrating an argument
The big question, however, is: how do you add images to blog posts?
Since you probably neither have the time nor the resources to take your own photos for all topics, you have to rely on other people. With the ImageInject plugin you can easily pull images that match the content of your posts from the Flickr database.
Here is an example of how image search works:
So you no longer have to take photos yourself. And you don't have to waste valuable time searching the internet for photos to use.
This plugin brings all these functionalities into your dashboard, and enables you to find and integrate images in seconds.
In addition to Flickr and its own database with over 200 million images under a Creative Commons license, the plugin also searches Pixabay. That packs another 150,000 freely usable photos on it.
When creating blog content, you need to look for more than just words. You also need to think about using images to improve the user experience for your audience.
11. Edit Flow
"Editorial workflow, redefined."
That's a slogan that gets to the point. With Edit Flow you can manage your workflow even more efficiently in next to no time.
You can adapt the plugin to your needs and use the following functions:
Monthly calendar
Editorial notes
Notifications
User groups
Budget per item
The notification function makes it much easier for you to keep yourself up to date on the work of your team.
If you're not well organized, you can't expect great content either. Your workflow must be optimized and efficient, as this is the only way to achieve the highest level of production. To achieve this goal, I recommend the Edit Flow plugin.
Tip: The plugin is equally suitable for individual bloggers as well as for larger teams. It's not always easy to get a large team of editors and writers under one roof, but Edit Flow definitely makes it easier.
Conclusion
Before I let you go into your everyday life, I would like to share some of the data published by HubSpot on the importance of blogging with you.
B2B marketers who blog get 67% more leads than those who don't.
Blogging only costs you one thing: time
Companies that blog get 97% more links
You don't have to use WordPress for your blog, of course, but it's the best solution right now. If you use one or more of the plugins presented, it will certainly be easier for you to create high-quality content.
Would you like to add any other plugins to the list? Let me know your experiences and thoughts in the comments!