Shall we tell everything to our parents?
Growing up in rainbow families: "We are not an experiment"
Friderike Körner (left) has two mothers: Constanze Körner (right) and her wife Claudia Photo: Julia Zimmermann
There are more and more children with same-sex parents. What is it like to live as a rainbow family? Three children and their parents talk.
Social progress is sometimes expressed in silence. That one of his classmates has two mothers? A nine-year-old from Berlin doesn't think it's worth mentioning. He only talks about it when asked. Children from rainbow families are now part of everyday life in many daycare centers and schools, especially in the big cities. Some also become famous, such as Judith Holofernes, the singer of Wir sind Helden. Or Sanna Marin, Prime Minister in Finland. Both grew up with lesbian mothers.
Families with homosexual parents have probably always existed. But rainbow families have only become more socially visible in the past two decades. They appear openly as one family model among others.
And they are growing: in 2005 there were around 3,000 families with same-sex parents in Germany, according to the microcensus of the Federal Statistical Office; last year there were 15,000, i.e. five times as many. This doesn't even include homosexual single parents with children.
A development that went hand in hand with a change in awareness. It used to be clear to many lesbians and gays: children are not an option. That changed with the liberalization of society, says Pia Bergold, who researches rainbow families at the State Institute for Family Research in Bamberg. "It became clear that homosexuality and parenting do not have to be mutually exclusive." Innovations in reproductive medicine have also made it easier for lesbians and gays to start families. Above all, there have been legal changes since the noughties that, although not completely equating homosexual couples with hetero couples, offered them more security.
Rainbow families are becoming more natural. And yet they still encounter the old thought: a child needs a mother and a father. Numerous studies refute this. According to this, children from rainbow families even show fewer behavioral problems and emotional problems than their peers with heterosexual parents. Pia Bergold justifies this with the parents' situation: unlike heterosexuals, lesbians and gays have to overcome biological and legal hurdles for a family. "If you can do that, you really want a child."
Parents from rainbow families are also more likely to be academics, they earn better than the average. Bergold says: "Whether the children are doing well ultimately depends above all on the quality of the family relationships."
Throughout Germany, around 22,000 children are now living with same-sex parents. Children born in the nineties or early noughties are now adults.
We asked three of them and their parents: What does it mean to grow up in a rainbow family? How did you deal with it yourself, how did other people react?
They were quick to talk about themselves. They want their normality to become normal for everyone, not just for nine-year-old boys from Berlin.
Friderike Körner and Constanze Körner
Friderike Körner, 22, is studying upbringing and education in childhood in Berlin-Marzahn. When we meet in the café, she talks in a friendly but firm manner. She does not allow herself to be irritated by the wasps buzzing around.
"I don't remember when I even noticed that our family was different from others. A friend recently told me that my twin brother and I stood in front of the class in elementary school and explained our constellation. I can't even remember that.
I grew up with mom and Claudi and with my twin brother. Claudi is mom's wife. Mom used to be married to my father, but when we were very young she fell in love with Claudi and separated from him. Later my two little siblings came along and Claudi gave birth to them. We lived together in an apartment with a garden in the southeast of Berlin. I now live in a shared flat with my brother.
I also have a big sister, she grew up with my father in Cottbus, we visited her there. It all seems confusing to outsiders, but it has always been normal for me.
My little siblings say "mom" and "mommy" to our parents, my twin brother and I don't. After separating from my father, there was a lot of stress about custody at the beginning. Claudi didn't want to interfere even more in the constellation, so we shouldn't call her Mommy.
How we call them is not important in the end, Mama and Claudi are my closest caregivers. We went to see my father maybe every other weekend. I think it's a shame that only two parents can have custody. If I needed a signature for anything, Claudi could never do that, Mom always had to sign it, Dad wasn't there. Why can't children legally have two, three or four parents? That would have made our everyday life easier.
In elementary school, our family wasn't really an issue. Later it was more difficult, everyone was bullied at times, "gay" was a common expression. My brother was also teased: he was effeminate because he only lived with women. Sometimes I got involved.
When I was maybe 12, an older boy told a gay joke. I asked: "What is that supposed to mean? Do you even know what that means? "After that everyone was silent. I met the boy, on a walk he wanted to know exactly how it is with my parents, whether I am a lesbian, because my mothers are lesbian and things like that. I explained to him that these are not related.
I notice that the classic family pictures from advertising have an impact on me, even if I experience it differently at home. I try to defend myself against this, especially against this image that women are weak and need to be saved.
Once our teacher at school said: "I need three strong men to carry to the table." I asked: "Why men? I also have muscles. "At some point I was allowed to carry tables.
After graduating from high school, I went to Paraguay for a voluntary social year. I've worked with guys from the street who couldn't read or write. A staff member there said they would beat up gays or lesbians right away. I preferred not to tell them about my two mothers.
A few years ago, in a newspaper interview, I was asked which of my two mothers would be father and who would be mother. I thought about it: Mom works more, but Claudi knows more about handicrafts ... At some point I realized: This assignment is total rubbish, everyone is what they are. Above all, children need stable caregivers, who can be two mothers, but also a grandma or an aunt. It's about the quality of the relationships, and that's great for me. "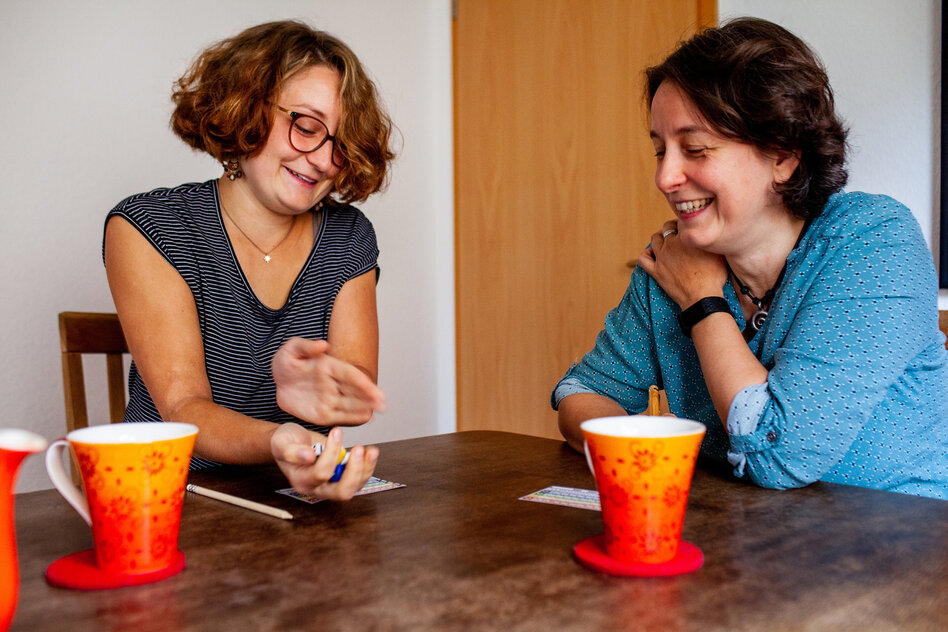 "It's about the quality of the relationships, which is great for me": Friderike (left) on her family Photo: Julia Zimmermann
Constanze Körner, 47, runs the "LesLeFam - Lesbian Life Family" association in Berlin-Lichtenberg and is Friderike's mother. As soon as she heard about the idea of ​​the minutes, she was immediately ready for a conversation and also arranged contacts with other families.
"When I separated from Friderike's father, I was 25 and already had three children. I was very afraid, but I was sure: I have to do this now. I was very much in love with my current wife Claudia, that gave me strength. I thought the children would stay with me, the father was hardly there anyway because of work. But he fought. That was a huge drama for years, the big daughter finally came to him, I hadn't expected that.
My ex-husband's lawyer even questioned whether lesbians are capable of bringing up children in court. That didn't work at all. But at the beginning of the noughties, there was still this old conservative way of thinking. In the Federal Republic of Germany, withdrawal of custody of lesbian mothers was common practice, and it was difficult in the GDR, too. Today I would take action against such arguments, but then I had no idea, no legal counsel and just feared that I would lose all the children.
Claudia and I, we discussed for a long time what the twins should call us, they just learned to speak. Two mothers, we didn't want to bring this provocation. Our families were very skeptical. My mother said: "Claudia is not the mother, you are the mother." Nobody believed us that we would stay together. There were no role models for ourselves either. We didn't know that two mothers could call themselves "Mama" and "Mami", as is customary today.
It was a good time, but also a hard one. We didn't have any networks. I come from a pastor's family and grew up very heteronormatively. At the time we thought: We can't be the only woman couple with children in Berlin, can we?
We placed an ad for recreational activities with other lesbian mothers with children, and that worked out well. We are still friends with these families today. The situation made me politicized. I made advising lesbian and gay parents my job and in 2013 I co-founded the first German rainbow family center in Berlin.
"Over the years they have accepted that we as a pair of women are not aliens"
Friderike grew up with the rainbow flag in hand. What we first had to fight for was a matter of course for them. When she was a little child on the S-Bahn, she was surprised that a man and a woman would kiss. She didn't know that.
She thinks injustice is terrible and then says something. Your brother prefers to stay in the background. She partially defended him at school when he was labeled gay because he has two mothers.
The children have to support my coming out for their entire life. You have to justify yourself for it. That's why my motto from the start was to get involved, in daycare, in school. My children shouldn't have to pave this way themselves, I wanted to go ahead with broad shoulders. In the noughties, parents from rainbow families still said that their children were beaten up in the schoolyard. Fortunately, I don't hear anything like that anymore.
Time has rightly jerked a lot. After we came out, there was a lot of incomprehension in our families. Today we have frequent contact and nice meetings again. Over the years they have accepted that as a female couple we are not aliens and that we have a serious relationship. We are married, have a house, a garden, and have gotten off to a good job. We are not an experiment. "
2001 The registered civil partnership, the so-called gay marriage, was introduced - a first legal framework for same-sex couples.
2005 came the stepchild adoption: Since then, lesbian women have been able to adopt their partner's biological child and thus receive parental rights.
2013 the Federal Constitutional Court decided that gays and lesbians may also adopt the adopted child of their life partner.
2017 With "marriage for all" the status of same-sex couples was largely adjusted to that of heterosexual couples. The wife of an expectant mother - unlike a husband - still has to adopt the child after the birth.
2021 There could be changes in this question: According to a draft law from the Ministry of Justice, women who are married to the mother at the time of birth or who have recognized motherhood are also to become a mother in the future.
Simon F. and Frank Bruno Riebesell
Simon F., 18, is in the 10th grade of an upper school center with a focus on media in Berlin. Simon doesn't talk much of his own accord, you have to ask. But then he tells.
"I came to my parents' home in 2003 when I was one and a half. My birth mother had psychological problems. It's gone, somewhere in the world, nobody knows where. I don't remember her. My biological father was gone before the birth. As a baby, I had to go to different foster families, and then my fathers took me in. For me there was always only my parents with whom I now live. My brother is two years older. He came into the family before me and has other birth parents.
I started school in 2008, there weren't that many rainbow families back then, some thought it was funny. I was often asked how it works to have two fathers because they couldn't bring me into the world. I then explained that I also have a mother who is not there.
Sometimes I was raised in class with my parents. Most of the time I just ignored that. They thought my family was my sore spot, but it wasn't. It was never a problem for me.
Two years ago I had problems with school, I just didn't go. I didn't understand anything. Instead, I hung out at home. My parents noticed that, of course. You sent me to a boarding school in Schleswig-Holstein. Then I graduated from there.
At the boarding school, they reacted with great interest to my family. Some have asked if it wasn't weird to catch my parents having sex. I said it would be weird with normal parents too. I met one at boarding school who also has two gay fathers.
"My biological grandfather didn't want to meet me because of my gay parents"
I myself am clearly interested in women. I once had a girlfriend, but only for a short time. I don't care if people are gay, lesbian or straight. For me, good parents are those who can raise their children. You shouldn't be overwhelmed with the situation and fail completely, but should also manage to reassure the child to be there for them if there are problems. My mother couldn't do it. I don't think she could manage it at all.
My biological grandfather was anti-gay, also a bit racist. He didn't like it that my mother had something with a black guy. He said he wouldn't want to see me because of my gay parents. I think that's awesome.
I have been in contact with my mother's family for some time. I have seven birth siblings. My grandfather died a year ago. My grandmother really wanted to get to know me afterwards.
Last year, shortly before Christmas, there was a family reunion at my cousin's, they invited me, that made me happy. My grandmother asked a lot about my life, what my gay parents are like, how I feel.
I don't know any other families with gay parents in Berlin. But I don't feel like an outsider. I think you only get this feeling when you want it.
Everyone knows that there are gay families. When my father talks about his husband, for example at the checkout in the supermarket, nobody ever asks. My father shows that he is not so embarrassed about many things.
I've been back in Berlin since the summer vacation. In three years I want to do my technical diploma. I like films, especially superhero films. My dream is to become a director. "
"Foster children are something special"
Frank Bruno Riebesell, 55, runs a primary school in Berlin-Wedding and is Simon's father. On the day of the conversation, he is in a great hurry, but he insists on ordering a piece of marzipan cake in the café.
"My partner and I, we decided 20 years ago to become foster parents. I come from a large family and it was clear to me that I would like to have children. In the meantime, this wish got a little mixed up with the realization that I am gay. Back then, family planning was not a matter of course for gays. I thought: It will probably not work then.
Until we thought about foster children. In 2002 we made inquiries and were surprised at how openly the Berlin-Mitte district reacted to our request. There were discussions, an application and examination procedure. The main concern of the youth welfare office was to determine whether we wanted this to be sustainable. Foster children are something special.
You have to be ready to accept the child's biography, there is a reason why they were taken out of the family of origin. We were ready to shoulder that, even a different skin color was no problem for us. So we had two black children with mentally ill parents, first Raphael, two years later Simon.
"For us it was no longer the CSD and partying, but family"
Raphael went to a children's group around the corner from us, we got to know the entire neighborhood. Regardless of whether you are a man, woman, straight person or not: the moment you have children, the most important thing is to raise them well.
For us, parenting meant an almost complete change in our circle of friends. Before that we were with gays a lot, they were very happy for us, but the life plans were too different.For us it was no longer the CSD and partying, but family.
In kindergarten they were probably very excited because two gay fathers came. The kindergarten teacher told us later that she had received an order from the Kita management to read a lot of specialist literature in order to do everything correctly. You soon noticed that we were just normal people.
There have been discriminatory slogans in public, but it was about the color of the boys' skin. I have reprimanded people on the train a few times because of this. Raphael and Simon found it embarrassing that I was upset. It's not nice for the boys. But I think it is part of being a democrat to put people in their place who insult others racially.
Simon is our calm one. Sometimes he has difficulties with social contacts. This is also due to its history. His mother used to be a teacher, became mentally ill, left her family and moved to Europe. At some point she landed in Spain, and that's when she got Simon.
After the birth, she was stranded in Berlin, in a women's refuge. Simon always had them on his chest, under many coats. They were afraid that he would suffocate. Because of the mental illness, the mother and child were separated. Simon was severely undersupplied at the time. He barely had any muscles and ran very diagonally. He still suffers from what happened to this day.
A few years ago we had a difficult time with Simon, he didn't want to go to school, he refused anything. We had to send him to boarding school. I think that has nothing to do with the situation as a rainbow family, more to do with his story as a traumatized foster child.
For a long time, Simon did not want to talk about his birth family. The youth welfare office attaches great importance to biography work. Then I googled - and found Simon's grandma. His grandparents had four children and they were all driven to perform. Also Simon's mother, who became the black sheep because she didn't work the way she should.
The youth welfare office wrote to the grandparents that there is Simon, the eighth child of the daughter. They wrote back a harsh letter stating how the youth welfare office could be responsible for giving children to such people as us, because the German state would sin. I would still have wished Simon could get to know the grandparents, but the youth welfare office didn't want that under the circumstances.
But it all ended well. Two of his sisters got in touch, they are really warm. This gave Simon access to the rest of the family. That was possible after the grandfather's death.
My husband and I got married in early October. Now we can adopt Raphael and Simon too. For us this is an important right. We'll have to discuss that with the guys soon. "
This is a text from the taz on the weekend. Always from Saturday at the kiosk, in the eKiosk or with a practical weekend subscription. And around the clock on Facebook and Twitter.
Malte Czarnetzki and Heike Czarnetzki
Malte Czarnetzki, 26, is studying medicine in Witten. He is very eloquent when talking via video chat. You can tell that he has already dealt with the topic a lot.
"For as long as I can remember, it has been clear to me that my mothers are not both of my biological parents and that there is a sperm donor. I asked that as a small child and got an answer to it. Our family is two mothers and three children. For me this is a total matter of course.
I don't know my father. My parents were convinced: they are two full parents, nothing more is needed. I can just agree with it. Sure, there is a certain amount of curiosity, but nothing more than that. For my part, I am happy that I am here and that I have two loving parents.
You introduced us to the subject very early on. I can only recommend everyone who has children with a sperm donation: Be very honest with them. If you keep such elementary points as the origin from children a secret, they will feel betrayed later.
There is always that aha moment when you meet new people and talk about them. Especially in school. Many found it interesting, a few stupid. The standard thing were guys who then had such a sexualized lesbian fantasy.
Some children from rainbow families certainly experience discrimination and even bullying. Fortunately, I hardly had that myself. Once in elementary school, someone from the neighboring school made a stupid comment about my mothers. That was extremely uncomfortable: a stranger dares to speak disparagingly about my life.
When you have such a topic on your résumé, you develop a feeling for when to deal with it and how. Over the years I have become more determined to comment on everyday situations that are not okay. I also like to talk publicly about our family. But there are also moments when I speak of parents instead of mothers.
Sure, I want to correct criticism of homosexual families. But people who think that way are often dogmatic. When I have a beer in the pub in the evening, I don't have to sit down at the bar with Manfred for two hours to run against his view of the world. I then sometimes formulate an opposing position. Something like: "Not everyone thinks that either." That has to be enough in passing.
I grew up in a rainbow family, but my role models are still heteronormative. It was always clear to me that I was straight. That might sound stupid now, but for a young man, a lesbian couple is not a role model when it comes to sexual orientation. What should I deduce from this for myself? I can't be that. I have a girlfriend. So far I've only had girlfriends, nothing with a man, just made out with a friend out of nonsense.
As a family, we mostly appeared openly. People just like to assume that my mothers are two women friends who have children. When we pay in restaurants, we often have to make it clear that we belong together. In the swimming pool we had to discuss whether we could get a family ticket. This is not a catastrophe now, but you can get angry when such experiences accumulate over the years.
I used to think that prejudices were a generation thing. But some young people think so too. Today we definitely know that it has absolutely nothing to do with the sexual orientation of the parents, whether a child is happy or well brought up. "
Heike Czarnetzki, 56, is a biologist from near Stuttgart and one of Malte's mothers. During the conversation via video chat, she is sitting in the mobile home, they are currently on vacation in Bavaria. Czarnetzki tells with a Swabian accent.
"I met my current wife while studying. After a couple of years as a couple, we decided to start a family. That was unusual in the early 1990s, but we didn't care. We just wanted children.
We thought about looking for a private donor for a moment. But he could have considered later whether he wanted a father role after all, he could have sued. Family was and is always thought of in terms of men, not women.
The other option was anonymous sperm donation from a sperm bank. However, the medical associations in Germany have prescribed medical practitioners to only treat women with husbands. Fortunately, we have found a doctor who granted every woman the right to have a family.
In 1994 we had the twins - Malte and his brother - and in 1997 our third child. The family thought it was great, for our parents it was the first grandchildren.
We had the children baptized in the Protestant church and made each other a godmother. We wanted to do the little we could do to protect ourselves and the children. The baptism was also the first time everyone came together to celebrate our family. That felt really great. We didn't have a big wedding like that of our siblings, where everyone was happy for them.
Even before we were born, it was clear to us: When we have children, we have to talk openly about our constellation. We always quickly arranged a parenting meeting with the teachers.
"The twins said they would be mom later too. We declared: No, you will be dad "
And explains: "We are a couple, we consider Malte and his siblings as our children together." The model was very unknown at the time. The twins had to draw their families for the first parents' evening in kindergarten. It was good that we had talked to the teachers beforehand.
The twins were two or three when they said they would be mom too. We declared: "No, you will not be mom, but dad." Little by little we told them our family history. "Of course you also have a father, that was a man who was kind enough to donate his sperm."
We partnered in 2002, we celebrated that. Before that, we had a small folder with powers of attorney for the partner, for the pediatrician, for kindergarten and school. With the civil partnership came the small custody of these everyday things.
In 2005 stepchild adoption was introduced. We could now adopt our children mutually. On the first working day of 2005 I phoned the youth welfare office and the family court and looked for a notary. In March our children were mutually adopted.
That was great: they finally had a second parent in case something happened to one of us. Inheritance law, custody, family allowances, child benefits - it was the first time that we were almost legally thought of as a family. Just not in tax and parentage law.
We had been in a network with other lesbian families from all over southern Germany since the nineties, there weren't that many. In this group we celebrated every stepchild adoption. We cooked nicely, made a toast, and there was a little present for the child.
What has been with us all along is the political discussion. We couldn't remain apolitical. I'm a biologist, but I don't attach as much importance to biological origin as I do to social ties. Before conception, all those involved should be able to secure who will be the second parent by means of a parenting agreement.
In 2018 we celebrated another wedding. In Esslingen, same-sex couples were only allowed to marry in a small office or in the foyer of the district office in 2002, which was targeted discrimination. In 2018 we were finally able to go to the registry office. "