What is media tracking in public relations
Monitoring and PR - a perfect team!
Press release was yesterday, social media is today. Not correct! Press release in combination with social media is the new recipe for success for companies. If the classic PR work is extended to the social web and the right people - the dear influencers - reached there, the greatest impact can be achieved. And to do all of this correctly, social media monitoring tools offer the right assistance.
Since the subject of "PR and Monitoring" is very important to us and is being asked more and more frequently in the market - both by companies and by PR agencies - we held a webinar on this last week together with Heike Bedrich from Talisman PR.
---
KPIs in monitoring and PR
One of the key statements was that the tracking of PR measures has basically not changed. It's only gotten bigger with the advent of social media and offers a lot more options than it was a few years ago. In order to evaluate your own PR successes or those of your customers, completely new possibilities are available through social media monitoring, which must be known and exploited. PR and social media are merging more and more. Both disciplines have their own KPIs, which, however, have to be viewed holistically. In the presentation for the webinar, the KPIs are presented in detail:
>> Watch the Slideshare presentation

---
Use cases of monitoring in PR
Monitoring can be used in a variety of ways in PR work. While the first idea is usually the crisis PR and the so-called "Shitstorm Management", monitoring has a lot more to offer for the everyday life of a PR consultant or a PR agency. For example, there is the tracking of PR campaigns, the observation of competitor PR or the identification of new media and sites with which it is worthwhile to initiate contacts.
This overview shows the most important application scenarios at a glance: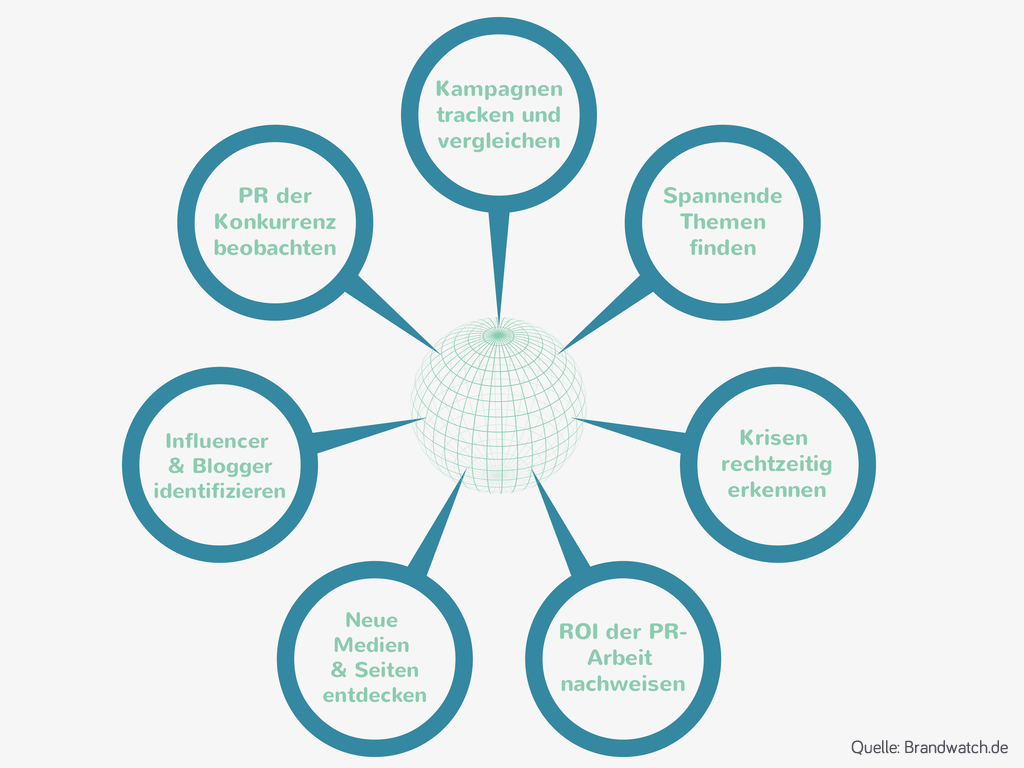 ---
5 tips for crisis monitoring
With this graphic we looked outside the box. However, since crisis monitoring is a very important application for social media monitoring despite everything, we would like to give you a few more important tips on the way:
Start monitoring in good time and not only when a shit storm is raging
Operate comprehensive monitoring : Pay attention not only to your brand name, but also to topics that could possibly become dangerous at some point in connection with your company (e.g. working conditions, product recalls, environmental protection, corporate responsibility, names of the board members)
Monitor your stakeholders too (Suppliers, customers, etc.)
Set up alerts , especially ad-hoc alerts for the brand name in connection with critical topics
Define internal processes for adequate reactions if a sensitive topic becomes visible in the monitoring
---
Set up your own PR tracking
Contact us if you would like a practical insight into what PR tracking can look like for your own brand or that of your customer. We would be happy to set up a free test account for Brandwatch and show you how to do it in a webinar.
[cta_button title = "Start your own PR monitoring" text = "Start your own PR monitoring" target = "https://www.brandwatch.com/de/demo?utm_source=Website&utm_medium=Blog&utm_campaign=Blog-Button"]
---
Lean back and watch!
So now, if you want to dig deeper into the details, sit back and watch our full webinar. Have lots of fun with it!
---
Cover picture: © Tinka - Fotolia.com