What is your favorite picture from today
Your favorite photo ...
Use the discount code SD40 and get 40% SPRING DISCOUNT or discover our other offers
says more than a thousand words!
Make others or yourself happy with a personal photo on wood. You have also collected a large number of beautiful photos and want to immortalize your memories? Then we have exactly the right alternative for your favorite motifs with our photo products and printing on wood!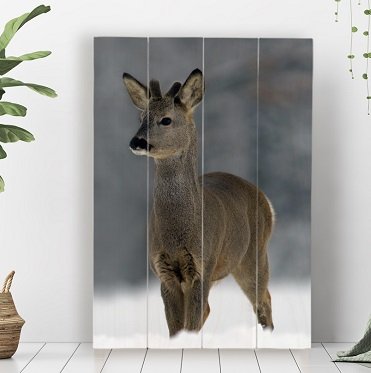 Photo on wood
Wood products are an absolute living trend! A photo on wood is unique and has a special character. We print your photos on spruce wood, obeche wood or multiplex! You can align your wood planks horizontally or vertically, or you can opt for a wood panel. Take a look at the different types of wood here and find your favorite!
Photo on wood
hexagon
Our new product is the photo on Hexagon. With a photo on Hexagon you can create original collages for the wall. A hexagon is a hexagonal shape. With this shape you can create a personal photo wall with all your dearest memories on various hexagons. You can start your hexagon collage with 3 or 4 photos and later add more photos that perfectly match your hexagon collage. For example, create a collage from your most beautiful vacation photos or photos from a photo shoot. Just the way you like it best!
Photo on Hexagon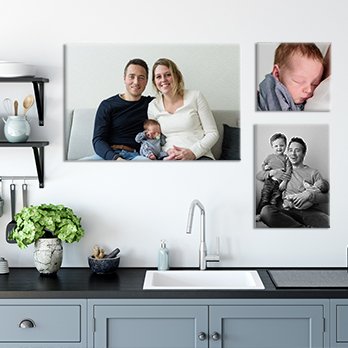 Photo printing on canvas
Of course, you want to print the most beautiful photos on canvas. Discover all our options for photos on canvas, choose the thickness of the frame (2 cm or 4 cm frame) and have your photo printed on canvas! Our options for your photo print on canvas include an outdoor canvas (the colors of which are immutable in any weather!), A panoramic canvas and triptych, multi-panel, and other effects. Of course it is possible to order a suspension system! At Favoritfoto.de you can print a photo on canvas!
Photo on canvas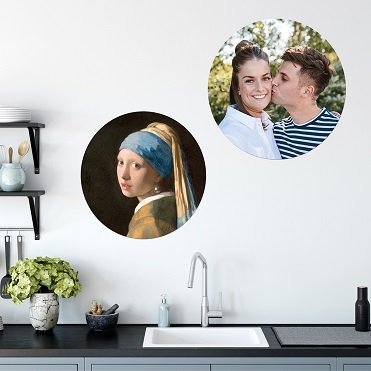 Round pictures
You don't want square or rectangular photos on the wall? Choose the photo on the wall circle or the wall circle for short. The round design shows off your photos particularly well. A wall circle is currently the latest trend for the wall. Wall circles are available in different types of material and in different sizes, making it easy to combine multiple circles.
Round pictures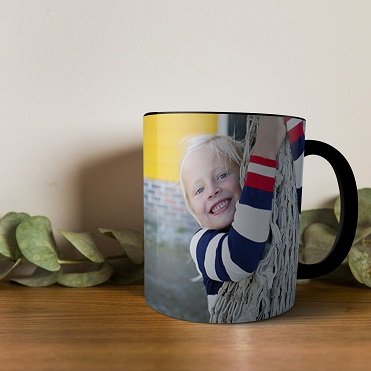 Photo gifts
We are specialists in printing your favorite photos on special gifts! With us you will find pretty much everything from photo mugs to photos on key chains and there is a suitable gift with a photo for everyone. Thanks to almost 10 years of experience, you are guaranteed high quality with us. We are only satisfied when you are - it's that simple.
Photo gifts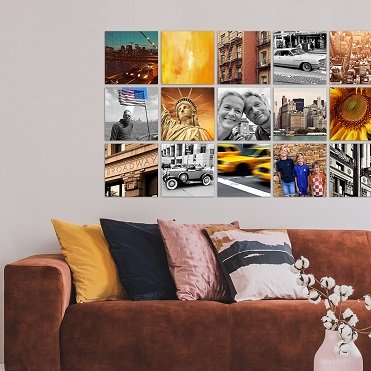 Muchopix: Squares
Can't decide which of your favorite photos to hang on the wall? Why not just hang up several photos in a collage? With Squares you can easily create a photo wall with several squares next to, above or below each other. Are you bored of some photos? Simply swap them out with other photos, so you always keep your photo wall lively and distinctive.
Photo on Square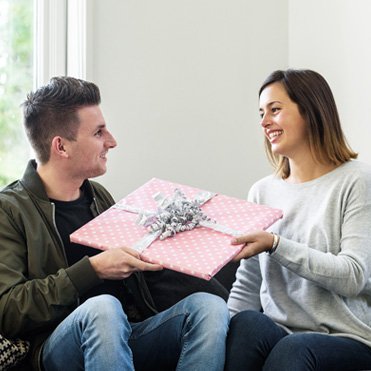 Gift ideas
We know the feeling when you are desperately looking for a present for a birthday, Valentine's Day or a wedding. What am I supposed to give? We help you! With a photo gift you will put a smile on everyone's face. Check out our tips and advice and find the ideal personal photo gift.
Gift ideas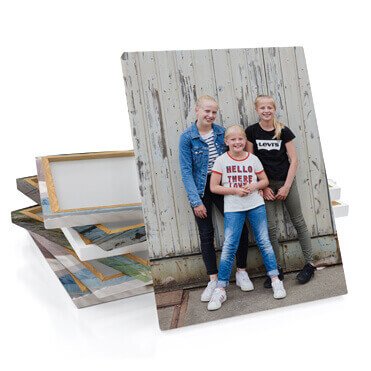 Request a quote
Do you want to place a bulk order? Then we would be happy to make you an offer! We are ready with all kinds of products - from wall decorations to mousepads, everything is included. You can contact our customer service by phone or email. Contact us today, because at Favoritenfoto.de you are guaranteed the best price-performance ratio!
Request a quote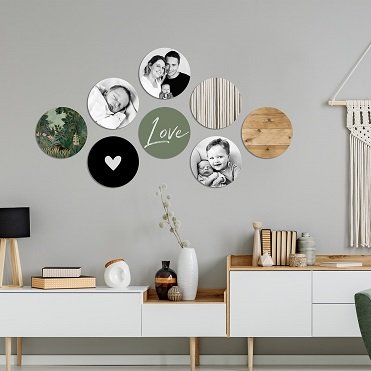 Muchopix: Circles
A collage of circles? Absolutely new, but possible with us. New in our range: the circles. You can create a photo wall with multiple circles and hang them in creative ways. The result? A unique collage wall. You can create your collage with photos from a photo shoot, vacation or wedding photos. Circles is printed on Forex, which ensures a crisp print.
Photo on Circle