Why is e-learning important
E-learning - when does learning on the Internet make sense?
Nowadays, more and more people are working from their laptop or smartphone. More and more information is made available on the Internet and the possibility of acquiring knowledge is almost unlimited. The popularity of learning on the Internet is also increasing. The term e-learning describes this form of online learning from digital media. These can be online platforms such as wikis, blogs, apps, learning programs or training pages on the Internet that company operators have created themselves.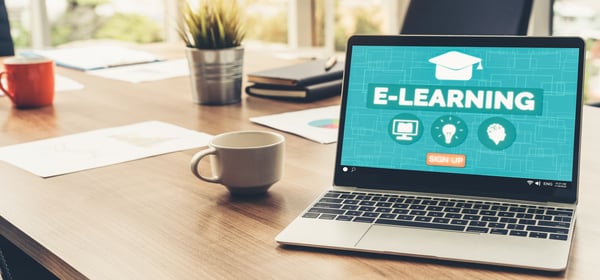 For example, companies offer their training and further education online. Employees can access the latest information from online portals or even complete entire courses on the Internet, flexible in terms of time and location. Foreign languages ​​can also be taught via the internet course. With such foreign language apps, learners can experience and internalize the language and grammar in an interesting and playful way without having to attend a course in a foreign language school. Nowadays, e-learning approaches are already being used in primary schools. More and more online learning offers playfully support the children in learning the ABCs or the multiplication tables.
The search for specific topics or individual explanations of terms can also be counted as part of e-learning. Many people look for specific information in wikis and blogs that deal with a specific topic. When using e-learning you are not bound by time or place. With access to the Internet, information can be researched flexibly and as required at any time.
When does the use of e-learning make sense?
Many people today value the greatest possible flexibility in everyday life or do not want to miss it anymore. Sitting in lectures or poorly ventilated classrooms no longer seems attractive and timely to many. In addition, it is generally very much appreciated to be able to acquire knowledge independently and at any time. A quiet learning environment should be guaranteed. Learning on the terrace at home is more difficult when the neighbor is mowing the lawn or when your family needs all of your attention. It should also be possible to check what has been learned and, if necessary, to have a contact person to ask questions and clear up ambiguities.
It is important to select suitable platforms for searching for information or using e-learning. The program you choose should be tailored to your needs. You should inform yourself beforehand and compare the offers. In particular, company e-learning systems should always be kept up to date in order to avoid providing incorrect information to employees.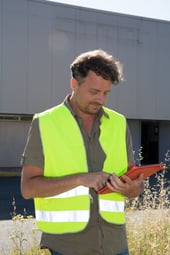 With the use of online learning offers, for example, the way to work can be used effectively. Or even in ineffective periods during working hours, e-learning can also impart knowledge on the side. In the logistics and freight forwarding industry, for example, this would be the case if truck drivers had to wait at the loading ramp so that idle time could be optimally used within valuable working time.
Who is e-learning suitable for?
In order to train yourself online, you first need a certain amount of your own discipline. Some are quickly distracted by their surroundings or incoming messages when they work in the home office on their smartphone or laptop. The ability to concentrate despite the occasional distraction is a must for using e-learning.
Working with digital devices should also be fun. Those who cannot do anything with multimedia will also have difficulties with e-learning tools. Because only those who enjoy learning can learn easily and sustainably.
In addition, the learner should be aware that e-learning cannot and should not completely replace traditional classroom learning. It is primarily intended to convey, support and expand the basics. For many employees, it is also difficult to gain additional training in addition to family and work. There is often a lack of time and flexibility. The use of e-learning is particularly suitable here. You can usually divide the time yourself and you don't have to take any time-consuming journeys.
What are the advantages of e-learning?
E-learning is often supported with visual stimuli and gamification. In this way, information can be clearly explained and conveyed in videos or pictures. Children in particular learn much faster and more sustainably through play, for example by imparting knowledge through songs, with short videos or games.
Courses can be customized. Many e-learning portals offer structured knowledge building. So you usually start with the basics and then steadily expand your knowledge, step by step. Online language courses also start with the basics and increase the level of difficulty with each level.
The most important advantage, however, is that you can learn from anywhere and at any time, as long as there is access to the Internet. Mobile devices such as cell phones, tablets and laptops are a constant companion for many. This means that online learning offers are available at any time, so that longer waiting times can be used effectively with e-learning.
What are the disadvantages of e-learning?
Screen learning causes fatigue faster. It is usually stressful for the eyes to look at the screen for several hours. Regular breaks are important here, similar to an office job. Especially for children's eyes, learning on the screen is only suitable from time to time, as the eyes are very stressed.
A lack of personal contact with lecturers creates deficits in explanations. As already mentioned, e-learning must also have the opportunity to ask individual questions. A good learning management system provides an online contact function for teachers and mentors who can answer questions from learners. If this is not the case, there is a risk that what has been wrongly learned will solidify.
There is no clear work-life distance in online learning. Many prefer to separate their work and study place from their private environment. It can be seen as a disadvantage to have to study at home or in your free time. The right learning environment is important for many in order to be able to concentrate well.
Conclusion on e-learning
E-learning offers advantages that clearly outweigh the disadvantages. The fact that entrepreneurs can train their employees independently of time and place without having to restrict or even close operations is a significant bonus for learning via the Internet. In addition, costs for the organization of the training offer, for seminar rooms, travel and accommodation can be saved.
In addition, the material to be learned is conveyed in a more memorable way if it appeals to different senses. Our brain processes things better that we not only read, but also see or hear, so that the information can be stored in long-term memory. E-learning is therefore suitable for everyone who enjoys digital media, can use it effortlessly and likes to try out new learning methods.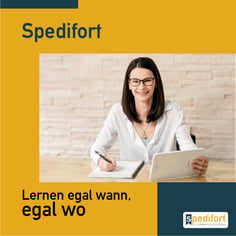 Spedifort offers a variety of modules, courses and instructions for the logistics and shipping industry that are based on e-learning. If your company does not yet have a learning management system, we at INN-ovativ will provide one for you and support you with its implementation. Our e-learning courses are designed in such a way that they are easy to use even with little IT knowledge. In addition to the e-learning modules, we guarantee a virtual trainer presence and video chats with our experts.
Would you like to get to know Spedifort? We would be happy to offer you the opportunity to have the functionality and various possibilities of Spedifort presented to you in a clear and practical example in a web meeting. To do this, arrange a non-binding initial meeting in our calendar, which we can then use to tailor our web presentation to your needs.