Snow storms are raging in Pakistan and Afghanistan
The province of Baluchistan in southwest Pakistan was particularly hard hit, where at least 20 people have died, according to local rescue workers. Most of them were hit by rubble from their roofs, which had collapsed under the weight of the snow. The AP news agency reports an additional eleven deaths in the neighboring province of Punjab, where heavy rains had destroyed other roofs.
Baluchistan's regional government in the provincial capital, Quetta, declared a state of emergency in at least seven districts and dispatched the military to help with rescue operations. Flights have been canceled at Quetta International Airport. According to rescue workers, thousands of people in remote mountain regions are cut off from the outside world because a thick blanket of snow is blocking the streets. The Pakistani weather service in the capital Islamabad expects the storm to continue until next week.
Dead and freezing cold in Afghanistan
At least eight people were also killed in accidents in neighboring Afghanistan. The provinces of Kandahar and Helmand in the south and Herat in the west of the country are particularly hard hit. According to the civil protection ministry, most of the country's expressways are closed due to heavy snowfall and the risk of avalanches. The Herat Police Chief advised against driving the streets without special equipment. In the Afghan capital Kabul, temperatures had dropped to -15 degrees Celsius.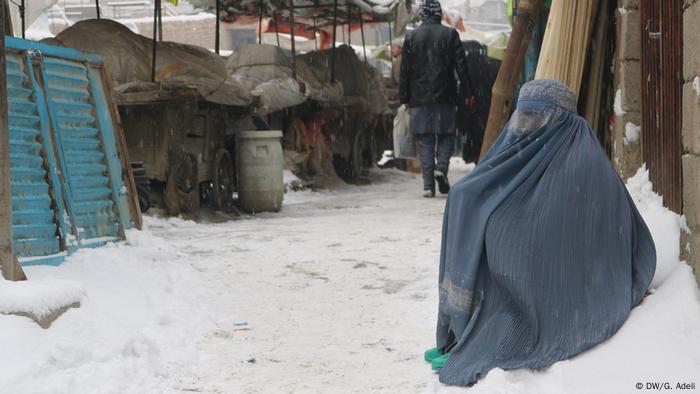 In Afghanistan, like here in Kabul, the cold spell hits many people who are homeless or have to beg
According to United Nations estimates, at least nine million people in Afghanistan are dependent on humanitarian aid such as staple food. Since 2001 a civil war between government troops and Taliban militias has flared up again and again; Hundreds of thousands have been displaced, many people are homeless. Afghan meteorologists expect further cold waves in the coming weeks.
ehl / hk (dpa, rtr, ap, DW)