What kind of plastics can be recycled
The recycling question: good plastic, bad plastic?
The sick partner desperately wants orange juice, but on Sundays it is only available in the kiosk around the corner. Returnable bottles - none of them. There are only beverage cartons or plastic bottles. Both are put in the yellow bin after use. Does it make a difference which packaging I choose?
"As far as recyclability is concerned, the plastic bottle is likely to be in a better position, because it is probably made of just one plastic and is therefore easier to recycle than a multilayer material like the beverage carton," says Rolf Buschmann, waste and resource expert at the environmental organization BUND and jointly responsible for the Plastic Atlas 2019. Because only the paper portion of the beverage carton is recycled. Everything else, such as plastic coating or parts of aluminum foil, are incinerated as residual waste, explains Buschmann.
More and more multi-layer packaging
How do you recognize multi-layer packaging? With the beverage carton it is obvious that it is made of different materials - but what about a wine gum bag, for example?
Flexible plastic packaging could consist of up to 10 different plastic films. But consumers cannot see that, says Joachim Christiani. The engineer is an expert for packaging disposal and managing director of the cyclos-HTP institute.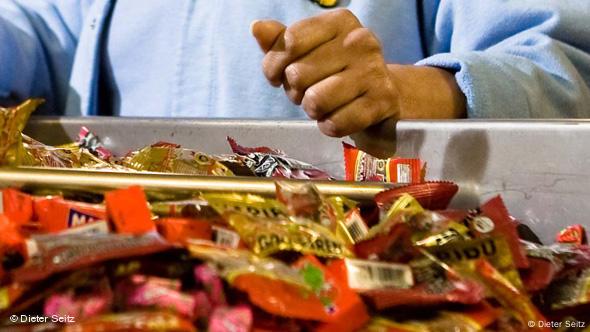 Bags with wine gum: Flexible packaging often consists of multilayer material
"In recent years the trend has been towards so-called multi-layer packaging, which is extremely light and thin. This saves material and also CO2 during transport. But this packaging can no longer be recycled." Because the different plastics cannot be fused together, explains Christiani. And so far it has not been possible to separate the individual films from one another in sorting and recycling systems.
Hardly any recycling plastic in use
In 2017, the cyclos-HTP institute examined the recyclability of conventional packaging waste, i.e. that which usually ends up in the yellow bin and in the yellow sack. The conclusion: a good third of it was not recyclable. And of the other two thirds, only around 40 percent was recycled into recycled plastic. The rest was used energetically - that is, burned. "There was no economic or political pressure to recycle more than this amount. The prescribed recycling rates were met. And there weren't enough recycling facilities," reports the engineer.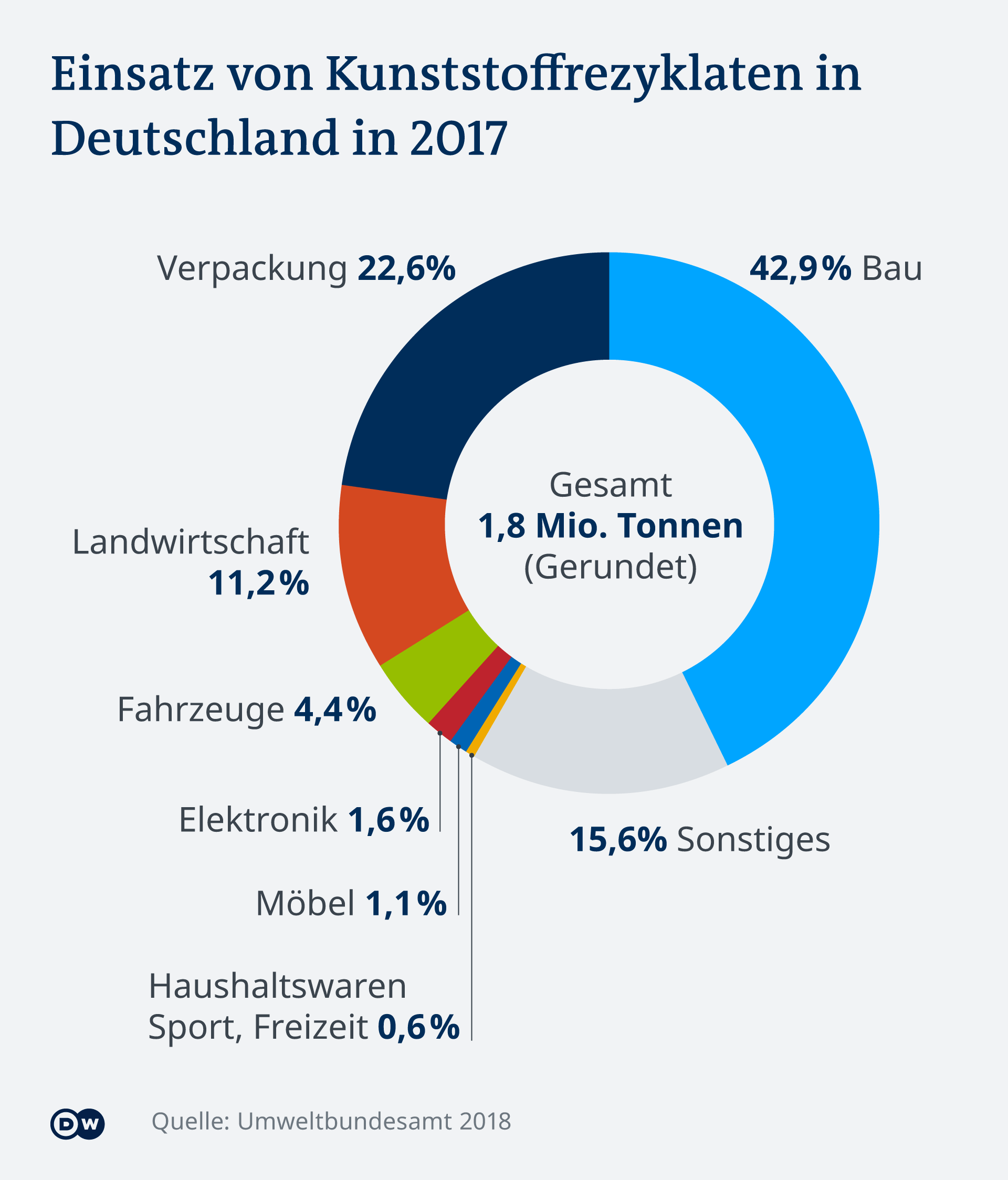 A study by the chemical and waste disposal industry from 2017 also shows that recycled plastic has so far been used very sparingly in Germany. Recycled plastic made up just 12 percent of the total amount of plastic processed in this country - just under 1.8 million tons. In contrast, the proportion of new plastic was more than 12 million tons.
Lots of space for greenwashing
Most consumers want significantly more plastic recycling, especially for packaging, a survey by the Federal Association of German Consumer Centers (vzbv) shows. Some products advertise with the statement "packaging made from recycled material". But: "That says nothing about how much recycling material the packaging actually contains," explains the resource protection officer at vzbv, Elke Salzmann. "And it does not mean that the recycled plastic comes from the collected plastic waste. It could just as well be obtained from plastic residues that arise in the production of primary plastic."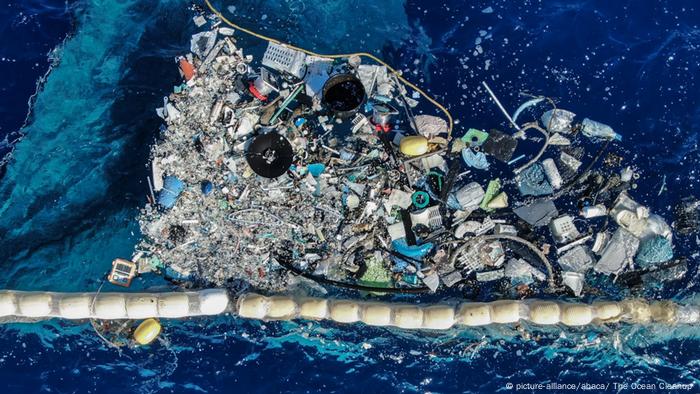 Plastic waste in the sea - hardly suitable for recycling
The consumer advocate criticizes that the term "ocean plastic", which some textile and shoe manufacturers use to advertise their product lines made from recycled plastic, is misleading. "Plastic waste from the ocean is in far too bad a condition to be recycled. Instead, plastic waste from beaches or river banks is used." In addition, compared to conventional product lines, recycled sweaters or sneakers usually only make up a minimal proportion of the range, says Salzmann.
Laws against the plastic flood
In addition to reports on microplastics in water, air, soil and organisms, the images of garbage in the sea and the animals dying from it have given plastic a negative image. The plastic waste problem has reached the public consciousness and politics is starting to act.
For example, the German Packaging Act, which has been in force since January 2019, has provided a recycling rate of 63 percent for materials since 2019, and even 90 percent for plastics from 2022; so far it is 36 percent. However, the quota only says how much material has to be fed into the recycling system, not how much is actually recycled.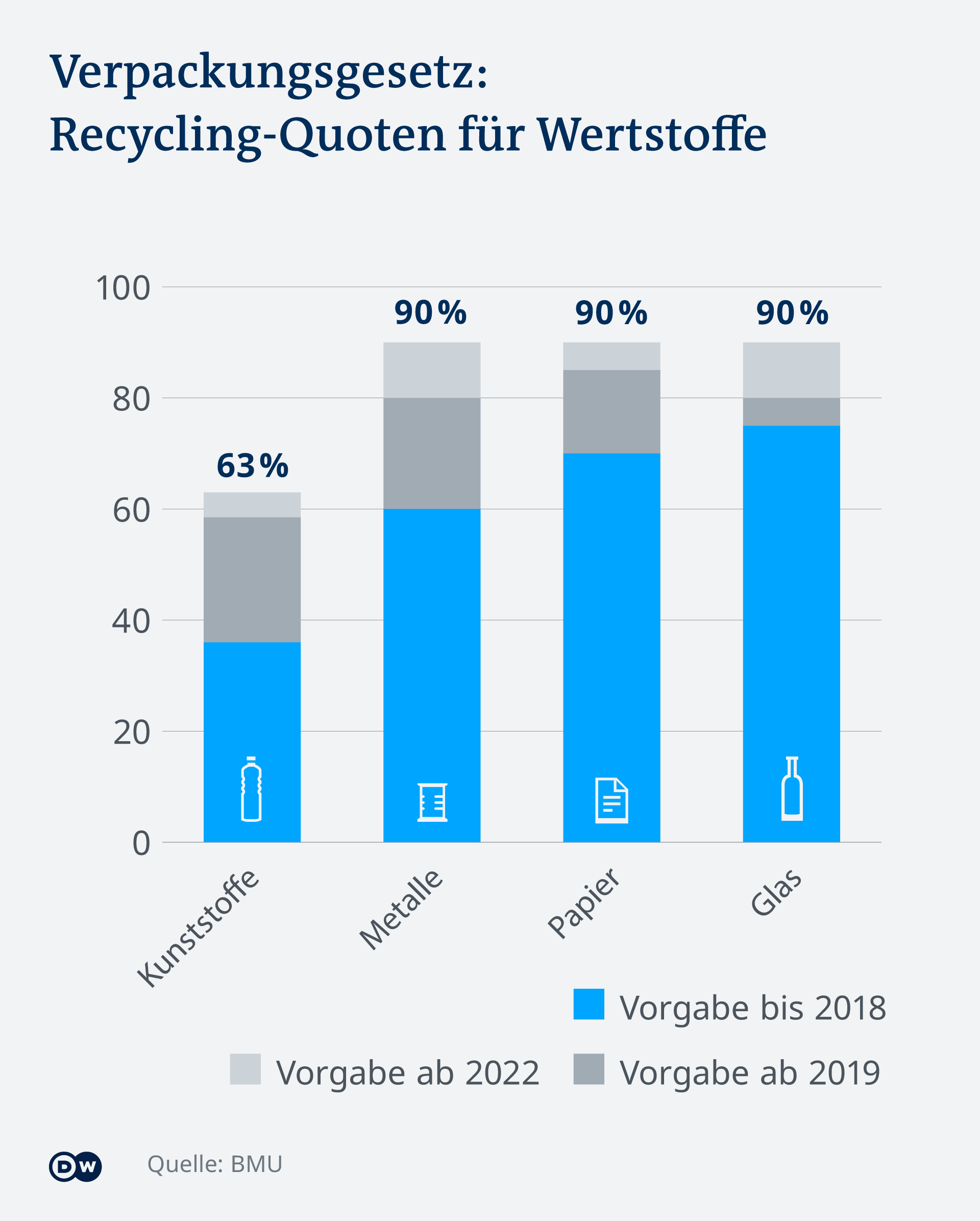 This could possibly result from future EU regulations. As part of its "Green Deal", the European Commission wants to strengthen the circular economy and has announced an action plan to avoid waste and conserve resources. She also wants to set up new rules for the use of recycled material. The European Academies of Science (EASAC) advise the Commission on this. And they make radical proposals for the "ways out of the plastic crisis". Their recommendations range from landfill and export bans on plastic waste to tax rebates for recycling products to the introduction of a plastic tax and a statutory minimum quota of recycling shares in packaging.
"Completely change the way we deal with plastic"
"Plastic is a very useful material, but at the end of its life cycle it creates a lot of problems," said EASAC Environment Program Director Professor Michael Norton in an interview with DW. "We have to think the beginning from the end, so to speak, and that means that we have to look at the whole system anew and completely change the way we deal with plastic."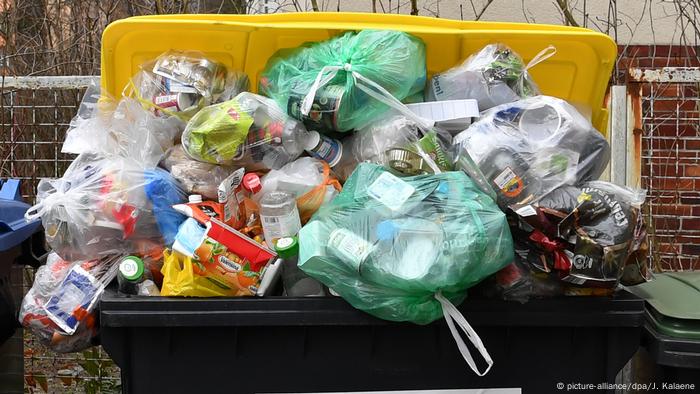 We have a plastic problem, as shown by overfull garbage cans and ..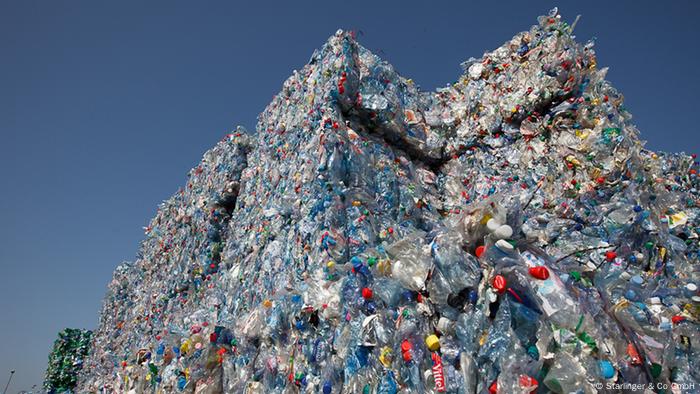 .. towers made of plastic bottles that reach up to the sky
The packaging industry and the retail sector now seem to recognize this, too, reports Joachim Christiani. Currently, up to 70 percent recycling mass can be generated from one packaging. In the future, according to the wishes of many manufacturers, the recyclability should be significantly higher. "95 percent are quite feasible," says the engineer. To this end, the sorting systems are currently being improved and the packaging design is also being changed. The aim is to use material that is as uniform as possible, says the waste management expert. "There's a lot going on in the industry at the moment."
Black plastic - no thanks
PET bottles currently have the best recyclability. Because they are single-variety, they can be used to create new bottles. The failure rate is low. A plastic yoghurt cup with a cardboard sleeve and aluminum lid is completely different. Its recycling mass is just 30 percent, since only one of the three different materials is recycled, says Christiani. "So that everything can be recycled, the consumer would have to remove the cover, which is best folded instead of crumpled up, and the cardboard sleeve separately in the paper collection. But the fact is: almost nobody does that."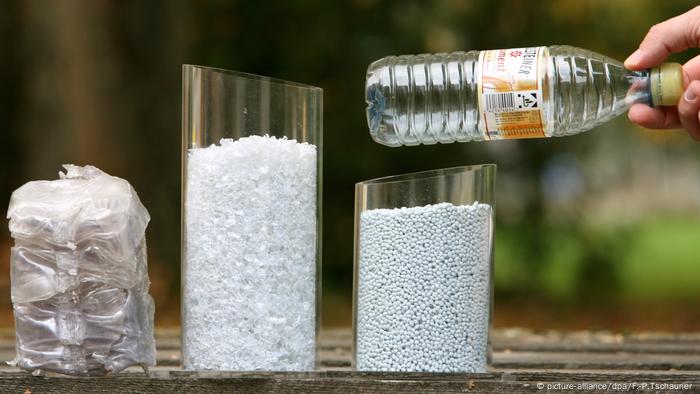 The lighter the recycled plastic, the easier it is to recycle
Dark plastic also creates problems, says plastic atlas author Buschmann. Because it is only sorted according to type and not according to color, the recyclate becomes dark with such plastic. Light-colored packaging can no longer be made from the recovered raw material; new plastic is then required for this.
Reusable system beats plastic recyclate
Consider recycling as early as the design stage, more purity of sorts, better sorting systems - consumer and environmental associations have been calling for all of this for a long time. But their most important demand is: avoiding waste through reusable systems. Every recycling beats your environmental balance sheet, says Buschmann. "Why melt down single-use bottles to make new single-use bottles out of them when you can refill them up to 20 times?" The fact remains that the best plastic is that which is not created anew in the first place.