Which is dangerous influenza or measles
Why measles is so dangerous
The measures are drastic: Rockland County, around 40 kilometers north of the metropolis of New York, decreed on Tuesday that minors who had not been vaccinated against the disease were not allowed to stay in public places for the next 30 days. This also includes local public transport. "We must do everything in our power to end this outbreak," said District Administrator Ed Day. In addition, people who cannot be vaccinated against measles for medical reasons - and children who are too young to be vaccinated - need to be protected. Rockland County's population of around 300,000 has recorded 153 cases of measles. The disease was actually declared eradicated there in 2000. Measles outbreaks have recently occurred in several US regions. The authorities blame the resistance of those who oppose the vaccination.
Worldwide increase in measles cases
At the beginning of March, the UN children's aid organization Unicef ​​sounded the alarm because of the rapidly increasing number of measles cases in some regions of the world. Worldwide, 98 countries had more cases in 2018 than in the previous year. Reports also came from countries that were previously measles-free, including Brazil, where more than 10,000 people were infected with measles last year. Around 13,000 people in the Philippines and more than 76,000 people in Madagascar have been infected with measles since last September. The situation is particularly dramatic in Ukraine, where 24,000 people were infected with the dangerous virus in the first few weeks of this year alone.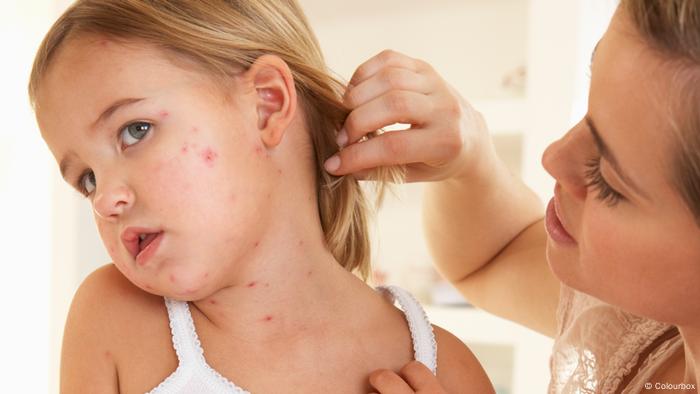 Will vaccination be compulsory - also in Germany?
In Germany, the trend was reversed: According to the Robert Koch Institute, the number of reported cases fell from 929 cases in 2017 to 543 cases last year. Nevertheless, Germany continues to controversially debate the compulsory measles vaccination originally requested in March by the SPD health expert Karl Lauterbach. Most recently, Federal Health Minister Jens Spahn (CDU) advocated compulsory measles vaccination for children of daycare and school age. The advances also met with reservations in their own parties. The health policy spokeswoman for the Union parliamentary group in the Bundestag, Karin Maag (CDU), rejected compulsory vaccination, among other things because there was a lack of knowledge about the benefits of mandatory vaccinations, as they have been introduced in Italy and France.
The Robert Koch Institute (RKI) was also cautious. No noticeable increase in illnesses was recorded in Germany. Nevertheless, the vaccination rate can always be improved, especially among young adults. Until the beginning of the 1990s, measles had only been vaccinated once. Getting the second vaccination is difficult with this group in particular. In contrast, 97 percent of those starting school in Germany have the first measles vaccination and 93 percent of the second vaccination. The second measles vaccination, which should be given by the end of the second year of life, is often not given until later. According to the information from the RKI, only 74 percent of two-year-olds have full protection on a national average.
How do measles pathogens spread?
The first external signs of a possible measles infection are red, itchy spots. They are primarily visible behind the ears at first. Viruses are at their greatest three days before they appear. The sick person is already contagious, usually without knowing it. A reliable diagnosis is made through the detection of antibodies in the blood.

Measles pathogens are transmitted airborne. Infected people pass the virus on directly through the air in the form of very fine droplets of saliva or mucus. These arise, for example, when coughing or sneezing, but are also released when speaking. Measles are highly contagious. On average, each person infected infects 15 other people. Humans are the only natural hosts of the measles virus.
More on this:
WHO: Measles diseases have tripled in Europe
With measles vaccine
Measles are often unpredictable
About 14 days after infection, there is a fever, cough and the red spots begin to itch. To alleviate these symptoms, the doctor usually gives appropriate medication. Complications such as otitis media, pneumonia or severe diarrhea can also occur. In the worst case, this in turn leads to dehydration and weakens the entire organism. There is no special treatment for measles. Ultimately, the body has to deal with the infection on its own.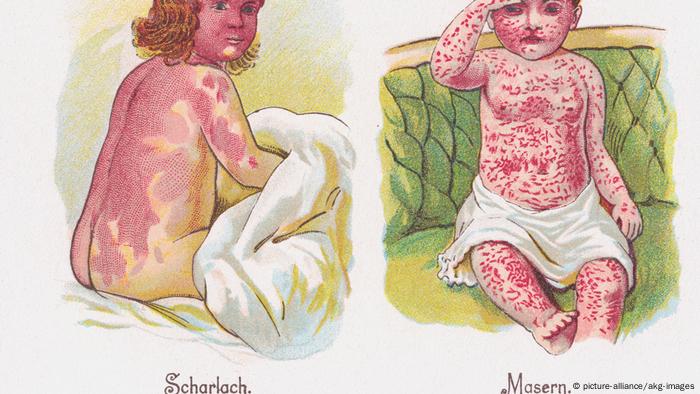 Measles are one of the teething troubles
One of the worst diseases the measles virus can cause is meningitis. It can lead to severe brain damage and intellectual disability. According to the Robert Koch Institute, measles encephalitis occurs in one in a thousand cases. Every fifth illness is fatal. Such complications do not necessarily have to show themselves during the original course of the disease; they can also occur years later.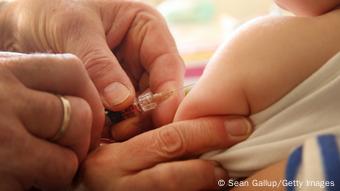 Vaccination is the best protection
Many parents refuse to vaccinate their children because they fear serious side effects. They assume that it is better if the children get infected naturally. For a while, so-called measles parties were even popular. Children who had already had measles were brought in with healthy children. These then became infected with the dangerous virus.
Parents who choose such a practice are usually convinced that it strengthens the defenses of the child when they go through the course of the disease. Experts are convinced that this is not the case. False claims also contribute to vaccination fatigue. This includes the myth that measles vaccination is related to autism. However, medical professionals have now unmasked this theory as clearly false.
Vaccination takes place in two parts with weakened measles virus, a live vaccine. The Standing Vaccination Commission (STIKO) of the Robert Koch Institute (RKI) recommends measles vaccination in combination with mumps and rubella. The vaccination should take place after the twelfth month of life. In this way, parents can ensure that their child is protected from the dangerous virus.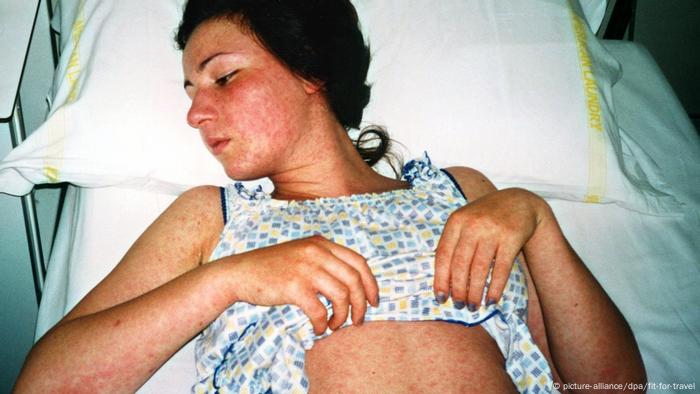 Young people and adults can also contract measles
Class goal not achieved
The WHO was committed to eradicating the measles virus worldwide by 2020. Only a few countries have achieved this goal so far, in Europe these include Estonia, Finland, Portugal, Slovakia, Slovenia and the Czech Republic.
Germany is not one of the countries classified as measles-free. According to STIKO, a virus is considered to be eradicated if a maximum of one out of a million people becomes ill. But Germany has not yet achieved this.
Viruses and bacteria don't stand a chance - with a strong immune system

Hustle and bustle!

The immune system needs many different fuels. They deliver fruit and vegetables. Eat a colorful diet as possible: oranges, red peppers, green leafy vegetables, red cabbage provide a colorful potpourri of vitamins and lots of natural vitamin C.

Viruses and bacteria don't stand a chance - with a strong immune system

Check vaccination status!

In order to bring the immune system up to date, one should have all the necessary vaccinations. Adults often forget to refresh their childhood vaccinations. So take a look at the vaccination card: Is the immunization against tetanus, diphtheria, whooping cough, polio, hepatitis, pneumococci, meningitis, measles, mumps, rubella, flu and others still available? It's best to ask the doctor!

Viruses and bacteria don't stand a chance - with a strong immune system

Run away from the viruses!

Scientific studies suggest that regular muscle training (jogging, Nordic walking, walking) for 20 minutes or more three times a week has been shown to increase the immune system. But be careful: If you work too hard, you also exhaust your immune system.

Viruses and bacteria don't stand a chance - with a strong immune system

Sleep hard!

Sufficient sleep not only ensures relaxation. During the deep sleep phases, messenger substances are released that also mobilize the immune system.

Viruses and bacteria don't stand a chance - with a strong immune system

Have fun!

Studies show that a good mood and fun in life promote a strong immune system. Laughing and playing not only improve the quality of life, but also increase the immune system!

Viruses and bacteria don't stand a chance - with a strong immune system

Avoid stress!

Negative stress stimulates the release of adrenaline and cortisol. These hormones paralyze the immune system. Conscious stress and time management helps the body to calm down and recharge its batteries. Targeted relaxation exercises such as meditation, autogenic training and yoga can significantly support the immune system.

Viruses and bacteria don't stand a chance - with a strong immune system

To go for a walk!

Walks in the fresh air bring changing temperature stimuli and movement - both stimulate the immune system. In addition, the mucous membranes benefit from better blood circulation and, thanks to the higher humidity, they can cope better with virus attacks.

Viruses and bacteria don't stand a chance - with a strong immune system

Beware of sugar!

Studies have shown that when short-chain sugar is burned, many vitamins are consumed that are then no longer available to the body.

Viruses and bacteria don't stand a chance - with a strong immune system

Warm and cold!

"Alternating showers" ​​train heat regulation and blood vessels. Warm-cold-warm-cold is the motto. You can support the shower with a vigorous massage with a massage sponge or brush. This also stimulates the immune system.