You may be deprived of your rights
Employee rights: you are entitled to it
Many employees think of their duties first and foremost. What has to be done? What do you have to adhere to in the job? What are you not allowed to do under any circumstances and how do you leave the boss with the impression that you are doing all the tasks and a little more? Most people only think about what they are entitled to when they have a dispute. A mistake because you have some Workers rightsthat you not only know, but should also demand and take to heart. However, many employees are unaware of what rights they have, what the boss and employer may owe you, or what they can insist on in their job. In order to change that, we will show you which employee rights you have and why you should actually exercise them ...
➠ Content: This is what awaits you
➠ Content: This is what awaits you
That is why you should know and use your employee rights
Only those who know their employee rights can exercise them. For this reason alone, you should inform yourself and familiarize yourself with the what you are entitled to in the workplace, deal with. If you don't, you have to rely completely on the fact that your labor rights are being respected by others without you having any control over or even noticing if someone violates your labor rights.
That's pretty naive. It would be wrong and would go far beyond the target of accusing employers and companies in general, but if you are not aware of your rights in the job, you should not be surprised if it is not taken so strictly. It has to be not even malicious intent act from the boss. Perhaps they don't know any better, or they may not be aware that they are violating your employee rights.
By ignoring your workers' rights, you are increasing those Probability of being exploited - on purpose or not. You don't have to wag about the code of law, the employment contract or the works agreement every time you talk to your boss, but the point is to draw clear boundaries and insist on your employee rights.
We show which employee rights you have and should exercise:
Worker rights: your rights in the workplace
Employee rights: when do you have to work overtime?

Unfortunately, overtime is almost part of everyday working life in many industries and professions. A project has yet to be completed, the order situation requires additional work and deadlines must be met. There can be many reasons, but do you even have to work overtime?

How exactly your employee rights look like depends on your employment contract or a collective agreement that applies to you. You are only obliged to do this if there is a corresponding regulation on overtime. If there is no such regulation, you can refuse the additional hours and.

However, there is an exception in the case of dangers and disasters. In such a case, you will have to work overtime even if the contract does not contain any provisions. For example, if a fire breaks out, you can't just call it off on time when your boss needs your support.

Workers' rights: do you have to go to work if your child is sick?

The child gets sick overnight, but in the morning the next working day is also for you and so you are faced with the problem of wanting to look after your child and at the same time having to fulfill professional duties. In this case, however, the right can be on your side, as employees may be entitled to paid leave in this situation.

In order to be able to look after your sick child, you are generally not allowed to go to work for five days a year (for each child). If you have statutory health insurance, you can even be absent from work for ten days; single people are even entitled to 20 days.

However, there are some rules and requirements: The sick child must be younger than twelve years old, the doctor must certify that care is required and no other person (for example the grandparents) may live in the household who could step in for care.

Workers' rights: how long can you take a break?

Unfortunately, in many workplaces it is a sad part of everyday life that almost no breaks are taken. The full working hours are worked through and, if at all, a small snack is quickly eaten at the desk.

However, you are legally entitled to breaks that you should insist on. If you work six hours, you can take a 30-minute break; if you work nine hours or more, this entitlement increases to 45 minutes.

Even after work, you are entitled to a rest period so that you can relax and recharge your batteries for the next working day. The law provides for a rest period of eleven hours between two working days. In some industries and fields of work, this can be reduced to ten hours.

Employee rights: Can your boss do research on you on the internet?

What do you post on Facebook? What pictures do you share on social networks? These things are basically none of your employer's business and they are not allowed to sniff out and research what you are doing on social media. Behind this is § 4 of the Federal Data Protection Act, which states that personal data may only be collected directly from the person concerned.

The exception to this employee right concerns professional platforms and networks such as Xing or LinkedIn. Here the employer may very well get an idea of ​​you, because that is exactly the purpose of such business networks. Even if there is a reasonable suspicion that you are damaging the employer's reputation on social networks, the employer can look at your posts.

Employee rights: do you have to remain available after work?

Finally after work, you are at home and want to enjoy the rest of the day - but then the phone rings and the boss calls. Do you have to answer and be available after your working hours or can you just let the doorbell ring and do other things?

The good news: after work, you no longer have to answer or take business calls. It is about your free time, which should be used for relaxation. Those who have to keep busy with the job are doing work and interrupting their rest periods. That's why you don't have to read or answer work e-mails when your working hours are up.

Even if you have a company cell phone that serves the purpose of being able to reach you, it is your employee's right to switch it off after work, as long as the employment contract or other applicable regulations do not state otherwise. The only exception is if your job makes it absolutely necessary to be available, for example because you are on call.

Worker rights: what tasks do you have to do?

A description of the work tasks can be found in the employment contract and gives you an initial insight into what makes up your daily work, what is expected of you and which to-dos the boss assigns you. In the daily work, however, there are usually additional tasks.

In principle, this is also permitted and follows from your employer's right to issue instructions. However, there are also limits: Of course, you don't have to do any tasks that endanger yourself or that would be illegal. You also don't have to do anything that has absolutely nothing to do with your job or that corresponds to a job several salary levels lower. Here it is advisable to talk to the boss about your own qualifications.

Employee rights: do you have an employment contract?

The employment contract provides a lot of important and basic information about the employment relationship and your employee rights. However, not every employee has a corresponding contract. This is legally possible at first, as contracts do not require the written form to be valid and can therefore be based on verbal agreements - in case of doubt, however, you cannot prove this.

For this reason there is a fixed obligation to provide evidence for employers. Employees must receive a written and signed version of the terms and conditions within one month. In addition to the data on the employer and employee, it must also contain salary, working hours, work locations, tasks, notice periods and a possible time limit for the contract.

Employee rights: do you just have to accept a warning?

If you owe yourself something at work - or at least your boss thinks you have done so - you will usually receive a warning. This will warn you of your behavior and at the same time ask you to change it in the future.

However, you do not just have to accept it, you have the right to make a reply. Like the warning, this is done in writing and is then also added to your personnel file.

Employee rights: what is the maximum length of time you can work?

There are clear employee rights as to the maximum length of your working hours. Unfortunately, this is exceeded again and again - either because the employer keeps finding new tasks and demands that these be done, or because you do not adhere to the guidelines yourself.

In principle, the daily working time must not exceed eight hours. In the short term, however, this may be extended to up to ten hours, but the eight hours may not be exceeded for an average of six calendar months. In this case, a compensation for the longer period must be created.

Employee rights: when can you be dismissed?

If you have been employed by your employer for more than six months and the company has more than ten employees, you are subject to the general statutory protection against dismissal. Your employer cannot fire you without a good reason, but needs operational, behavioral or personal reasons.

In the trial period it looks a little different, there is no reason to end the employment relationship and the notice period is shorter. But here, too, there are employee rights, so the termination must be in accordance with the General Equal Treatment Act. Even during the probationary period, you cannot be terminated based on your gender, age or religion - however, it is difficult to prove this in case of doubt.

Employee rights: are your vacation entitlements respected?

Every employee in Germany has a statutory right to paid vacation leave. This cannot be shaken, but it may be questionable how great this claim is and whether you will really get as many vacation days as you are entitled to.

The minimum requirement is four weeks a year. With a six-day week you can take 24 days of vacation, if you work five days a week, you have at least 20 days of vacation. If you work part-time, for example only three days a week, you have 12 days of annual leave.

However, a longer vacation entitlement can be agreed in the employment contract, which must then also be adhered to. Employees with a disability can also claim an additional five days of vacation.

Employee rights: what data do you need to give the boss?

An employer collects some data about its employees. This includes, for example, the address, which is also noted on the employment contract and is part of the employee's personal data. However, there are limits that clearly state what you do not have to disclose to your employer.

Your private telephone number - whether it's your smartphone or the connection at home - is one of them. The same rule applies to your private e-mail address, which you do not have to give to the boss. Exceptions can also occur here if you are professionally required to be available, such as the on-call service mentioned above.

Employee rights: what is talked about in the appraisal interview?

Many employees become very nervous and insecure when the boss asks for an appraisal interview. However, the workers' rights see clear guidelines for such a conversation, which your supervisor must adhere to.

It starts with the content: The subject of the appraisal interview must in some way affect the employment relationship. So it can be about your tasks, working hours, processes in the job, development opportunities and perspectives or even conflicts and problems in the job. If there is no such objective reason, you do not have to take part in the conversation. Therefore it is your right to find out beforehand what the conversation should be about.
What other readers have also read:
[Photo credit: Branislav Nenin by Shutterstock.com]
★★★★★ Rating: 4.91 / 5 - 7553 reviews.
November 9, 2020
Author: Nils Warkentin
Nils Warkentin studied business administration at the Justus Liebig University in Giessen. On the career bible, he is devoted to topics related to studies, career entry and everyday office life.
Letter of termination: samples, templates, tips, 6 mistakes
Job reference formulations: 200 codes decoded
Notification of sickness: Notification of sickness by email or phone
Termination - what now? Regulations, template + important rules
Getting sick leave: what you need to consider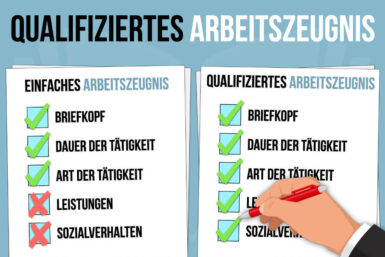 Qualified job reference: content, wording, sample
Self-resignation: templates, tips, deadlines & formulations
Sick during the probationary period: you need to know that
Notice periods of employment contract: rules, duration, exceptions
Job reference: template, examples, grades & entitlement
Continue to the home page