Where is the safest place in Cebu
Philippines: 8 travel bloggers reveal their insider tips
This post is also available in: Deutsch
Our first trip to the Philippines is coming soon! We are very excited, especially because the Philippines is one of the destinations in South East Asia that are not yet as frequented by tourism as, for example, a Thailand.
We want the land of over 7000 islands finally explore for yourself in December. In addition to beautiful landscapes, volcanoes, mountains and the jungle, the Philippines also shine with its beaches. One more reason for us beach lovers to take a closer look at the country for ourselves!
However, since the Philippines are incredibly diverse and we cannot look at everything in one month on site, we have 8 travel bloggers after theirs Insider tips asked. So that we don't miss out on the most beautiful things the country has to offer.
With these tips we would like to give you an insight into what you can expect from our blog from December. Our anticipation is huge. 🙂

We asked our blogger colleagues the following 3 questions:
1. Why are the Philippines worth visiting for you?
2. What is the most beautiful beach or place for you that shouldn't be missed?
3. What is your personal secret tip in the Philippines?
---
1. Lea from Escape Town
1. The Filipinos are a very open-hearted and friendly people, which makes traveling here very relaxed and fun. And then there is the blue-turquoise sea, the white sandy beaches and the rugged rock formations that make the landscape so incredibly beautiful ...
2. A trip under the water's surface! Here you can find everything from Nemo, to turtles and colorful nudibranchs, of any rank and name. If you don't have a diving license, you don't have to be sad - you can see the most beautiful colors just below the surface of the water anyway, even while snorkeling.
3. Get tips from the locals on site. Especially in the rainy season, I met many Filipinos on my trip who were on vacation themselves. Although I was only there for almost a week, I now have 5 pages full of tips and invitations to other islands that I should also visit. And another little culinary tip: the Mangoes taste damn good here.
Photos: Lea Hajner
---
2. Stefan from Fascination Southeast Asia
1. The Philippines are a very interesting and varied travel destination. There are plenty of dream beaches on the countless islands. Divers and snorkelers get their money's worth with the fascinating underwater world. But the country also has a lot to offer in terms of landscape. Examples are the world-famous ones Banaue rice terraces or the Chocolate Hills on Bohol. There are also some volcanoes that have to be climbed.
There is a lot to discover in the Philippines. Because due to the long journey, you can still find many beautiful places there that not everyone knows. You only have to cut back on the eat especially when compared to other Southeast Asian countries. Especially from a vegetarian point of view, that's nothing.
2. Oh, that's difficult. There are so many beautiful beaches in the Philippines. To be honest, he was one of the best White sand beach fallen on Boracay. The beach and the island are actually totally overcrowded and behind the palm trees everything is built up with hotels, bars and fast food shops. So actually more of a place to run away. But White Sand Beach is still beautiful. I have seldom seen such fine, white sand and such clear water. I was there once at the end of May. The almost exclusively Asian tourists avoided the sun and only came to the beach early in the morning and in the evening. During the day we practically had him to ourselves.
3. Many backpackers travel to the large island of Palawan. Especially the coastal town El Nido up in the north is very popular. A little further south lies the small island in front of Port Barton Cacnipa Island. There is only one resort on it under Swiss management. You will find a beautiful beach there and you can also snorkel on a small reef. Cacnipa Island is the ideal place to switch off and relax for a few days. No cars, no noise, but plenty of hammocks.
---
3. Chris from Globesurfer.de
1. The Philippines is fundamentally different from the rest of Southeast Asia. This is partly due to the fact that there are a lot of islands here and the tourist boost is still to come. Some of the small islands can only be reached by small boats. The people there have a warm-hearted culture. In addition, life there is just as cheap as, for example, in Indonesia.
2. I myself have only been to Palawan, which is not as crowded as Cebu and Co. You should be in Palawan El Nido do not miss. The Island hopping tours there are legendary and beautiful. Those who travel at the beginning or end of the season can be lucky and have an island with accommodation all to themselves!
3. Basically, as in every country, I would recommend looking off the beaten track. Is there a local waterfall or indigenous traditions or festivals to visit? There is always something to discover and often it is the little adventures and things that you find and never forget. If you need something to talk about, you should choose one of the 7 natural wonders of the world - Puerto Princesa Underground River - look at. But it's not more than a big cave ...
---
4. Sabrina from Just One Way Ticket
1. The Philippines has everything one can dream of. Wonderful mountain landscapes, lonely beaches, volcanoes and an underwater world that will delight every diver. I went to the Philippines for the first time in 2009 and have been there 8 times since then. The Philippines are definitely my favorite country in Asia. Filipino hospitality is hard to beat, plus everyone in this country understands and speaks English. If you need more reasons, you should take a look at my blog; I wrote an article with 10 reasons why you should visit the Philippines.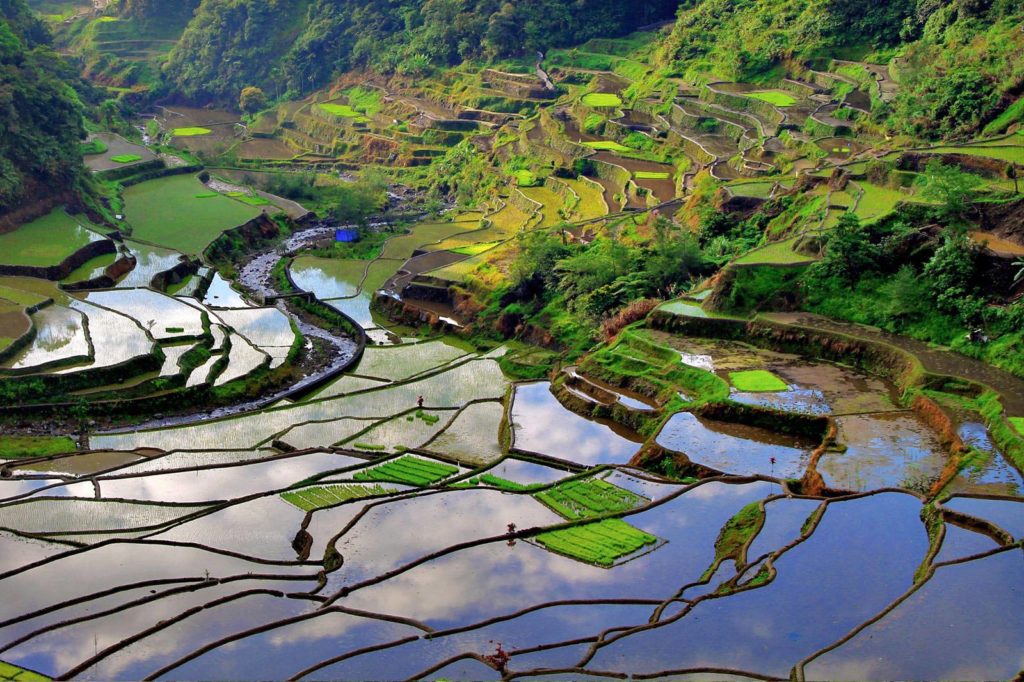 2. Oh ... tough question. The Philippines consists of over 7000 islands, so finding fantastic beaches is really not difficult. I don't really have a favorite beach, most of the ones I've seen look like straight out of a picture book. But now that you want to know someone, I'll tell you Paliton Beach in Siquijor. Blinding white sand beach and turquoise blue water. Tourists are rarely met there ...
3. The south of the Philippines is still quite untouched by tourism. Siargao is a fantastically beautiful island in Mindanao, apart from surfers and a few backpackers you only meet friendly locals there. Also Palawan is a must-see in the Philippines. The setting is absolutely surreal. The first time I went I felt like Alice in Wonderland. Here is a photo from the archipelago in Palawan. In general, I would advise everyone to plan enough time for the Philippines ...
---
5. Dennis from Lookin for Jonny
1. The Philippines, with its unbelievable 7107 islands, is definitely on the bucket list of every backpacker or world traveler. Really dreamy sandy beaches, exotic wildlife, overwhelming nature, one of the best diving areas in the world and incredibly hospitable people have also convinced me during my trip from Bohol to Cebu, via Panay to Boracay and back to Manila. The Philippines have their very own charm, in my opinion they are not comparable to any other Asian country.
2. The most beautiful island that I have personally visited is Boracay. I am certainly not revealing an insider tip, the island is known worldwide for its overwhelming sandy beaches. There are numerous beautiful islands in the Philippines and certainly some that are less crowded and touristy. But Boracay undoubtedly has by far the best beaches of all the main tourist islands and should therefore not be missing on any Philippines travel route. Fantastic white, powdered-sugar sand and that on 12 dream beaches on the small island make it possible to easily spend a week there and drive to two different beaches every day by motorbike. I had some hundred meters long, heavenly dream beaches completely to myself. I have described my entire route across the islands in several Philippines blog posts. There is so much to do and experience on the islands.
3. Besides Boracay, my absolute highlight was one Canyoning tour on Cebu. With a pretty cool vehicle it goes into the jungle of Cebu, before it continues 1.5 hours on foot through thickets to the starting point of the actual canyoning tour. There we crossed raging rivers, jumped from waterfalls, climbed over rocks and roped down from several 15 to 30m waterfalls. A great adventure in overwhelming nature.
---
6. John from Philippines Tours
1. The Philippines are becoming more and more popular with travelers of all kinds (backpackers and divers probably make up most of the vacationers), but they are still more of the more exotic travel destinations. In addition to the varied nature, it is above all the friendly people and their mentality that we as Germans can learn a lot from. A little "Philippine serenity" does no harm and can be experienced extensively on a trip to the Philippines of 2, 3 or even more weeks.
2. We have already written about the most beautiful beaches here on Philippinen Tours and we are constantly updating this post, which is why it may be worth taking a look at the corresponding article. 😀 Otherwise it depends a lot on what you prefer individually:
For Snorkelers Apo Island is a must, for example, as there is a "Marine Sanctuary" around this islet, which is maintained and maintained by Silliman University in Dumaguete, among others. Large sea turtles and many species of fish roam there permanently. The coral landscape is uniquely beautiful, which makes a trip very worthwhile.
For Hikers and trekkers the rice terraces of Banaue and Sagada are certainly an absolute highlight. Millennia-old culture becomes tangible here - it is not for nothing that the rice terraces are a UNESCO World Heritage Site that attracts many travelers to the Philippines to northern Luzon.
For Island hopper El Nido and the surrounding island landscape is the ultimate dream destination: more than 40 islets with beautiful beaches invite you to enjoy island hopping. Palawan is one of the absolute favorite destinations anyway - not only for backpackers.
Diver get their money's worth e.g. at Apo Reef, in front of Panglao and at Tubbataha Reef.
3. Siquijor Island is now a favorite with many backpackers who deal a little more intensively with the Philippines, which is why I am not referring to the "Voodoo Island" at this point, but to a travel destination in Mindanao: namely Siargao Island. Last year I was cycling across the Philippines with my girlfriend for four weeks and among other things have repeatedly explored this real surfer's paradise - and it was wonderful. The nearby Sohoton Cove and the surrounding area make an excursion Bucas Grande more than worthwhile. Island hopping is great there anyway. There are now regular flights from Cebu to Siargao, but the night ferry via Surigao City is also a real adventure, so that the journey is no longer that difficult.
Just Mindanao offers some insider tips, because many people don't dare to do it - thanks to the media. Almost all of my tours lead there right now - not only because, as a semi-Filipino, I am also at home there. Mindanao is rightly referred to mysteriously as the "Land of Promise".
---
7. Anna and Dominik from trips-4-lovers.de
1. The Philippines with its over 7000 islands is such a diverse country that it is not just worth a visit: beautiful beaches, great underwater world, rice terraces and extraordinary nature (such as the Chocolate Hills on Bohol). In addition, the people are really super friendly and helpful.
And: There is probably the cheapest beer in the whole world. The San Miguel (0.33l) costs between 50 and 70 cents in restaurants.
2. El Nido and his upstream Bacuit archipelago In northern Palawan, with its dreamy scenery, is one of the most beautiful places we have visited so far! Not only the craggy limestone cliffs, the hidden lagoons, lonely beaches and a beautiful underwater world, but also the great atmosphere totally thrilled us!
One of the most beautiful beaches - the neighboring beach to the east Seven Commandos Beach - is very close to El Nido and can be reached from Corong Corong by kayak. Since the beach is marked as a private beach - but according to the locals it is absolutely no problem to spend a day there - you are most likely the only people next to a coconut seller on the almost 100 meter wide beach with white sand and crystal blue water. Here you can relax incredibly well!
3. As an absolute insider tip, we can offer you a multi-day boat tour away from the tourist routes through the remote island world between Palawan and Coron recommend with Tao Philippines. Back to the basics! No luxury, simple accommodations, no electricity and no smartphones. But you can get to know a lot of nice people, enjoy authentic food, experience adventures, explore dream beaches, be enchanted by the underwater world and spend sociable hours around the campfire! An unforgettable experience! More on this on our blog!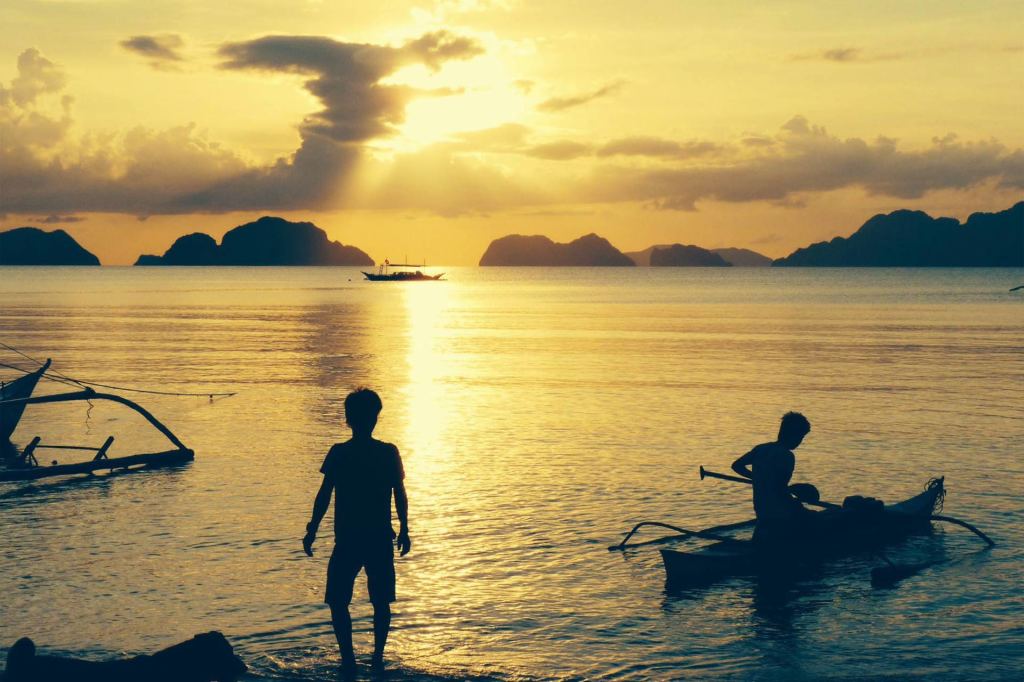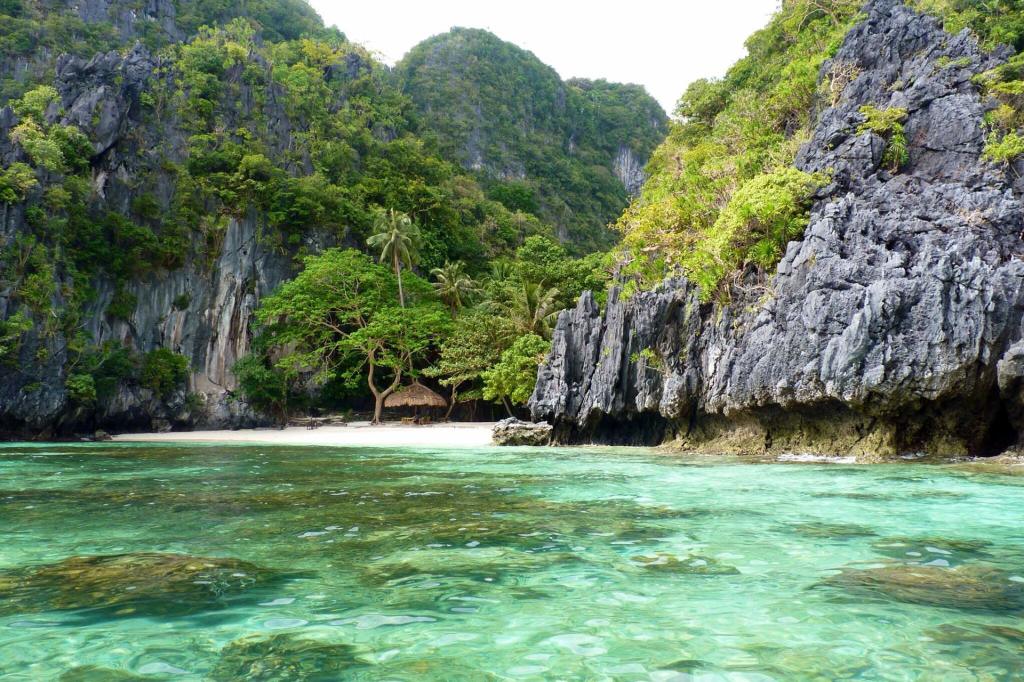 ---
8. Simon from Around the World Tour
1. The Philippines offer an extraordinary ratio between easy to travel and not yet overrun by tourists. Some areas, like Boracay, are fantastically developed for tourism, others are lonely and adventurous.
There are natural wonders like the Chocolate Hills, countless island paradises, the best diving spots, surprising wildlife (do you already know Tarsier, the little monkeys, hardly bigger than a thumb?) and always to see friendly faces.
What more do you want as a traveler?
2. You definitely shouldn't miss it Sunrise over the Chocolate Hills on the island of Bohol. Even today, no one knows exactly how these strange hills came into being.
You can perfectly combine the sunrise with a day tour on your own moped. This makes it easy to explore the entire island.
3. Calanggaman (also called calamangan). A small uninhabited island with a fantastic beach. If you are lucky, you are completely alone on the island, you can snorkel or dive, enjoy a barbecue on the beach or just stretch your feet in the pristine white sand. Overnight stay with a hammock is possible on request and is unforgettable.
The easiest way to get to the island is from Malapascua Island from, also a very nice little island with enough bungalows, lonely beaches and crystal clear water.
Have you ever been to the Philippines? If so, what are your personal insider tips and highlights? Let us know right in the comments.