Digital marketing increases e-commerce sales
How to Increase Your Ecommerce Sales Using Email Marketing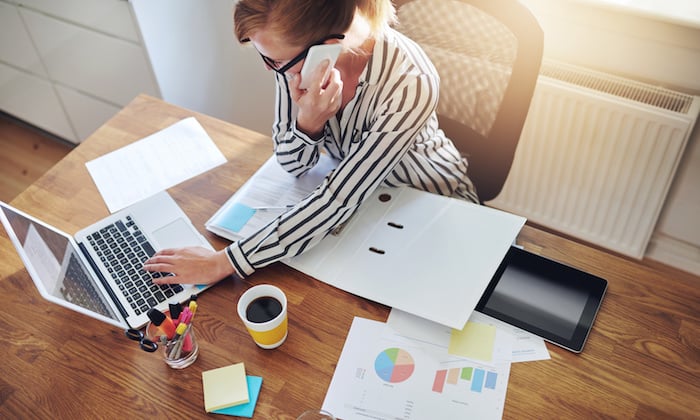 From PPC ads to promotional emails, there are a great many ways you can get sales from an ecommerce store.
One of the most reliable and profitable methods is email marketing.
Getting it right with email marketing, however, is difficult - especially when it comes to an e-commerce shop. So much can go wrong. Maybe you start and then quickly give up email marketing.
Giving up would be a big mistake, however.
Email marketing is responsible for around 23% of sales. That's why it's one of the most effective marketing channels.
If you know a few things, you won't find it difficult at all to create a profitable email marketing campaign yourself.
But what exactly is email marketing?
With email marketing, you want to build trust with your existing and potential customers. This can be achieved by sending promotional emails, personalized emails, or free coupons - anything that encourages customer loyalty.

In this article, we're going to see what you need to do to get great results from email marketing campaigns for ecommerce stores.
We'll look at how you can get results fast, but also how you can develop the skills necessary to continuously develop profitable email marketing campaigns.
At the end of this post, you should then be able to create your own email marketing campaign so that you can make a profit with your ecommerce store.
Let's start.
Collect subscribers for your list
Email marketing only works if you have enough subscribers on your list.
So the most important question is, "How do I fill my list?"
When it comes to marketing an ecommerce store, there are several different ways to get people to share your list.
If you are already making sales from your site, you should already have a list of "customers".
If not, now I'll show you a few tactics you can use to collect email addresses.
The first method involves creating a "pop-up" that will appear on your site and offer your visitors a coupon.
It is important that you do not fall into the house with the door and ask for an e-mail address as soon as your pop-up is displayed.
If you attract visitors with a discount coupon, they are more likely to buy something from you. And when they buy something from you, they give you their email address.
That's why it's a great way to generate leads and sales without looking too demanding.
You can also simply provide free content related to your product.
For example, if you have an e-commerce store that sells cooking utensils, you can offer "lead magnets" such as recipes or tips on how to clean the cooking utensils.
You can also add an opt-in box or a pop-up to your sidebar to let potential customers know that you have something to give away.
If your blog posts are attracting a lot of visitors, you can also offer "content upgrades".
You might even want to hold a contest.
Competitions can quickly give you tons of email addresses.
Even though competitions are very effective at generating signups, you risk a lot of irrelevant subscribers on your list.
These are the people who are very little interested in your products and only get involved in the subscription to get the gift.
These are the same people who never respond to your offers that you advertise in your email campaigns. It can't hurt to experiment a little to see what results you can get, though.
If you are sure, you can also ask for the e-mail address of your visitors so that they can even enter your shop.
You should of course try that out beforehand. But it seems to be working fine at Huckberry.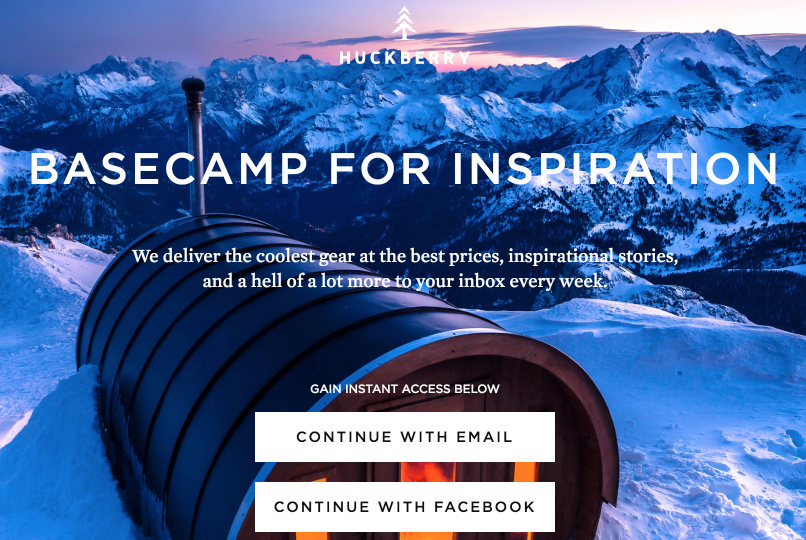 You can also run a few ads.
However, there are a few things you should be aware of here.
You can either place product ads or use the ads to promote your lead magnet.
Product ads are great because they translate into immediate sales and collect email addresses on top of that.
The sales you make can be used to cover your advertising expenses. This type of marketing is good when you're selling cheap products.
If you're trying to sell something high-priced, run ads promoting a lead magnet.
As you may know, it is difficult to generate revenue off the cuff when you are selling something expensive.
If you can get people to use your lead magnet, you can send them an autoreply series of emails to build trust and a relationship between the customer and your ecommerce store.
Notice: Even if you sell high-priced products, you can run tests to find out what happens if you advertise and sell cheap products just to collect email addresses.
When people buy something, they have to give you their email address and you can then develop a relationship with them and sell them expensive products later.
If you are clever at selling the cheap product, it can even improve trust in your shop.
As already mentioned, you have to try this out first to find out if it works inYour market is working.
Campaigns that lead to quick profits
When you have a subscriber list, you have to convince these people to buy something.
In order for them to do that, you need to run advertising campaigns, target prospects, and then seduce them into buying.
The "welcome email" campaign is designed to generate immediate sales.

There is evidence that subscribers are 42% more likely to read welcome emails than regular promotional emails.
You should take advantage of this knowledge and use the welcome email to get your subscribers to buy something from you, or at least to see what you have to offer.
Here is an example of a welcome email from Bonobos: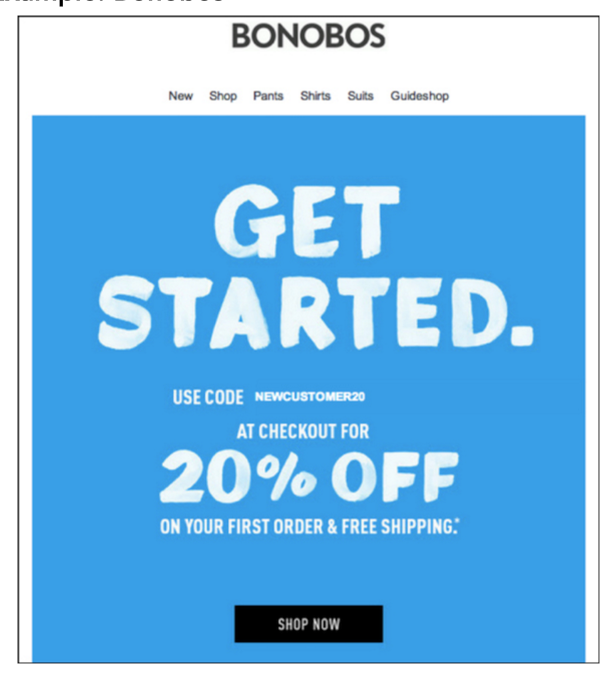 A welcome email with a coupon is a great example of how you can influence people to make their first purchase.
You can also run a seasonal campaign.
Whether it's Christmas, Valentine's Day or Halloween, there is sure to be a way to create campaigns for these occasions.
It does take some creativity and planning, but you shouldn't find it difficult to create marketing campaigns like this. You just have to ask yourself: "How can I connect my product to the upcoming event".
If you need some help with this, you can use a disposable email address and then subscribe to as many marketing lists as possible.
In the following months, you will see some great examples and collect ideas on how to implement such a campaign yourself.
Canceled shopping emails are another type of campaign you can run.
These campaigns are continuous and rely on segmentation (something we'll address later). You can definitely make quick profits with them.
Canceled shopping e-mails are used to contact customers who have shown an intention to buy. You contact them because they put their products in the "cart" and then for some unknown reason they left the site without buying anything.
When used correctly, abandoned shopping emails are powerful and an important tool for your shop, especially when looking at the statistics.
68.81% of online shopping carts are abandoned and 29.9% of abandoned cart emails prompt customers to complete the abandoned purchase.
You should definitely consider running a abandoned shopping campaign on an ongoing basis.
Here's a guide that can help you create better abandoned shopping emails.
If you want to improve the results of your abandoned shopping emails, consider offering a discount or free shipping to motivate people to complete their transactions.
You should also send emails to notify people that you have a new offer.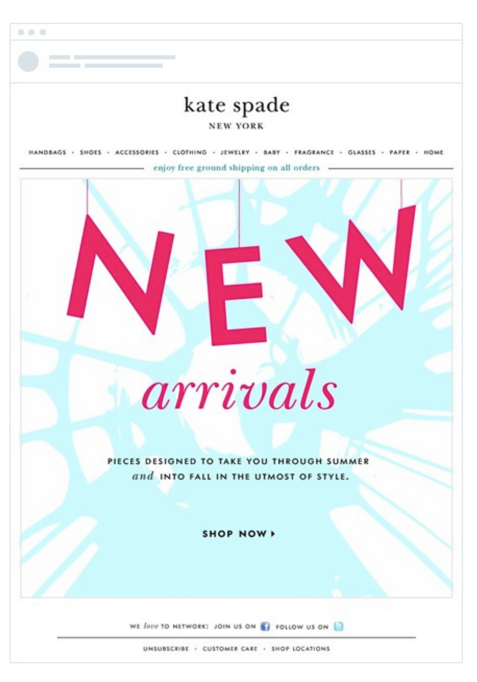 Obviously, achieving quick and sustainable profits depends on how often your shop gets new products and whether it is worth mentioning the new delivery.
If your shop only sells a single product, a new shipment isn't a big deal to announce.
The segmentation of your list
In email marketing, the "buyers list" is one of the best lists you can ever have.
When evaluating the characteristics of the customers who are on your buyer list, you can gain various insights.
First: You know these people want to spend money.
Secondly:You know that they have experience with your brand and trust your brand.
This is why a buyers list is so effective.
However, there is actually a way to make a buyers list even more effective.
The segmentation.
If you can create a segmented list based on interests, products bought, or actions customers have taken on your site, you can dramatically improve your ROI.
Last but not least, segmentation ensures that more people open your emails.
Why?
For example, you avoid sending emails that are not relevant.
By sending emails based on a subscriber's previous behavior, you can increase the chances of only sending relevant emails.
People are fed up with getting irrelevant emails.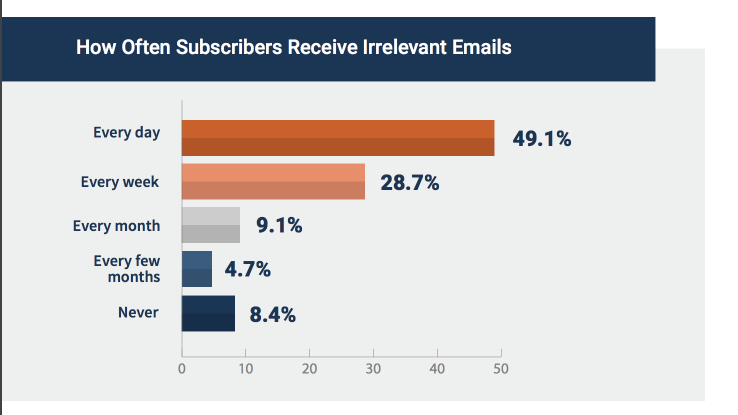 49.1% of people say they get irrelevant emails every day. And 31.6% mark an email as spam if they find it irrelevant.
Getting marked as spam is one of the worst things that can happen to you as it will cause your delivery rate to drop.
However, if you only send your customers relevant emails due to the effective segmentation, spam is no longer an issue.
If you stay consistent, your long-term open rates will improve. That means more people are exposed to your marketing and that can improve sales.
If you segment properly, people will find that your email always has offers and content tailored to their needs.
By segmenting, you can meet all three of the top recommendations people make when asked "How Businesses Can Improve Their Email".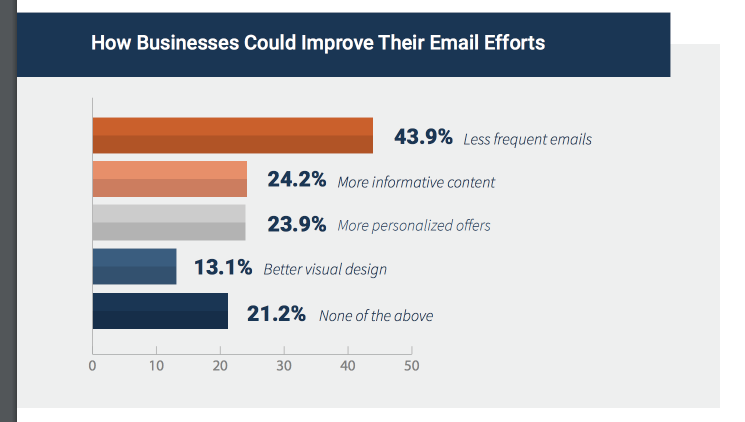 How can you segment your list?
You could reward loyal customers and re-engage old customers.
If someone in the past 12 months continuously Bought your products, you can send him a thank you email and tell him that you are grateful to him. You can then attach a voucher to this email.
When you do this, you build loyalty and increase the chances that these customers will continue to shop with you in the future. You motivate them to buy something from you again.
If someone in the past 12 months Nothing has bought from you, you can also send him an email and offer these customers a voucher.
This voucher can serve as an incentive to rekindle interest in your brand.
Howards Storage World is one company that did this well.
First, they divided their customers into two groups: "super members" and "semi-dormant".
The Super members are regular customers and the semi-dormant are those who have made nothing in the last 12 months or more.
$ 20 vouchers were sent to Super Members.
By sending this voucher to Super Members, the company increased profits by $ 105,000. The Super Members who received vouchers were "surprised" and "delighted".
Overall, this is a good result that has also contributed to improving brand awareness.
Vouchers were also sent to the semi-dormant group.
Interestingly, this group's spending was 16% higher than that of the Super Members. This group also spent $ 108,000.
In this case, email marketing generated more sales because old and inactive customers could be attracted with a voucher.
Segmentation based on customer behavior is also very effective. This type of segmentation works much like a abandoned shopping email.
Depending on what your visitors have done on your site, you will send e-mails even if they have not put anything in the shopping cart.
If you've used Amazon recently, you know that they are fans of this segmentation. And you probably bought something when you opened an email like this.
Here is an example of Amazon emailing a customer based on their behavior on the page.
What was this customer looking at?
This segmentation is effective because you motivate customers to continue with their purchase.
In some cases, you can also do some basic segmentation and ask subscribers beforehand what kind of emails they would like to receive.
While this is basic segmentation, this method can be helpful if you want subscribers to show you directly what they want from your email marketing.
How you segment your own email marketing naturally depends on which email marketing client you are working with.
It pays to plan in advance how you want to segment your customers. Then reach out to your email marketing customer care team to find out how you can get the result you want.
Such a consultation often helps you to realize that it is not as difficult as it looks.
Conclusion
Email marketing is something that you should make a top priority in an ecommerce store.
If not, you will lose a lot of profits.
If you have a subscriber list, you can experiment and try out a few of the campaigns you learned about in this post.
If you really want to pick up speed, you should try segmentation.
Get started right away. You will soon notice how powerful the combination of an e-commerce shop and e-mail marketing is.
Do you have any tips on how to best use email marketing to promote your ecommerce store? Tell us about it in the comments section!