Fossil fuels make our lives worse
What future do fossil fuels have?
The warnings are clear: "With the man-made emissions of 41 billion tons of CO2 in 2017, we are running out of time. It will be so difficult to keep global warming well below two degrees Celsius, let alone below 1.5 degrees", says the climate scientist Corinne Le Quéré at the presentation of the latest report on the development of greenhouse gases at the UN climate conference in Bonn.
Most of the greenhouse gases are released when coal, oil and gas are burned. According to Le Quéré's forecast, this year there will be 36.8 gigatons of CO2 - around two percent more than last year. In addition, there are other greenhouse gases that are mainly created when clearing forests and agricultural production.
"The peak of global emissions must be reached in the next few years, and then emissions must fall quickly in order to still counteract climate change," warns the climate scientist.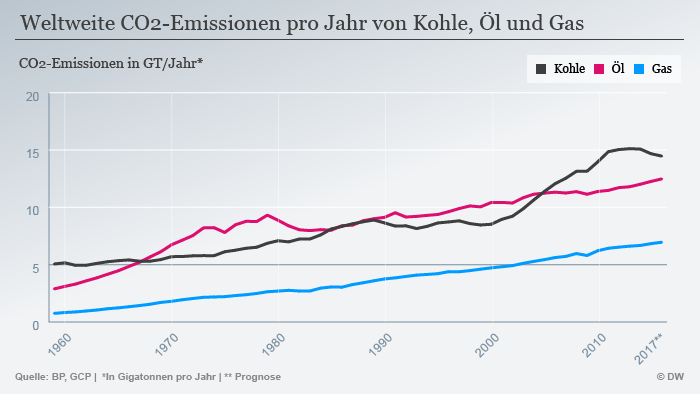 The rapid replacement of coal, oil and gas with renewable energies is seen as an essential step towards reducing greenhouse gases. According to a study that was also presented at the climate conference, global electricity production could be converted relatively quickly and inexpensively, reducing greenhouse gases from today's eleven gigatons of CO2 to 0.5 gigatons by 2035. This corresponds to a reduction of 95 percent.
The prices for wind and solar energy and for batteries are falling rapidly at the moment. That is why electricity can be generated more cheaply with renewables than with coal, oil, gas and atomic energy. "The energy transition is no longer a question of technological feasibility or economic profitability, but a question of political will," says the author of the energy study, Christian Breyer from Lappeenranta University of Technology (LUT) in Finland.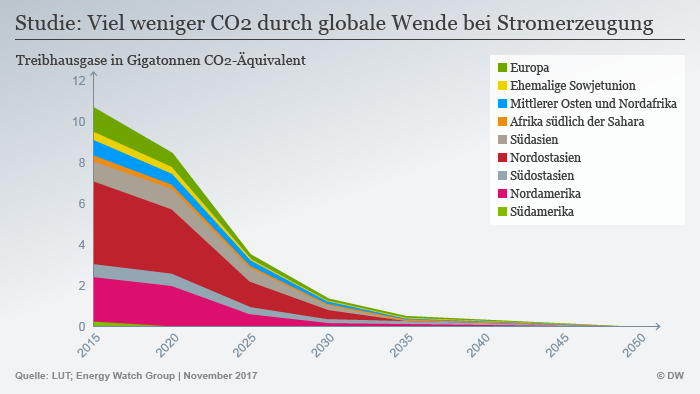 Is the peak of coal use already behind us?
The current shift away from fossil fuels and towards renewable energies is such a significant change that the world has not seen it since the energy transition around 1880, said British financial expert Kingsmill Bond at the world climate conference in Bonn. From 1880 onwards, wood and charcoal were increasingly being replaced by coal, oil and gas.
Today the growth of coal is already slowing down again. "2013 was the global highlight for coal," said Bond. "We will see the peak of the demand for fossil fuels in 2020 and the demand for cars with internal combustion engines in 2021," he said.
However, the US government sees it differently and promoted the long-term use of coal power at an event at the climate conference. With more efficient technology and a technology for CO2 capture (CCS), coal could be climate-friendly and future-oriented, said the representatives of the American coal industry. For the growing hunger for energy in the world, coal could be used for many decades to come.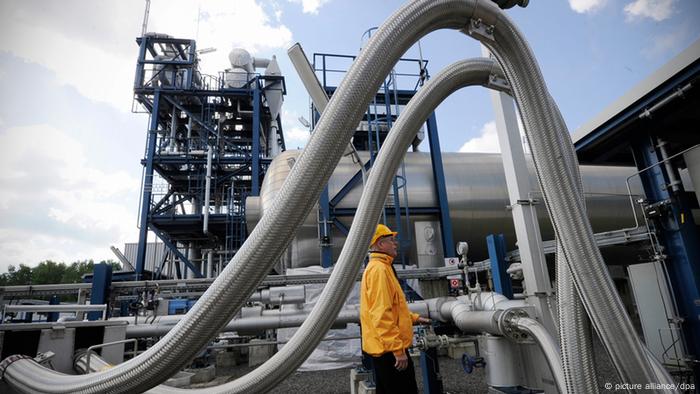 The operation of this CCS pilot plant in Brandenburg was stopped a few years ago
However, there are currently only a few coal-fired power plants that generate electricity with the more climate-friendly CCS technology. In Europe, operations in numerous pilot plants were discontinued. One reason is the high costs - compared to large solar and wind power plants, the CCS coal electricity costs about twice as much. The prospects for this technology are therefore not exactly rosy.
One possible solution: synthetic oil
Our vehicles are one of the biggest climate problems. The demand for oil for global traffic is growing rapidly and so far unchecked. Electric cars have not yet caught on, although that would be extremely important for climate protection. "We need mobility that is safe and climate-friendly," said Laura Tuck from the World Bank at the climate summit.
A quarter of all fossil fuels is currently used in transport. The associated emissions are currently between six and seven gigatons of CO2 per year and, according to forecasts, will increase to 16-18 gigatons by 2050 without a trend reversal.
The Paris climate goals would be torpedoed with such a development and could no longer be achieved.
One ray of hope: There is already a technology for producing a kind of "replacement oil" for airplanes, cars and ships. In the power-to-liquid process, hydrogen is first produced with the help of water and renewable electricity and then, in a second step, with the addition of CO2, synthetic methane is produced that corresponds to natural gas or produces synthetic oil. This enables climate-neutral mobility.
Synthetic fuels are currently significantly more expensive than crude oil or natural gas. But that will change, says the expert Michael Sterner from the Research Center for Energy Networks and Energy Storage (FENES) at the Technical University of Regensburg. "The breakthrough in this technology is only a matter of time."
The global implementation of the Paris Climate Agreement leads to the necessary replacement of oil and natural gas in many sectors with this technology. Climate-friendly fuels would be needed in the future, especially in the chemical industry, air traffic and heavy haulage.
"We will have the same development here as with photovoltaics," says Sterner. "There, too, a few years ago it was said that it was all nonsense. Today we have a multi-gigawatt industry."
Protesters storm Europe's largest lignite mine

Coal phase-out - now!

One day before the start of the world climate conference COP23, thousands of anti-coal activists gathered at the Hambach open-cast mine to demand a complete phase-out of coal. The demonstrators, dressed in white protective suits, marched ten kilometers - from a nearby village to the open pit.

Protesters storm Europe's largest lignite opencast mine

Complete the destruction

The Hambach opencast mine is the largest CO2 emitter in Europe. For the expansion of the mine, parts of a thousand-year-old forest have already been cut down and villages demolished - more are to follow. Activists believe that the climate talks in Bonn - only 50 kilometers away - are nonsense as long as the mine continues.

Protesters storm Europe's largest lignite opencast mine

Fight peacefully

Despite the heavy police presence, the mood was initially very peaceful. Colorful posters and painted faces, along with guitars and vocals, were the protagonists of the protest - at least during the first part.

Protesters storm Europe's largest lignite opencast mine

Caution, danger to life!

As the protesters approached the mine, police officers increased their presence and blocked the march. They used loudspeakers to warn the demonstrators that they were walking on private property and that their safety was at risk.

Protesters storm Europe's largest lignite mine

Run, run, run!

The protesters grew increasingly excited as they neared the mine, and although they had walked many kilometers, they ran and cheered for the last few meters.

Protesters storm Europe's largest lignite opencast mine

A success - for today

Blocking such a coal infrastructure was the best way to get their voice to be heard in favor of an immediate coal exit, the activists say. And yes, at least for a while the huge excavator stopped working - of course that was a great success for the hundreds of activists who made it to the site.

Protesters storm Europe's largest lignite opencast mine

Stop coal, protect the climate

It wasn't the only protest over the weekend that anti-coal activists and climate supporters from around the world gathered. But they all had the same motto: stop coal, protect the climate. It is difficult to find a place in Europe that represents the coal debate as well as the Hambach opencast mine.

Protesters storm Europe's largest lignite opencast mine

The reinforcement is there

After the long walk and hours in the cold, the protest seemed to be drawing to a close. But then two other groups of activists stormed the area. They had previously separated from the other demonstrators to escape the police.

Protesters storm Europe's largest lignite opencast mine

Time to act

The activists have achieved their goal: parts of the Hambach opencast mine were stopped, at least for a day. It remains uncertain whether politicians will take long-term coal-mining measures during the COP23 climate conference.

Author: Irene Banos Ruiz