How can you record your fingerprint
Fingerprint sensor: this is how the biometric scan works
It is found in numerous smartphones and we use it as a matter of course. A few years ago the fingerprint sensor in smartphones was something very special, but today it is indispensable. But very few users know how it works and how safe the technology is. We enlighten you!
It's that simple: Put your finger on and the phone is unlocked. The fingerprint sensor makes life easy for us because we can access our data quickly and easily. The feature has been in use since 2013. In 2018, the sensor not only arrived in the manufacturers' top smartphones, but is also used in mid-range and even entry-level models from Honor, Samsung, Huawei and many others. Apple pioneered the fingerprint scanner in smartphones. The iPhone 5s was hailed for the Touch ID, as Apple christened it. As the first biometric identification method in smartphones, it should provide a high level of security.
Fingerprints have been used in criminology and for unique identification for many years. The background is the texture of the footprints. Each person has a unique fingerprint, which is not even the same for identical twins. Scientists speak of biometric characteristics. So every person can be clearly identified.
This is how your imprint will be scanned
There are two common methods of scanning the fingerprint sensor - capacitive and optical. Both have in common that they take a picture of the fingerprint and refer to it for comparison when a new finger is placed on the sensor. However, the technologies behind it differ greatly.
This fingerprint sensor includes a charge-coupled component that is installed below the contact surface for the finger. This is a sensor that is also used in digital cameras and is called a CCD. This component contains light-sensitive diodes that are required to take the picture. A separate light source is also used. If a finger is placed on the surface, the diodes perceive different brightness values. Dark areas are the characteristic papillary ridges, the finger grooves, lighter areas are the spaces in between. The image captured by the diodes is converted into electrical signals by an analog-to-digital converter. In the end, digital patterns are created that can be saved. When unlocking, a comparison is made within seconds to determine whether the applied pattern matches the stored data.
This technique is based on electrical charge. In this case, there is a conductive silicon layer on the fingerprint scanner, underneath a network of thousands of tiny capacitor cells. These sit on a sensor chip. If the finger is placed on the silicon layer, the electrical charge changes. However, this only happens in the places where the finger grooves rest. Where there are no grooves, the load remains the same. An operational amplifier with an integrated circuit and an analog-to-digital converter convert the whole thing into a digital image of the fingerprint sensor.
One sensor has prevailed
Fingerprint sensors that work with an electric charge have become widely accepted. The optical sensor is easier to build, but also much easier to fool. Here it is enough to press a high-resolution photo of the fingerprint on the sensor. The capacitor method, on the other hand, is not that easy to outsmart. In order to provide even better protection against fraudsters, many sensors nowadays test whether the material applied is alive or not. For this purpose, infrared sensors are installed that recognize whether tissue is dead or alive. Living reflects infrared rays, while dead tissue absorbs them.
New developments in this area
Qualcomm and Vivo presented the first ultrasonic fingerprint sensor at MWC 2017 in Shanghai. It offers many advantages over the other sensors. For example, it can be hidden under the display. The ultrasonic sensor sends out ultrasonic waves that are swallowed or reflected by the skin. A sample of the fingerprint can be made using the sound waves that have been sent back. If all waves are included, a 3D model of the finger is created at the end. With this it should be even more difficult to outsmart the sensor. The first smartphone equipped with the technology is the Vivo X20, which is expected to be available from the end of September.
In addition to this method, another method is under discussion. Apple had secured a patent last year that suggests that the manufacturer is working on an acoustic fingerprint sensor. The rumor cooks suspected that this could already be used in the iPhone 8 or iPhone X. Instead, Apple completely dispensed with the previously popular Touch ID and only used face recognition. It is not known whether the manufacturer continues to work on the method.
A few seconds are enough for the adjustment
If you scan your fingerprint to unlock your smartphone, you only have to hold your fingertip on the scanner for a few seconds. This is because only part of the fingerprint is required for the comparison. In addition to the sensor, the appropriate software and integrated circuits are also used in the smartphone for evaluation. These look for so-called minutiae - peculiarities such as branches, ends, spirals and interruptions in the papillary ridges. Only 40 minutiae are required for a successful adjustment. So it is possible that you only have to hold your fingertip on your mobile phone for a few seconds to unlock it.
Incidentally, the data on your fingerprint is not saved on your smartphone as a graphic, but as a so-called hash code. This can be read by hackers but cannot be counted back into an image of your fingerprint.
Is the fingerprint safe?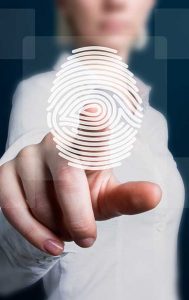 No backup method guarantees that your data is 100 percent secure. The fingerprint scanner can also be tricked. In 2017, scientists developed a universal fingerprint that can be used to unlock two out of three cell phones. They took advantage of a weakness in the unlocking method: the scanner is far too small to take an entire fingerprint. Instead, only partial impressions are taken. With a few comparisons, they found that fingerprints are unique in their composition, but that this does not apply to the partial prints. The universal finger that they assembled was able to unlock well over 60 percent of the cell phones tested with its partial imprints. Here, biometric identification does not offer 100 percent protection. However, it is unlikely that you as a user have to fear for your data in everyday life. Because such a universal finger is complex to manufacture. It is unlikely that a hacker actually targeted your smartphone with such a "key". Nevertheless, we do not recommend activating online purchases using your fingerprint. In addition, in the best case scenario, you should also secure your smartphone with a password or another backup method. The fingerprint is not your method of choice? Here we explain another method to you.
There are fingerprint sensors in these smartphones:
Huawei P20, Huawei P10, Samsung Galaxy S9, Samsung Galaxy S8, iPhone 8, Honor View10, Sony Xperia XZ2, OnePlus 5T, LG V30, Google Pixel 2 and Nokia 8.