How do online poker sites make money
How do online providers earn their money in poker - helpful information
In the infinite expanse of the World Wide Web you will find an equally infinite range of gambling and poker sites. The reasons for this are obvious: A huge amount of money can be earned here with little effort. Ultimately, no matter how well you play and how much you win, the casino always wins. But why is that? Every provider has economic interests in operating a poker site and the bigger and better known the site, the more players there are and the more the provider earns from it. For the uninitiated, the question now arises: How does the provider earn if he is not involved in the game himself?
For every hand played, the provider keeps a certain proportion of the pot, the so-called rake (from the English rake, the pushing together of the chips in live poker). The higher the pot, the higher the earnings. With the huge number of hands that are played on the Internet, you can quickly work out how high the profit is, even if each provider only withholds a few cents per game - a million dollar deal. There are also fees for every registration for a tournament or Sit'n'Go, which do not flow into the prize pool, but directly into the operator's coffers. These amount to around 10% of the buy-in - this sum definitely ends up in the operator's pockets. This can make huge sales and the more players the provider can attract to his side, the greater his profits.
Now it should be clear why there is so massive advertising for the various poker rooms and why the various sites are trying to attract new players with attractive bonuses. In order to find your way in the jungle of these countless bonus offers, there are various poker communities, poker information sites and online poker schools that give out tips and bonus codes that are intended to provide you as a player with special conditions. Of course, this is also done with financial ulterior motives, as each side earns from the rake produced by the referred customer. These are so-called affiliate programs. In the following article we are going to give you an insight into the vast world of online poker and the business that goes with it.
Overview of the major online poker providers
Since there are countless online casinos and poker sites on the Internet, a complete list is not possible. It is also a very fast-moving business and as soon as one site is closed, three new ones are opened again. Of course, not all that glitters is gold and there are some dangers lurking, even with larger poker providers. At this point, we will introduce you to some of the most popular poker sites, discuss their advantages and disadvantages, and point out the dangers that currently exist.
The top three poker sites currently include Poker Stars, Full Tilt Poker, and Party Poker. Each site has its own software, only PartyPoker also operates the poker site Empire Poker with the same software. With all three providers, you can be sure that everything is going well. These sites are simply too big to allow negative press and, on the contrary, are interested in substantiating the seriousness of online poker.
Full Tilt Poker
In 2007, FTP firmly established itself on the German market through an excellent promotion campaign. In September 2007, Full Tilt Poker hosted the Million Euro Challenge in Germany. Every player had the chance to qualify online in freeroll tournaments for a live tournament with 2,700 participants in one of six German cities.
The winners of the city tournaments then played the winner in a television tournament, who had to compete heads-up against three full-tilt poker professionals in order to win up to a million euros. Ultimately, the German Martin Kläser was able to prevail against the huge field of online and live players and managed to win against two of the three pros. Unfortunately, that wasn't enough for the million, but because of his outstanding performance, he was called to the Full Tilt professional team and even won a bracelet in the Seven Card Stud event at the 2008 WSOP. In addition to this campaign, Full Tilt is also permanently present with advertising on TV, radio and print media, so that the operators underpin their leading position in Germany and worldwide.
PokerStars
In addition to Full Tilt, PokerStars is also very well represented on the German market. PokerStars is well known not least because of its collaboration with Stefan Raab's TV Total Poker Night and its permanent presence in TV advertisements. The site is also one of the leading providers of online poker worldwide.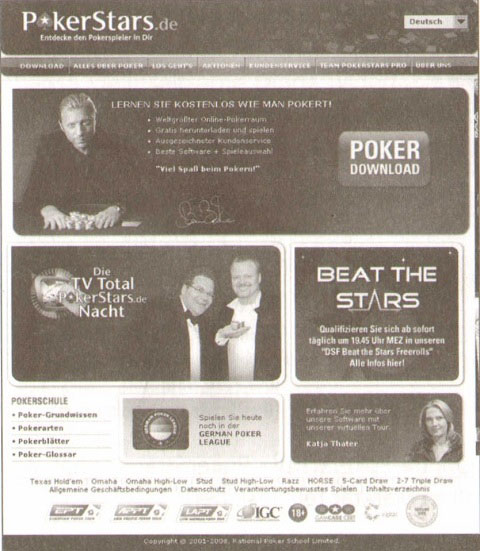 Image 17.2 Here, too, the start page advertises with its many special events and various stars. B. would be: Boris Becker, Katja Thater or even Stefan Raab, who incidentally hosts his TV Total PokerStars Night at regular intervals, for which you can qualify online, of course at PokerStars - by the way, without having to invest a tired cent. (Source: pokerstars * de)
In addition to online poker, PokerStars and the IntelliPoker site offer an attractive range of courses. IntelliPoker members can use poker quizzes to collect points that can be used for special tournaments and Sit'n'Gos at PokerStars. The PokerStars professionals offer advanced training opportunities through IntelliPoker.
Party poker
This provider is also very well known in Germany for its TV advertising and broadcasts of PartyPoker live events on television. Until 2005, PartyPoker was the main sponsor of the WSOP in Las Vegas. After the legal situation there severely restricted access for Americans to online poker, PartyPoker withdrew from the US market and concentrated on the European market.
In close cooperation with the online poker school PokerStrategy, PartyPoker has secured a large market share in Germany.
Other providers
In addition, the providers Everest Poker, 888 and PokerRoom are always present on German television. The market shares here are, however, significantly smaller than those mentioned above. In addition, one hears from time to time about EuroPoker and bwin, which are occasionally seen with advertisements on German TV, but play a rather subordinate role - with bwin currently expanding strongly. Without any large outdoor advertising, Titan Poker should be mentioned here, which also has a relatively large market share in Germany. There are various other providers on the European market who advertise their offers regionally. All of these providers are harmless in terms of security and seriousness.
poker combinations play poker online2016-05-16