Can lawyers be good business owners?
Very own business: young lawyers as entrepreneurs

An article from the azur career magazine 2/2015
Starting your own business as a young lawyer is not easy. But your career can only really progress with new clients. The recipes for success of the professionals in Frankfurt. By Eva Flick (from azur 2/2015)
After all, her independence led her to the other side of the street. Three years ago, six associates from Hengeler Mueller in Frankfurt quit their jobs in order to start all over again. 'Wendelstein' was written on the office sign that they screwed to the wall on the third floor of Bockenheimer Landstrasse 33.
They wanted their own law firm, independence, more responsibility. Under the banner of the renowned large law firm directly opposite, the six founders had worked on important transactions for years. The list of mandates ranged from Hypo Real Estate when the Bad Bank was founded, through the refinancing of the Carl Zeiss optics company, to the multi-billion dollar sale of the shipping company Hapag Lloyd to Tui.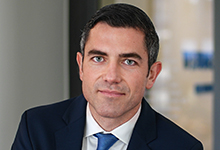 Founder with many contacts: Frank Fischer von Wendelstein.
Such mandates are still an ornament on their résumés today - they are only of limited use for setting up their own business. Neither Hypo Real Estate nor Carl Zeiss nor Tui will mandate Wendelstein instead of Hengeler in deals of this size. In this respect, the six founders felt the same way as many who worked for a large law firm for years: They had a lot of professional experience, but hardly any business that could be taken into a new law firm.
Condition for advancement
A lack of business is by no means a mere blemish in the legal career of large law firm associates. Because if the employer does not provide for a specialist career as counsel and an up-or-out principle applies, the associate has to climb the career ladder, always in the direction of partnership. That means that he needs his own clients - or at least the best company contacts - in order to be accepted into the ranks of partners.
However, the chance of a partnership, especially with large law firms, is slim, and with some US law firms it is even negligible. Anyone who has failed to build a resilient network with which money can be made in the foreseeable future will then have bad cards when changing law firms. After all, the new unit also wants to be in a better position with a partner in its ranks than before. The same applies to the many spin-offs of associates from large law firms.
With the Wendelstein lawyers, the first euros flowed under their own label because Hengeler recommended their long-term associates. A welcome start-up aid that a number of large law firms give to the growing number of spin-offs of their associates in Düsseldorf, Hamburg and Munich. In addition, the Wendelsteins had established a good network of contacts over the years.
Systematic networking
Frank Fischer, 42, one of the founders, still speaks today like the foster son of his old employer when he says: "At Hengeler you learn early on what is important when building up the business. You are close to the client and maintain a good client relationship over the years. "The contacts he established during this time still hold up today. In doing so, he emphasizes, it is particularly important to orientate oneself in one's own age group, both with companies and with other law firms.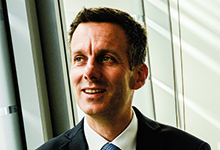 Networker with a system: Luther partner Christoph Schauenburg.
This systematic way of maintaining contacts is also practiced by Christoph Schauenburg, partner at Luther in Frankfurt. After completing his studies, the 40-year-old banking and finance lawyer started at Cleary Gottlieb Steen & Hamilton in Frankfurt, and thus in a US law firm that is regularly involved in the world's largest transactions, but rarely takes the lead from Germany. The German lawyers are part of an international team in these deals. "You were often further away from the client than with purely German transactions." And yet, Schauenburg made capital out of his time in Cleary's Frankfurt and London offices.
His recipe seems simple at first glance. "You always have to be interested in the people behind the mandate," he advises younger colleagues. At Cleary, for example, he regularly worked on transactions with the lawyers of a bank that is notorious in the market for its hire-and-fire mentality.
So when the contact of the same age from a mandate left the company again, Schauenburg took the trouble to find out where they had ended up. "I then wrote him an email and stayed in contact for years," he reports. These people - at that time on the same career level as Schauenburg as a young associate - are now in responsible corporate positions. "The continuous cultivation of contacts costs a bit more time, but it is worthwhile," he sums up.
Targeted client information
Schauenburg also uses this very targeted self-marketing when it comes to placing his assessments on specialist topics. However, he personally rejects classic publications in specialist media, describing himself as 'unacademic'. But that does not mean that he does not comment on specialist topics. On the contrary. "When I read, for example, that the ECB has a new legal opinion, I write a short summary on the subject, nothing extensive, 20 to 30 lines, and send it to a selected group of recipients." He calls it the opposite of the watering can principle. " So you stay in the memory, and at some point a mandate comes about. "
Lectures that Schauenburg gives today at Luther and that address more general topics to all clients who are interested in the topic are more in the direction of the watering can principle. The fact that young lawyers also give lectures at client seminars is part of the standard training repertoire of almost all law firms.
Dr. Matthias Budde, also founding partner of Wendelstein, warns against too high expectations. These events rarely show rapid success if they are not tailor-made. "Otherwise, some things are simply a matter of chance," says the 40-year-old. "You can give the same lecture many times without this leading directly to a specific mandate at the end, and the next time there is the mandate request immediately afterwards because a participant needs specific help with the problem addressed." For associates with little professional experience After all, these lectures are a welcome method to slowly but steadily recommend yourself as a technical expert to potential clients.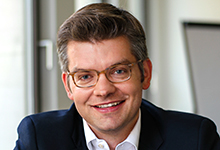 Marketing with lectures: Wendelstein partner Dr. Matthias Budde.
Instructive pitches
At some point it comes to the proverbial sausage for the first time - for example when a law firm is invited to a pitch, i.e. a company lets several law firms compete against each other for a mandate. "Being taken there as a young associate is incredibly instructive," recalls Dr. Eike Bicker. He knows the German law firm market from different perspectives. The 36-year-old joined Hengeler Mueller after completing his studies, switched to Gleiss Lutz and was then one of the founding partners of Pohlmann & Company. In the middle of the year he returned to Gleiss from the law firm specializing in compliance.
From today's perspective, pitches were very instructive for him. "It is incredibly important to find out what the client does and what doesn't." Because this is about empirical values ​​that no lawyer learns at the university. "At the pitch, everyone pays lesson once." On the subject of legal fees, for example. Estimating correctly how much a law firm has to estimate for a mandate often decides whether the company decides for or against a law firm.
Sometimes it is also more beneficial for business to offer the first mandate for a lower price - with the hope of lucrative follow-up mandates. Bicker is a specialist in compliance issues, and there are extensive investigations that make more money as a lawyer than with building compliance systems. With his decision to found Pohlmann & Company together with Andreas Pohlmann three years ago, he was able to establish many contacts again. Contacts that are very useful to him today, back in the big law firm.
Out of the golden cage
Like Christoph Schauenburg, Bicker moved at a time that was favorable for his career. Schauenburg - 37 years old when he switched - first had to build up his business decisively when he joined Luther. He owes the fact that he succeeded not only to the sophisticated maintenance of his network. "You have to take the jump at the right time," he says.
Realistically, it would take about three years to develop a solid client base from existing contacts. He sees it soberly. "If a 45-year-old counsel tells me today that he has been thinking about switching for a long time, then in most cases he has thought too long." In his opinion, many rest too long on the preliminary stages of a partnership. It is not easy for some people to leave their golden cage with a fixed salary of 100,000 euros plus a big bonus for an uncertain future. But even excellent specialist knowledge, good networking and the right time are not enough for a viable business.
The risk was a success
After all, it is also about the ability to be a good manager, to be able to calculate costs, to recognize market trends and to develop new legal advice products from them. Boutiques are also quickly obliged to grow when clients knock on the door (-> so nicely painted). The Wendelstein founders have now also hired seven associates and are confronted with questions about training and career opportunities.
Schauenburg and Bicker took the risk of a new beginning, just like the founding partners of Wendelstein. In the beginning, Hengeler's recommendations were a welcome boost. "But this factor does not last forever," emphasizes Frank Fischer. "In the end, only those who manage to win the trust of their clients over the long term can build up their business." They learned that when they were at Hengeler, on the opposite side of the street.