Domain Authority Page Authority
How to increase your domain authority by 5 points in just 2 weeks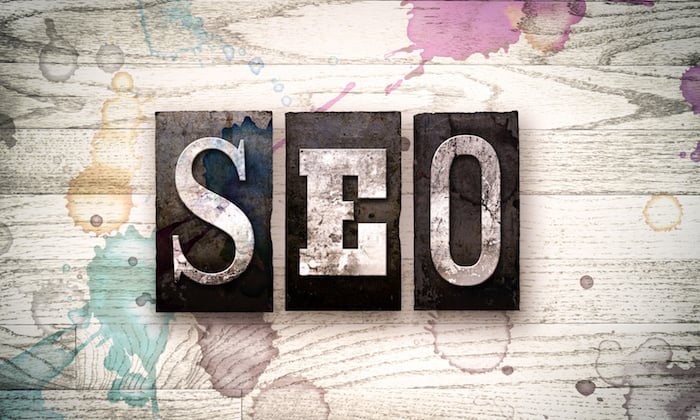 You can ask any marketer about their number one SEO goal and they will likely reply that they want to get a position on the first page of search results (SERP).

This is most marketers dream: Position 1 on page 1.
That makes perfect sense if you think about it more closely.
Placement on the first page of search results would be a success, but # 1 would be the icing on the cake.
The results speak for themselves, because if your website appears in the first position of the SERPs, you will achieve a 200% higher click rate (CTR) than your successor in position no. 2!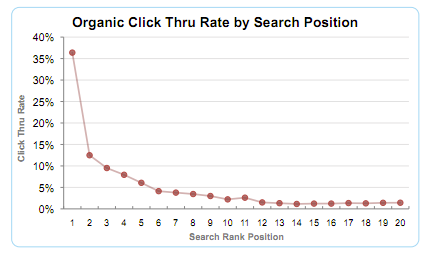 First, however, you have to overcome many obstacles to even land in this position, because it is not that easy.
For example, it is not enough to target certain keywords and collect backlinks from authoritative websites. There are numerous other ranking factors that you also need to consider.
One of these factors is the Domain Authority (DA).
The DA is a metric developed by Moz that predicts how well a page will rank. The DA is an industry standard for SEO and ranking in the SERPs.
The DA is measured on a scale from 1 to 100. The closer the value is to 100, the more traffic a website gets and the better the ranking.
And you probably already guessed it, because a low DA leads to a loss of traffic and rankings, which is why it is so important to achieve the highest possible DA.
I know a lot of people who have trouble bringing their DA up because it's a rather long-term process. You can't just make a few small changes and expect the DA to go up suddenly.
There are absolutely a few things you can do to improve your website's domain authority. This doesn't happen overnight, but relatively quickly.
I've put together a process that one of my customers could use to increase their DA by five points in just two weeks. Believe me, it actually works.
If my customer did it, then you can too.
Understand the Domain Authority (DA)
Before you jump into the action headlong, you must first understand the elements that affect the DA.
But first of all, you need to find out which domain authority your website is achieving.
Moz, the inventor of DA, has a free program, Open Site Explorer (OSE), which you can use to check the DA on your website.
Visit the website moz.com/researchtools/ose: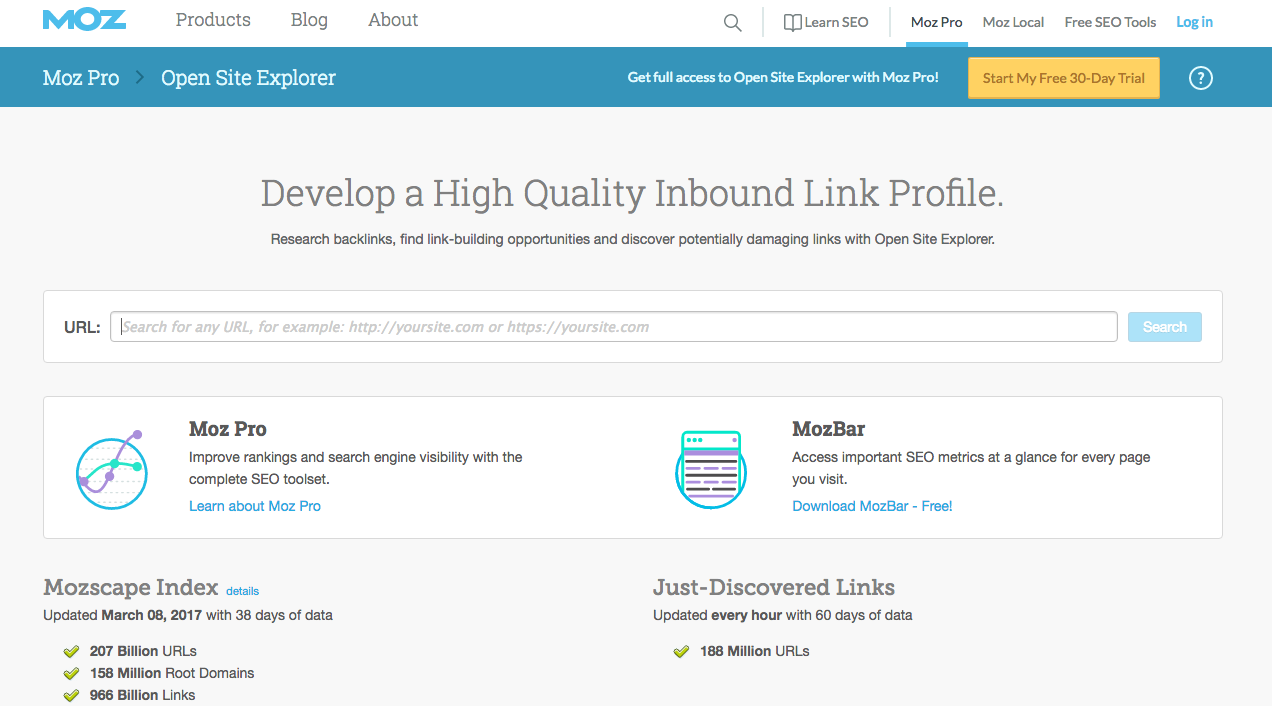 Enter your URL in the search box and click on "Search".

You will now be redirected to the results page.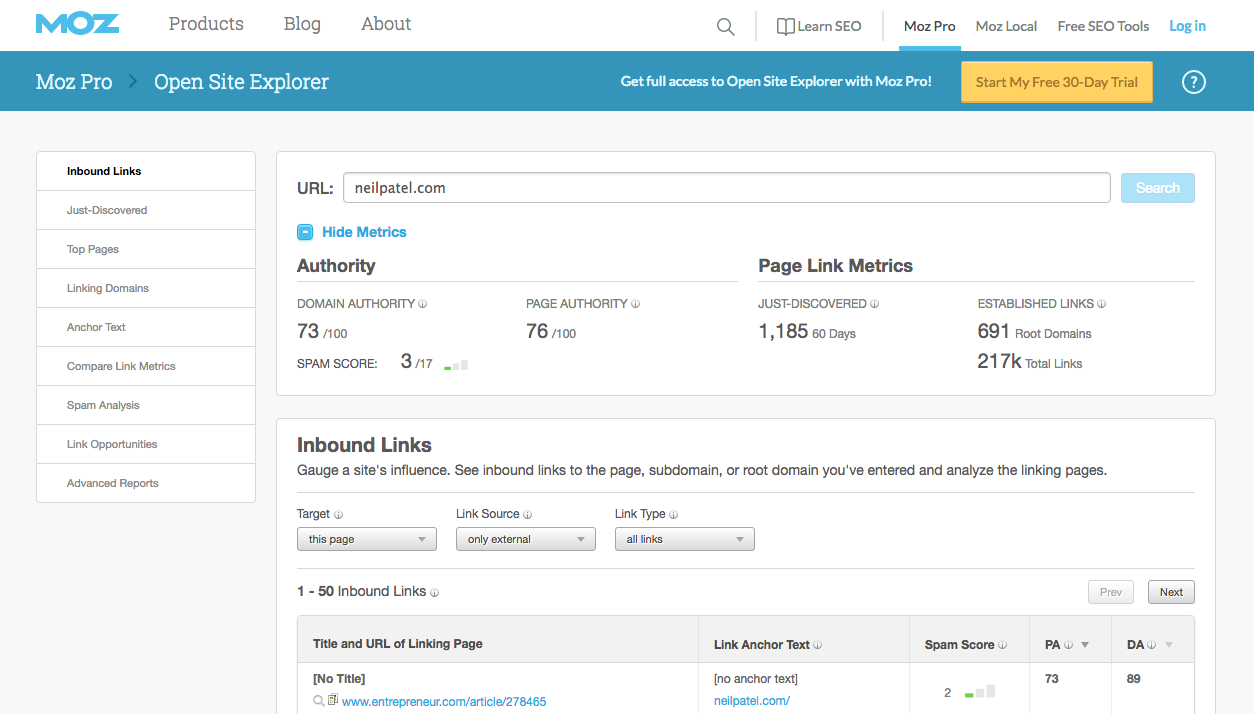 The DA can be found under "Authority".

Most websites get a DA between 40 and 60. That goes for sites that have already put time and effort into building their authority, backlinks and traffic. Of course, new websites achieve a smaller DA.
My friend Mike's website is only a few years old. His DA is 41.

But don't let a small DA discourage you, because I'll show you how you can increase it!
The DA of Quicksprout (one of my blogs) is currently 77. For that I have eleven years worked long and hard and built thousands of links.

Building a good domain authority takes a long time, as you'll soon see, but there are a few strategies you can use to speed the process up.
But first I want to show you which elements influence the DA.
Moz has created a page that is all about DA: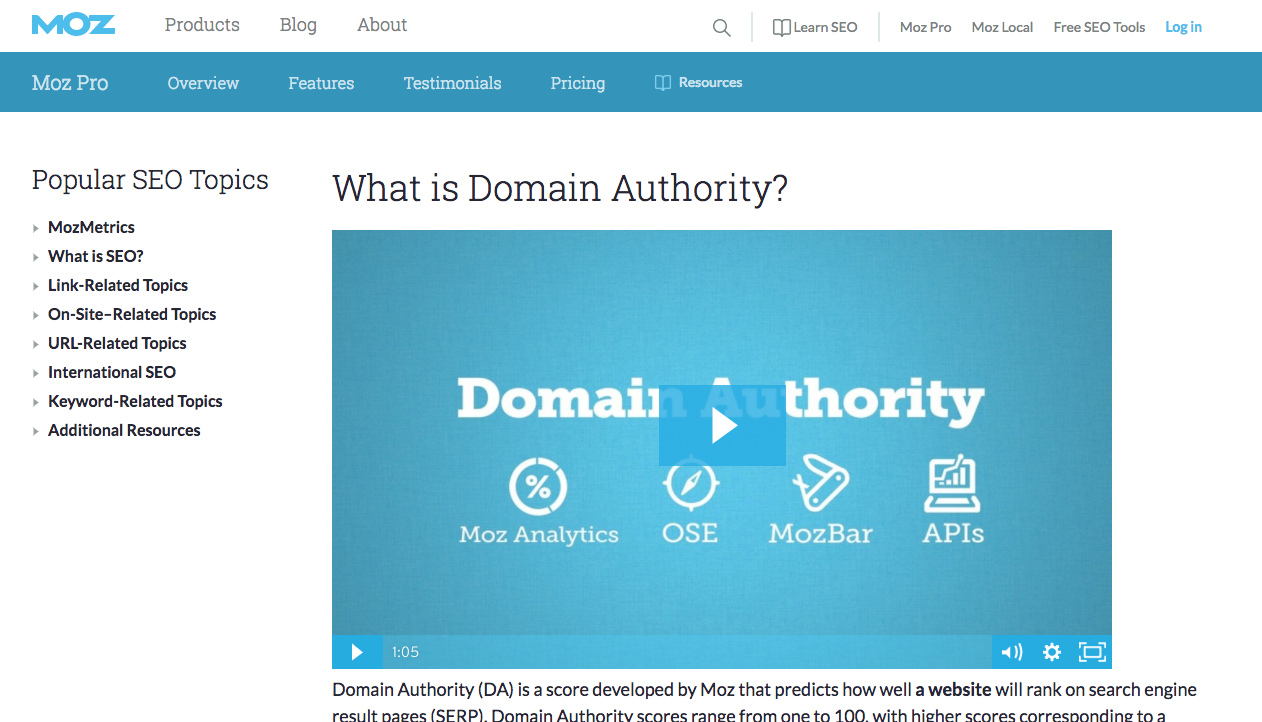 Unfortunately, the term DA is difficult to define. Moz just says the metric is "based on data from the Mozscape Web Index."
So it's a secret algorithm (like Google's).
However, Moz mentions a few factors, including:
MozRank
MozTrust
Link profile
It is hardly surprising that two of these three factors were also invented by Moz.
Moz says that the Domain Authority is determined from 40 different factors, so increasing the DA is not an easy endeavor.
Your link profile influences other factors, which in turn influence your DA. Since the link profile is mentioned as a factor, it seems to be important.
Here's another thing to keep in mind. Since Moz, following the example of Google, also relies on an algorithm that is influenced by several factors, Domain Authority increase should be viewed as an SEO method.
The DA is an important part of your overall SEO strategy.
I think a lot of people are not aware of this. You understand the DA as an isolated measured value, but it is actually a part of search engine optimization.
Here is a graphic from SEO Siren breaking the DA down into its components: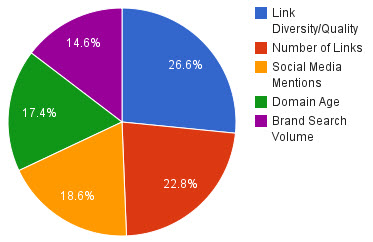 (Clarification: The graphic above shows SEO Siren's assumptions regarding the composition of the DA.)
The domain authority consists of several components and you have to take care of optimizing each of these components if you want to increase your DA.
We must not forget that the Domain Authority is a logarithmic Is worth.
What is it logarithmic?
I'm going to try an explanation for non-mathematicians. A logarithmic value is a value that increases non-linearly. The scale is a "distance". The distance from 50 to 51 would therefore be greater than the distance from 40 to 41.
how does it look in action?
Here is an attempt by Moz to explain:
We rate Domain Authority on a logarithmic 100-point scale, so the increase from 20 to 30 can be achieved more quickly than the increase from 70 to 80.
If your DA is already 95, then it is very unlikely that you will get the full 100 points from this with my tips.
Why? Because the increase by only one point becomes more and more difficult with increasing DA and much more Labor, time, link juice, and whatever else the Moz algorithm measures requires.
If your DA is currently 15 or 20, it could even be that your DA increases by seven to ten points after implementing my advice!
Now that we've got that out of the way, I'd like to cover the different strategies for increasing domain authority next.
Do a link check
If you want to improve your DA, you need a healthy link profile.
Your link profile consists of all the backlinks that refer to your website.
Google prefers link profiles with a lot of variety, because then the link profile is perceived as authoritarian, which indicates a credible website.
However, the link profile must also be "healthy", which does not mean that it has to comply with Google's guidelines.
There are link building strategies that your website could be penalized for for being banned. That would be an "unhealthy" link profile.
Google also calls these strategies "Link Schemes" (e.g. link exchange programs). This non-organic method of gaining backlinks is prohibited.
Here is the official list of prohibited link exchange programs: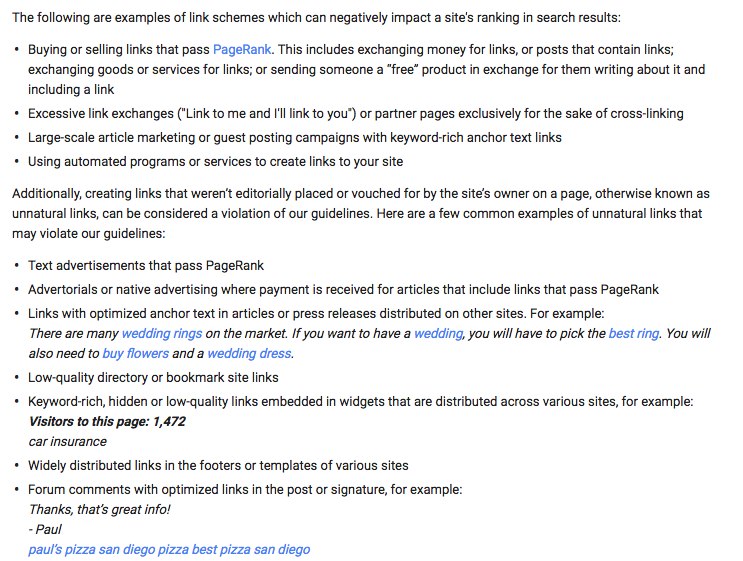 I'll bet even your website has a few links that fall into one of these categories. That's not a problem, because no website is perfect.
You have to remove these links as soon as possible (at least most from them) if you want your website to be perceived by the search engines as an authoritative source.
Believe me, there are better and safer ways to get new backlinks.
Also, if you've participated in a link exchange program, you've only built inferior backlinks anyway.
Before you can start building new links, however, you need to check your current link profile.
You can use Ubersuggest for this.
Step # 1: Enter your domain and click on "Search".
Step # 2: Click on "Backlinks" in the left sidebar.
Step # 3: Take a look at the overview.
The overview created contains three important pieces of information about the current link profile:
Domain Score - The general strength of your website on a scale from 1 (weak) to 100 (strong)
Backlinks - The number of backlinks pointing to your website.
Referring domains - The number of domains referring to your website.
Step # 4: Check your backlinks.
We want to find out if your site has backlinks that were obtained with the help of a link scheme. Depending on the size of the website and the number of backlinks, this process can take a little or a long time.
Pay particular attention to the domain score of the referring website. A domain score of 40 or more points usually towards a high quality website. Also pay attention to the relevance of the website, the quality of the content and how the links were set.
When the link check is completed, you must declare unwanted or harmful links to be invalid. This is how you clean up your link profile, make Google happy and increase your DA.
I don't want to go into the whole process of doing a full link check (because it would take too long), but if you want to learn more about the topic, you should read this article. That shows how it's done.
Build high quality links
I mentioned earlier that there are better link building strategies than link exchange programs, and now I want to share a few of my favorite strategies with you.
Which of these strategies you ultimately choose is important, that you produce great content that attracts new users.
That sounds familiar to you now. I'm talking about content marketing, of course, because it's a critical part of link building.
If you write exceptionally good blog posts, other websites will automatically refer you to your articles. This in turn has positive effects on your domain authority (and other advantages).
Once you have high quality content, you can actively build links for that content.
Personally, I prefer Brian Dean's method. He calls it the "Moving Man Method".
Here is a video from Brian explaining the method:
https://www.youtube.com/watch?v=lVMaSvTVmGI
It's one of the best link building strategies because you're doing another website operator a favor.
You do not violate any guidelines and you also maintain relationships with other websites.
Read this article if you want to learn more about the Moving Man Method.
Another great strategy is Quora. The platform is also ideally suited for link building.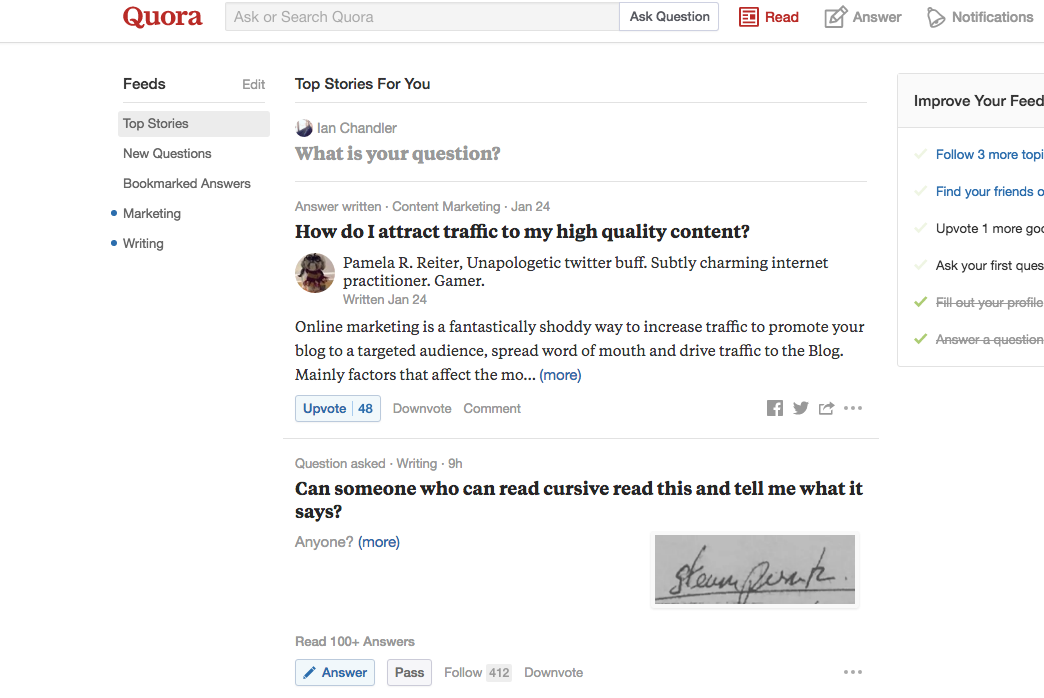 You've probably noticed that I mention Q&A platforms a lot. They are one of my favorite sources for effective content marketing and can also be used for link building.
In order to use Q&A platforms for link building, you have to answer the questions that are asked by users and then put a link back to your website in your answer.
If your blog or website deals with the topic of "email marketing", you can search for specific questions in this area on Quora. Here is one: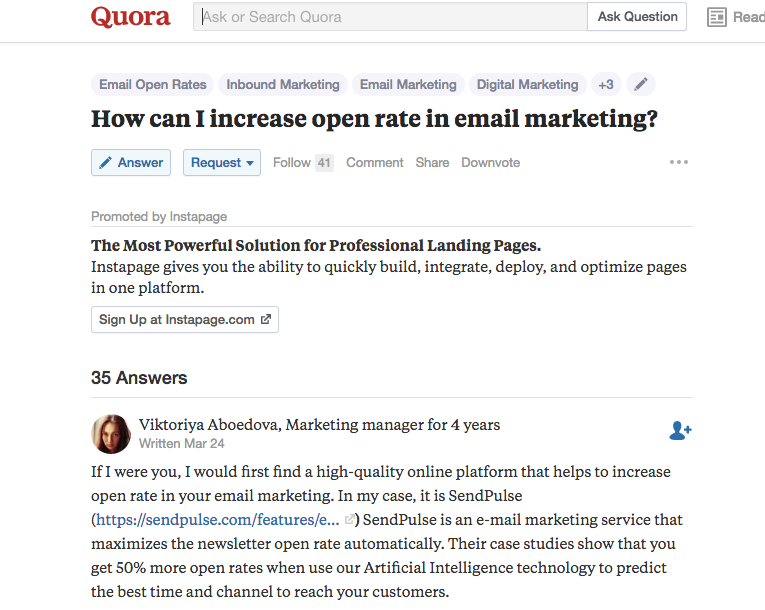 If you have great content on the topic Increase the opening rate for emails you could also write an answer and link to your website.
But make sure that your answer is really helpful and responds to the user's question! Don't just link to your website or article.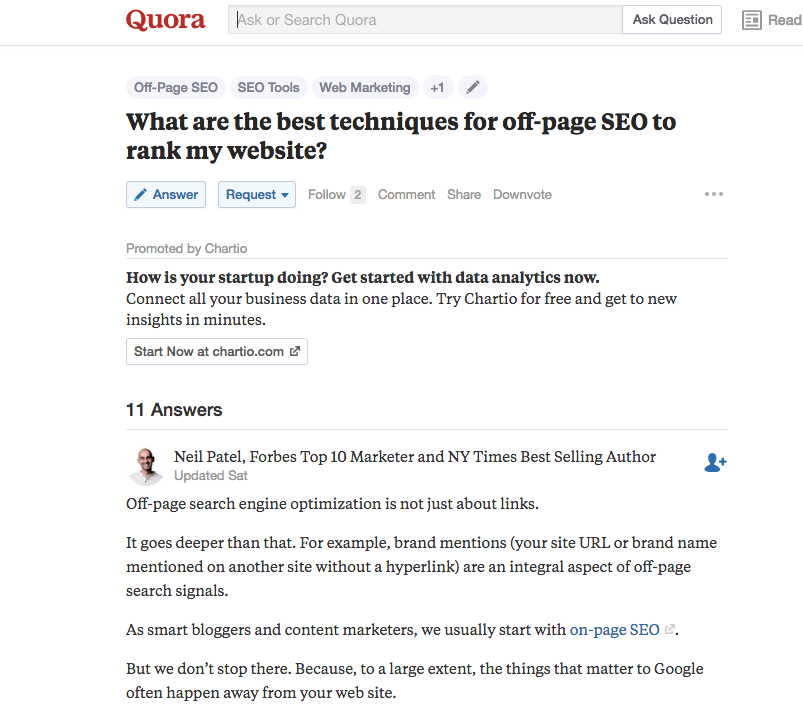 The idea behind this method is very similar to the Moving Man Method. You are doing someone a favor and in return you get done a favor yourself. This strategy almost always works.
Stay away from Link Schemes at all costs. I know a lot of websites that buy their links. You can assume that the domain authority of these sites is bad and certainly not increasing.
You improve your DA with link building, but if you decide to use an abbreviation, it won't work with the DA.
I'll show you now how to get new links without a link exchange program.
Write great articles that will be loved by your readers
There's a problem with the link building strategy I just introduced to you.
It only works if you have great articles or blog posts.
Of course, you need good content for good SEO, although it is content from a technical point of view is not an SEO strategy.
If your content is bad, but nobody visits your website and if nobody visits your website, then there is no search engine optimization.
SEO is not just about search engines and algorithms. It also relies on real people, traffic, social shares and, you guessed it, backlinks.
If you're looking for a site that sets a good example, check out Smart Passive Income's blog.
Pat always writes very detailed and well-researched articles.
Copyblogger's blog is great too.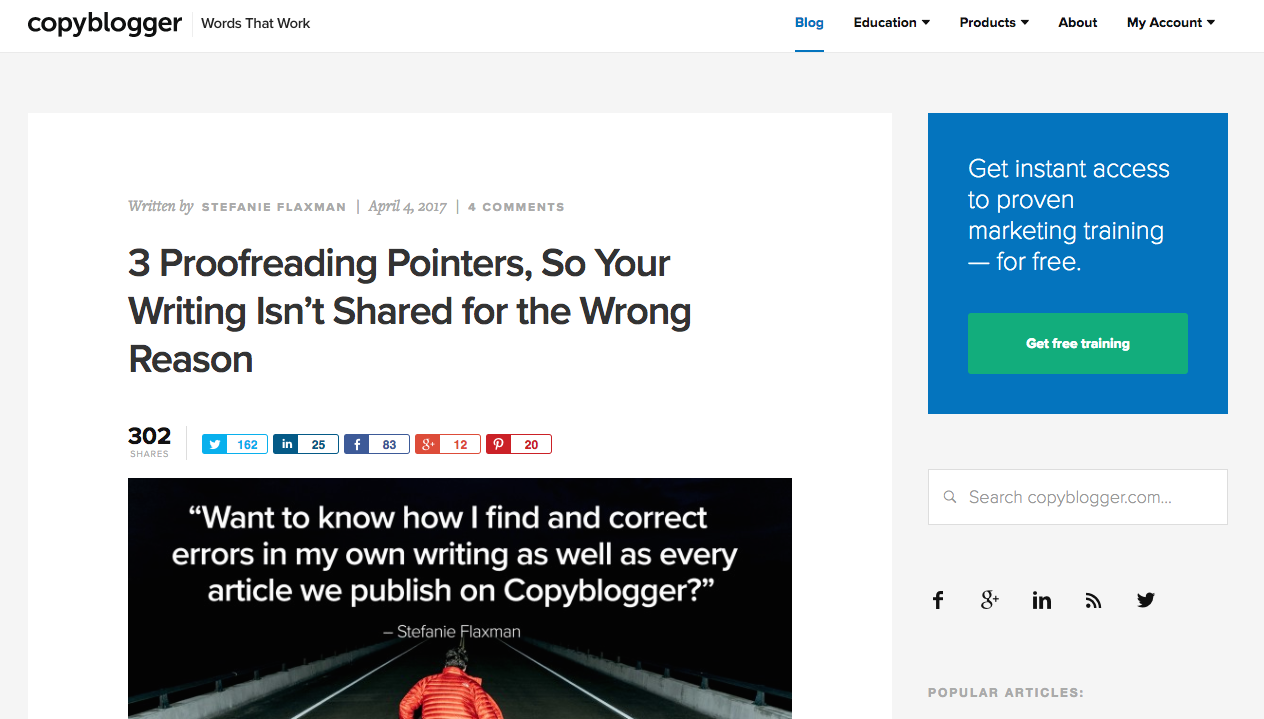 The articles are very detailed, well written and always cater to the needs of the readers.
I've written a few blog posts about the benefits of lengthy blog articles, but don't get too fixated on the length and number of words.
The quality is much more important than the length. If you address and answer your readers' questions in your article, you will gain new readers and improve your SEO.
You must detailed Write blog posts. Your blog post needs to go into all the details and get the most out of the topic.
When writing your articles, you must also observe the rules of on-page SEO.
Here are a few things to look out for:
Express yourself clearly. Your sentences and paragraphs shouldn't be too long and complicated. Above all, the article must be legible, which is why short sentences are advisable.
You may not have noticed, but my paragraphs rarely consist of more than two sentences. And my sentences are often very short.
That makes my article clearer and more readable.
Which article would you prefer? This one: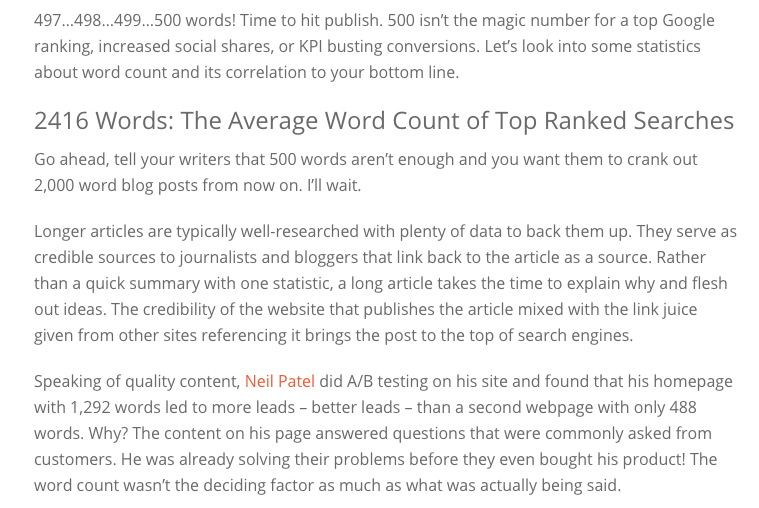 Or this: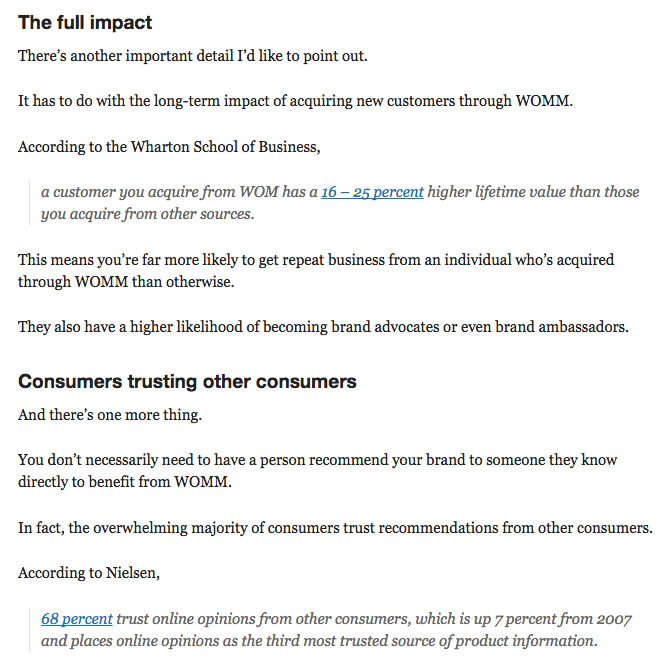 If you have decided on the second, then you feel like millions of other readers.
So do your readers a favor and write short sentences and paragraphs.
Add more media formats. Images, infographics, and videos can break your blog post into easily digestible chunks and keep the reader's attention longer.
Your images need an alt text and a title tag. The alt text is more important.
The alt text should contain your keyword and describe the image.
Get a grip on your SEO
Moz says you need to optimize SEO to increase domain authority. This statement comes as no surprise as SEO is an important part of any successful website strategy.
Unfortunately, there are no documented SEO strategies that are specifically aimed at improving DA. We just know that improving SEO is important.
So you have to take care of your on-page and off-page SEO. As mentioned earlier, the DA is related to the SEO strategy.
Here are some SEO aspects (both on-page and off-page) that you should take care of.
Meta tags. Title tags and meta descriptions are important components of on-page SEO. Both help the search engines to process your page better and faster and the reader to find the desired content faster.
This quickly becomes clear when you take a closer look at the SERPs: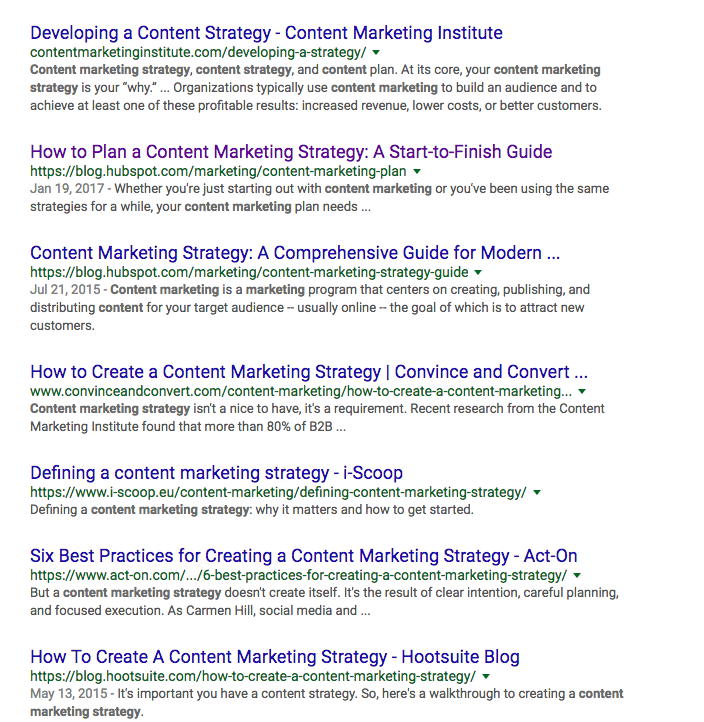 When search engines and users can understand your content more easily and assign it faster, your domain authority increases.
Mobile-First Index. Since the introduction of Google's Mobile-First Index, websites have had to take mobile usage into account.
If your website does not display properly on all devices, both desktop devices and mobile devices, you need to change that as soon as possible.
Mobile users often have different needs and since mobile web traffic is slowly but surely gaining the upper hand, you have to be particularly careful here.
For example, you need a responsive web design without annoying pop-ups.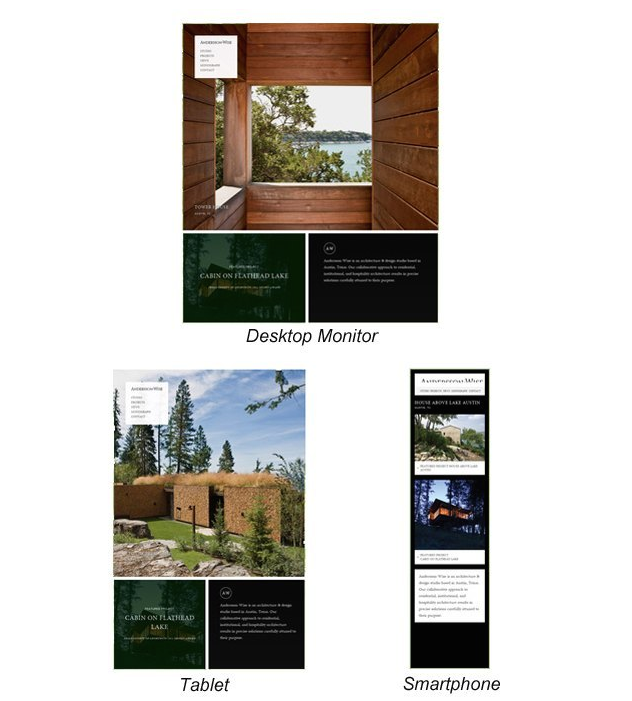 Source: Quicksprout.com
You should also do a mobile keyword research.
Then you still have to take care of the loading times, user experience and navigation of your mobile website.
Mobile SEO is not just made up of numerous tasks that can be completed and checked off in sequence, it is rather a mindset.
However, you don't have to become an SEO expert to have a well-functioning SEO strategy. Simply combine SEO and content marketing or link SEO with your local marketing strategy.
Your 2 week plan
Finally, let me quickly put together a plan for you.
If you implement all the advice in the next two weeks, you can definitely increase your domain authority by 5 points.
Here is an overview:
Day 1: Check your link profile and declare unwanted links invalid.
Day 2-4: Take care of the on-page and off-page SEO. Do technical tasks first.
Concentrate on the following things:
Title and meta tags
Loading speed
Navigation menu (e.g. breadcrumb navigation, sitemaps, etc.)
Backlinks
Day 5-7: Start writing new articles now. Find new, interesting topics and write in-depth blog posts.
You should definitely create an editorial calendar. You can use Trello for that.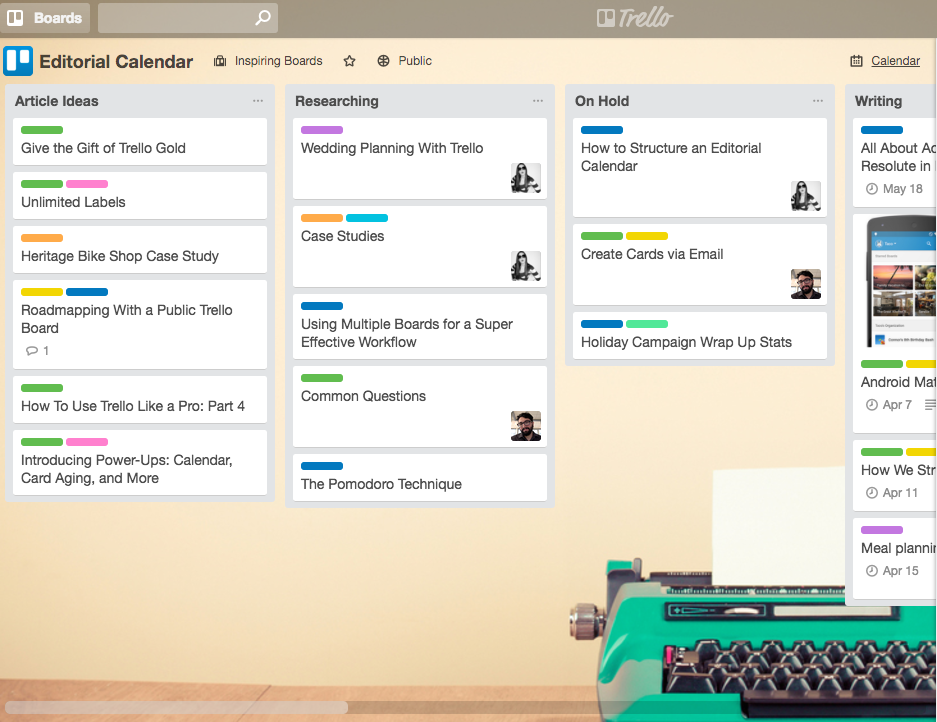 Day 8-10: Keep working on your content. You should complete at least four short and two long blog posts.
Day 11-14: Take care of the link building now and use the methods presented in this article. Set yourself a goal of at least two new backlinks.
You should get in touch with other industry experts and influencers. Send as many requests as possible for new backlinks, because you never know who will answer in the end.
If you want to get 100 new backlinks in 30 days, you should read this handy link building guide.
Link building and domain authority complement each other, so this last step should not be ignored.
Continue to diligently produce new content and fill your editorial calendar with new topics. Long and detailed blog posts are the best and fastest way to get a high DA, don't forget that.
A little note on automation.
You successfully completed all of the tasks and stuck to my plan for two weeks.
And now? Are you resting on your laurels now?
Of course not!
Now the process is automated!
Thats is quite easy. Write step-by-step instructions for this, outsource the tasks to your employees and make sure that they stick to the given weekly schedule.
If you automate the process, the whole process has theoretically only cost you two weeks of your life and you have an automated cycle to improve your domain authority.
As already said, the higher the Domain Authority rises, the more difficult it becomes and the longer it takes to increase the DA.
So if your plan seems to become less effective over time because you are not consistently gaining five new points, you still must not be discouraged. You are not doing anything wrong. This development is quite normal.
Conclusion
So now you have a 2 week plan to increase your Domain Authority (DA).
I'm sure it will work, but you have to put in the work.
If you get careless or skip a step, it won't work. And if you don't automate the process afterwards, everything will be in vain.
However, if you follow my advice conscientiously, your DA will increase. And if you already have a high DA, the change may not appear immediately after two weeks, but your efforts will still pay off sooner or later.
I hope you use this article to optimize your SEO strategy and improve your DA in the long term. DA is a solid metric by which you can see how well your website is performing.
Will you use my plan to increase your domain authority?