You can post your favorite pictures
Tips for the perfect Instagram photo
Around 15 million Germans now use Instagram at least once a month to post pictures from their lives. Most of them are not professional photographers. Still, many people become successful simply by posting pictures that appeal to other users. We'll explain how it works.
What does the perfect Instagram photo need?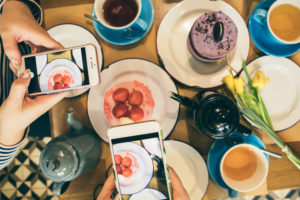 Check out a few successful Instagram posts and see what catches your eye on them. Does it speak to you? Are you dreaming of another life, another area? Do you like the type of photo? Of course, tastes also differ in the social networks. But with a few tips and tricks, you can also skilfully stage your pictures on the photo platform.
What should I post on Instagram?
The more well-known influencers usually post insights into the daily routine on Instagram. The followers know what the person is eating, what they are wearing, what they are doing. Glamorous events, group selfies with other influencers or celebrities and great views from chic hotel rooms invite you to dream. Meanwhile, many companies use this platform and the Instagramer to present their products. The term "influencer marketing" was also created. The bloggers present the products with their recordings, but the personal signature is often missing. Sometimes that doesn't go down that well with the fans. So before you even start promoting famous brands, it's a good idea to develop your own style. This is the only way to be authentic.
Pictures showing one or more faces are particularly popular. Selfies and shots with people bring a picture to life, which in turn is well received by the Insta community. But make sure that less is often more, also when choosing a motif. The photo shouldn't be too colorful or too exciting. Better a little more minimalism. Clear lines give your picture structure. This looks very good, especially with interior posts.
The perspectives are important. Depending on what you want to post, different views suggest themselves. Breakfast looks good from a bird's eye view, as does arrangements with shoes, jewelry or the new cell phone case. This way you put something in focus and don't distract. But unusual perspectives are also well received, for example when you photograph a reflection in the puddle. You can capture the sunset on the dream beach while lying down.
How often should I post on Instagram?
And how often should you post on Instagram? That is different. Some post between four and six pictures a day, some just one. If there are several pictures, it is advisable to post them throughout the day. Permanent posting can annoy followers. Many users don't post as much a day themselves, but like and comment on other Instagramers. This also increases the number of followers. You can also immortalize multiple images in an Instagram story.
The filter question on Instagram
Less is usually more. This is shown by the images with the popular hashtag #nofilter. These images are posted without a filter. The photos are of course often edited, but a clear and natural look remains. The filters should support the desired image intention.
The three Instagram filters Willow, Valencia and Sierra are the exception to the rule, they are well received by the community above average. Many bloggers use image editing programs such as VSCO to correct their posts. But it should still look authentic.
Hashtags - communication on Instagram
You can put up to 30 hashtags under your picture. The users particularly use those that are currently in trend. But be careful: the hashtags should match the picture and the target group, otherwise there will be no likes and followers. So use the hashtags correctly. Sometimes less is more ...
The Instagram language is English. The users come from all over the world, which is why they mostly communicate in language. You can also only write or tag in German, but then you can only reach the German followers. It can't hurt to add an international hashtag here and there, the caption and comments can still be in German.
Easy editing of Instagram photos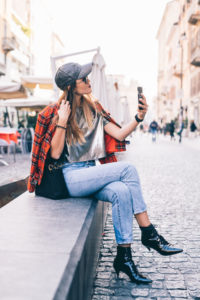 Images with less color saturation are on average more popular than those with high color saturation. That means you get more likes for lighter images (i.e. photos with a high degree of brightness) as well as for those that are dominated by green, gray and blue tones. Picture frames are now perceived as annoying, which is why you should avoid these frames as well as other alienation effects.
Tip: Straighten the pictures! In the edit menu there is the straighten function, with which the crooked photos can also be saved!
Top10: The most successful Instagrammers from Germany (as of January 2019)
Would you like to take a look at what the top 10 Instagrammers are making? The American stars are very successful worldwide. Instagram operates the most successful account. It is followed by celebs Selena Gomez, Christiano Ronaldo, Ariana Grande, Beyoncé, Kim Kardashian and Taylor Swift.
In second place of the world's most successful instagrammers is Christiano Ronaldo. The soccer player has 124 million subscribers. In Germany, the athletes dominate the charts. Heidi Klum was in the Top10 for a long time, but has now been completely ousted from the Top10. These celebrities are currently among the top of the most successful German Instagrammers:
| | | | | |
| --- | --- | --- | --- | --- |
| Ranking | Surname | Account | Followers | Area |
| 10 | Jerome Boateng | Jerome Boateng | 6m | Sports |
| 9 | Thomas Müller | grumbles | 6,4 | Sports |
| 8 | Bianca Heinicke (aka Bibi) | bibisbeautypalace | 6.4m | Beauty |
| 7 | Marco Reus | marcinho11 | 7.3m | Sports |
| 6 | Mario Götze | Mario Götze | 8.7m | Sports |
| 5 | Bastian Schweinsteiger | Bastian Schweinsteiger | 9.4m | Sports |
| 4 | Manuel Neuer | Manuel Neuer | 10.3m | Sports |
| 3 | Lisa and Lena | Lisaandlena | 14.1m | Lifestyle |
| 2 | Mesut Özil | m10_official | 18.7m | Sports |
| 1 | Toni Kroos | toni.kr8s | 20.4m | Sports |
---
images
© Fly_dragonfly - Fotolia.com
© BigLike Images - Fotolia.com
© Eugenio Marongiu - Fotolia.com