As long as you believe in it yourself, you will in fact achieve nothing and change nothing. You remain seated in your tiny cage, the bars of which are your beliefs. But belief does not mean knowledge. Therefore, you should no longer allow these very limiting beliefs to rule your life. Because in reality - just like other people - you are able to be slim, beautiful, successful and happy. Spread your wings and fly out to freedom!
6. Do you like to complain about God and the world?
Constantly getting upset and complaining about everything is of no use. So give up your need to constantly complain. Indeed, there are a great many things to complain about on a daily basis. People and situations make you unhappy, sad or even depressed. But nothing and no one can make you unhappy or sad - unless you give them permission. So take good care of yourself and don't be so generous with such permissions. Instead, allow yourself to be happy.
7. Do you enjoy judging and criticizing others?
Gossipers (who can easily be male) like to criticize other people for their lives. You yourself are of course the measure of all things. People who are different are therefore an ideal target for the finest gossip. Surely you know the old Indian adage that it is better not to judge others as long as you have not marched through life in their moccasins for at least two weeks.
8. Do you like to impress others?
Stop spending endless amounts of energy trying to impress other people. Drop your mask today and just be who you are. Accept and love yourself for who you are. You will save a lot of energy if you refrain from all the efforts of playing a person who is not your essence. As soon as you have made up your mind, you will suddenly meet people who suit you and with whom you get along really well.
9. Do you hate change?
Changes are great. Without changes, you couldn't move - either physically or mentally. Many people are extremely afraid of changes and avoid them with all their might. Of course, nothing can move in a life without changes. Nothing can arise or grow. So look forward to changes, enjoy them and watch with excitement what interesting experiences change bring with them.
10. Are fears your constant companions?
Fear is just an illusion that arises in us and our minds. Fear doesn't really exist. It's only in our head. Franklin D. Roosevelt said:
"The only thing we have to fear is fear itself."
And that is exactly what many people with anxiety and panic attacks suffer from: They are not even that very afraid of spiders, elevators, unemployment or large crowds. They are much more afraid of the terribly debilitating feeling of fear. But as soon as you have conquered the fear inside you will see that everything outside will also quickly come into balance.
11. Always have an excuse ready - e.g. B. Why can't you be happy?
With excuses you only lie to yourself. Those who constantly have explanations for why they couldn't and couldn't do this harm themselves much more than those to whom they serve the excuses. Nobody can develop or grow, let alone be happy, if they just shimmy from one excuse to the next. So stop bothering others with your excuses. Instead, spend your energy doing whatever needs to be done. Be punctual and reliable. And when you say you will do something, do it - today! The rule is: What you can get today, don't postpone until tomorrow! Stick to it!
12. Are you stuck to the past?
Do you think about the past often? Are you still carrying all of your negative experiences with you? Don't you trust anyone because you've already been disappointed? Don't you believe anyone because you've been lied to before? Do you find it hard to forgive? Do you carry around with you all the resentment from the past and let it flow into every new partnership - whether business or private? Of course, you know that doesn't make any sense. Because even if you want to protect yourself from new disappointments, it is of no use to anyone if you shut yourself off completely to new people. Therefore, watch yourself closely and recognize when you are doing wrong to other people just because your past experiences want to influence your current behavior again.
13. Do you belong to the spider monkeys?
Do you tend to cling? Do you leave little room for self-expression for the people you love - partners, children, friends? Spider monkeys often mistake love for fear. Because clinging is the result of fear. So try to let go here and give your loved ones more freedom. Because basically you know: what you love, let go. If it comes back to you, it's yours
14. Do you enjoy meeting other people's expectations? And do you forget about happiness?
Do you live your own life? Or maybe that of your parents? Your teacher? Of your partner? Of your friends? Or even the life that the media shows as the only real thing? Do you live a life that others have chosen for you? But not your own at all? Are you ignoring your inner voice? Your calling? Are you so busy fulfilling other people's expectations that you have lost control of your own life? Do you remember what makes you happy? What do you want to achieve? What is your ultimate goal? Or have you completely forgotten to be yourself?
Remember again! And forget about the others for a change! Live your own life, make your wishes come true, fulfill your longings - and don't let yourself be distracted from your path! Because this path leads you straight to happiness.
We wish you from the bottom of our hearts that you can find your way and create a lot of space inside for a lot of happiness!
display
Distance training to become a holistic nutritionist
Are you interested in what's in our food and want to know how nutrients and vital substances affect the body? Do you want a healthy life for yourself, your family and fellow human beings? Nutritionists are popular - but the holistic aspect that is needed for sustainable health is often forgotten when giving advice. At the Academy of Naturopathy, you will get to know the connections between lifestyle and diet as well as physical and psychological well-being.
That educates interested people like you in around 16 months to become a holistic nutritionist out.
Is this article worth reading?
Share this article
swell
Luminita Saviuc, 15 Things You Should Give Up To Be Happy, May 2011, (15 Things You Should Give Up If You Want To Be Happy)
Notice on health issues
This information is passed to the best of my knowledge and belief. They are intended exclusively for those interested and for further training and are in no way to be understood as diagnostic or therapeutic instructions. We do not assume any liability for damages of any kind that arise directly or indirectly from the use of the information. If you suspect illness, please consult your doctor or alternative practitioner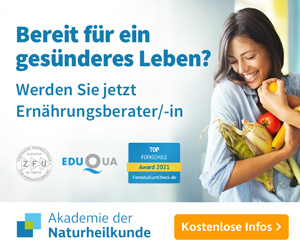 Subscribe to Newsletter
Exciting information about health and nutrition
1x per month
Login Successful. You will shortly receive a confirmation at the specified email address.
With your registration you allow the regular sending of the newsletter and accept the data protection regulations.
HEALTH CENTER © 2021 Neosmart Consulting AG. All rights reserved.