Why WordPress? 10 good reasons
If you've ever wondered why you should use WordPress, you've come to the right place! You have probably already done a little research on the software or at least heard about it from a friend or at university. But that does not mean that you have analyzed all the advantages and disadvantages comprehensively and looked at the properties in depth.
That's why we want to break down the benefits of WordPress for you and give you a clear overview of why it is the world's most popular content management system and software for building websites. WordPress can really do almost anything!
The website dilemma - what are the advantages of WordPress?
WordPress, Joomla, Shopify, Magento, Wix, and Weebly might sound more like names for aliens at first. However, they name platforms that are used to build websites. Each has its own advantages and uses. For example, Shopify is more intended for a niche and only makes sense if you run an online shop. It's not a platform that you start a blog with and then turn into an e-commerce store. Magento is in the same boat. Other website builders and platforms have more flexibility and are therefore typically the most popular.
Everything from Squarespace to Wix has wonderful tools for a level of knowledge, but below we'll explain why we definitely recommend WordPress.
The software is free and open source
You can build any type of website
Many types of media are supported
It's easy to learn and has a huge community
You can expand your website with themes and plugins
You don't have to be a genius to deal with it
SEO comes first
You have full control over the website
Blogging is undoubtedly best with this
Everyone does it
Using WordPress is a breeze. There's a reason 34% of the internet use it. 😉Click to Tweet
The software is free and open source
Both WordPress.com and WordPress.org are completely free to use. You can read about the differences between the two here. In short: WordPress.org is hosted by you, which means you can control more yourself and take advantage of advanced plugins. WordPress.com is good for beginners, but less so for a business looking to make money. In such a case, it makes sense to switch to WordPress.org. For personal and hobby blogs, we recommend WordPress.com, even if it has higher paid services.
The WordPress download is for everyone for free. It's an open source project and a lot of people have been involved in developing it since 2003. Open source projects are typically free and have a large community. Users can take part in this, for example, as beta testers or brand ambassadors, if they wish. So there is no obligation to do so.
Warning: Even if the software is free, you will probably have to put some money into it in the end. Since you have to host WordPress yourself, there are costs for this. In terms of price, cheap hosting starts at around € 3 a month, but goes up to € 100 if you need the ultimate in speed and performance (like Kinsta).
Typically you can find free themes and plugins, but the premium (paid) variants usually offer better features and higher quality service. Therefore, many users end up paying for additional services, be it for freelancers or agencies. For example, you could pay to have someone design your logo or modify some of the CSS code. Some WordPress users like to keep graphic designers or maintenance experts on call. It all depends on your experience and the size of your website.
All in all, however, you can keep WordPress costs to a minimum. In the end, some website operators only pay for hosting.
Now in action:
When you visit the WordPress.org website, the basics of the platform will be explained to you. The only button (next to the regular tabs) is a link to "Get WordPress".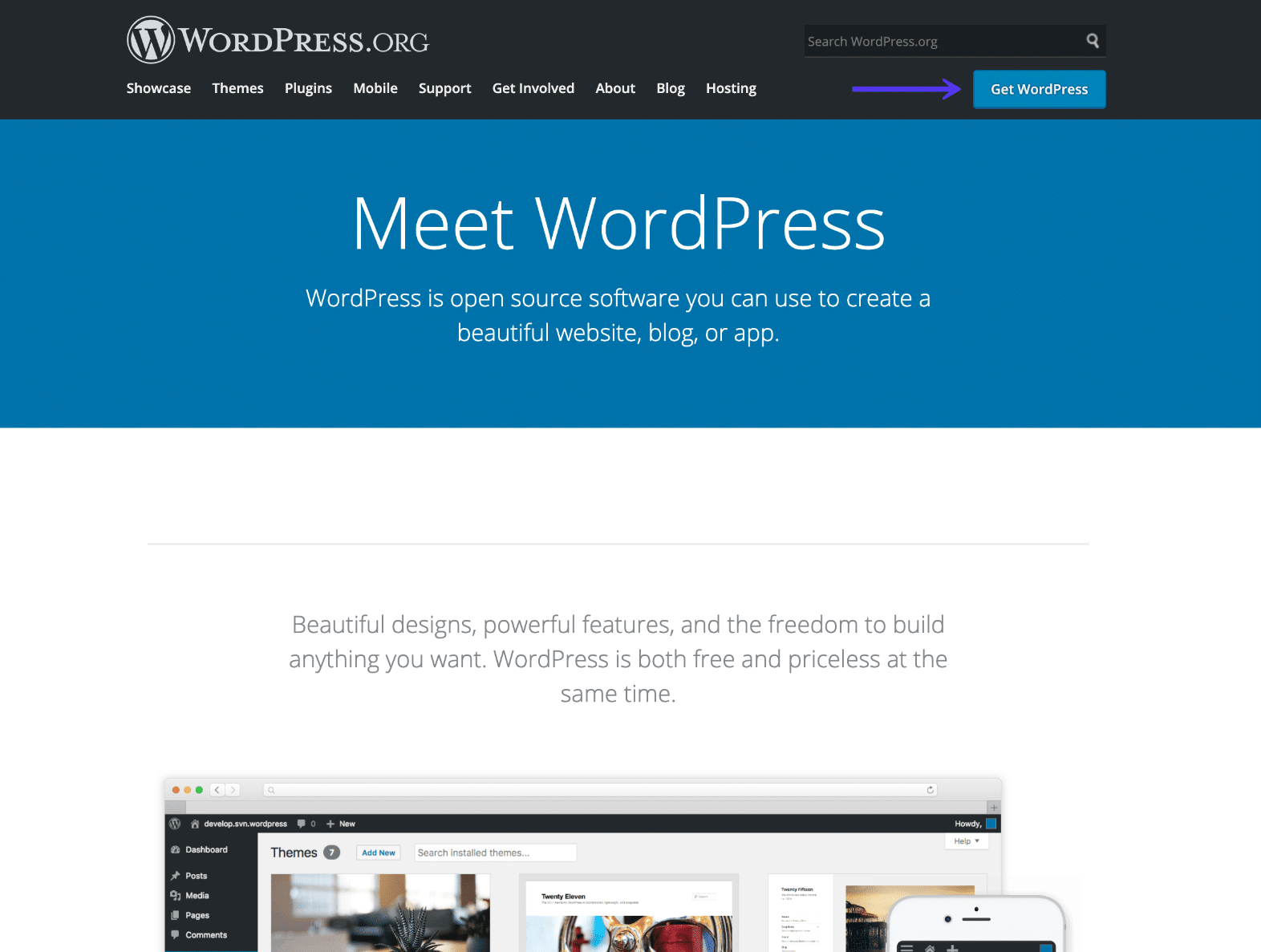 WordPress.org
This takes you to the free download page, which is updated regularly when a new version is released (currently WordPress 5.2+). This gives a quick first impression of how the WordPress software is presented to users. You won't be bombarded with banner ads or asked to take a survey before you can download the free software. All you see is a basic page with some descriptions, beta versions, requirements, source code, archives and a download counter. Several download options (such as .zip and .tar.gz files) are provided, along with neat instructions on how to install it on its own.
Download the latest WordPress version
The easy installation method
If you're looking for an even easier installation method, we recommend looking towards your hosting company. The most reputable hosts have one-click installation buttons for getting WordPress running within minutes. At Kinsta, installing WordPress is as easy as clicking on "Add Site."
If you're looking for an even easier installation method, we recommend contacting your hosting company. Renowned hosts provide a one-click installation to get WordPress up and running in minutes. At Kinsta, all you have to do is hit the "Add Site" button.
Install WordPress
This way you don't have to manage files and upload them via FTP. Managed hosting companies go one step further by taking care of all installation, maintenance, security and, later, backups.
As for updates, you don't have to go back to the download page every time a new WordPress version is released. Instead, WordPress informs you about the update in the dashboard, where you can usually complete the process in less than a minute.
You can build any type of website
One of the most common Misconceptions about WordPress is that it is primarily intended for blog creation. It actually used to be the case. WordPress was developed as a blogging platform, but has changed dramatically with various new versions over the years.
WordPress has an advantage because of its roots. It's by far one of the cleanest, fastest ways to write and publish blog posts. Some other website building tools think of design and apps first, then the blogging interface.
This is not the case with WordPress. There you can create a nice ecommerce site and know that the blog is an important part of the development process.
Now in action:
The list is endless, but here's a taste of the types of websites you can build with WordPress:
Blogs
Business websites
Portfolios
Forums
E-commerce sites
Review portals
Membership Pages
eLearning modules
Chat rooms
Galleries
personal websites for self-promotion
Job boards
Business directories
Q&A sites like Quora
non-profit fundraising websites
Wikis and knowledge bases
media oriented websites like YouTube
Auction and coupon sites
We could go on and on with the list for a long time. The good news with WordPress is that functionality for things like forums and ecommerce websites is achieved with simple plugins and themes. For example, if I wanted to create an online portfolio for my web design business, I could stick to the theme below for a small fee. All I have to do is upload some demo data and other changes that I want to make myself.
WordPress portfolio page
The screenshot below is from a fairly popular ecommerce theme that is combined with the WooCommerce plugin. WooCommerce offers the possibility to turn a normal WordPress website into a functioning online shop, with payment processing, a shopping cart and product galleries. Check out how to install WooCommerce in this in-depth tutorial.
WordPress E-Commerce Store
There are also many other eCommerce plugins such as Easy Digital Downloads (typically used for selling digital products) and WP Ecommerce. In this detailed tutorial you will learn how to install Easy Digital Downloads.
The last example below shows a forum. This website was created with the help of a theme, but of course you can also look around the internet for plugins for forums. There are several available there, in case you have already selected a cool design that lacks the function to be able to create forums with it. This is exactly how you can create different types of websites with WordPress: Make a note of the function you need and then search Google for the corresponding plugins or designs. I bet you will always find results that match.
Example of a WordPress forum
Many types of media are supported
You are welcome to take a look at the long list of accepted file types for WordPress, but it is important to know which main categories are supported:
images
Documents
Audio
Video
I have never had the experience that any of my files were not accepted. You can expect to be able to upload the popular file types like .jpg, .png, .gif, .pdf, .doc, .pptx, .mp3, .m4a, .mp4, .mov, .wmv, and .avi all. In addition, you won't have any problems with lesser known file types such as .odt, .key, .ogg and .3gp.
And although there are some file formats such as SVGs that are not allowed, this restriction can be easily circumvented. In this tutorial you will learn how to securely upload SVGs in WordPress. In short: If you want to place a photo, a GIF, a video or a document on your website, you will hardly run into problems. It is even common to host documents and presentations on a website without having them published on a specific page.
A word of warning
Yes, WordPress supports pretty much all types of media. However, you should stick to the rules and only use media that you either own, open for free downloads, or can be used for a fee.
Here are some sites where you can find free media like photos and videos for WordPress:
You can see the full list here.
Now in action:
A great example of WordPress media support is the Sony Music website, which can be found on various forms of video and audio clips. It's also a picture-heavy website, as you can see from the large Kenny Chesney picture in the header. Although some website builders are getting better and better at media support, it seems that something is almost always found that is not allowed.
WordPress media support example - Sony Music
Variety's website also uses WordPress, and the homepage is littered with elements such as background images, short video clips, movie trailers, animations, music tracks, and galleries of footage and TV shows. It's hard to come up with a better example than Variety as every single article for the entertainment magazine has something to do with media.
Variety - WordPress Media Example 2
It's easy to learn and has a huge community
As open source software, WordPress can be used by anyone. The user base is not limited by pricing, premium customer support, or even skill level. Of course, there are a lot of things to learn about WordPress, but after a little playing around with the dashboard, you can quickly understand how it works.
And since there aren't many barriers to accessing the software, blogs, forums, online courses, seminars, webinars, and books are available to users that describe the various aspects of the WordPress platform. There is also the official customer support from WordPress. For a fee you can enjoy individual support or you can choose the free version of the WordPress forums.
It really is incredible how many resources there are to learn more about WordPress or find an answer to any quick development question. For example, you can follow a blog like this to receive tips on the platform via email on a regular basis. On the other hand, you can also search Google for instant solutions (WPBeginner is known for this).
Now in action:
We see the WordPress community as support for two parts of the learning process:
Organized training for long-term knowledge
Quick solutions to your WordPress problems
WordPress training courses are available for free or for a fee, but one thing is for sure: the best online courses are well organized, affordable, and packed with information that not only helps you, but that you can also pass on to your colleagues and customers. For example, the WP101 website is a well-known training location with flawless video courses on the following topics:
WordPress 101
WooCommerce 101
The Yoast SEO plugin
WordPress tutorials
As you become more familiar with WordPress, you will likely start working on your own website. Since WordPress does not provide dedicated support, you have to contact blogs, forums, Google and other communities online. In the main WordPress forum you will usually find what you are looking for. The following screenshot shows a selection of support articles on the WordPress website. Personally, I'm more of a "google it and see what comes out" person, but both forums and blogs can be really helpful in solving a problem in a timely manner.
As for premium plugins and themes, developers usually offer their own dedicated support through knowledge bases, forums, ticketing systems, and email.
WordPress Support Forum
You can expand your website with themes and plugins
We have already discussed how themes and plugins make it easy for you to create a website. But these elements are also essential for scaling. As a simple standard blog, you can install a theme, adjust the design a bit and start blogging right away. The same goes for a company website or portfolio.
It is common for the themes to serve as the basis for the website. After that, the design effort is minimal: there are only a few color changes, logo additions and of course new pages and blog posts.
However, you will always want to add something new to your website. Your customers may want a members' area on their website, or you may have realized that taking a monthly quiz is a great way to get customers to interact with your brand. In both cases, a plug-in offers the solution.
For example, there are many excellent membership plugins that will turn part of your website into a community. Some of them are free while others require you to pay. The same goes for quiz plugins. As a foretaste, we've put together a list of the best quiz plugins on the market
Plugins are not always enough
Plugins can handle a variety of matters when it comes to adding functionality to your website. In most cases, you only need a single theme when starting a website.
However, as your website grows, you will begin to see different needs for your own website as well as changes in the industry. Such a case occurred, for example, when Google changed its ranking criteria and started rewarding websites that are adapted for mobile devices. All of a sudden, it seemed like all theme developers were starting to sell mobile-friendly designs. This meant that many website owners had to take care of new themes.
Other reasons for new themes are the following:
A new look is needed
A change from a free design to a more capable premium design is required
The website owner would like better customer support from the theme developer
The company's online offering has changed
The website owner needs tools that plugins cannot deliver
Now in action:
Finding a WordPress theme is as easy as doing a Google search. There is a huge list that covers different categories. Try searching for "Real Estate WordPress Themes" or "Flat WordPress Themes" and you will see a variety of choices. However, it is best to choose from a trusted WordPress theme shop and / or developer. This ensures that you get quality support, fast and well-optimized code, and regular updates.
WordPress Theme Shop
Here is a list of renowned and well-known theme hotspots:
There are also online marketplaces for themes. Be careful with these, however, as there are developers who rip off their customers and leave them alone with a theme for which there is no support.Nevertheless, there is a large selection of well-functioning themes that you can find with a closer search:
As with themes, there are free and paid versions of plugins. The only difference is that free plugins are much more commonly used by real company websites. Free themes are well suited for beginners, professionals usually spend around € 50-100 on a nicer premium theme. Read our WordPress free vs. paid themes post if you want to delve deeper into this topic.
Unlike themes, some of the best plugins have always been free. You can search for new plugins in your WordPress dashboard or in the WordPress plugin library. This library has over 50,000 plugins, most of which are free or at least provide a free basic version. Thematically everything from caching to forum and from social media to spam management can be found. A plugin takes no more than a few minutes to install, and each of the plugin pages includes screenshots, a list of properties, and even some demos.
WordPress plugin collection
Many premium plugins can also be found on the Internet. The main difference between a free and a premium plug-in is that you usually get better customer service with others. Here are some good places to go when looking for premium plugins:
6. You don't have to be a genius to deal with it.
Website development companies often sell expensive packages that ask for both an upfront payment and a recurring monthly payment for maintenance. However, WordPress is not too difficult if you deal with it in the course of proper training. Managing websites typically involves:
Make sure the server is fine.
Check security.
Perform backups.
Update plugins, themes and the WordPress software.
Remove spam.
Test functionality and broken links.
Improve speed and SEO.
You're not going to be checking the server in person, so it's more about finding a good host and making sure the site is running fine. Security issues and backups are handled either with plugins or via a managed WordPress hosting concept. Everything else on the list only needs to be done occasionally. For example, Kinsta automatically creates backups every day, stores them for 14 days and can be restored with one click.
Restoring a WordPress backup
It is recommended to install a caching plugin to improve the speed of the website. The same goes for SEO. The management of spam is completed with the Akismet plugin and there are some plugins for broken links.
Now in action:
One of the few manual maintenance tasks is updating plugins, themes, and WordPress itself. The good news is that WordPress will notify you when updates are released. This means that you can do this immediately and usually get back to work within a few minutes.
Update of WordPress plugins
Everything else (like SEO, backups, speed, security, broken links, and spam) can be managed with plugins. For example, the WP Time Capsule plugin is a wonderful tool that runs in the background to create both file and database backups. So if a file gets corrupted or the website crashes, the problem can be solved with the help of the recovery function.
Would you like to know how we increased our traffic by over 1000%?
Be one of the 20,000+ people who receive weekly newsletters with insider tips about WordPress!
Subscribe now
WordPress backups
Also, check out these three organizational tips for WordPress users that can help make managing the admin dashboard a little easier.
7. SEO comes first
WordPress is known for having SEO built into the platform. In fact, WordPress automatically generates title tags and meta descriptions for all of your pages and posts. This will inform search engines about your content, index it and possibly move it up in the rankings. As with everything in WordPress, plugins and online tools also offer advanced features. Here are some favorites:
Now in action:
The Yoast SEO plugin is also a must for every WordPress site. The standard SEO tools in WordPress are great, but Yoast is even better.
The screenshot below is an excerpt from Yoast that asks you for a focus keyword. This can either be for a page or a blog post. Yoast then rates the effectiveness of your text on that keyword. You will see keyword density, thoughts on positions, SEO title mentions, suggested page titles, and more. It basically puts together a checklist that will help you get the most out of your text when it comes to SEO.
Yoast SEO focus keyword
Check out the post on 45+ SEO tips and the best WordPress SEO plugins to increase your organic traffic.
8. You have full control over the website
A Google search for "website builders" or "website platforms" will most likely come up with WordPress, along with competitors like WIX, Squarespace, Joomla, Magento, Shopify, Weebly and Jimdo. All of these are good for website building, but those that aren't open source like Squarespace, Shopify, and WIX limit your control to the features offered in the premium plans.
This results in these restrictions:
The e-commerce functionality is usually integrated, so you can't change a lot with plugins.
You will usually have to settle for the hosting that is provided. You don't have the opportunity to test hosts and decide on the best value for money.
Customization of the code are limited to what the companies share with you. In addition, you sometimes have to get used to a new programming language, such as Shopify (they use a language called Liquid). In short, it is almost guaranteed that you will have to hire a specialist developer to make changes that you cannot make yourself through the editor.
You don't actually have full ownership of your website and its content. Since you are renting the website from the company, all data will either be lost or left with the company if you stop paying. With WordPress, you own the files and no one can stop you from moving them to other hosts.
Now in action:
The "Appearance" tab is the control center for all adjustments in WordPress. Here you have a free hand over themes, fonts, colors, widgets, menus, logos and code. Almost anything you can think of can be customized in this area. It's ideal for beginners, advanced, and professionals as it limits the amount of code you come into contact with while speeding up the development process.
In addition, several themes have their own customization modules. Alternatively, you can install a drag-and-drop editor to have more or less nothing to do with the code.
Adjust display in WordPress
As for advanced edits, all website files are accessible through the WordPress dashboard, your hosting account, or a local environment. Regardless of whether you are trying to insert a snippet for Google Analytics or are planning a complete overhaul of the CSS of the landing page, everything is possible in WordPress.
WordPress editor for the presentation
Blogging is undoubtedly best with this
WordPress was born as a blogging platform. It has its rivals, but nothing currently compares to WordPress in terms of the performance, elegance, and functionality of the tools. Options like Tumblr, Medium, Ghost, and Blogger are perfect for hobby bloggers, but the pros rely on WordPress. There are simply an incredible number of tools in the WordPress blog editor.
You can run a simple one-author blog by taking advantage of the formatting and media tools. But there is also the possibility of creating a complete online magazine by planning articles far into the future and defining multiple user types for authors and editors. With the options for previewing and editing directly in the post, as well as completely hiding codes, WordPress is really unbeatable.
Now in action:
Another advantage of the WordPress platform are the authorizations and user roles. Let's say you run the website as an administrator. This means that you have access to all files, plugins, SEO and security tools. You hire an editor and three authors to create content for your blog. The only problem with this is, of course, that you don't want them to change anything other than the contributions made.
There is a solution for this in WordPress. You can assign yourself the role of editor and assign the others as contributors. As editor, you can now edit and publish posts, while contributors can create posts, but cannot publish them.
Roles in WordPress
We can also take a look at the interface to see how important and well organized it is. You can add media and edit the formatting with one click. Also, you can change the title and permalink above, and there are options for categories, tags, and readability. Changes are shown to you so that you have the opportunity to go back and restore previous versions.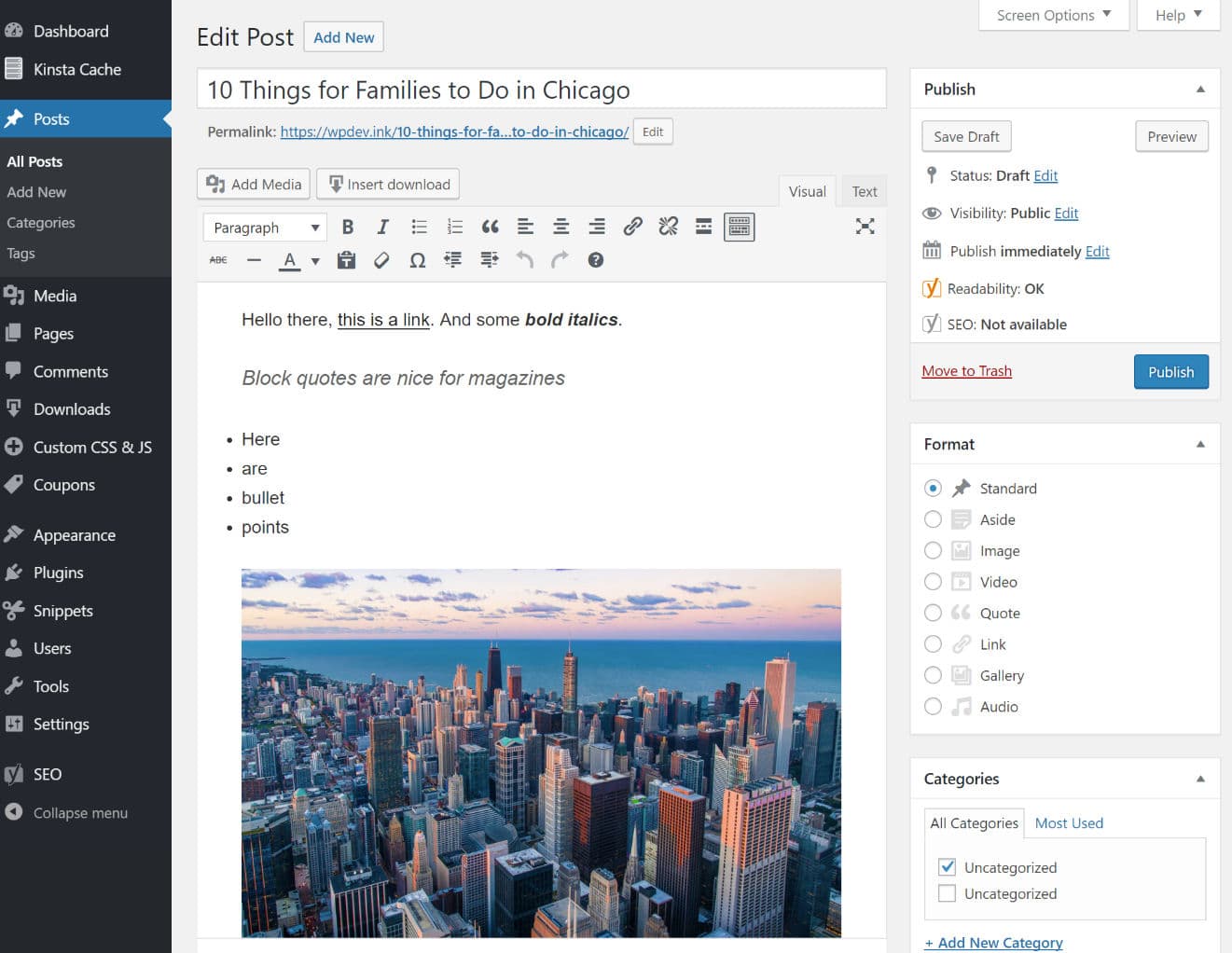 WordPress editor
In the visual view, the posts are presented similarly to what the end users see. You can also switch to text view to see everything in HTML format.
WordPress HTML text view
10. Everyone does it
... so jump off the bridge with them! Okay, just because everyone else is doing something doesn't mean that you should just join in. But WordPress has proven itself time and time again. It is not without reason that 29.3% of all websites on the Internet use WordPress.
Patrick Coombe, a well-known SEO, asked a question to website owners and marketers on inbound.org, "If you could restart your website, what would you change?" Here's what Larry Kim, founder of WordStream, had to say would have:
WordPress vs. Drupal
You can find out more about the two platforms here: WordPress vs. Drupal - which one is better? (Advantages and disadvantages)
Obviously, WordPress is doing something right. You also don't have to sacrifice much to try it out as, as mentioned, it's available to anyone for free and most hosting companies come with some sort of money-back guarantee.
Most experienced WordPress users will praise the developers for their constant updates and improvements. One cool thing is that every time an update is released, there is an information page that describes how the update will improve the WordPress experience.
Now in action:
62% of the 100 fastest growing companies in the US (Inc. 5000) use WordPress. - Nelio software
WordPress made a presentation of the brands that use the software. This includes a wide variety of organizations from the Houston Zoo to the Obama Foundation and Toyota. The Tribune Media Group, jQuery, Plesk, The Chicago Sun-Times, Dyn, Nginx, TechCrunch and many more also trust WordPress. Check out the list of the top 130+ WordPress based sites.
WordPress showcases
14 More Ways You Can Use WordPress
We have already explained a few reasons why and how you can use WordPress. But let's take a look at some of the additional, and perhaps more unusual, approaches you can take with your website.
1. News portal
Just delivering news is not enough. With the help of RSS feeds, you can involve your readers and provide a mashup of different feeds. WordPress offers a standard feed of your own posts, but you can also choose to display feeds from various sources, for example using a plugin like the WP RSS Aggregator. This allows you to select a variety of RSS feeds and display them on your website. A good example of this is the WP News Desk.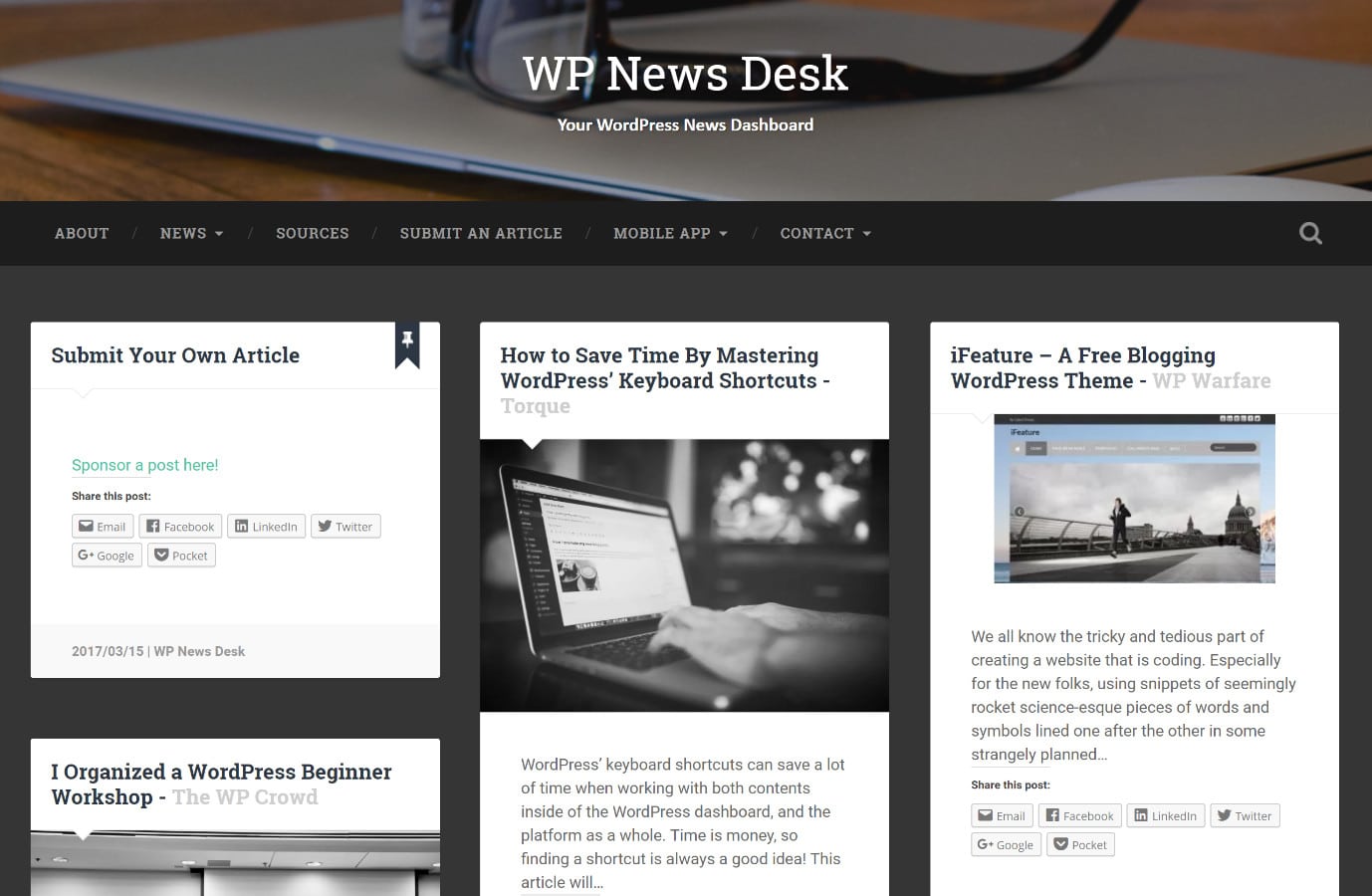 WP News Desk
2. Real estate management system with WordPress
If you are a company that uses WordPress for trading real estate, you probably want a separate plugin to manage your offers. Some plugins can help you. You can use them to create a website where builders, brokers and customers come together. You can add a separate search and filter function, set up a payment gateway (we'll discuss this under e-commerce) and manage payments easily from your website! A couple of popular plugins that can help you with this are Estatics and Easy Property Listings.
Estatik WordPress Real Estate Plugin
For more alternatives, check out our review of 8 different real estate plugins.
3. Knowledge base and encyclopedias
With WordPress you can not only create a knowledge database for a niche, but also entire encyclopedias with functions such as a glossary or dictionary. As an addition to creating categories and tags, you can link terms to your glossary. In addition, it is possible for you to create custom templates for displaying your content, ensuring that your readers can find the answers to all of their questions. Many companies and developers use knowledge base plugins such as the Heroic plugin (see below) to create documents. This in turn reduces the time required for email inquiries and other support.
Heroic plugin for WordPress
4. eLearning portals and courses
Do you want to create your own Coursera? WordPress offers you a lot of options! One of the most popular methods is the LifterLMS plugin. It enables you to create, sell, and protect engaging online courses and make them available to everyone. The WP101 mentioned above, for example, uses LifterLMS to inform interested parties about WordPress.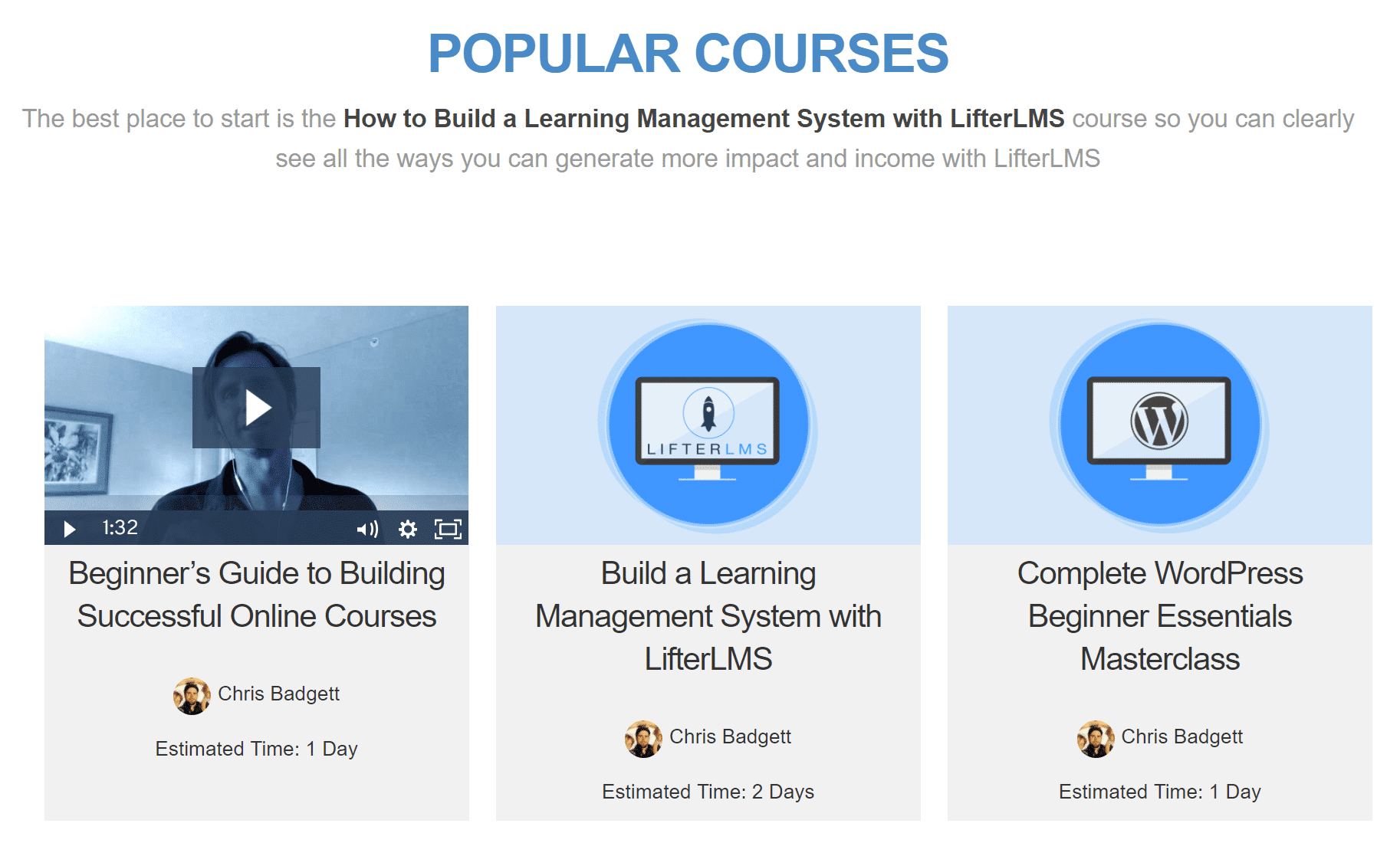 Create courses in WordPress
5. Make an appointment with WordPress
Lawyers, musicians, consultants or doctors - people in such industries are constantly confronted with scheduling appointments. Fortunately, there are plenty of great solutions in WordPress for managing bookings and online appointments right from the website.
Book an appointment in WordPress (Image source: EDD bookings)
We recommend plugins such as Easy Appointments and Booking Calendar. If you run an e-commerce site, take a closer look at the WooCommerce Bookings and EDD Bookings plugins.
6. Invoicing system
Although websites like Nutcache and Freshbooks offer a lot of tools for time and project management, WP-Invoice is a simple but useful plugin for processing as part of your own WordPress website.
WP Invoice plugin
With WP-Invoice you can easily create an invoice for your products and services and then send it to your customers. Your customers can even pay directly through your website if you integrate a payment gateway such as PayPal, Stripe or Authorize.net. By adding any time management plugin, you can create a system that will suit the needs of your business.
There are also many other great plugins for creating invoices with an ecommerce WordPress site such as WooCommerce PDF Invoices and EDD PDF Invoices.
7. Creating a job portal with WordPress
If you want to convert your WordPress site into a job exchange, a single plugin is sufficient: The WP Job Manager can add, manage and categorize job offers on your website. It currently has an impressive 100,000+ active installs with a 4 out of 5 star rating. Registered users (or guests) can search, manage and even apply for positions. Employers can also manage their job offers (publish, edit and delete current offers). You can read our full WP Job Manager tutorial here.
Job portal in WordPress
8. Customer relationship management (CRM) system
Customer Relationship Management (CRM) modules can be integrated directly into your WordPress site. This can save you time and money as you don't have to switch between different systems. And since there are plenty of other WordPress integrations out there, this might even work better than a self-contained solution.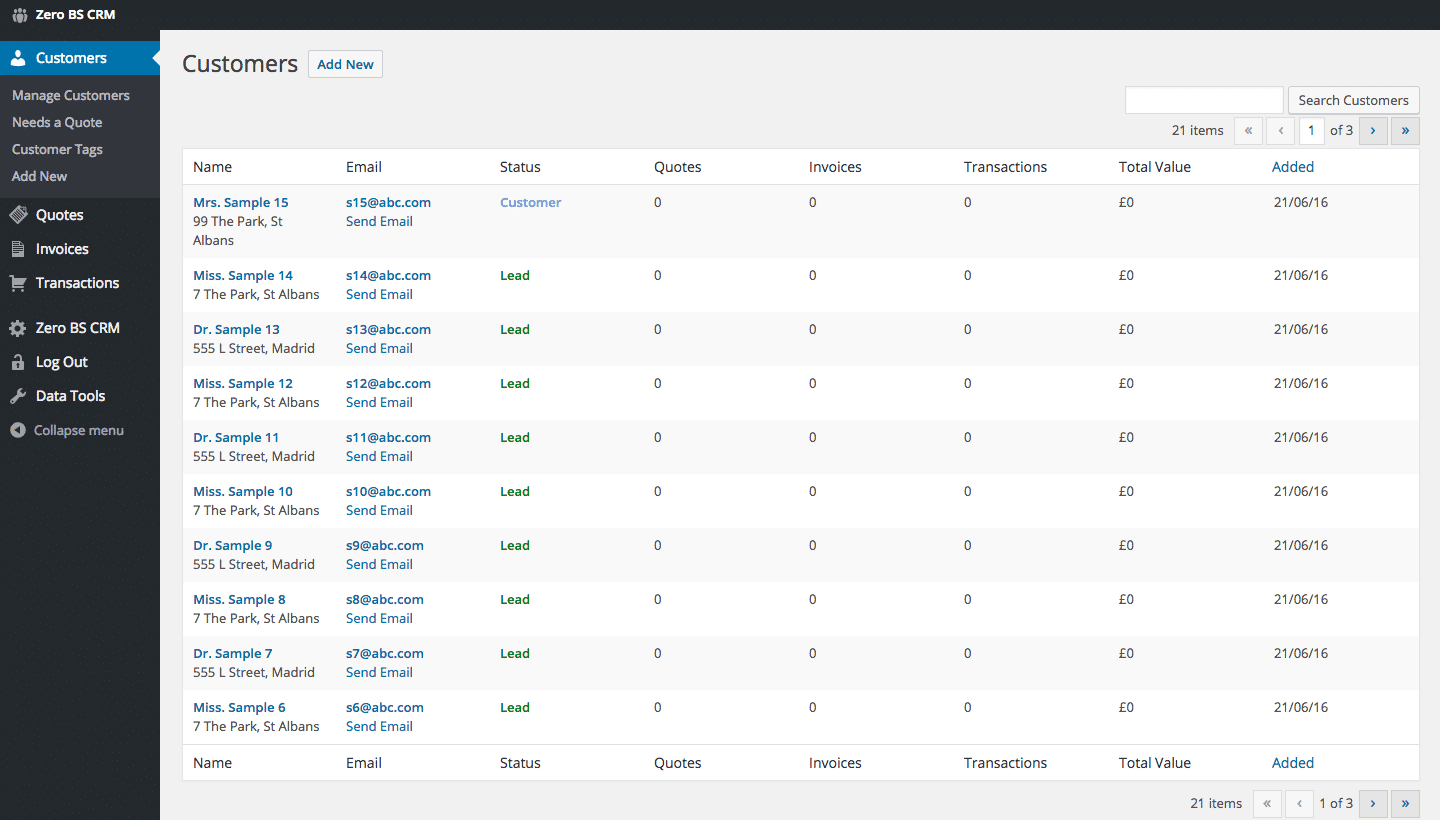 CRM in WordPress
There are also many different plugins to choose from for this application, which is why we have put together the top 12 for you. However, if you're just starting out, we recommend plugins like Zero BS WordPress CRM and WP ERP. Both are developed by dedicated developers and have excellent support.
9. Event management systems
Are you planning several events per year as part of your company? No problem! With the help of the right plugin, you can easily create events on your WordPress site and integrate them into a calendar.In our article about the best event management plugins you can find out which plugins enable full synchronization with iCal, Google Calendar and more, for example.
10. Business Directory
If you want to create a business directory, we recommend that you try out the Business Directory plugin. This currently has more than 20,000 active installations with a rating of 4.5 out of 5 stars. Different directories similar to the yellow pages can be generated. It is also possible to set up a rating system for companies or to integrate locations with the help of Google Maps. You can then decide for yourself whether you want to make your offer available free of charge or whether you want to pay a sum of money to use it.
Example of a directory in WordPress
11. Project management system
In order to control the progress of a project and its subtasks, you need a project management system. While standalone options like Trello, Asana, and even Github projects are popular with developers (read: git vs. Github), certain people might want options within WordPress for such a system.
For these people we would recommend a plugin like WP Project Manager or Kaban.
Example of project management in WordPress
12. Forum
While forums may not be as popular as they used to be, they are often used when looking for an answer to a specific problem. The simplest solution to create a forum from a WordPress site is bbPress. This plugin was developed by Automatic, the company behind WordPress.com. It currently has more than 300,000 active installs with a 4 out of 5 star rating. bbPress includes plugins and themes that can customize the functionality, appearance and handling of the core plugin. Best of all, it's free! Just take a look at our post on the topic: Top 9 WordPress Forum Plugins for more information.
Example of a bbPress WordPress forum
13. Crowd sourcing
A variety of plugins are available to you if you want to run your own crowdfunding website in WordPress. You can use it to accept payments quickly and easily for a specific purpose with the help of a payment portal such as PayPal or Stripe. There is even the possibility that money will only be withdrawn from your supporters if you achieve your set goal! We recently took a look at the top 6 crowdfunding plugins for WordPress.
WordPress crowdfunding example
If you're just starting out with WordPress, we recommend checking out the WP Crowdfunding plugin. If you're dealing with donations, check out the Give Plugin.
14. Social network
If you want to integrate a mini Facebook into your website, BuddyPress is exactly the right thing for you. Because it enables you to create a social network for your company or organization. Users can set up profiles, post contributions, network with one another and create communities. BuddyPress has its own set of plugins for further functionalities and, with its uncomplicated user interface, is ideally suited to setting up a simple social network on a website.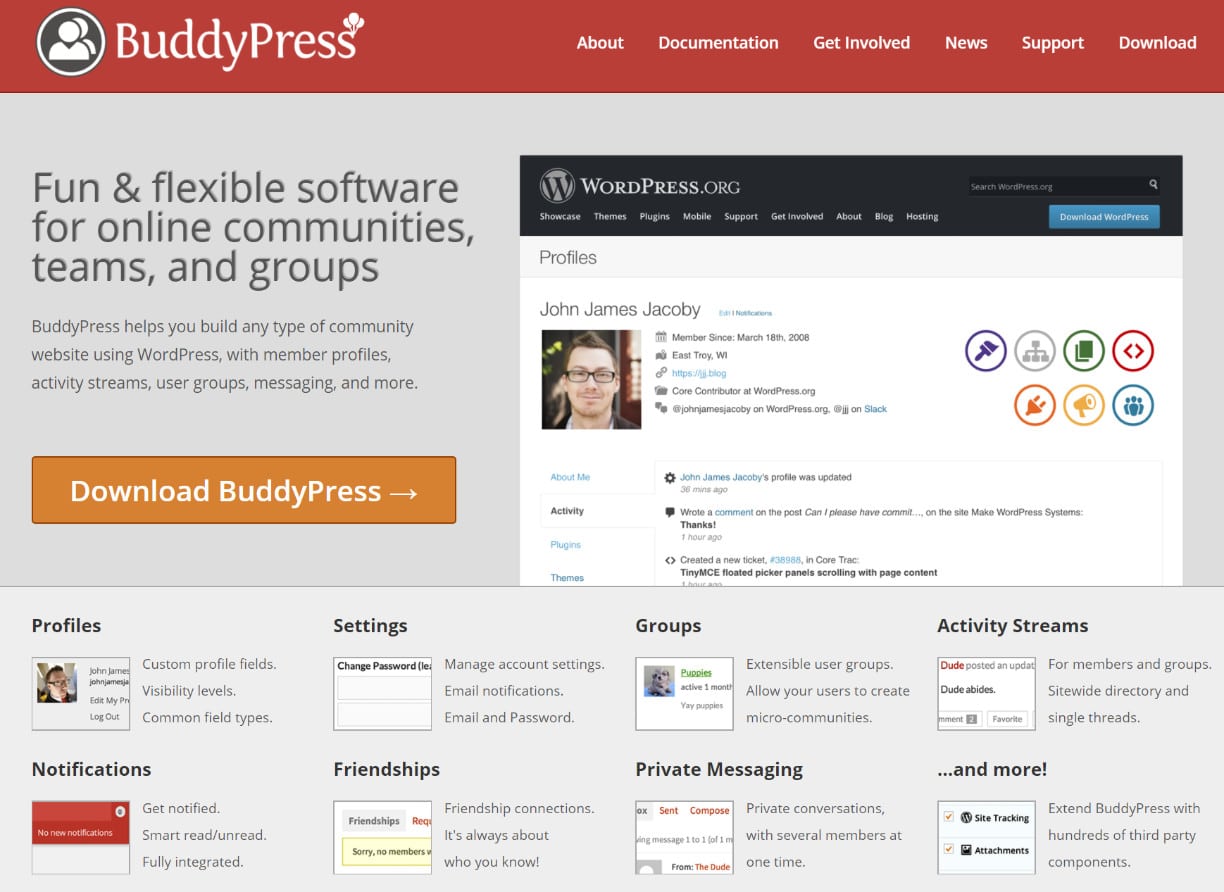 BuddyPress
So why should you use WordPress? Because it just rocks!
WordPress has a strong following around the world. Some developers prefer to use other platforms, but that often has to do with learning certain programming languages ​​and being able to navigate less user-friendly environments. For bloggers, business owners, and ecommerce professionals, WordPress is the right choice. Not only do you retain complete control of the website, but you can also take advantage of plugins, themes, free tools and top-notch media support.
Hopefully we could answer your question "Why should I use WordPress?" If someone asks you this question in the future, just forward this article to them. If you have any concerns or thoughts about this, let us know in the comments below.
---
If you enjoyed this article, then you will love Kinsta's WordPress hosting platform. Speed ​​up your website and get 24/7 support from our experienced WordPress team. Our Google Cloud based infrastructure focuses on auto-scaling, performance and security. Let's show you the Kinsta difference! Check out our packages here