What is the best diet for vegetarians
Ideal for people who want to stay healthy and slim
Dr. Kahleová said:
The vegetarian diet was shown to be the most effective diet to reduce excess weight. Since it was also found to be most effective at reducing muscle fat, it appears to be the most effective in influencing metabolism. These results are therefore of interest to anyone who wants to lose weight, especially those who also suffer from metabolic syndrome and / or type 2 diabetes. But our study is of course important for anyone who takes their weight management seriously and wants to stay slim and healthy. "
Pay attention to the quality of your carbohydrates: Low Glyx
Those who also pay attention to a diet consisting of foods with a low glycemic load (so-called Glyx diet) can possibly improve the result even further - according to a study from June 2012 inJournal of American Medical Association. At that time it became clear that a calorie is not just a calorie after all; instead, what matters is what kind of food the calorie is in, especially when it comes to foods rich in carbohydrates.
Cara Ebbeling and Dr. David Ludwig from Boston Children's Hospital found that diets like the Glyx diet, which keep post-meal blood sugar levels moderate, lower weight better than low-fat diets that pay attention to the amount of fat consumed but not the type of carbohydrates consumed.
Low glyx diet improves metabolism and health
Tables with the glycemic load of the individual foods can be found in many places on the Internet or here: Fruits protect against diabetes. You can see that choosing the right carbohydrates is about choosing whole grain products instead of white flour products and avoiding refined table sugar and products made from it.
If you pay attention to these simple rules, then the diet has similar effects on metabolic health as an extremely low-carb diet, but without the negative side effects such as rising cholesterol levels and inflammation markers.
Low-glyx nutrition prevents the yo-yo effect
Many people also find it particularly difficult to maintain the weight they have achieved during a diet over the long term. Apparently only one in six people manage this.
However, a Glyx diet is much more effective than many other diets, as a Glyx diet does not reduce the metabolism, thus keeping energy consumption high even after the diet and thus preventing the yo-yo effect. You stay slim and healthy in the long term.
The solution: Vegetarian or vegan combined with Low Glyx
What do the studies mentioned ultimately show? A plant-based diet made from wholesome, healthy foods - whether vegan or vegetarian - not only helps you lose weight wonderfully, but also helps you maintain your weight in a healthy way. Cholesterol levels stay the same or go down, and markers of inflammation can be reduced.
The latter in particular is an enormous advantage, especially since almost all chronic diseases are associated with chronic inflammatory processes. An anti-inflammatory diet like the one described can therefore be the ideal diet in the event of illness or, of course, can also be used preventively.
For more information on the benefits of a vegan and vegetarian diet, read here: Vegan Diet and Cancer
We have summarized tips for a healthy vegan diet here: Healthy vegan diet
You can find our cooking films on YouTube here.
display
Distance training to become a holistic nutritionist
Are you interested in what's in our food and want to know how nutrients and vital substances affect the body? Do you want a healthy life for yourself, your family and fellow human beings? Nutritionists are popular - but the holistic aspect that is needed for sustainable health is often forgotten when giving advice. At the Academy of Naturopathy, you will get to know the connections between lifestyle and diet as well as physical and psychological well-being.
That educates interested people like you in around 16 months to become a holistic nutritionist out.
Is this article worth reading?
Share this article
swell
Hana Kahleova, Marta Klementova, Vit Herynek, Antonin Skoch, Stepan Herynek, Martin Hill, Andrea Mari, Terezie Pelikanova The Effect of a Vegetarian vs Conventional Hypocaloric Diabetic Diet on Thigh Adipose Tissue Distribution in Subjects with Type 2 Diabetes: A Randomized Study.Journal of the American College of Nutrition, 2017, (The Effect of a Vegetarian versus a Conventional Hypocaloric Diabetic Diet on Thigh Fat Tissue Distribution in People with Type 2 Diabetes: A Randomized Study)
Taylor & amp; Francis. "Vegetarian diets almost twice as effective in reducing body weight, study finds." ScienceDaily, June 12, 2017, (Vegetarian Diets Are Twice As Effective for Weight Loss, Study Shows)
Cara B. Ebbeling et al. Effects of Dietary Composition on Energy Expenditure During Weight-Loss Maintenance.JAMA, June 27, 2012, (Effects of Diet Composition on Energy Expenditure While Maintaining Weight Loss)
Children's Hospital Boston. "Dieting? Study challenges notion that a calorie is just a calorie." ScienceDaily, June 26, 2012, (Dieting? Study doubts a calorie is a calorie)
Notice on health issues
This information is passed to the best of my knowledge and belief. They are intended exclusively for those interested and for further training and are in no way to be understood as diagnostic or therapeutic instructions. We do not assume any liability for damages of any kind that arise directly or indirectly from the use of the information. If you suspect illness, please consult your doctor or alternative practitioner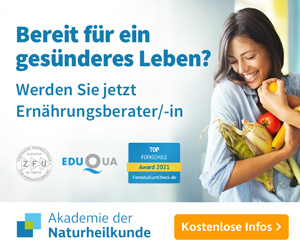 Subscribe to Newsletter
Exciting information about health and nutrition
1x per month
Login Successful. You will shortly receive a confirmation at the specified email address.
With your registration you allow the regular sending of the newsletter and accept the data protection regulations.
HEALTH CENTER © 2021 Neosmart Consulting AG. All rights reserved.