Security in Colombia - Is it dangerous?
You have already seen great pictures of the dream scenery of Colombia but are wondering whether the country is safe to travel to at all?
We can calm you down! Much has been done since the peace process began in 2016 to make Colombia the safe travel destination it is today. We provide information about the safety as a traveler, give tips for a guaranteed good travel experience and tell you first-hand what you should avoid as a tourist.
Colombia's security
First the joy, then the shock and now the hope: security has been improving in Colombia since 2016. Since the start of the guerrilla war in 1964, there has been a lot of unrest in the country. But now at last President Juan Manuel Santos and the leader of the left-wing guerrilla organization FARC, Rodrigo Londono, signed a historic peace treaty. The rest of the world cheered and congratulated Colombia, but its own people ultimately rejected the treaty with a narrow majority.
At the last second, however, Colombia's President Santos was awarded the Nobel Peace Prize, so the peace process can move forward and the U-turn can be seen across the country in the near future. Today most of Colombia, especially the tourist areas, is a safe and, above all, beautiful travel destination.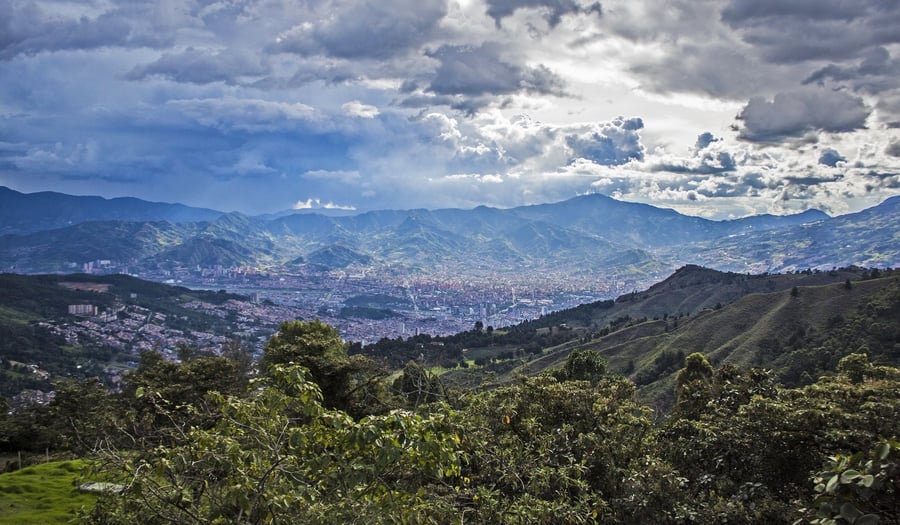 Medellin, Colombia. Source: pixabay.
Peace movements and security forces
As already mentioned, the notorious rebel group FARC, which for decades was known for acts of violence across the country, is now completely disarmed and peaceful coexistence is guaranteed.
In addition to dozens of newspaper reports and television reports, the Federal Foreign Office also has more and more positive things to say about Colombia. Likewise, the steadily increasing number of tourists and the overjoyed returning travelers shape the new image of Colombia: Safe and worth seeing. The residents and foreigners owe this great development above all to the last two governments under Presidents Uribe and Santos, who each took a tough stance against the guerrillas, but also the paramilitary groups. The new president, Duque, would also like to continue to support the peace movement and, above all, to ensure the safety of tourists in the country.
Crime and security in Colombia's cities
Overall, the number of police officers and security guards who carry out regular checks in many places and ensure more security in Colombia has increased significantly. The state has been investing a lot in image change and the expansion of the infrastructure for several years.
In order to better understand the presence of security forces: in the Unesco world heritage city of Cartagena, for example, over 2,000 police officers are patrolling. Efforts to ensure security and order can therefore be taken seriously.
We too have never experienced dangerous or negative situations during our travels in Colombia - alone or with groups. Nothing was stolen from our guests, and no one was ever threatened. Viventura's tour guides are mostly locals, so they know the country like the back of their hand and make sure that all travelers feel comfortable and that there are no unpleasant moments.
Cartagena, Colombia. Source: pixabay.
Safe travel in Medellín, Cartagena & Bogotá
Although negative rumors continue to circulate, many cities are, contrary to all prejudices, good role models for successful politics in the country. For example, the city of Medellín, formerly characterized by fighting between guerrillas, paramilitaries and the army, has now developed into a true model city. It owns the first as well as the only subway and is constantly building new libraries so that the education of all strata of the population can be improved and ensured in the near future.
But the cities of Cartagena and Bogotá are impressive - the level of crime has dropped considerably and politicians are also trying to monitor safety on the streets and to guarantee it in the tourist areas.
All of our travelers return to their home country happy and enthusiastic. Each of them raves about the friendliness and warmth of the Colombians as well as the beautiful and varied flora and fauna. Everyone said that they felt safe and comfortable during the entire tour. Of course, you shouldn't walk blindly through the area anyway - there are always a few rules of conduct to be observed - as in all other travel countries - in order to experience a successful trip.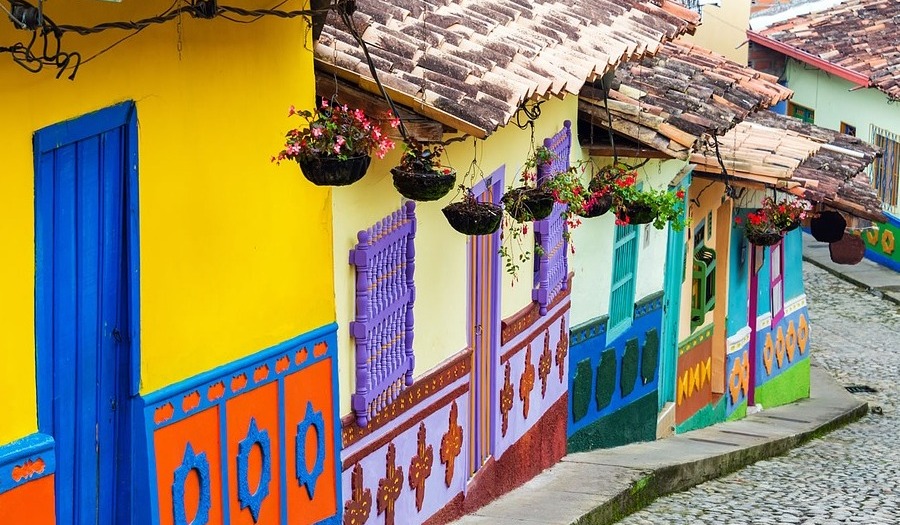 Colorfull Colombia. Guatapé, Colombia. Source: flickr.
Official travel advice
One often hears that street crime is the number one security concern nationwide. Especially the vacationers in Colombia should take care of themselves. Viventura says: Of course you should take care of yourself. However, this is the case in every country in the world if you do not know this one. Anyone who travels with common sense, respect and caution will have a great time and will surely have unforgettable memories. The statistics of the "Global Peace Index" underpin this positive impression once again: Colombia is no longer one of the most dangerous countries in the world - in the last three years it has improved by 16 places.
And Medellín, the second largest city in the country and capital of the Antioquia department, has turned into a green, vibrant metropolis that is well worth seeing. Today politicians and the population are committed to putting the bad reputation of the city, which in the 90s was considered a drug stronghold and the most dangerous city in the world, in a positive light and to overcome negative prejudices. We can only warmly recommend getting to know the "City of Eternal Spring" with its warm residents and its culinary diversity.
For more information about security and travel, you are welcome to visit the website of the "Foreign Office". There you will find all travel tips for Colombia updated daily.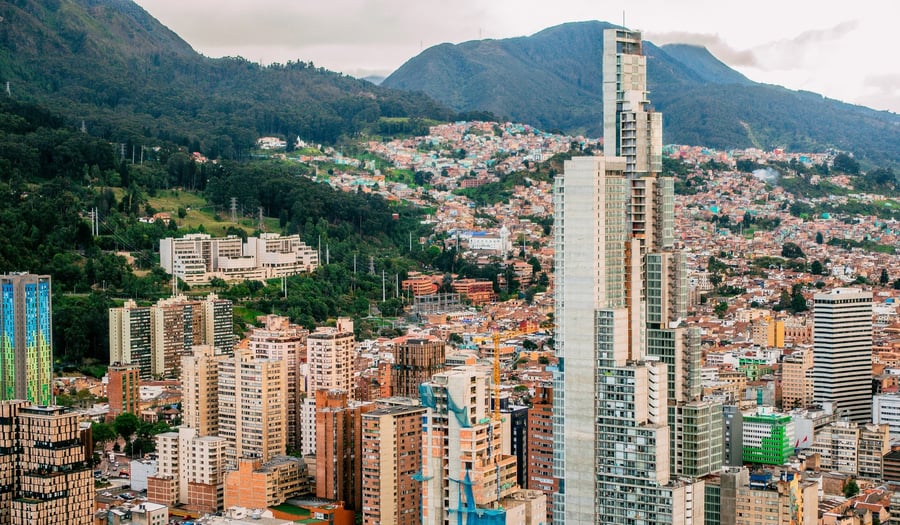 Bogotá, Colombia. Source: pixabay.
Safety precautions for your Colombia trip
According to the Tropical Institute in Leipzig, there are no vaccination regulations for entering the country in Colombia - however, vaccinations against tetanus, diphtheria, flu and hepatitis A are recommended. Yellow fever protection is also listed as recommended, but this is not in most areas of Colombia urgently required.
Vaccinations against typhoid, hepatitis B, meningitis, rabies and herpes zoster are equally recommended - but are not a must. In addition, malaria protection is recommended in regions below 1,600 m altitude. In order to ensure the effectiveness of the vaccines, any action should be taken at least four weeks before departure. For a full medical recommendation, you should contact a doctor with medical training in travel medicine or the Tropical Institute in good time before your trip.
The Colombian Ministry of Health has also been the first country to declare the so-called Zika epidemic to be over. The Zika virus is transmitted to humans by mosquitoes and occurs in many Latin American countries, particularly in Colombia and Brazil. Here is our blog article about it.
By the way: So that you are well equipped from A to Z in terms of health, we recommend that you take a small first-aid kit with you with: Creams against insect bites, remedies for fever and pain, as well as diarrhea and constipation, disinfectants, sunscreen, plasters and bandages.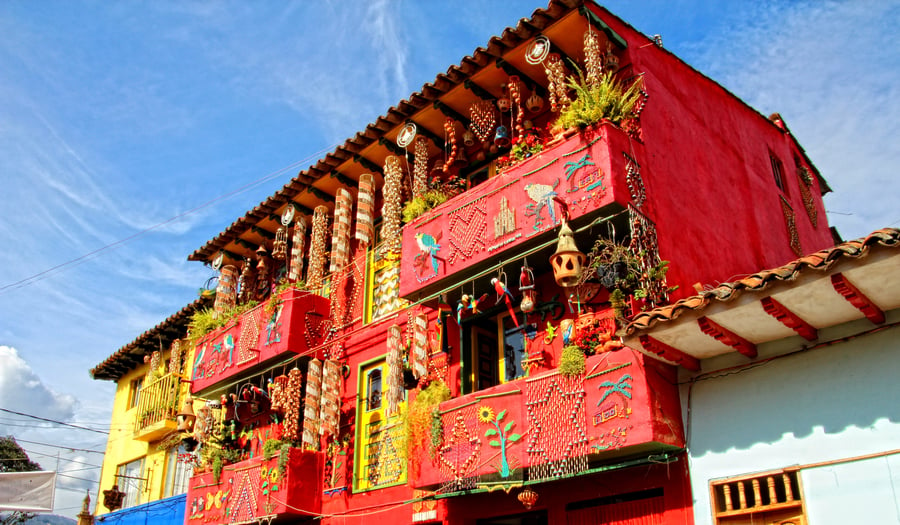 Besides all the bad rumors, one shouldn't forget the beauty of the country. Source: flickr.
Valuables, money and visas
If you are a German, Austrian or Swiss tourist or traveler who does not want to stay in Colombia for more than 90 days, your passport is sufficient. Upon entry you will receive a stamp with the exact duration of your approved stay. A visa is therefore not necessary for these three citizenships.
It is best to always carry your money and valuables close to your body - there are, for example, special travel bum bags that fit tightly under clothing, so that they are hardly noticeable and the money is always close at hand.
Speaking of money: we recommend that you bring as little cash as possible with you. In order not to experience any nasty surprises, you should ideally find out at home whether your credit card really works abroad - because foreign cash, including US dollars, is mostly not accepted outside of the big cities. The easiest way to get cash is therefore with an international bank card in the Maestro / Cirrus or Visa Plus network.
It would also be important to know which steps to take to block credit cards in an emergency. But don't panic now, this is really just to be on the safe side! You should always have the phone number for a credit card blocked anywhere abroad.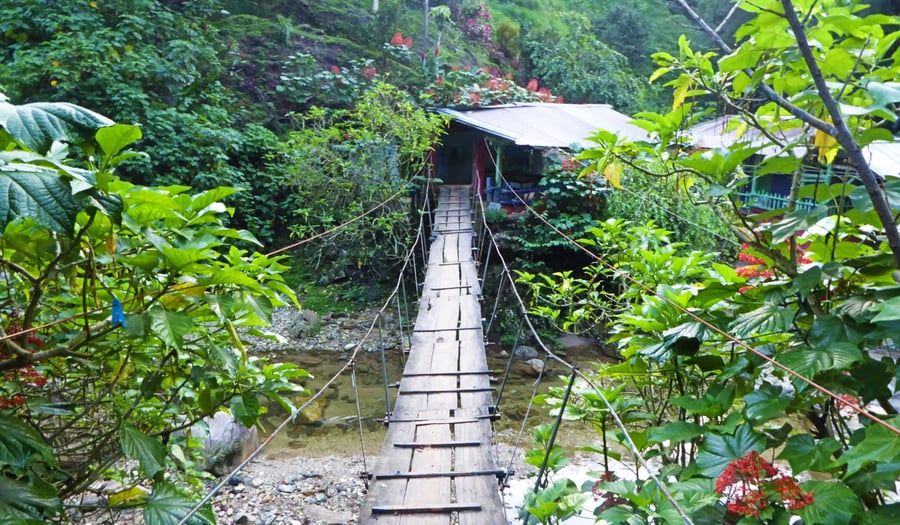 Abandoned places: there is no ATM anywhere to be found here. Source: Viventura.
What to look out for as a traveler
If you are traveling on your own in Colombia, you should definitely be able to speak a few words of Spanish, because only a few locals speak English. If you are traveling in a tour group, the tour guides are often multilingual and will of course help you to communicate in every situation with a sense of humor and joy. But even if you don't speak a single word of Spanish - communicating with hands and feet is just as fun, especially because the Colombians are always warm, open and helpful. Your hospitality simply inspires again and again!
The rules of common sense prescribe some things in Colombia that are also valid everywhere in the world: Never go with strangers and, especially in big cities, avoid lonely streets where you as a tourist will catch the eye. Caution is sometimes also required with taxis, for example when driving to or from the airport you should only use registered vehicles.
When asked to play a game of tejo - a game of skill in which small bags of black powder have to be hit - enjoy the game, but don't get wrapped around your finger or invite you to too many alcoholic beverages. The game can create a lot of mood, but you shouldn't get careless.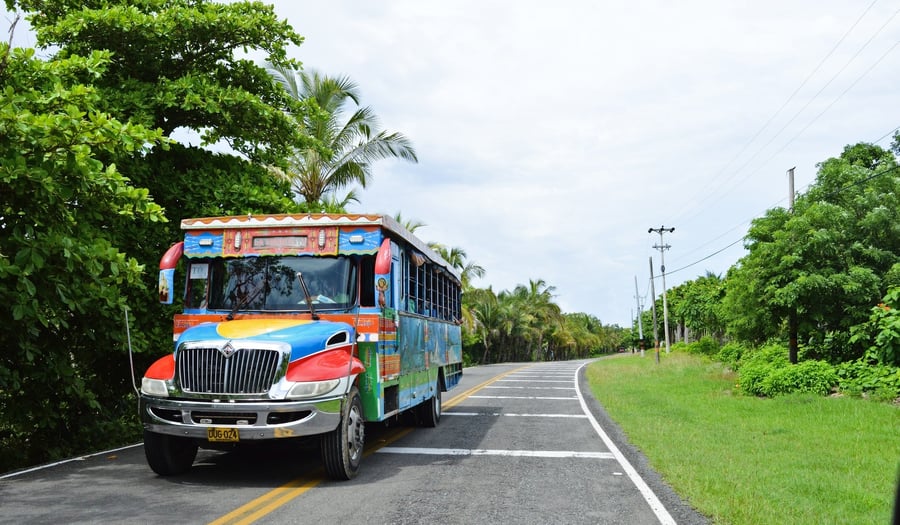 A local bus on the wild streets of Colombia. Source: Viventura.
Take healthy precautions
To ensure travel safety in Colombia, you should always listen to your gut instinct. In Colombia you can now travel just as safely as in other South American countries. If you consider that not all regions are optimally accessible for tourists, if you inquire about the current situation in certain regions and if you approach some situations with a healthy amount of caution, you can feel just as safe as in other countries also.
Regardless of where you are, it is generally advisable to be mindful of whom you are giving which and how much personal information, with whom you are traveling and where you are going.
Our tip: If you are visiting Colombia for the first time and do not have a guide at your side, then it is best to only visit areas where other tourists are staying and to inquire about the current security situation in various regions with the responsible authorities.
And now: off to paradisiacal Colombia
It is true that there are still some areas in the country that it is better not to visit. You should pay attention to risky situations and try to recognize them at an early stage. Despite all prejudices, our travelers only report positive experiences they had in Colombia. In any case, the country is well on the way to being able to guarantee the safety of its visitors in the future and to continuously improve it. And we can reassure you: Our travelers come back from their vacation with wonderful memories of the country's numerous beauties.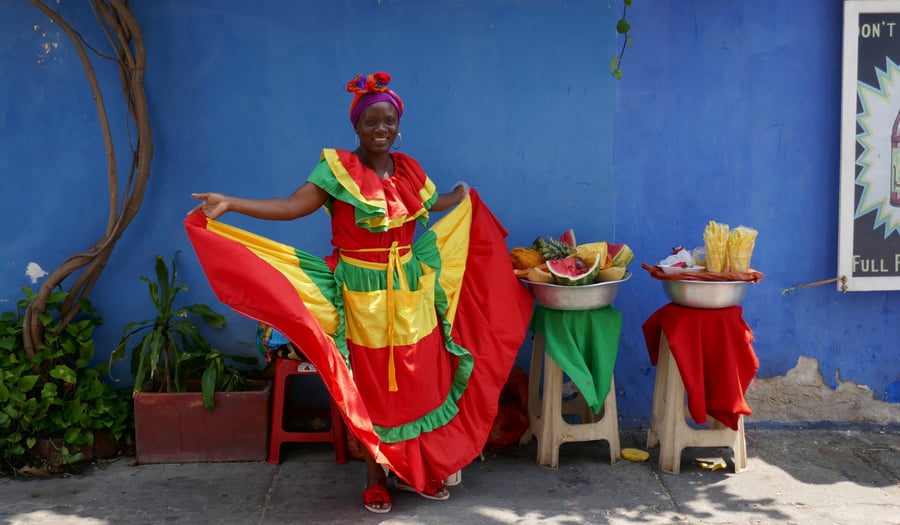 Enjoy pure joie de vivre and let yourself be infected by it. Source: flickr.
Because Colombia has so much to offer: You can see magnificent humpback whales jumping out of the sea, admire the mountainous coffee zone with its permanent green, explore the jungle in the Amazon basin, relax on wonderfully remote beaches or discover crazy plants and wild animals.
Its location on the equator gives Colombia an incredible number of different landscapes and ecosystems. No matter if you are a beach lover, hiker, mountaineer or outdoor sports enthusiast - in the nature of this country, which is three times the size of Germany, but only has half the population, you are guaranteed to find something for everyone.
Are you now in the mood for Colombia, its rich nature and the contagious joie de vivre of the residents? Then we are sure to have the perfect trip for you!