New York City: Downtown Virtual Reality Drive
Take the first New York City sightseeing tour for a fully integrated virtual reality experience. Discover the most notable landmarks and neighborhoods in downtown Manhattan with a fun storyteller.
About this activity
Effortless cancellation

Cancel up to 24 hours in advance for a full refund

Printed or mobile voucher accepted

Use your phone or print out your voucher

Duration 1.5 hours

Check availability to see tee times.
Your experience
Enjoy a multimedia bus tour of downtown Manhattan
Ride a multi-million dollar bus with theater seating and floor-to-ceiling windows
See two live street performances
Experience six moments of virtual reality that will take you back in time
Hear a deeply-researched historical story of downtown Manhattan
See famous landmarks like the Brooklyn Bridge, One World Trade Center, and more
Experience the magic of virtual reality and travel back in time for iconic moments in New York City history. Discover what it feels like to be on Wall Street on Black Tuesday and see George Washington's inaugural opening at Federal Hall. Ride aboard a bespoke coach to see landmarks including the Brooklyn Bridge, Governor's Island, the 9/11 Memorial, and more. Equipped with hi-tech audio and video equipment, including 3,000 LED lights and 40 LCD screens showing footage of downtown Manhattan, the bus is the best way to experience the city through time and space! See surprising street performances and hear lively commentary as you gaze out over New York Harbor from Water Street. Stroll the cobblestone streets of South Street Seaport and hop on the bus for an incredible 3-minute introduction to the virtual reality of surround sound. All VR moments are pre-installed on plastic headsets. Your storyteller guide will provide you with in-depth information about the past, present, and future of downtown Manhattan. Take a virtual helicopter flight over the One World Observatory and other amazing VR moments.
1.5 hour bus tour
Fully equipped custom bus with side theater seating
Virtual reality headsets
Live street performances
Live storyteller
Cardboard souvenir headsets (take away)
Prepare for this activity
Water St. 182, Lower Manhattan, 10038 New York, in front of the Starbucks Cafe, between John Street & Fulton Street, Lower Manhattan. (This tour does not depart from Brooklyn or Midtown Manhattan)
Open in Google Maps ⟶
Important information
This tour is suitable for everyone aged 6 and over
There is a short cobblestone walk at the start of the tour. So please wear sensible shoes
Overview
Guide 5.0 / 5
Transport 5.0 / 5
Price-performance 5/5
Security 5/5
I usually do not write reviews but this was worth it. Phenomenal experience; Theater seating was comfortable and provided optimal viewing of the city. Tour guide was engaging and hilarious! Truly laugh out loud funny. I could have listened to her all day. Live music on the bus and VR experiences were creative bonuses. Live performances on the street among the crowds .... GENIUS. I would do the entire tour again just to hear the rap about 911 again. Powerful, insightful. Of all the amazing things we did in NYC, this ranks at the top.
Continue reading
Fun way to see New York in a short amount of time
Excellent time
Very informative and interesting. Excellent tour guide, very likable and knowledgeable. Highly recommended.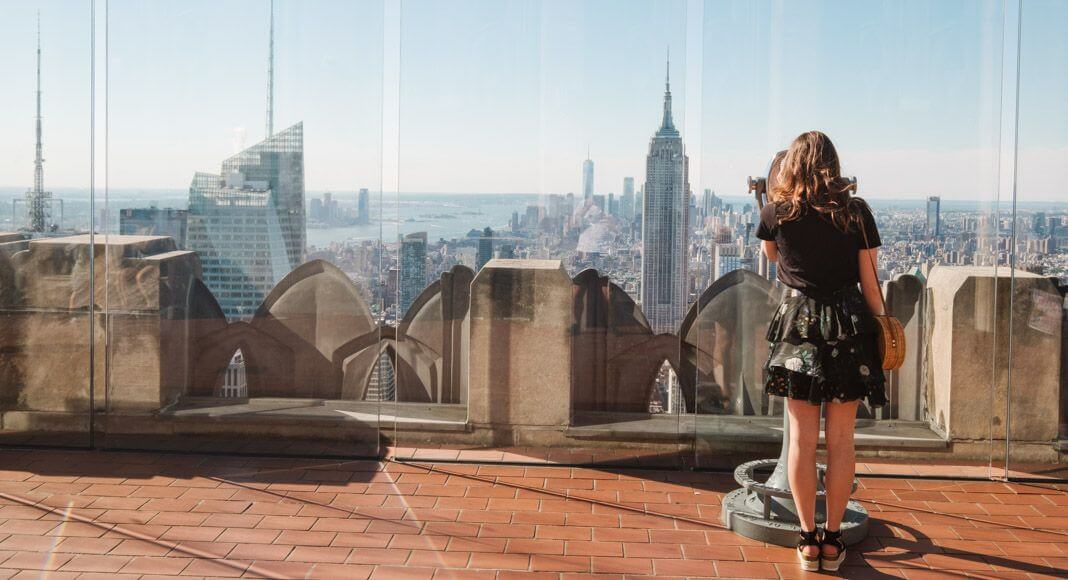 Your travel plan for New York is waiting
We'll send you a handpicked 48-hour itinerary with the top experiences in New York - straight to your inbox.
By registering, you consent to receiving promotional emails. You can unsubscribe yourself anytime. You can find more information in our privacy policy.