What are the Most Influential K12 Websites
Google Analytics and Public Relations, Part 1: Basic Functions and Metrics
This is the first part of posts about Google Analytics and Public Relations. The other two posts can be found here:
All too often, those responsible for communication in PR leave the regular analysis of web controlling data to their colleagues in the online area - or ignore this data completely, with a few exceptions such as the number of visits. Often behind this is ignorance about what you can get from Google Analytics, etracker and co. The most important PR-relevant functions will now be presented using the example of Google Analytics. Similar analyzes can also be carried out with other web controlling tools such as Piwik or Etracker, the functions are usually also available there, albeit sometimes under a different name.
The dashboard and the "Target group" area
After logging in, the user usually ends up in the Google Analytics dashboard overview in the "Target group" area. Here you can find the most important key figures such as sessions (visits), page views, pages / session, bounce rates, etc. This is quite nice for a basic inventory. However, it is more interesting to look at the graph above, because it shows the development of usage over time. And usage peaks or increases are an indicator of increased interest in the website, possibly triggered by communication and marketing activities.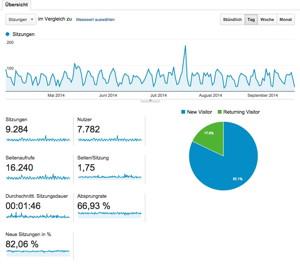 Google Analytics dashboard: an excerpt
There is a menu item further down in the menu bar "Demographic Characteristics" and "Interests". If you want to use this area, you need to configure the tracking code accordingly. Google uses usage data collected via its advertising network to determine demographic characteristics of users. If such users come to your website (and everyone comes into contact with the Google Ad network), this data can be used to determine an interest profile and for demographic characteristics. Age, gender and interests are read out. Here you can roughly estimate whether the website users roughly match your target group ideas. Note: We do not collect this data on our website or on Modern Corporate Communication.
Under "Geographically" users can be segmented according to their place of origin, broken down to individual cities if you want. This is based on the location of the nodes through which a user is connected to the web. This function may be interesting for regionally oriented campaigns. For example, if you organize an event in a certain city and carry out accompanying press work, you can identify whether the communication work can be converted into a local interest.
"Acquisition" area
This functional area of ​​Google Analytics analyzes how or via what the users came to the website. Let's take a look inside:
Under "Overview" there is an overview of the origin of the traffic ("channels"), whether it is generated via organic search on search engines, keyword ads, third-party websites (referral), social media, direct address entry or other sources.
Under "All hits" we see a detailed breakdown by website. Here we see, for example, how many users have accessed the site via a particular page. From a PR perspective, these could be sources such as press sites, news offers, newsletters or other online actors who deal with a company and refer to the website. Here you may find tips on how to answer the following questions:
Which organizations (NGOs) might be dealing with us?
Do press releases, media collaborations or blogger relations have an effect on the use of our content?
Which placement options (e.g. in content marketing) work and which don't?
The menu item "Campaigns / Keywords / Organic" was very useful in the past because it allowed us to identify the search terms used to access the website. So: What are users looking for? Which topics "pull"? Which content offers from us work well and which less? Which terms are used (are we actually using the terms that users are obviously familiar with?)? Do we actually have the right content? Are you looking for brand names or are you looking for generic terms? For example, an increase in organic searches for a brand may be an indicator (not evidence) of higher brand awareness.
Since Google has more or less switched off this function in Analytics, the item "Campaigns / Keywords / Paid" can only be used to measure the keyword performance in Google ads. The organic search terms are hardly meaningful here. But remedial action is not far, comparable data can now be found via the menu item "Search engine optimization / search queries" It is interesting that this also shows how often the website was displayed for certain search result ads and how often it was clicked on. For example, we see for this blog that five people landed here in the last month because they searched for "republica 2015".
Especially the area "Acquisition / Social Networks" has been doing lately. Not only that the traffic by social media platforms is listed here, but also the landing pages that are accessed via the networks. A nice addition to tools like Facebook Insight or other platform-specific tools.
In the area "Behavior" it is evaluated which content is used ("Website Content"), i.e. which individual pages are accessed particularly frequently. Ergo, this answers the question: What content and services are really user-relevant - what are the most important content? Is that the same content that we feature on the homepage - or in other channels - or consider it to be extremely important? About the analysis of the internal site searches ("Site Search") you can see whether there is any demand for content that has not yet been offered. Or whether prominent content may not have been noticed.
The web metrics just described are just the beginning. Analytics becomes really powerful when you add functions like Segmentation, filter setting and custom reporting uses. For example, you could analyze the behavior of users who came via a certain website (e.g. cooperation partners). Or the behavior of existing customers to whom e-mails are sent and which can be filtered out using appropriate filters. Any variable is conceivable here.
More articles on the topic:
Google Analytics and Public Relations, Part 2: Use in Content Marketing
Categories: Digital Marketing, Digital Communication, Measurement & Research, Online Relations, Public Relations, Tools, Web development / design | Tags: Corporate Websites, Google Analyt, Google Webmaster Tools, PR-Controlling, PR-measurement, pr-metrics, Tools, web-metrics, Website-metrics | Permalink
Author: Jörg Hoewner
Jörg Hoewner: Born in 1969, is a managing partner of the K12 - Agency for Communication and Innovation and a consultant for modern corporate communication in Düsseldorf. Since 1995 he has been advising clients in the field of online relations / online PR, making him one of the first consultants in Germany in this field. In the past 20 years, Jörg Hoewner has advised numerous customers, many companies (including DAX30 companies) and several associations. He is also active as a speaker and author of numerous specialist articles - online, in magazines and books. His main focus is on the topic of integrated communication, its measurability and the impact of communication technologies on internal and external corporate communication. Contact: Jörg Hoewner ([email protected]) - T. +49 (211) 5988 16 32 or +49 (177) 4594974