Which tool is best for keyword research?
12 keyword research tools - free and tried
Keyword research is not just about individual "keywords". It's also about phrases and questions that your target audiences use to find the answers, products, and services they're looking for. These phrases and questions are an important component of any marketing campaign.
Finding them out can be time consuming, but it is necessary. Keyword research tools are therefore among the most important SEO tools. When you're done research, you will have valuable data for:
Better SEO strategies

PR campaigns

The generation of content ideas - video, text, social etc.

The target group research

Paid advertising

Local search campaigns

The competitive research

Keywords and Phrases to Ignore

Brainstorming sessions
While these free keyword tools cannot replace manual labor when it comes to search intent, they can help you find the right keywords.
Free keyword research tools
You can find many free keyword research tools on the internet to help you gather this important information. Here I will introduce you to twelve of them in more detail, which are well suited as a free alternative to the Google Keyword Planner or paid third-party tools. They're easy to use, have valuable data, and are very useful for keyword analysis that marketers and businesses can use to improve their marketing strategies. You can also use them to find the long-tail keywords.
Video tutorial: Finding long-tail keywords
Video tutorial for keyword research
In this video, Martin Brosy and Evgeni Sereda show you how to do keyword research properly.
Google Trends
Google Trends shows you the relative popularity of keywords in comparison, provides valuable data on regional differences, and is a great resource for studying seasonality and trends in search volumes for specific keywords over time.
With the help of this data, you can identify current trends and avoid jumping onto trends that are already declining too late. They show you what is important to Google users now.
Compare:
You can compare multiple keywords to see how your target audience's interests have evolved over time.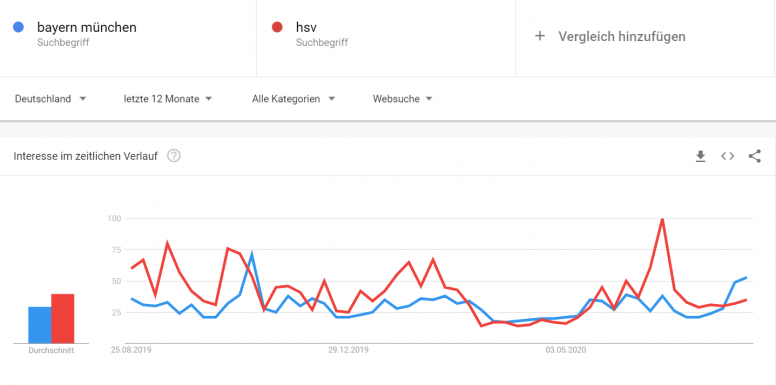 Related searches
Google Trends also shows a number of similar queries that provide you with additional ideas for keyword research, content and marketing strategies, and point out regional characteristics:

Keyword interests or trends by country or worldwide:
You can use this data to determine the demand for keywords or topics in different regions. This breakdown is extremely valuable information.
---
QuestionDB
Reddit is a huge platform used by millions of people every day to discuss problems and find answers or solutions. QuestionDB has compiled an extensive database based on questions posted on Reddit. The free keyword tool evaluates the relevance of the questions for keywords and categories.
QuestionDB recommends using broad keywords. Here is a short series of questions asked about the term "grilling":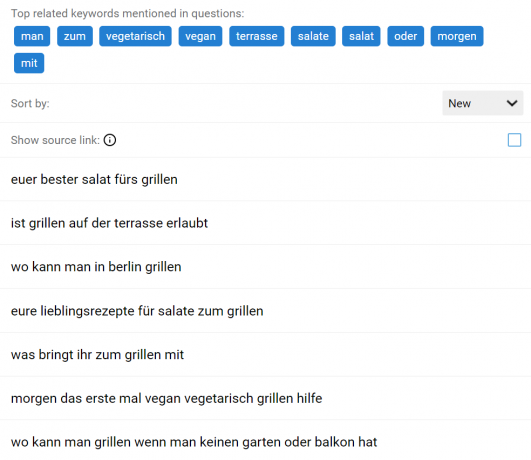 tip: It is best to use only one or at most two words here for the query. Otherwise no results may be found.
---
AnswerThePublic
This is a powerful tool for discovering sentences that you may not have thought of yet.
AnswerThePublic is chargeable in the full version, but is also available as a stripped-down free keyword tool. Here you get visualizations of questions and phrases related to the keywords you want. The related phrases are valuable for research and brainstorming. Note that you will need to invest some money in the Pro version to get regional information for the starting keywords.
Let's see how the tool works. For each query, you get related questions, prepositions, comparisons, similar queries in alphabetical order, and related searches.
For the keyword "summer vacation" the following ask issued:
Searches for prepositions: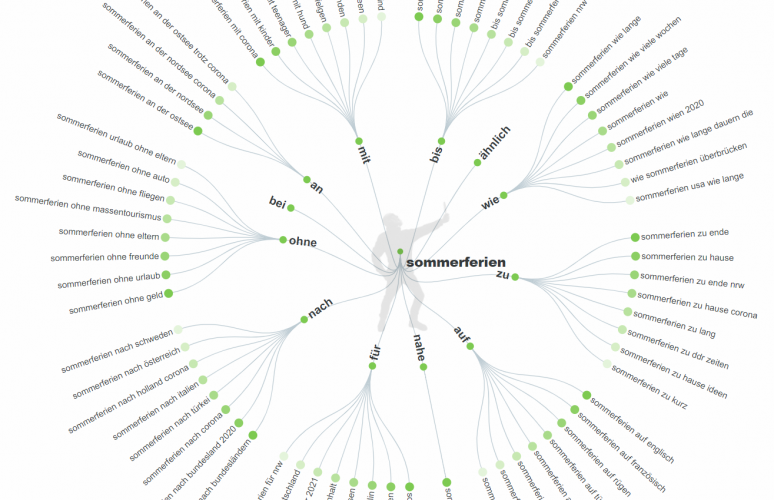 The list of related searches in alphabetical sortingis a rich source of ideas:

Last but not least, you will get similar searches: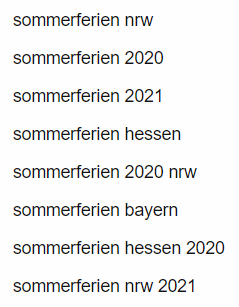 ---
Keyword Tool Dominator
Keyword Tool Dominator lets you view keyword data from some of the largest platforms. Here you will find keyword research tools for Amazon, eBay, Etsy, Walmart, Google, Google Shopping, YouTube and Bing.
Important NOTE: With a free account, you're limited to three searches per day per tool. You can download the data for each search.
Each tool gives you an overview of relevant keywords for a selected starting keyword. Some tools allow you to select a region. As an example, here are the keywords that were provided for the query "Nike shoes":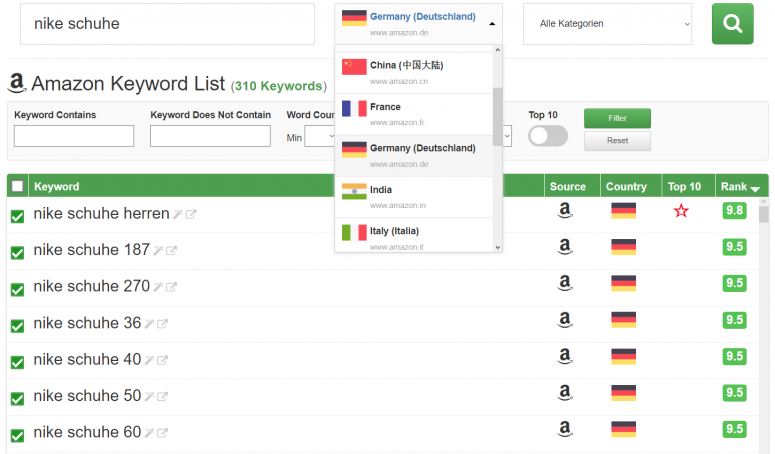 The tool also offers Data on the frequency of searches as a diagram.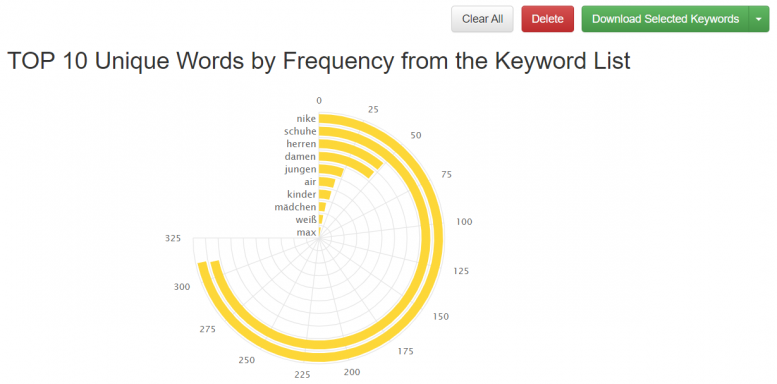 I have with that Google shopping tool searched for "Baby Yoda". With this tool, you can quickly determine which products users are most frequently looking for in relation to current trends. However, this only works with the US database: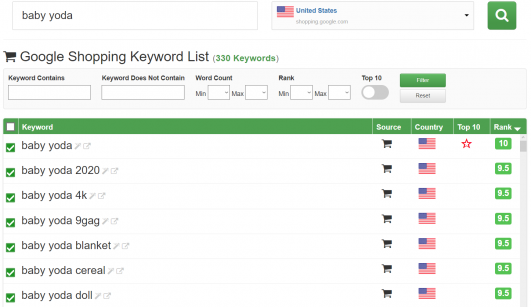 ---
Google's "users also ask"
If you're looking for questions that people are really asking, Google is a valuable resource. Often times after entering a keyword, a section titled "People Also Ask" appears on the search results page. This is how he looks like:
The more entries you click under "Users also ask", the longer the list becomes. So, with multiple clicks, you get an extensive list of related questions.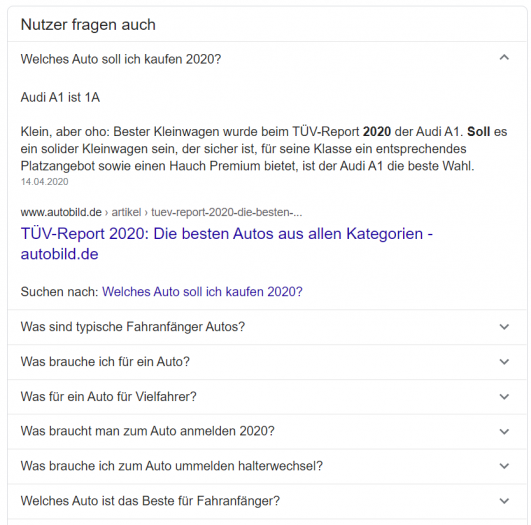 ---
So asked
So Asked helps marketers understand how questions are thematically related. The questions displayed here are also suitable as a source of keywords and ideas for questions that you can answer with your content.
For example, these questions were found for the query "SEO":
What do you do in SEO?

Why SEO Optimization?

What does SEO optimization cost?
When writing about SEO services, these questions can help you determine what to include in your content.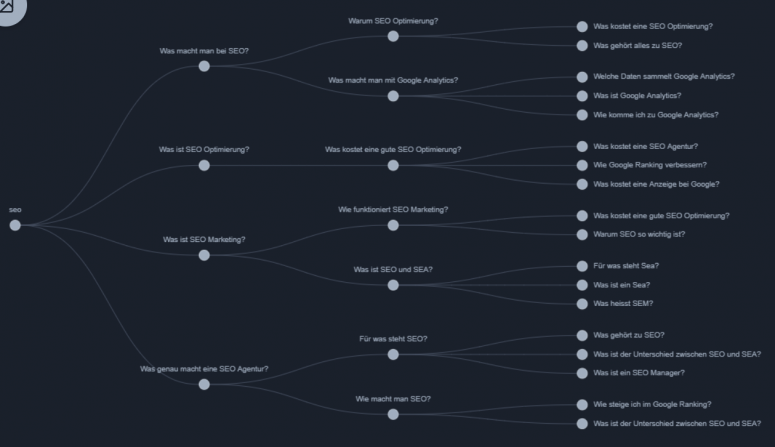 ---
Soovle
Are you interested in differences in the interests of users on different platforms? Soovle generates a short list of the most important terms for Wikipedia, Google, Amazon, answers.com, YouTube, Bing, and Yahoo.
Just enter a keyword and the terms will appear just above the logo of each platform:
---
YouTube search suggestions
When searching on YouTube, the platform uses auto-completion to generate keyword suggestions that match your input based on frequent user queries. Go through the suggestions to find keywords that are relevant to users.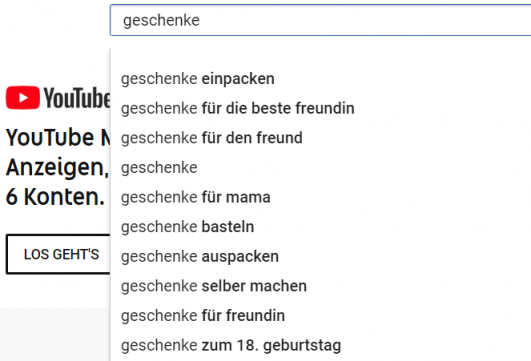 Competitive research on YouTube
You can also check out your competitors' channels on YouTube and gain valuable insight into keywords and related topics that are relevant and attractive to your target groups.
Open a competitor's main channel page. Click Videos, then Sort By, then select Most Popular:
Check out which videos performed the best and look out for key keywords in the titles, videos themselves, and descriptions. Also check out the comments. What are the users discussing? Here, too, you will find potential keywords for your campaigns.
---
Side-by-Side SEO Comparison Tool
This tool evaluates the source texts of websites, thereby saving you a lot of time and providing diagrams that you can use in your reports.
As the name of the tool suggests, you can use it to compare URLs and collect data on the keyword strategies of other websites. If another website gets a high ranking for terms that you are targeting, this is a convenient place to look at their on-page keyword strategy.
Which keywords appear in headings? Which phrases are used most often?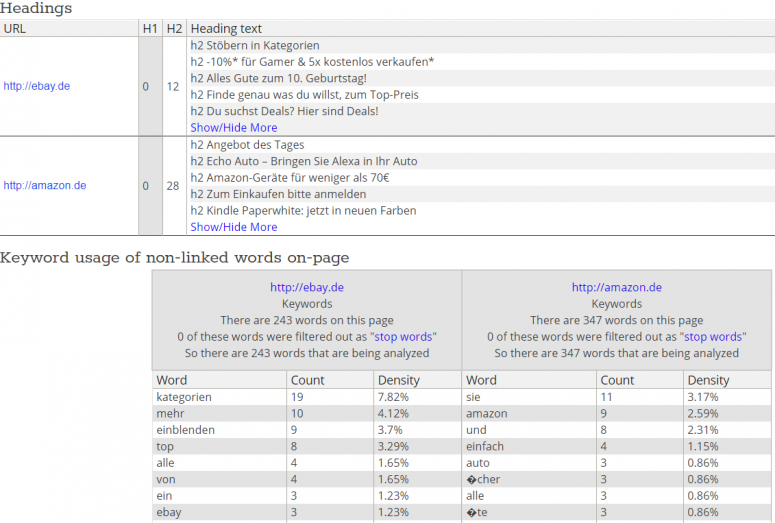 The On-page analysis data reveal a lot of information about keyword usage on the pages in question. How many keywords does each page contain, how many keywords are there in the link texts (check the anchor texts on these pages), which keywords are in the head elements and meta descriptions?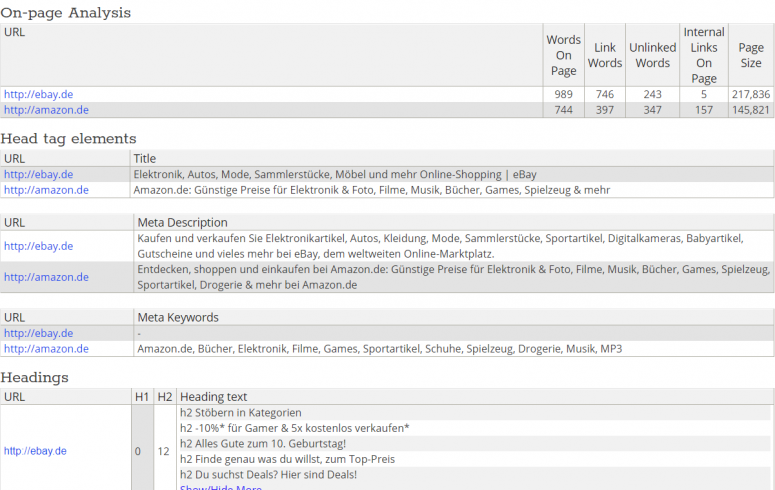 ---
Amazon search suggestions
We don't need to emphasize how many people shop on Amazon - we all know it. But just imagine how many searches are performed on the online department store's website each day. The keyword phrases autocomplete suggested on the Amazon website are a gold mine of freely available data: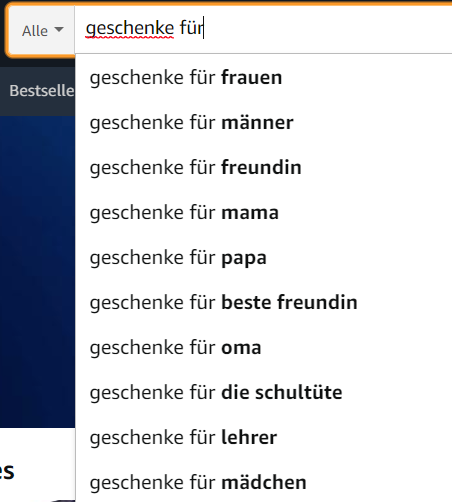 ---
Google Ads
Please note with data from Google Adsthat they are primarily geared towards pay per click. Still, they are a great source of keyword ideas. To use them as such, you should have access to a Google Ads (formerly "Google AdWords") account that actually spends money on the service. Otherwise, the tool only gives the magnitude of the search volume for your keywords as a rough range.
In the screenshot below, you can see the results of an account that does not invest any money in Google Ads. Google gives the search queries as a range of 1,000 to 10,000 queries per month. That's a pretty broad spectrum and doesn't give an accurate picture of the traffic potential for these terms.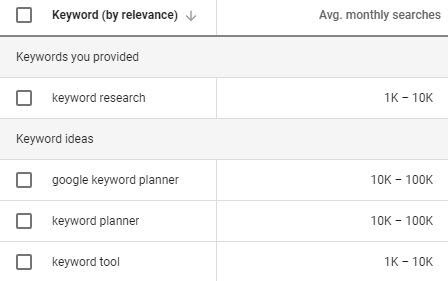 Now let's look at the data from an account that spends money on Google Ads. Google provides a more accurate estimate of the number of requests per month at 5,400.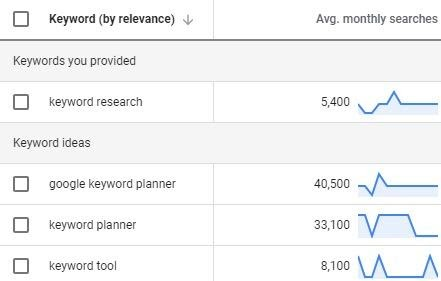 To get keyword recommendations for your website, simply select "Discover New Keywords" and enter your URL. Google Ads will return a keyword list with relevant searches.
---
SEMrush Keyword Magic Tool
The Keyword Magic Tool is a simple keyword research tool that gives you a lot of useful information. Free account users can run 10 queries per day. Please note that every query in this tool counts towards your global daily limit of ten queries in Domain Analytics and Keyword Analytics.
Each query shows you broadly matched keywords, phrase matches, exact match keywords, similar keywords, and matching W questions.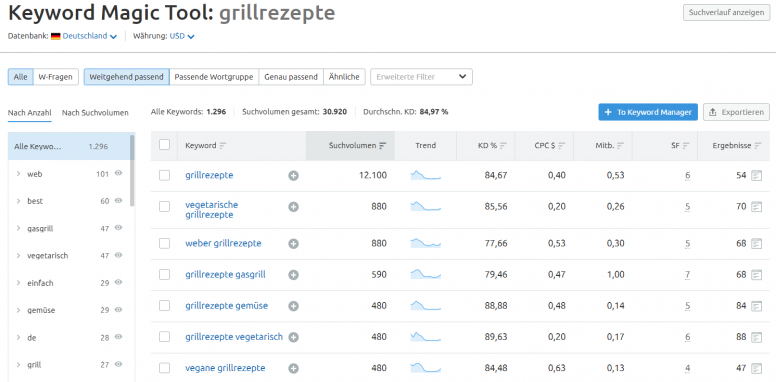 Here is more information about what data you get with a free SEMrush account.
---
I hope these twelve tools will help you find the best keywords and phrases for effective content and marketing campaigns. Finally, some additional resources to help you optimize and refine your keyword research strategies.
More resources for keyword research: