Can I use Ethereum with MyEtherWallet?
MyEtherWallet - the test report 2021 for detailed information
Cryptology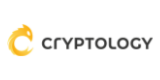 Storable currencies (number): 8
Costs: 0 €
Mobile (yes / no): Yes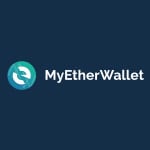 Ethereum is one of the best-known cryptocurrencies on the market and is used and traded by numerous investors and users today. In order to be able to safely store the ethers, which belong to Ethereum as a currency, the use of a high-quality wallet is recommended. The digital wallet from MyEtherWallet is one of the most famous contact points. The provider is also known under the name MEW and has specialized exclusively in wallets for Ethereum and ERC20 tokens. If you also want to store other digital currencies, you have to open another wallet with another provider.
The offer of MyEtherWallet is interesting for many users, so we took a closer look at the website and checked how good the wallet actually is.
5 arguments for MyEtherWallet:
Easy storage of Ethereum and ERC20 tokens
Shipping, receipt and storage possible
Easy creation of a paper wallet for more security
Issuance of a private key
Offline use possible
Continue to register: www.myetherwallet.com Investments involve the risk of losses
Security: The problem with wallet security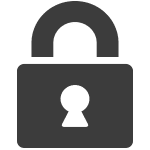 Digital currencies were developed in order to be able to evade the central systems in relation to fiat money. However, this also means that neither the currencies nor any offers relating to the currencies are regulated. The same applies to the providers of a wallet. Since these are only providers who provide storage for the digital coins, there is no regulation and no security for the user with MyEtherWallet either. The user is responsible for the security of his cryptocurrency. Hence, there are some important safety recommendations.
With MyEtherWallet it is possible to create the wallet offline and that is exactly what should be done. This gives users the option of having a private key compiled offline here. Malware or a virus have no chance of finding out about this key and thus gaining access. With regard to security in particular, it is particularly important to make full use of all the options that are made available. The offline use of digital wallets has become a factor that is very popular in recent years. Hackers cannot access an offline wallet.
The creation of a paper wallet is also very interesting. This is also offered by MyEtherWallet. In this way, too, the tokens can be stored very well and securely. Every user of MyEtherWallet is therefore responsible for ensuring security and making sure that their cryptocurrency cannot be stolen.

Simply swap Ethereum for Bitcoins
In terms of security, MyEtherWallet cannot offer any particular security benefits. However, this is quite normal and also not the case with other providers. Basically, regulation or deposit insurance are not an issue when it comes to digital currencies. Here, the users themselves have the task of ensuring the security of their cryptocurrencies.
The MyEtherWallet in detail
Ethereum and ERC20 tokens are the only digital currency that can be stored, sent and received via MyEtherWallet. In fact, it is a common practice for wallet providers to focus on a specific currency. This is also the case with MyEtherWallet. The provider is a company that provides open source technology. MyEtherWallet only offers the interface and thus access to the wallet, but the user saves the ethers themselves on their computer. This is a clear difference to providers who offer a web wallet. In the case of web wallets, the currencies are stored on the servers. This is not the case with MyEtherWallet.
The advantage for customers is that they don't have to use any software to open an account with MyEtherWallet. Wallet files and private keys can be created offline. These should be well secured. If lost, MyEtherWallet cannot restore it. The provider himself indicates that it is best to save and secure the keys multiple times.
The provider MyEtherWallet is a company that provides the interface for creating a digital wallet. This gives users the opportunity to save ethers here and also to receive or send them. However, users are responsible for their safety.
Continue to register: www.myetherwallet.com Investments involve the risk of losses
Ethereum in detail: The cryptocurrency as an investment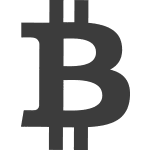 One of the reasons why MyEtherWallet specializes in Ethereum of all places can be found in the description of the currency. After Bitcoin went on the market, some altcoins have developed that try to build on the success of Bitcoins. However, only a few digital currencies succeed in this and one of these currencies is Ethereum. But this is much more than just a digital currency. In fact, it is above all the technology that should be of interest to the user. The provider works heavily with the use of smart contracts and is also active in relation to dApps.
Ethereum was developed so that blockchain technology can ensure that there are no more middlemen on the Internet. The aim of the platform is to act as a decentralized computer. One of the special features of Ethereum, however, is above all the work with the smart contracts. The small programs or contracts are created in the network and can be used to regulate conditions or develop dApps.

MyEtherWallet also enables offline transactions
Ethereum is one of the digital currencies that is predicted to be relatively successful in the future. The main advantage of the currency is the technology that can be found here. Therefore, there are numerous investors who invest in ether and want to keep it as safe as possible.
Opening an account at MyEtherWallet: this is how it works
Anyone who would like to find out more about what MyEtherWallet has to offer will not find what they are looking for on the website. However, since it is clearly defined that this is a digital wallet in which ethers can be invested, many users still opt for the offer. The account opening can then take place in several steps:
password
The first point is the password. MyEtherWallet attaches great importance to a strong password, which means that at least 9 characters must be assigned. It is important to know that this is not the private key. However, the password is necessary to unlock the wallet if you want to access it. It is recommended to save the password correctly and to make a note of it, otherwise you will no longer have access to the platform.
Create a wallet
It is now possible to create a wallet. To do this, the "Create New Wallet" button must be selected. Then a file has to be downloaded. This should be saved on a USB stick. This is a version of the private key that is encrypted. The password must already be used here in order to be able to decrypt it. This is a particularly secure option to protect the wallet. However, the password must be well secured for this.
Confirmation and expression
A warning now opens that should be read. Only after confirmation that you have understood this will it continue. Now comes the recommendation to print the paper wallet or write off the private key and thus secure it. It is recommended that the protection be carried out on a piece of paper. Now the account address needs to be saved. With this, the current account balance can be called up at any time. It is also important to be able to receive and send Ether. The password must always be entered here. Therefore you should have this to hand.
Important: If you want to use the wallet offline, you can download a zip file and then move it to the computer where the wallet is to be created. Here it has to be unzipped and opened. Then follow the instructions.
Opening a digital wallet account takes a little time, but MyEtherWallet ensures that the individual steps are easy to complete. Again and again there are hints that the password must be properly secured.
Continue to register: www.myetherwallet.com Investments involve the risk of losses
Website: information and breakdown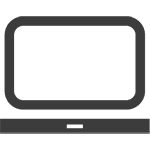 The MyEtherWallet website is kept relatively simple. It is important to know that fraudsters keep creating similar websites and want to get users to create a wallet here and transfer their credit to cryptocurrency. To prevent this from happening, care should be taken to select the right website. There is a green lock in front of the address and the notes "MYETHERWALLET (US)". The website itself can be selected in different languages. However, only a very small part of the page is translated. That makes it relatively difficult to get an overview here.
The division is made into several categories. There is the creation of a new wallet, the dispatch of tokens and ethers, the change, the offline dispatch as well as the contracts, ENS and the DomainSale. A help area is also available - but not in German.
The MyEtherWallet website is rather less clear. In fact, it is even difficult to get an idea of ​​how opening a wallet works and what advantages you have with it. Possible costs cannot be identified either. It is possible to switch to German. The website was not completely translated.
Support at MyEtherWallet: Availability for customer service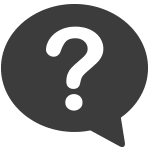 Due to the relatively confusing website and the problem with the language, it can of course be that questions arise if you want to open a digital wallet on MyEtherWallet. The interesting question here is what the support actually looks like with the provider. There is a button on the website that you can use to write an email. If this is selected, the mail program opens directly. This is quite handy. However, support is only available in English. What cannot be found on the website is a phone number. This means that when you have questions you have to wait for the written answer. However, MyEtherWallet is considered a provider with a relatively short response time.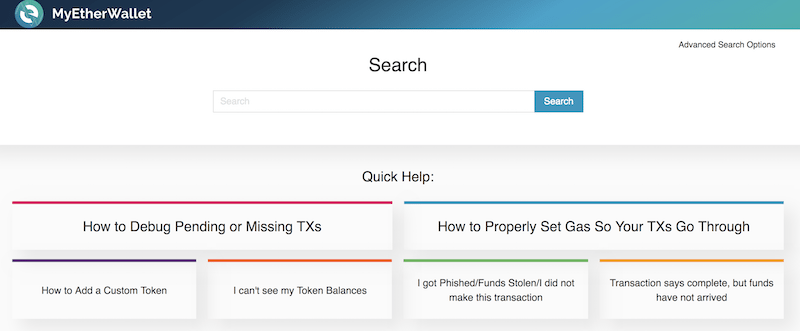 The FAQ area of ​​MyEtherWallet
Support is fundamentally an important point when it comes to digital currencies. It can always happen that questions or ambiguities arise that one would like to have clarified. With MyEtherWallet, support is limited to one email address. There is no telephone support or live chat.
Sending Ethereum: How it works
Sending Ethereum is one of the perks offered by MyEtherWallet. On the website you can choose to send ether and tokens. A page then opens with the question of how you would like to access your wallet. Different variants are available, such as:
Address only
MetaMask
Ledger wallet
TREZOR
Digital bitbox
Keystore
Mnemonic phrase
Private key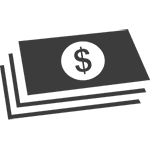 It is of course advisable to work with the private key here. The keystore file is also very easy to use. Your own wallet can then be selected here. The password is now requested and the wallet is unlocked. An important step has already been taken.
An area will now open in which you can enter the address to which you want to send. The amount to be sent is now entered. Your own account address is on the right-hand side and is made up of numbers and letters. Ideally, it should also be noted in writing.
After all fields have been filled in, the transaction can be sent. There is also an overview of the transaction in binary format as well as the signed transaction. An overview of your own account balance is also provided.
Sending ether and tokens is relatively easy and quick. Users don't need a lot of time here. With a little practice, this can be done quickly in the future. However, care should be taken to enter the destination address correctly, as a reverse transaction is usually not possible.
Continue to register: www.myetherwallet.com Investments involve the risk of losses
Receive Ethereum: How it works
Receiving Ethereum is much easier. It is not necessary to log in for this. What is only required for this is the wallet address. This can be found in your own account. The tokens or ethers must be sent to the address. It usually only takes a few minutes to transfer the digital currency.
Receiving Ether to the MyEtherWallet wallet is quick and easy. The account balance is then automatically adjusted and can be viewed.
ERC-20 token - what is it?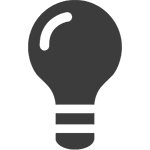 The ERC-20 tokens are mentioned again and again at MyEtherWallet. Not every Ethereum user knows what exactly is meant by this. These are tokens that come from blockchain projects. The advantage here is that these tokens were created via an Ethereum blockchain. So if you have these tokens, you can also make them visible via the MyEtherWallet and also send or receive them. These include, for example, tokens such as ICON, EOS or TRON and DENT. They can also be stored here.
Tip: It is advisable to check the account balance again and again to ensure that no unauthorized actions have taken place via your own wallet.
The ERC-20 tokens are also digital currencies that can be created via the Ethereum blockchain as part of various projects. If you have the tokens, you can also store them offline in the wallet and send or receive them.
Seriousness: is MyEtherWallet serious?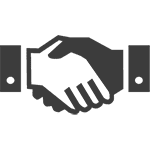 Seriousness is always a question of perspective, especially when it comes to digital currencies. MyEtherWallet is a well-known digital wallet provider related to Ethereum. Numerous users have already set up their wallets here and have not had any problems so far. Nevertheless, the provider is always a target for hackers who try to phishing by creating similar-looking websites or emails and thus gain access to the access data for the wallets. MyEtherWallet is reputable. However, each user must ensure the security of the digital currency himself. This is one of the points that should be made clear over and over again.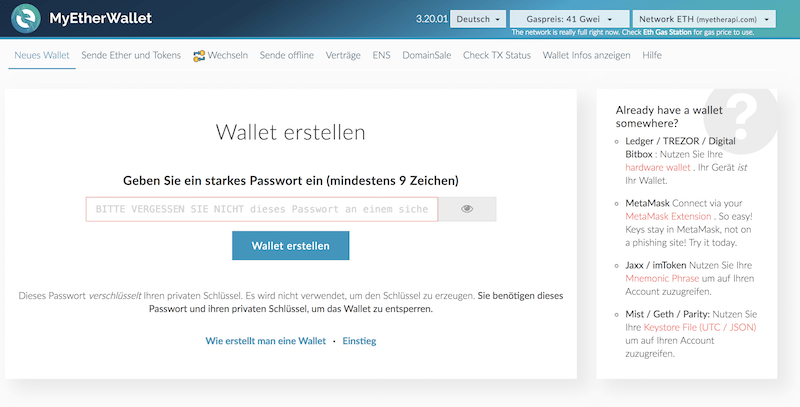 A look at the homepage of MyEtherWallet
MyEtherWallet is one of the serious contact points for all users who are looking for a digital wallet where they can also secure their ethers offline. Since the ERC20 tokens can also be stored here, the platform naturally offers additional advantages. Even if the provider himself can be classified as reputable, each customer is responsible for the security of his digital currency.
Conclusion: MyEtherWallet as a provider for digital wallets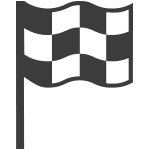 We looked at the offer of MyEtherWallet and took a close look at the website. We were able to determine that although a change to German is required, this only affects a small part of the website. This is of course annoying for those interested who only speak German. The same goes for support. Again, the answer is only in English. Therefore, communication can become difficult. Nevertheless, the opening of a digital wallet is relatively easy to display and implement. In addition, it is pointed out again and again that the passwords should be backed up in order to avoid loss. However, this is the responsibility of the user and not MyEtherWallet. If the specifications are adhered to, use is safe and easy. Nevertheless, the account balance should be checked again and again in order to be able to determine quickly if there are phishing attacks.
Summary of the most important points regarding the offer of MyEtherWallet:
Website only partly in German
Only written support is possible
Offline opening of a wallet possible
Secured with a private key
Sending ether and tokens possible in just a few steps
No regulation or deposit insurance
Continue to register: www.myetherwallet.com Investments involve the risk of losses
Cryptology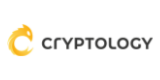 Storable currencies (number): 8
Costs: 0 €
Mobile (yes / no): Yes