Whose paintings are these
Provenance / outsourcing / exhibitions
Opens in a new windowOpens in a new windowOpens an external siteOpens an external siteOpens an external site in a new windowOpens an external site in a new window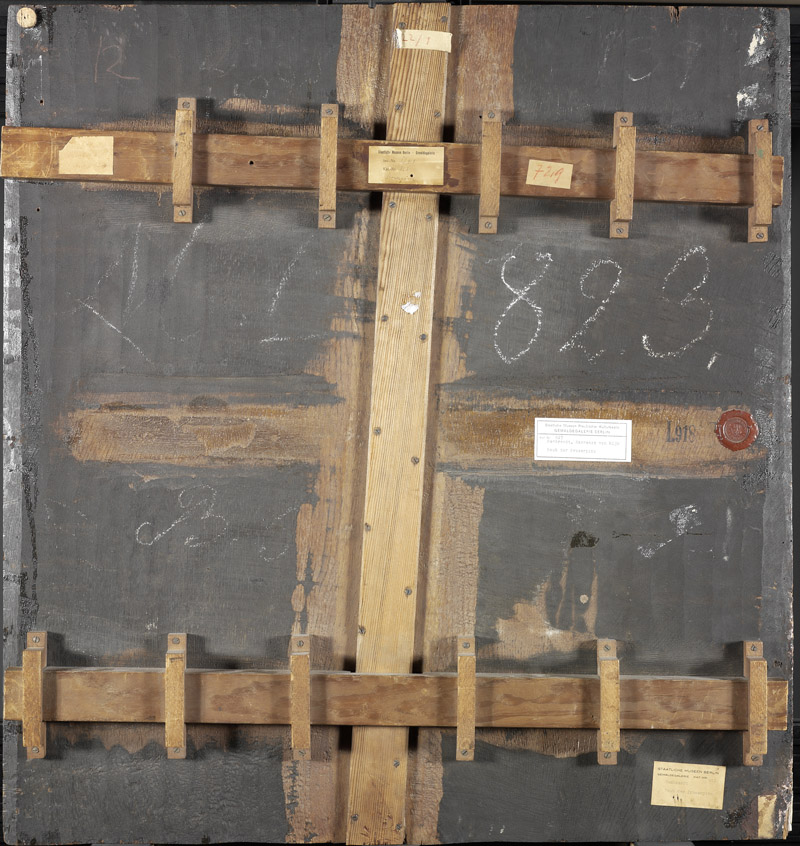 Rembrandt Harmensz van Rijn, The Rape of Proserpine, reverse side of the picture
As a successful 17th century painter, Rembrandt is comparatively well documented, which sometimes simplifies research into the origins and history of his works. However, since questions of attribution and the changing appreciation play a central role within Rembrandt research, the thorough processing of the provenance as well as the relocation and exhibition history of individual works is of particular importance here. In addition, relevant findings enable important insights into the physical history and thus also a better understanding of the current state of preservation of the image.

The focus is therefore on questions such as:

Who was the owner of the work before it came to the Gemäldegalerie?
Where and by whom was the painting sold or auctioned? Are there any indications of the origin of the work directly on the object in question (lettering on the back, seals, labels, artist and owner notices)? Are there references to previous owners in sales documents, auction and exhibition catalogs, archives or letters? Is there additional, handwritten information in auction or collection catalogs? Has the image been dragged or outsourced? At which exhibitions and in which context was the painting shown? Has the painting always been attributed to the same artist? Was there a change in the title of the picture?
Rembrandt Harmensz van Rijn, Simson and Delila (inventory sheet on the back of the picture), around 1628, oak wood, 61.4 x 50 cm, Gemäldegalerie, Staatliche Museen zu Berlin
The back of the picture often provides numerous indications of the provenance of a painting through attached inventory lists, wax seals, chalk marks, signatures, etc. On the back of the Simson and Delilah painting there is an inventory list of the former Prussian castles. The number "2828" visible here refers to the general catalog as a directory of the various Prussian castles from 1883. With the help of this information, not only can the origin of the former royal property be proven, but also the location of the painting in 1883 found: in this case the Berlin Palace.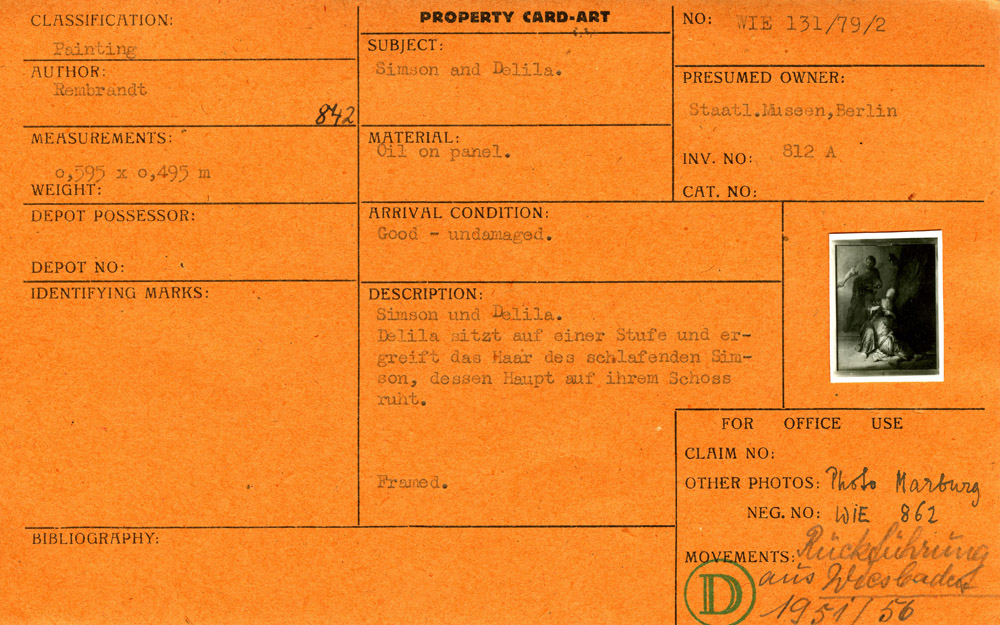 Index card that documents the whereabouts of the painting "Simson and Delila" in the "Central Art Collecting Point Wiesbaden".
Towards the end of the Second World War, the Berlin painting holdings of the Kaiser Friedrich Museum were transported from Berlin in the spring of 1945 and stored in the Hattorf / Ransbach mine or in the Kaiseroda-Merkers salt mine. Here they were discovered by the Americans and confiscated. The collection was then transferred to the State Museum in Wiesbaden, where the so-called "Central Art Collecting Point Wiesbaden" had been set up. The works of art were delivered, recorded and registered here. The number "WIE 131/79/2" visible on the top right of the index card is the Wiesbaden registration number of the Berlin Simson and Delila painting. In 1956 the holdings of the Berlin Gemäldegalerie were officially transferred to the trust custody of Berlin and the repatriation of the works of art from Wiesbaden to Berlin could begin.
Rembrandt Research Project: Investigation of the following aspects: