Who is leading the B2C CRM market
CRM in medium-sized companies - first-class providers under the microscope
In the future, it will be more and more important for companies to establish a more intensive customer relationship. This is the only way in times of data exploration and personalization to ensure that you are at the forefront in your industry and that your competitors are left behind. If your customers are satisfied with your products, services and customer service, you can hope for valuable word of mouth and good reviews on the Internet, but only if your CRM software meets these requirements.
This is the new word of mouth in marketing! In the following article I will explain to you how to check your current structures and workflows and how to set them up for the search for a new CRM system. All with the aim of inspiring your customers and relieving your employees.
Basics and requirements
The label CRM (Customer Relationship Management) describes the summary of all customer-related processes in a company. These include direct sales campaigns from sales and marketing, as well as accounting processes after customer acquisition. The processes move in a broad spectrum of workflows that have to be mapped with the software.
A CRM system is therefore much more than an administration program for customer data. It is a professional software that supports you in all sales or consulting phases. Communication on the status of service orders or the dispatch of goods can be automatically regulated via a CRM. Complaints and claims management also supports your employees and creates a higher quality of service. Check the efficiency of individual processes and employees at any time. Thanks to modern cloud solutions, you can access sensitive business data absolutely securely from anywhere in the world and at any time. You can read positive business processes just as easily as a need for optimization in individual departments.
The individual providers of CRM systems often do not differ that much in terms of their functions. From a formal point of view, most of the tools from the usual comparison portals meet your individual requirements via system-side adjustments (called customizing). You can add numerous functions via interfaces or as an additional add-on. Therefore, analyze exactly what your requirements are!
In addition to functional flexibility, other factors are often pushed into the background. Much more important for your market research, however, are often forgotten criteria, such as the focus on business model and industry, data protection (GDPR) or investment security and internationality. Please do not leave this out and take a closer look!
Vendor evaluation checklist
1. Alignment with business model
O
B2B
O
B2C
O
E-commerce
O
Research & Development
O
eGovernment
O
Services
2. Case studies from similar companies or industries
O
Project descriptions
O
Classic case studies
O
Instructions for best practice
O
Press articles on special solutions
3. Flexibility of the software
O
Standard or basic system
O
Extensions to the standard
O
Special solutions such as add-ons or partner solutions
O
Individual development by the provider
4. Data protection and GDPR
O
Is the software GDPR configurable (compliant)?
O
Is an order processing contract concluded?
O
Are the data protection declarations understandable and transparent?
O
Is the provider based in Germany or the EU?
O
Does the effectiveness of the GDPR depend on third party agreements, such as the US-EU Privacy Shield?
5. Integration and licensing model
O
On-premise: purchase and installation on your own server
O
On-Demand: Rent a cloud system (S.a.a.S.) at the monthly rental price
O
Subscription (hire purchase)
O
Private or open cloud
O
Hybrid hosting models
6. Technical know-how
O
Development description (e.g. Developer Wiki)
O
Changelogs / Release Notes
O
Manual and instructions for users
O
User and administration training
O
Partner for the technical implementation
7. Business premises or international orientation
O
Germany
O
TOP, ROOF
O
EU
O
UK
O
Other
8. Investment security
O
Has the company been on the market for more than 15 years?
O
Are there customers from different industries?
O
Are there customers of different sizes?
O
Are there more than 20 employees?
Function battle: these applications really matter
To get straight to the point: There is no feature table that spits out the best CRM for you with one click. Always answer the overarching question: Which functions best suit my needs? Nevertheless, there are certain basic functions that simply have to be available for certain areas of application. In addition to clear contact and person management, you need the classic means of communication for individual activities with the customer. This includes calls, e-mails, entries in the appointment calendar and notes on all processes and tickets in service and complaint management.
Different business areas and their applications
GENERAL FUNCTIONS

Mobile accessibility
Web services and other interfaces
Document management
Online office editor
B2B contact management
Import & export of contacts (e.g. CSV)
Global full text search
Individual filters
Groupware (calls, emails and appointments)
Design and usability

ACQUISITION & SUPPORT

Lead management
Newsletter and marketing automation
Marketing and sales evaluation
Customer segmentation
Connection of telephone systems
Complaint and service management
Ticket system for help desk and IT escalation levels
Workflows
Website connection (web forms)

PROJECT MANAGEMENT

Main and sub-projects
Task management
Budget and cost control
Time tracking
Resource management

ACCOUNTING & BACK OFFICE

Invoicing (workflow from inquiry to invoicing)
Dunning
DATEV connection
Contract management
Supplier management
Resource management
ERP interface

PERSONNEL ADMINISTRATION

Digital employee file
Working time measurement
Vacation management
Duty and shift plans
Data Protection: The Inconvenient Truth About GDPR Compliant Working
Working with CRM systems in compliance with GDPR is not just a matter for the provider. You must actually allow the provided functions and restrictions in the system. Especially when it comes to earmarking and data economy, wish and reality often collide.
Everyone wants to know as much as possible about their customers. For example, when an order is placed, the manager's birthday is requested, although it is not necessary for order processing. But there are far more measures to be taken, which largely depend on the number of people who regularly access the data stored in CRM. If more than 10 employees have regular access to sensitive customer data, you need an external data protection officer. This must have full access to all processing processes in your CRM. Ideally, all processing processes are already compiled at the beginning of the CRM evaluation.
Typical processing procedures for the GDPR implementation
Field workers do not need full data access to all personal data.
The secretary is granted different access rights than the accounting department.
The IT department does not need to have access to the invoice data in the ticket system.
Important: the contract for order processing

With the order processing contract, you grant individual rights to third parties who access your data. These include B. IT specialists as part of a remote maintenance order. These people do not count among those who have constant access to personal data. If sub-contractors only have irregular access to sensitive data, you may not need a data protection officer.
Overview of the processing processes in CRM
| | |
| --- | --- |
| legality | The entry of data always requires consent (e.g. by opting in in web forms). |
| Consent & objection | The permission for each data record is logged and it is recorded who entered or changed what. The same applies to the contradiction. |
| Earmarking | The data is only used for a specific purpose (e.g. date of birth to check the age of majority, but not for birthday mailings). |
| Data economy | The mandatory fields for data entry are limited to a minimum. The date of birth is not required for price information. |
| transparency | The person knows what the data is used for. The use of data for sending a newsletter is clearly visible (e.g. via a filter or checkbox). |
| Data security | The data transmission must be encrypted and secured. SSL certificates and 4096 bit data encryption are important. |
| Data control | All data access and changes are logged. Deletion periods due to inactive data are possible. Data that has not been in contact for over a year can be completely deleted. |
IT and technology: the cornerstone for the expedition into the functional universe
The key question at the beginning of every CRM evaluation is: cloud or server? The outsourcing of IT infrastructures and resources has been a mega trend in recent years. The usage-related billing of software solutions is particularly attractive for companies, because enormous resources are shoveled up in your own administration.
However, the data breaches at large cloud providers in the open cloud sector and the Facebook scandal have put the focus back on the issue of data sovereignty. And here the attractiveness for hosting your own server solutions is picking up again.
Server - own hosting with license purchase
S.A.A.S - hosting in the private cloud
definition
Installation of the software on your own hardware or infrastructure rented by the customer (e.g. server in a data center)
Provision of the software directly from the provider for use via the Internet (similar to a website or known e-mail services such as web.de or GMX)
advantages
Peace of mind to have sole sovereignty over sensitive data

Use over your own network (with or without accessibility via the Internet)

High availability, encrypted data transmission, data backup, automatic updates and upgrades by the provider (saves internal resources)

Data storage on the provider's servers with scalable scope (as required)

disadvantage
The customer is responsible for the operation, availability, security and security as well as the up-to-dateness of the software and hardware (increased risk for data security and software usage)
Responsibility for operation, availability, security and security as well as up-to-dateness of the software and hardware must be handed over to the provider (control is nevertheless necessary)
costs
Monthly costs for updates and upgrades as well as support and service
Usually monthly billing per user and different contract periods
Nowadays, the answer to the crucial question of cloud vs. server does not necessarily have to be answered at the beginning of the evaluation. By means of interfaces to existing systems (e.g. telephone system, ERP and website), more and more hybrid solutions are emerging in CRM implementation.
An IT infrastructure analysis is necessary for this. A decision can then be made as to whether cloud and server systems are to be connected to one another through interfaces. The scope and costs can only be assessed by IT experts. And please be sure to note: The software and its interfaces must be constantly maintained through updates, otherwise they will become security leaks or produce errors in the CRM system.
Total costs for the iceberg project CRM: TCO analysis & ROI calculation
The endless tension between price and performance is difficult to resolve in the CRM area. It is therefore very important to consider all other cost factors in addition to the license prices. Only in this way can a correct TCO (Total Cost of Ownership) invoice be drawn up for the providers remaining in the final evaluation round. This shows the total costs of various CRM solutions for a defined period (e.g. 3 years). However, the follow-up costs (e.g. through support, maintenance, care and further development) can make a serious difference here.
Typical costs are:
License prices cloud or server
Hardware costs for your own server installation
maintenance and service
Support and technical assistance
Time spent on internal workshops
Evaluation costs for research and provider presentations
Implementation of test systems
Installation and setup of the live system
(Data) migration to the live system
Customizing and special adjustments
Training for administrators and users
Here you will find instructions for your TCO calculation!
It is just as important to express the improvements and potentials associated with the new software in terms of monetary value.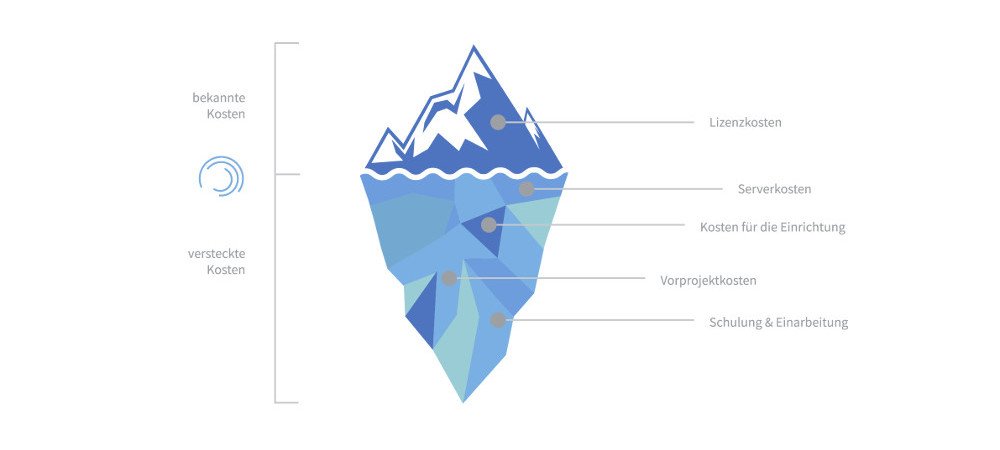 These potentials are:
Time savings through automation and fewer clicks
Cost reduction (e.g. saving of printer toner and paper)
Possible increases in sales and returns through more cross-selling and upselling
Risk of inaction due to customer migration to the competition
If the total costs and potential are known, the ROI calculation is made. There are four possible approaches, whereby in practice the calculation of the simple ROI has prevailed.
Simple ROI: Percentage KPI that shows the return in relation to the investment.
NBW (net present value): Discounted future income less investment costs
Calculation of individual performance indicators (e.g. lowering costs or increasing sales per lead)
Calculation of the company's income after software implementation (compared to the current situation)
Market overview: five first-class suppliers under the magnifying glass
In order to make the decision about the right CRM system a little easier for you, we present the five providers here who have proven themselves and distinguished themselves on the market for more than ten years.
Salesforce
sugarCRM
TecArt
Adito
SAP
Head office
San Francisco, USA
Cupertino, USA
Erfurt, Germany
Geisenhausen, Germany
Walldorf, Germany
founding year
1999
2004
1999
1988
1972
Company size
20,000 employees
Over 500 employees
Over 30 employees
Over 100 employees
Over 75,000 employees
Business

model

B2C, B2B, services, e-commerce
B2B, services, industry & manufacturing
B2B, eGovernment, services
B2B, services, industry & manufacturing
B2C, B2B, e-commerce, services, industry & manufacturing, eGovernment
business room
D.A.CH, EU, UK, US
D.A.CH, EU, UK, US
D.A.CH, EU
D.A.CH, EU
D.A.CH, EU, USA
target group
SMEs, medium-sized companies, large companies
Medium-sized, large companies
SMEs, medium-sized companies, public administrations
Medium-sized companies, large companies, public administrations
Medium-sized, large companies
Areas of application
Sales & Marketing,
Service, e-commerce platform, collaboration
Sales & Marketing, E-Commerce,

collaboration

Sales, service and support, help desk, billing, groupware and collaboration
Sales, marketing, service, collaboration, mobile CRM
Sales, marketing, service, collaboration, production, logistics
Functions & special features
Campaign management, more than 2,500 apps in our own store, customer management, evaluation of sales opportunities, lead management and nuturing, numerous interfaces, landing page tool, social CRM, lead scoring, form editor
Social media connection for communication from CRM, open source solution, email synchronization with Outlook and Gmail, appointment management,

B2B account management,

Inbound Marketing, Marketing Automation, Advanced Analytics

Modular system of basic and additional modules,

Lead management, industry customization, project management

Ticket system with customer portal, integrated e-mail client, B2B

Contact management, document management, online office editor, invoice

Industry adaptation, Adito Designer developer interface for individual further development, multi-level rights system, mail synchronization with Outlook and Gmail, lead management and nuturing, workflow automation, simple ERP, BI or DMS integration
Large language range with integrated translation service, email synchronization with Outlook, Gmail and IBM Notes, sales funnel with target management, large range of functions for ERP, business intelligence and supply change management
Design &

Usability

Lack of orientation due to the large range of functions, switching to a new interface very complex, long training periods, mobile apps
Despite complex functions, minimalistic, intuitive user guidance, mobile apps
Quick familiarization through familiar office design, some additional functions with a lot of clicks, individual filters and dashboards, mobile synchronization
Ease of use, individual dashboards, if you work for a long time you can quickly lose track because many tabs are open
Very tidy dashboards and masks for the Cloud for Customer variant, partly outdated design for the on-premise variant
Hosting
Cloud / S.a.a.S
Cloud / S.a.a.S, Server / On-Premise
Cloud / S.a.a.S, Server / On-Premise
Cloud / S.a.a.S, Server / On-Premise
Cloud / S.a.a.S, Server / On-Premise
Prices &

costs

Free test phase (30 days), price per user from € 25, minimum contract period 12 months
7-day test system, price per user from $ 40, minimum contract period of 12 months
Cloud CRM freeware up to 5 users, 30 days free test system, price per user 0-90 €, 1 month minimum contract period
Live demo, freeware installation for up to 3 users, price per user from € 69
No information, all on request
Salesforce
This global player offers extensive CRM solutions and extensions for companies of all sizes. The self-employed, startups and corporations can be found among more than 150,000 customers worldwide. Regardless of the number of employees or the annual turnover, you control your entire customer and campaign management as well as all marketing processes with Salesforce. You reliably control the entire sales process, evaluate sales opportunities and upselling and make a significant contribution to optimizing customer service. Since the acquisition of Demandware, the tool has developed into a cloud e-commerce platform. Various individual solutions from the areas of CRM, marketing automation and B2B shop can be connected via interfaces to form a single customer experience platform. There are currently more than 2,500 applications in the in-house app store. Certain functions in the ticket system or the calculation of sales opportunities are supported by the AI ​​Einstein.
SugarCRM
With the sophisticated CRM solutions, large companies in particular enjoy absolute freedom in their individual systems. There is even an open source variant. The biggest advantage is that there are interfaces for powerful ERP systems. The handling of complete marketing campaigns is also extremely clear. The ability to connect well-known social media channels (such as Facebook & Co.), which enables extensive communication from within the CRM, is also great. Marketing automation and advanced analytics are functional core areas. The tidy design and the intuitive user guidance are remarkable. Even complex and feature-heavy functions do not give the user the feeling of not being able to operate the software. However, the relatively high price is a barrier to entry. Especially since the test system is very limited with a 7-day test phase. I recommend that you make full use of the test period and do not undertake any other tasks.
TecArt
The individually adaptable modular system manages all processes in medium-sized companies, including an extensive ticket system. Via secure and encrypted connections, you can also quickly access all contact details and processes on the move from your tablet, smartphone or laptop. The coordination of appointments is just as easy as the contact and document management and communication management or extensive tracking of activities in the customer history. Collaboration and billing are particularly mature. It offers service providers the opportunity to partially or completely automate the processes from the first contact with a prospective customer to invoicing and dunning. For customers with an advanced understanding of IT or IT service providers at hand, it is possible to develop and adapt their own functions and workflows using their own add-on framework. The software is further developed independently without the provider. The update capability and security are guaranteed by the add-on framework. That is certainly one of the main reasons why software manufacturers, system houses and IT service providers can be found among the many customers.
Adito
Companies from various industries adapt the functions of the CRM system according to their needs. The tool has a multi-level rights system. The synchronization of e-mails with Outlook or Gmail is possible without any problems. Leads are clearly managed and transferred to the customer stadium. Many workflows are automated, which saves time and money. The Adito Designer developer interface gives companies with programming knowledge a wonderful tool to independently adapt the existing software to specific, individual industry requirements. The software is designed to be clear and user-friendly. With its software architecture, Adito has developed into an xCRM platform for service, sales and marketing. Growing customer requirements can easily be further developed with the help of sophisticated interfaces to third-party systems. Integration of other systems (such as BI, ERP or DMS) is guaranteed.
SAP
SAP's business software is one of the world's market leaders and is used in most successful companies. The CRM solutions from SAP are not only rated extremely well by users, they also offer the usual high range of functions. Sometimes there is a lack of optics and ease of use. In addition to the usability aspect, the main advantage is that full functionality can be guaranteed across platforms. The range of functions extends from ERP and business intelligence to supply change management. In addition, the system has an enormous linguistic scope and even shines with an integrated translation service. The sales funnel enables efficient handling and constant controlling of sales targets. E-mails can be synchronized with Outlook, Gmail and IBM Notes. The tool has a high market penetration and user reach, but is mainly designed for large corporations.
CRM in medium-sized businesses - conclusion
A market research on the subject of CRM and the well-founded decision in favor of CRM software is not just a quick lunch break. As the mentioned iceberg has shown, there are always complex factors inherent in an IT project that should be taken into account during the evaluation. Otherwise the rude awakening may come later or you will fall into the cost trap.
Now you have the necessary know-how and helpful material (checklists and links) at hand to start your CRM expedition. Here are your most important tasks again at a glance:
Compare your requirements with the function pool!
Check your infrastructures and the technical background!
Deal with the much discussed topic of data protection!
Analyze costs and potentials and draw up your TCO calculation!
And now ... structured and thought out to the first stage!
More articles on the topic: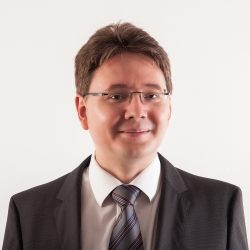 As managing director of Web-adrett, I advise CRM projects and help to implement them, starting with the process analysis with the creation of specifications, through to the technical implementation and adaptation of the software in the customer's company. Training courses and add-on developments are also part of my repertoire. I and my team are constantly on the lookout for new, practicable customer solutions that we implement in a targeted manner. To the web-adrett website