Current marketing trends are carefully monitored and quickly implemented, and not only in the B2C area. In business-to-business marketing, too, there are always interesting new opportunities. In order to meet the requirements of corporate customers and keep them enthusiastic, B2B companies also have to keep their finger on the pulse.

Below are 15 trends in the B2B marketingwith which you can surprise and convince potential customers.
What is "B2B marketing"?
Business-to-business marketing (B2B marketing for short) means that a company's advertising measures are aimed at acquiring corporate customers. In contrast to business-to-customer marketing (B2C), the aim is not to reach the end customer, but rather decision-makers from companies.
Clear orientation through a B2B marketing strategy
Before it is even worthwhile to deal with current marketing trends, you should have clearly defined goals for your marketing. in the B2B marketing the target groups are often smaller than in marketing for end users. It is therefore all the more important to define the buyer persona in a granular manner and to strategically cover the following questions:
Who is your buyer persona and what does it look like?
Which content elements fit which touchpoints in the customer journey?
How do you generate leads?
Which channels should be used?
Which measures help to achieve the marketing goals?
From the strategic to the operative part: B2B marketing instruments
Once the strategy is in place, instruments must be determined with which the planned measures are to be implemented in concrete terms. Customer Relationship Management (CRM) is an important tool for every B2B company. All processes from sales to e-mail marketing are managed and analyzed from here.
15 innovative trends in B2B marketing
While not all new marketing hype works in a business context, there are quite a number of these phenomena that can also be found in the B2B marketing can be found again. In addition, there are also very own, B2B-specific marketing trends that you should pay attention to:
Agile Marketing
"Agile Marketing" means marketing that reacts to events in an agile and flexible manner. This method tries to attract the target group's attention through spontaneity and speed. The trend is mainly used on the Internet, as it offers perfect conditions to attract attention or to ride a (hashtag) wave.
A popular variant of agile marketing is the adaptation of campaigns in response to current events: the surprise effect and the topicality make the content particularly relevant. The proximity to the target group is particularly important in order to be able to correctly assess which content would create the greatest response at the current time. Social media listening and interactions with the target group on social platforms provide important clues for this.
Artificial Intelligence (AI)
Voice assistants, machine translation and image recognition: more and more areas that affect the extraction and processing of information are being automated. Artificial intelligence is now doing amazing things in B2B marketing: as part of text mining, algorithm-based analysis methods are used in sentiment analysis, which can recognize and classify structures of meaning in texts.
This automatic evaluation of texts is intended to determine whether an expressed position is positive or negative in order to identify suitable target groups on the basis of this information.
Big data
Big data is taking B2B marketing an exciting role. Methods such as "Predictive Analysis" attempt to make assessments of upcoming events on the basis of data. Ultimately, this is used to predict user behavior - for example, how likely it is that customers will churn at a given point in time.
For this purpose, customer-related data is collected, linked and analyzed in order to then optimize customer profiles. In this way, customer needs can be recorded more precisely, which should have a beneficial effect on the accuracy of the marketing campaigns. Popular data sources in this context are CRM and ERP systems as well as social networks.
automation
Marketing automation is also becoming increasingly popular in the DACH region. Innovative technologies are on the advance: Thanks to a close connection between CRM systems, automated e-mail marketing, web analytics and retargeting, a large proportion of the marketing processes are already at least partially automated.
In the future, there will probably be even more powerful programs - but automation is already well advanced in some areas: Software that assists in creating landing pages, helps to optimize your conversions and gives practical tips for content creation can be found For example, in the form of the HubSpot CRM.
Video, live streaming and virtual reality
Moving images are the ideal means to score points in the current adventure society. If you offer webinars in a live stream, for example, you not only convey expert knowledge at first hand, but also strengthen the bond with your customers. Technical innovations such as virtual reality and augmented reality have long since found their way into numerous business areas.

Perhaps the innovation is also suitable for your industry: You can offer your customers a unique user experience with extraordinary measures such as virtually accessible exhibition rooms, cameras for luggage measurement or livestream training.
Content marketing: informative content has never been more important
The Content Marketing Institute found two years ago that 89 percent of B2B marketers rely on content marketing. In 2019, the vast majority of top performers confirmed that they were able to build good relationships with customers through content marketing.
The motto is: informative content instead of sales slogans. Business customers demand information about products or services even more than end customers. Particularly popular are:
Whitepaper
Case studies
Advertorials
E-books
By answering the questions of your target customers in your content, you can generate leads, ensure conversions and noticeably relieve customer service.
Influencer marketing in the B2B area
The trend of influencer marketing has long spilled over into B2B marketing. Three goals are pursued here: creating reach, training a group of experts and building a community. This shared knowledge exchange can and should be used as a marketing measure by B2B companies. Because recommendations and awareness are also important aspects for the success of a company in a business context. HubSpot's State of Inbound 2018 found that 51 percent of B2B companies trust referrals when buying business software.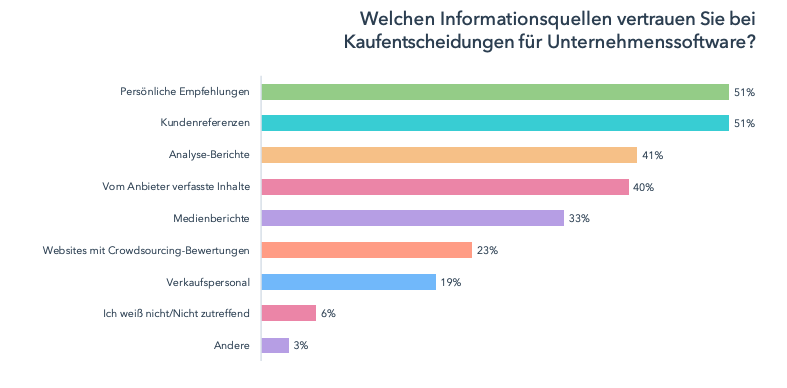 Image: HubSpot
Social business networks: LinkedIn and XING are becoming increasingly important
The Content Marketing Institute shows that the relevance of social media is also increasing in the B2B area. Business networks such as LinkedIn or XING are particularly attractive. Both in marketing and in sales, they offer an optimal space to approach potential customers and generate leads.
Topic-specific groups help to find relevant discussions and other content-related points of contact and to establish yourself as an expert. They are also a suitable channel for disseminating your own content.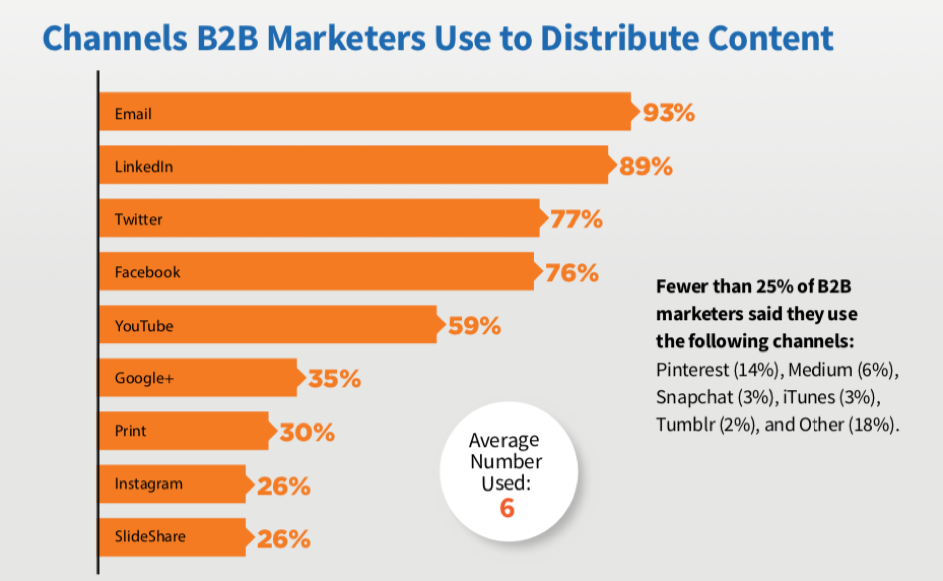 Image: Content Marketing Institute
Even more budget for digital ad placement
The trend towards digital ad placement is likely to continue, as it generates twice as many clicks as organic search. Even if the importance of SEO will continue to grow, the upper ranks will be occupied by those companies that spend money on their placement in the search results.
Personalized email marketing: the personal touch is decisive
Digital correspondence has long since established itself as the most popular means of communication in business life. But with the flood of e-mails that reach us every day, individuality is required. The design of the customer journey and thus communication via email increasingly requires a more personal touch. Therefore, the following applies here: An e-mail should definitely be specially adapted to the recipient.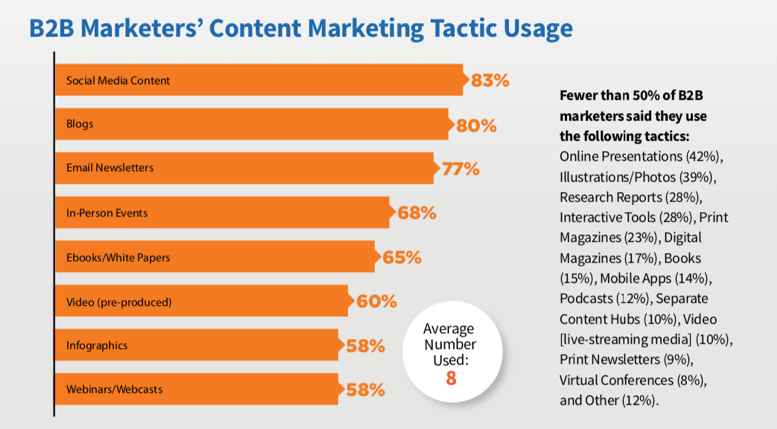 Image: Content Marketing Institute
Customer experience for Millennials and Gen X.
The special requirements of millennials reached the B2C sector early on: The focus here is on an individual and unique customer experience. But Generation Y is getting older and entering professional life - by now at the latest, B2B companies are also being forced to meet the special characteristics and wishes of this population group. Efficiency, human interactions and a knowledge-based service are very popular alongside new technology and personalization.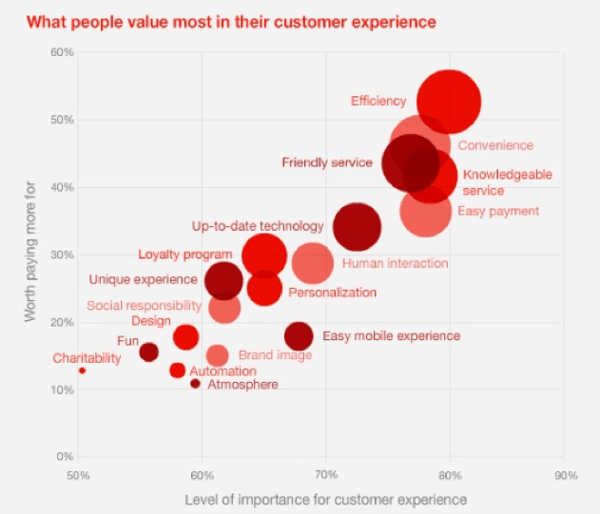 Image: Brafton Blog
Marketing Podcasts
Podcasts are the ideal complement to a traditionally more visual marketing strategy. Brand Eins, t3n and OMR have already jumped on the bandwagon and impress thousands of listeners with entertaining and educational marketing podcasts.
Chatbots for quick answers
Automated answers and AI should only round off customer service and not make it up: For more complicated cases, a human contact should be available for the customer. Otherwise you run the risk of annoying or even losing your customers due to poor service quality.
Account-Based Marketing (ABM)
At the Account Based Marketing an attempt is made to reach a special target group with content that is relevant to them. The targeted customers (or a small target group) are viewed as a kind of separate market for which content, events and entire campaigns are specially designed. ABM is increasingly focusing on small but profitable groups. Good storytelling and appealing narratives are particularly important here.

ABM is of particular importance in the B2B area, as this method can also be used to address companies with several shareholders (or other decision-makers) individually and effectively.
Exciting events
The OMR Festival is one of the most renowned events in the marketing industry. With partners such as Google, Adobe and Facebook, the online marketing rock stars demonstrate professionalism and expert knowledge. Events and personalized experiences are also playing an increasingly important role in the B2B area.
Header: FS-Stock / iStock / Getty Images Plus
Originally published November 13, 2019, updated November 13, 2019
Recommend this article: