What are alternatives to business cards
Business cards | The history, the best design practices and the digital alternatives
This is about an often neglected aspect of branding, the practices of which have changed a lot in the last few months: business cards.
With the whole world currently in flux due to the global COVID pandemic, so many aspects of our professional behavior are being scrutinized for efficiency, environmental impact, cultural context and overall profit. It is necessary and long overdue to investigate and we would like to dwell on this very small but important aspect of professional self-expression and make some suggestions on how we can move forward consciously.

History of the business card


Business cards first appeared in China in the 15th century as "visiting cards," where people carried small cards with them to explain how important they were. These cards were exchanged when it came to a meeting or when proof of legitimation had to be provided to visit a prestigious institution. The weight of the paper, the quality of the design, and the age of the people gave clues as to how important the person who represented the card was to the public.
Let's move on to Europe in the 17th century, where maps were used in a very similar way. Often times, the cards were also used to announce the imminent arrival of wealthy or aristocratic people in their town or home, and they were used for a variety of social interactions, from business contacts to meetings. Similar in shape and size to playing cards, these cards were engraved with gold, had bold fonts, and became an indispensable part of the social class. Privileged homes had card slots that were also decorated so visitors could leave a card.
Addresses weren't commonplace in the 17th century. In order to counteract this problem, "trading cards" were specially invented so that people could find business much more easily. Trade cards were printed on both sides, with one side containing promotional information about the company and the other side a card with the company's location.
The industrial revolution, along with all the other adaptations it brought with it to the world, also created a casual space for professional networking. The exchange of contact information became essential. Both the "business card" and the "trading card" were merged into a single card and given in far less formal situations. The upper class maintained their aversion to the informal, but this aversion spread throughout the United States.
Woodcut and letterpress techniques gave way to mass production of business cards, allowing companies of all sizes to share contact information with potential customers, clients, and employees. In the 1980s, a whole business card culture emerged. Who could forget the scene in "American Psycho," which was a memorable portrayal of the obsession with carrying and exchanging business cards at the time?
Business cards are serious business in so many parts of the world. In Japan, business cards are called meishi. These cards use both sides, with one side written in Japanese characters and the reverse side often in Latin characters. The handing over of a meishi to another person is much more formal and ritual than in the western world. In this ritual of giving and receiving, a card should be held by the top two corners, face up, and turned so that it can be read by the person receiving the meishi. The recipient takes the card by the two lower corners with both hands. It is considered impolite to run your fingers over a name or other information. Meishi is kept in a leather case to prevent it from being carried, never written on, or put in a pocket, which is another sign of disrespect.
What's on a business card?


A business card helps you to get in touch with more potential customers, partners and employees and to strengthen your connection, especially when starting a business or when changing careers. It is still an integral part of the professional world. A business card, whether digital or printed, is a simple, shareable file or printout with contact information. This information includes your name (personal and / or business), job title (what you currently do or intend to do in the future), email address, phone number and website. Contact information could include social media information, your job motto, a QR code that takes the recipient to an important web link, or anything else that appears important to you in this brief introduction. Digitally, these details are often given in your email signature. The sizes for digital printing with business cards are as follows:

North American standard: 3.5 × 2 inches (88.9 × 50.8 mm)
European standard: 3,346 × 2,165 inches (85 × 55 mm)
Standard Oceania: 3.54 × 2.165 inches (90 × 55 mm)


Best business card design practices



The business card design is an integral part of your branding. Hence, it should act as a visual extension of your overall branding design. Let's go over some best practices.
Keep it simple. Balance, legibility and comprehensibility are your top priorities when considering design elements.

For reasons of space, you should always keep three things in mind: the bleed area, the trim line and the safety line. The bleed area is the outermost part of the card that is likely to be removed. The trim line is the finish line for cutting cards. The security line is anything that is off the map, subject to cut errors. Essential elements such as text or logos should never be outside this line. You have two sides! Use both sides, perhaps with one side devoted to the logo only, while the other side could contain contact information. It might also be a good idea to have your logo on both sides, with the contact information clearly and legibly nearby.

Logos and color schemes are the two most important visual aspects. These also help to influence the layout and brand identity of the digital or printed map. Logos should be the center of attention on your card, with other visual elements and secondary graphics complementing and enhancing your logo. Once you have your business cards, you may want to create custom invitation cards, letterheads, personalized envelopes, and t-shirts. These are just a few examples of great products to use for branding. Once you have your stationery products, sign making can be an interesting thing.
How to design your logo


Now that we've covered some of the important facts about business cards, you are likely to need a logo. But the question is, how can you make a logo?
Basically, you have two options: you can hire someone to design it for you, or you can design it yourself. Both have their own advantages and disadvantages, so let's examine each individually.


Commissioning a designer


Professional designers know all of the tips, tricks, and techniques we mentioned above and a few more. When you hire a designer, freelancer, or agency, you buy their expertise as well as their time.

The problem is, no skilled designer works for free. The most glaring downside to hiring a designer is the cost - talented designers charge hundreds or even thousands of dollars to design the logo.

Sometimes you can find cheaper alternatives on sites like Fiverr, but those sites are badly rated for delivering what they promised and there are tons of ex-Fiverr users who felt ripped off. The industry standard for a logo design is around $ 200. So if someone is asking for $ 5, it is right that you are suspicious.

In addition, even if you have the cash, it can be difficult to find the right designer for you. Graphic design is a creative area, so there are tons of artistic styles to choose from. You need to be sure of finding a designer who both understands your vision and is able to bring it to life, but that can take time.

Design a logo yourself


If you don't have the money to spend on a logo, don't despair. While you may have had limited options in the past, technology is so advanced these days that virtually anyone can create their own logo using an online logo design tool like logogenie.

In our digital age, design software is less about the technical skills of your hands and more about your creative ideas. You don't need to master your brush strokes or pencil shades - you don't even need steady hands. With digital logo designers, you only need one idea.

Logogenie and other online design tools use templates to make the design quick and easy, even for beginners. First, select your industry from the drop-down menu. We have categorized our templates based on the needs and requirements of the top industries, so the first step is to find yours. Our algorithm then generates the best choices for your industry.

Just select the one you want and start editing. You can customize any template however you want by personalizing your selections for:


- Most important pictures
- Company name and slogan
- Font and typography
- color scheme
- Text and image sizes
- Placement of text and images
- Adding new symbols
- Layers (put some pictures behind or in front of others)
You can choose from our internal library of over 200 symbols. A quick look reveals that there are many of the images mentioned above, including trees with rainbow leaves, shield crests, books, graduation caps, and more.

Using a DIY logo maker like Logogenie, you can create a professional logo in minutes. When you're done, all permits and commercial licenses can be purchased for $ 24.90, which will keep your logo forever.

While the template design style works well for beginners, you will get better results if you familiarize yourself with the basics of graphic design beforehand. Read our blog for specific design tips, straight from expert designers. But let's get back to the real topic!


Printed or digital?


Now that we've provided a brief history of business cards and an overview of the best design methods, it's time to make a decision: print or digital or both? In an age where the real often merges with the digital world, it is important to distinguish which space allows you to better connect. How do employees, customers and partners network in your industry? Would you prefer to do shows online or at a dinner party? If you have a hard time deciding which one or the other to choose, it might be a good idea to prepare both printed business cards and a digital version that you can share with others.


The advantages of printing


Printed business cards offer a traditional approach to networking and are a great way to communicate your brand to people you would like to reconnect with in the future. Handing a physical item to another person makes the first impression much more memorable. Printed cards are especially useful at conferences, trade shows, business lunches, and other personal networking events.


The disadvantages of printing


Research shows that 88% of business cards issued are thrown away in less than a week. As transparency becomes the norm for companies, customers look at how environmentally conscious companies behave. Business card printing is wasteful and uses valuable materials that could potentially be thrown away. Also, every time your company updates information, new cards need to be printed. Let's consider the alternative.


The future is digital business cards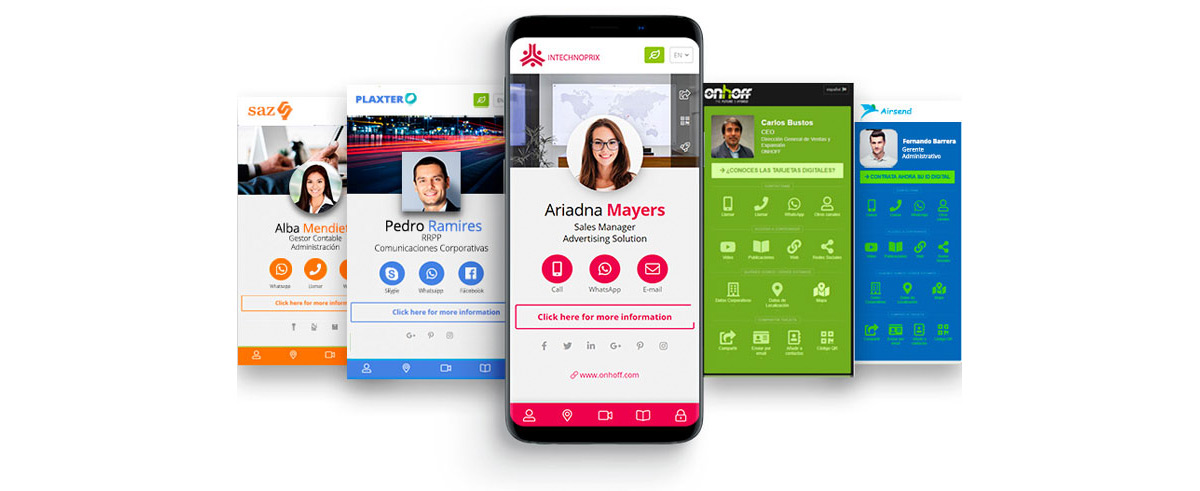 An electronic form of your business card would be a green, easy-to-scan, conveniently portable, and advanced way of promoting your business. Digital business cards make it easy to store contact information, integrate calendars, seamlessly follow up on introductions, schedule reminders, maximize your online presence, and much more. Digital business cards are cost effective. Instead of spending money on printing, you can use these resources to highlight other marketing aspects of your business. As the world becomes more and more digital and we move through a pandemic that is restricting physical contact and increasing sensitivity about hygiene, digital business cards are the way to go.

While it is true that this alternative could potentially rule out an older generation, it is easily possible to create simple and inclusive versions that are accessible to all. Think about the steps you can take to make it easier to share, store, and transfer information from your digital business card. Save a screenshot for offline use. Use legible and larger fonts. Consider your customers, employees, and potential investors to create the ideal digital version of your personal billboard.

Business cards are a powerful way to take that first step and show how progressive, environmentally conscious, and thoughtful your company is. Isn't that the first step you want to take?
You will like too