What's your favorite Shopify feature
6 best personal website builders in 2021 (4 are free)
It is said that Shopify is the king of all ecommerce platforms. But you can't just ignore the disadvantages.
For example, if you don't use the in-house payment gateway "Shopify Payments", then Shopify charges up to a 2% additional processing fee. But what if you don't want to use Shopify Payments or you live in a country that doesn't support it?
What if you don't want to pay for a premium package to get features such as coupons or comprehensive reports?
You may also not like the free themes from Shopify and you don't want to spend around € 100 on a premium. What happens then?
There are tons of alternatives to Shopify to choose from. But the decision is not always easy. You need a platform that offers all the functions you need and that does not hinder the future growth of your company.
I have done all of the research for you, saving you time and headaches. Let's look at some of the Shopify alternatives so you can make an informed decision and find the best option for your needs.
What we look for in the best alternatives to Shopify
I have personally tested all of the major ecommerce platforms out there. The best offer the following components:
Price-performance ratio. One of the biggest problems with Shopify is price. All of the platforms on this list offer a lot more for the money you spend.
Flexibility. You have to be able to customize your shop and add product variants.
Solid ecommerce tools. Powerful tools to present and market your inventory are important for the success of your shop.
Excellent SEO tools. Shopify is known for certain SEO issues. For example, you cannot completely customize the structure of your URLs. You definitely want an ecommerce tool that will help you get better ranked in the search engines.
1. Wix - Hundreds of templates for small ecommerce stores
Wix is ​​one of the most popular website builders on the market and offers a variety of e-commerce functions. If you're looking for a simple drag and drop editor for your online store, Wix is ​​a great option. The user interface is in German, but the templates are in English.
Unlike Shopify Wix does not charge any additional transaction fees. (Of course you have to pay the processing fees for your payment gateway.) Compared to Shopify, there are fewer payment gateways to choose from. However, popular options such as PayPal and Stripe are available.
Note, however, that when you free package Set up your shop, but you can only sell products if you upgrade.
Wix can't compete with Shopify in the number of apps available (Shopify has more than 2,800). Still, Wix offers a great selection Apps that are geared towards e-commerce. This includes:
Wix chat, so that customers can ask questions via direct messages
SellDownloads, to manage your digital download sales
Wix Bookings, so customers can make bookings through your website
There is also a decent collection on Marketing apps. These include:
GiveCoupons, to offer vouchers to first-time visitors to the website
Social testimonials, to include reviews from social media on the website
Finally, there are powerful ones Analysis apps, such as:
Store Metrics, to create comprehensive sales reports
Visitor Analytics, to understand web traffic without using Google Analytics
Unfortunately, there are also some downsides to Wix. Unlike Shopify, Wix does not allow you to sell on other channels such as Instagram. There's also no native support for dropshipping (although you can use Ecwid's Online Store app for dropshipping by using the Printful integration to print on demand.)
You may also find it problematic to sell many digital products with large file sizes, because the memory limit at Wix is ​​limited (20 GByte - 50 GByte, depending on the e-commerce package).
Functions
E-commerce templates. The huge variety of templates to choose from is one reason Wix is ​​so gets great reviews. There are more than 80 specially designed for e-commerce. But you can adapt any template so that an online shop can be accommodated in it. The main disadvantage is that choosing a template is a commitment. You can't change them unless you redesign your website. You also have to edit the mobile version of your website separately.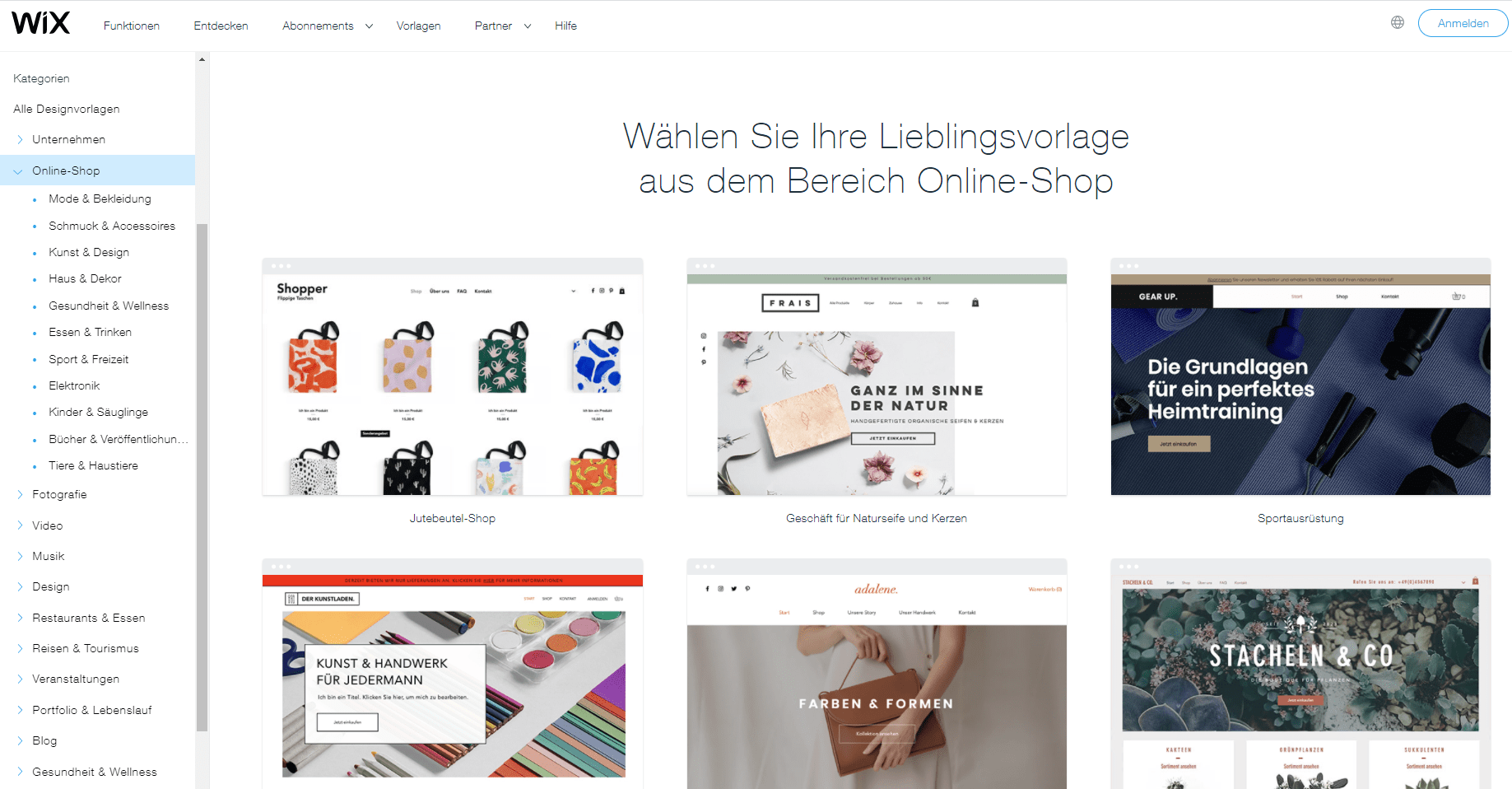 SEO. The integrated SEO Wiz from Wix provides many tools that can improve your ranking in the search engines. The assistant offers SEO recommendations and even works out a personal SEO plan. If you are new to the SEO world, you will love this tool.

Marketing. Promoting your products is a breeze with Wix's marketing suite, Ascend. There is an additional fee to use (surcharge on Wix subscription), but Ascend is affordable. The Ascend package can also be easily upgraded if the shop grows. With Ascend you can:

Use email marketing and social posts for advertising
Offer your customers coupons and discounts
Interact with customers via live chat
You can greet visitors to your website by displaying a message
Manage invoices and offers is possible with it
You can create and manage mailing lists quickly and easily
Product tools. To make your products stand out, you can show up to 15 pictures and a video for each product. Wix supports up to 6 options and 30 variants. Different prices are possible for each variant. I have a favorite feature that saves time. As soon as you have used a specific variant (such as color or size), Wix can automatically make this variant available for other products as well.
Added value. Wix is ​​one of the best value ecommerce platforms on this list. For example, the Business Unlimited package offers 35 GB of storage, unlimited bandwidth and promotional vouchers of up to $ 300. There are also free professional apps (for example Site Booster and Visitor Analytics). But it's cheaper than the cheapest package from Shopify.
2. Squarespace - you already have no-frills e-mail
Did you already Squarespace tests read, then you may have noticed the many good comments on the excellent templates. What a lot of people don't realize is that Squarespace has good e-commerce features too. The website builder is very beginner-friendly and your online shop should be set up very quickly. Not only is the Squarespace user interface available in German, but the templates as well. Filling your website with text can provide more inspiration.
Most packages allow you to sell as many products as you want. If you subscribe to one of the "Online Store" packages, you do not have to pay any transaction fees.
Squarespace offers one 14-day free trialthat is fully functional. Therefore, you can test all functions before you subscribe to a long-term package.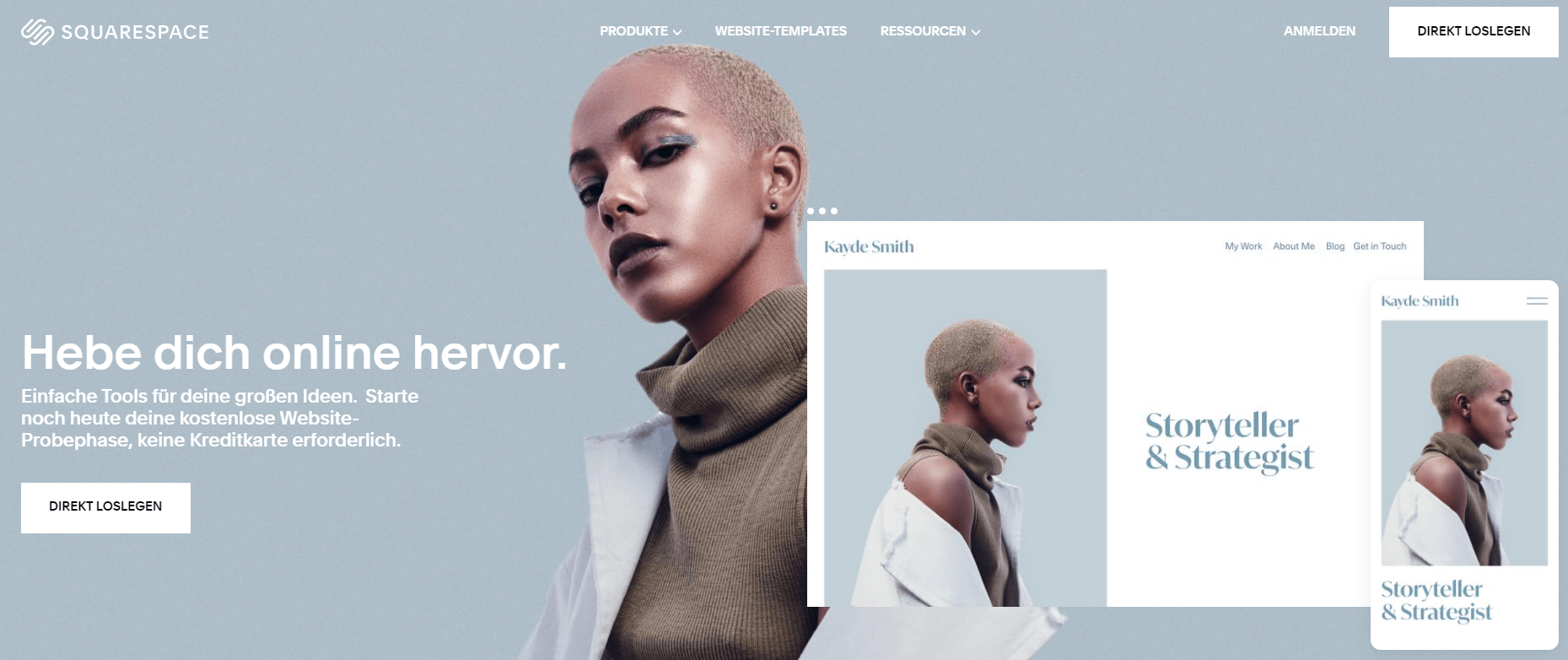 Squarespace has a lot of great tools to offer. There is Instagram integration so you can reach more customers because they can buy directly from the Instagram app.
You can also use pop-up windows and banners to offer discounts to new customers if they leave their email address for this. You also have access to advanced analysis options and can easily manage SEO from your dashboard.
One downside to Squarespace is that it doesn't have a customer reviews section. However, you can use Disqus and thus get a comment function. However, it lacks the finesse of a real review section. Furthermore, you have to insert Disqus with the help of code blocks, which makes things a little more complicated.
Functions
Tools for viewing products. You can expand your shop with videos and picture galleries. You can even use an image zoom so customers can take a closer look at your products.
Subscriptions. If you want to use the very popular subscription boxes, Squarespace makes life easy for you here. You can sell products that send your customers a monthly or bi-weekly invoice (there is currently no option for a weekly subscription).
Sales tools. Squarespace has tons of tools to help you sell and promote your products. You can create discount codes and coupons and also send emails to people who still have products in their shopping cart. There is also a "content manager" that saves time. With it you manage your entire inventory in one place.
Squarespace Commerce App. Manage your e-commerce website on the go! The app is available for iOS and Android. You can manage your inventory, add more product images or offer discounts. The integrated barcode scanner automatically marks orders as completed when you scan the barcode on the shipping label.
3. Square - great ecommerce solution for retail
Square's main focus is to bring retail online. It started with a POS system and has now turned into an online website builder. There are functions such as synchronization of the inventory and collection of products. Square has it Dedicated to doing physical business in the online universe.
Unfortunately, Square is currently only available in the US, Canada, Japan, Australia, and the UK. At the moment the service is not available in Germany or in German. This may not be the best option for you.
Unlike Shopify, Square doesn't offer templates or themes to get started with. Instead, you get design options and can adapt a prefabricated layout to your requirements and demands.
When setting up an online store with Square, the main task is to import products, fill in the product details, and set up the shipping options for each product. That can differ from country to country. As soon as these details are stored, you can publish your website and start selling.
Would you like to learn more about Square? Read through our expert test.