What are the side effects of midazolam
Midazolam

Drug groups

Benzodiazepine Midazolam is an active ingredient from the group of benzodiazepines with anti-anxiety, depressant, sleep-inducing and antispasmodic properties. It is used for sleep disorders, before diagnostic or surgical interventions and against seizures. The effect occurs quickly and lasts for a short time. Possible adverse effects include fatigue, psychiatric disorders, visual disturbances, slow breathing, skin reactions, and muscle weakness. Midazolam can be addictive, abused as an intoxicant and, if stopped quickly, trigger withdrawal symptoms. It is metabolized by CYP3A4. Corresponding drug interactions must be observed.
synonymous: midazolamum, midazolami maleas, midazolami hydrochloridum, midazolammaleate, midazolam hydrochloride
Products
Midazolam is available in the form of film-coated tablets and as a solution for injection (Dormicum®, generics). It has been approved in Switzerland since 1982.
The midazolam nasal spray has not yet been registered in Switzerland and must be manufactured in a pharmacy as a magistral recipe or imported.
In 2012, a solution for use in the oral cavity was approved (Buccolam®).
An oral solution was registered in 2020 (Ozalin®).
Structure and properties
Midazolam (C.18H13ClFN3, Mr = 325.8 g / mol) belongs to the imidazobenzodiazepines. It is available as a white to slightly yellow crystalline powder and, as a base, is insoluble in water. It is contained in the tablets as midazole amaleate. The solution for injection and the solution for use in the mouth contain the water-soluble midazolam hydrochloride.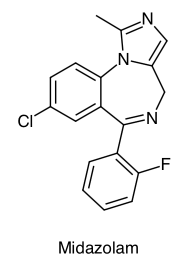 Effects
Midazolam (ATC N05CD08

) has anti-anxiety, depressant, sleep-inducing, antispasmodic properties and causes anterograde amnesia. The effect occurs quickly and only lasts for a short time. The effects are based on the binding to GABAA.Receptors in the brain. It thereby strengthens the effect of the inhibitory neurotransmitter GABA in the central nervous system.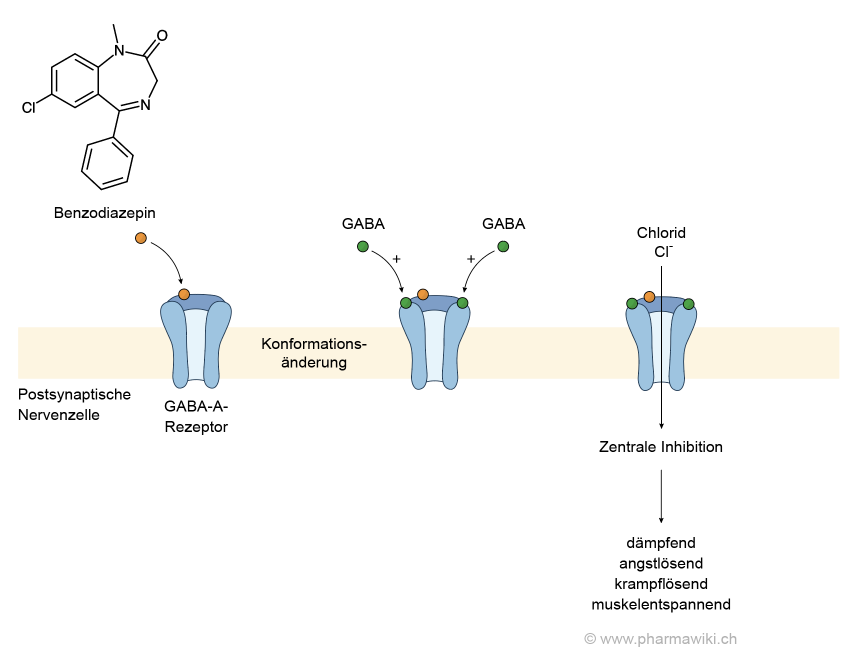 Mechanism of action of the benzodiazepines, click to enlarge. Illustration © PharmaWiki
Indications
For the treatment of sleep disorders and as a sedative before surgical or diagnostic interventions with or without anesthesia.
Long-lasting, acute seizures in infants, children and adolescents (Buccolam®).
abuse
Like all benzodiazepines, midazolam can be abused as an intoxicant and sedative.
dosage
According to the specialist information. The tablets should be swallowed with liquid immediately before going to bed, as the effect occurs quickly. The duration of treatment should be kept as short as possible. After a longer period of treatment, the drug must be gradually discontinued in order to avoid withdrawal symptoms.
Contraindications
Hypersensitivity
Severe breathing disorders
Severe hepatic insufficiency
Myasthenia gravis
Sleep apnea syndrome
Midazolam must not be combined with the azole antifungals ketoconazole, itraconazole, voriconazole and HIV protease inhibitors. These are strong CYP inhibitors that inhibit the breakdown of the active ingredient.
The complete precautionary measures can be found in the medicinal product information sheet.
Interactions
Midazolam is metabolized by CYP3A4. Corresponding drug interactions are possible and should be observed. Combination with strong CYP inhibitors is not indicated because it can increase plasma concentrations, which can lead to an increase in undesirable effects and poisoning. Conversely, CYP inducers can weaken the effects of the drug. Further interactions are possible with centrally depressant and respiratory-depressant drugs and substances as well as with alcohol.
unwanted effects
Possible adverse effects include fatigue, an increased risk of falls and fractures, psychiatric disorders such as confusion, aggression and delusions, visual disturbances, breathing slows down to stop breathing, skin reactions and muscle weakness. Benzodiazepines can be addictive and, if stopped quickly, trigger withdrawal symptoms.
see also
Midazolam nasal spray, benzodiazepines
literature
Pharmaceutical product information (CH, USA)
Dundee J.W., Halliday N.J., Harper K.W., Brogden R.N. Midazolam. A review of its pharmacological properties and therapeutic use. Drugs, 1984, 28 (6), 519-43 Pubmed
Kanto J.H. Midazolam: the first water-soluble benzodiazepine. Pharmacology, pharmacokinetics and efficacy in insomnia and anesthesia. Pharmacotherapy, 1985, 5 (3), 138-55 Pubmed
Nordt S.P., Clark R.F. Midazolam: A Review of Therapeutic Uses and Toxicity. J Emerg Med, 1997, 15 (3), 357-65 Pubmed
Wolfe T.R., Macfarlane T.C. Intranasal midazolam therapy for pediatric status epilepticus. Am J Emerg Med, 2006, 24 (3), 343-6 Pubmed
author
Conflicts of Interest: None / Independent. The author has no relationships with the manufacturers and is not involved in the sale of the products mentioned.
additional Information
Online advice
Our online advice service PharmaWiki Answers will be happy to answer your questions about medication.
Support PharmaWiki with a donation!
© PharmaWiki 2007-2021 - PharmaWiki provides independent and reliable information about medication and health.
This article was last changed on November 5, 2020.
Imprint and data protection declaration
Show products for this page