By truck or tractor?
ALB conference on transport logistics in agriculture
Due to the structural change, the agricultural businesses in Hessen are cultivating more and more areas with constantly decreasing numbers of businesses. The average farm-to-field distance grows with the size of the farm, and the demands on transport logistics increase. Last week, the Working Group for Rationalization, Agricultural Engineering and Construction in Agriculture Hesse (ALB), to which ALB Committee Chairman Klaus Wagner welcomed around 50 contractors, practical farmers and engineers at Eichhof, dealt with this topic.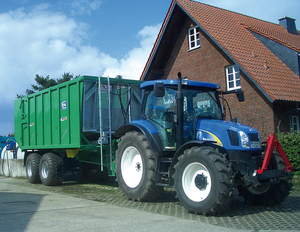 According to estimates by the Federal Association of Contractors, around 5 million loads are carried out in Germany every year with large capacity forage wagons.
Photo: Moe
Experts talked about the use of modern transport logistics and their advantages and disadvantages. For example, when large quantities, such as the silo / energy maize harvest, have to be transported over long distances in a short period of time. LLH process engineering consultant Karl-Heinz Wiech from the Petersberg Education and Advisory Center made a procedural comparison between transport systems with a tractor, Unimog and truck, in order to determine the costs of high transport performance, energy consumption, tire wear, soil protection and the field-to-road driving ratio, as well as traffic regulations such as driving licenses, driving time restrictions and control devices as well as aspects of noise pollution from engines and pollution of the road.
After presenting various transport systems, Wiech went into a comparative test by the Lower Saxony Chamber of Agriculture. A 265 HP tractor with two two-axle trailers, a maximum payload of 22.5 t with a total weight of 40 t and a top speed of 40 km / h, a 286 HP Unimog with a three-axle trailer, a maximum payload of 24 t with a total weight of 39 t and 80 were compared km / h top speed as well as a 360 hp truck with semi-trailer, maximum payload of 25.5 t with a total weight of 40 t and a top speed of 80 km / h. The achieved transport speeds were 36 km / h, 40 km / h and 44 km / h on country roads and 37.8 km / h, 45.6 km / h and 48.5 km / h on federal highways.
Diesel consumption is an important parameter
Unimog and trucks achieved an average speed of 60.3 and 62.5 km / h on motorways. The procurement costs for the tractor and Unimog train were 190,000 euros each and for the truck train 130,000 euros. When using federal highways, the diesel consumption per 100 km with an empty trailer / semitrailer was 50.4, 25.6 and 22.9 liters and fully loaded 63.8, 37.4 and 38.4 liters. With an annual deployment of 800 hours and a driver wage of 25 euros / h, the test operators calculated total costs of 100.63 euros / h for the tractor with two two-axle tipping trailers, 90.53 euros / h for the Unimog transport with a three -Axle trailer and 83.86 euros / h for truck trailer transport. Under Hessian conditions Wiech compares the costs for the three systems with an assumed total distance of 18 km (11 km country road and 7 km federal road).
Is the "Agro-Track" worth it?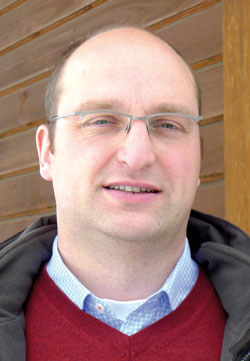 Hendrik Brügemann from Claas Vertriebsgesellschaft mbH Harsewinkel.
Photo: Dr. Ernst-August Hildebrandt
As a result, Wiech found that the tractor train took 29 minutes, the Unimog train 26 minutes and the truck train 24 minutes. The total costs for this route were 49 euros for the tractor train and 38.22 euros for the Unimog train and 32.65 euros for the truck train. With the proviso that the compared systems are fully utilized, the truck is the undisputed most cost-effective transport system. Against this background, developments of an "AgroTruck" have recently been presented, with which the transport efficiency for fields and roads is to be improved. These are vehicles with the technology of a large-scale truck, all-wheel drive with three differential locks, low-pressure tires with a tire pressure control system, high-performance hydraulics for ancillary units, up to 480 hp, 25 t payload and 40 t total weight and a classification as an agricultural tractor, drivable with a T driver's license He found that optimal capacity utilization is particularly important in transport logistics.
Manage procedural chains with GPS
Computer-aided systems with vehicle recognition by GPS are available today to optimize transport logistics in process chains such as those offered by machine rings and contractors. Hendrik Brügemann from Claas Vertriebsgesellschaft mbH Harsewinkel presented the EASY (efficient agricultural systems) system, a proprietary solution from Claas for agricultural service providers. The system called "Claas Telematics" records performance, setting and position data from appropriately equipped harvesting and transport machines via mobile communications and the Internet, processes them and forwards the results to customers via a web server on the Internet. According to Brügemann, the work should document itself in this way. For the user, there is no need to write invoices after a long day at work and keep field records or to make phone calls after the drivers' work reports. The system always offers an overview of the costs and improves liquidity through invoicing immediately after the service has been performed, which also avoids gaps in the invoicing.
Wage and personnel costs
In addition, finished booking records in ISOXML-compliant format would be made available for farm management systems. Thanks to the automatic recognition of the driver, the system can keep time sheets and determine wages and personnel costs. By recognizing the machine and the process, the diesel consumption can be determined and a cost calculation possible, which leads to an individual customer price. In addition, yield and moisture can be determined as well as yield mapping. By recognizing the field, the total area, the owner, customer, customer price, the type of fruit and the field name are shown. And by recognizing the status, the system documents the area, the position, the duration of the machine use, the date and characteristics of the threshing mechanism and forage harvester.
With the AGROCOM LU extension module for contractors and service providers, further work relief is provided by offer and order management, dunning, cost recording and calculation, deployment planning with a graphic disposition aid, evaluations according to customers, articles, machines, employees, etc., an automatic diesel book, one Warehouse management, internal billing, data exchange with machine terminals and an interface to payroll and financial accounting are possible. This means that there are optimal synergies for working with the tax advisor.
Navigation to the field
The evaluation and analysis options would show the farmer where money is being made and where not. With the agricultural navigation system FIEDNAV, Claas also offers a system for optimizing transport services. FIELDNAV contains all drivable field and forest paths in Germany and thus enables a continuous "routing" over motorways, country roads, field and forest paths up to the field. The driver is safely guided to the entrance even without local knowledge. The system defines the arrival and departure routes taking into account the dimensions, weights and speeds of the transport vehicles. He calculated that with an average of five percent time and diesel savings that should be achieved with this system, with an area of ​​1,000 hectares, around 12,000 euros a year can be saved. CLAAS TELEMATICS is currently being consistently further developed in order to expand the range of possible applications through cooperation with implement manufacturers. The start of series production is planned for 2014.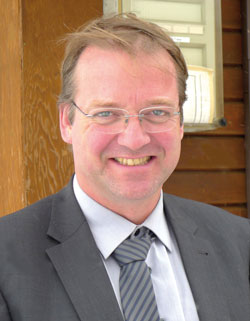 Dr. Martin Wesenberg from the Federal Association of Contractors spoke on the subject of "Conflict-free movement in public road traffic."
Photo: Dr. Ernst-August Hildebrandt
Dr. Martin Wesenberg from the Federal Association of Contractors spoke about possibilities for conflict-free movement in road traffic, pointing out that today's modern and powerful agricultural technology often has to be implemented over long distances and as large and heavy-duty agricultural vehicles on the roads.
Large machines with excessive widths, low transport speeds and high weights are increasingly being perceived as a nuisance by other road users. The potential for agricultural transport is currently 450 million tons per year and is increasing. Using the example of biogasmais in Germany totaling 65 million t, he made it clear that with 40m³ forage wagons, which transport around 15 t of goods with one load, 4.5 million loads are necessary and with an average field-yard distance of 3 km 13.5 million km have to be covered, which corresponds to about 300 times around the world. This also increases the potential for harassment and accidents. Wesenberg also made an impact here from the drivers, who often lacked sufficient maturity and foresight due to their age. He therefore demanded solid training and safety instructions. In addition to the transports themselves, care should be taken to ensure that the cargo is safe, that cargo is not lost during transport and that it is kept clean. Loss of cargo could be achieved through covers or reduced transport speeds. Since the latter is less desirable for reasons of transport performance, care must be taken that the vehicles are not overloaded. A particular annoyance is the soiling of roadways, which also harbor the risk of accidents for other road users. If the worst comes to the worst, the polluter pays principle applies here. Road contamination should be removed immediately.
Under certain circumstances, a broom vehicle must therefore be used behind every transport train. Since the development of agricultural technology is leading to ever larger, wider and heavier machines and is associated with a decrease in acceptance among the population, politics and administrations, the Federal Association of Contractors has called for voluntary self-restraints, which are summarized in BLU guidelines and on Agritechnika Released in 2011. Among other things, these guidelines suggest limiting transport speeds in built-up areas to 30 km / h in order to increase traffic safety and reduce driving noise, cargo losses and costs.
Be considerate of your sleep
In addition, conflicts should be countered by not carrying out agricultural transports at night from 10 p.m. to 6 a.m. and not on Sundays and public holidays (with exceptions due to weather conditions). In addition, residential areas should generally be avoided and acceptance should be promoted through information.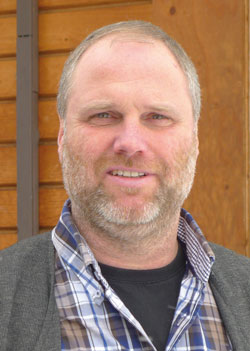 Adviser Martin Vaupel from the Lower Saxony Chamber of Agriculture.
Photo: Dr. Ernst-August Hildebrandt
This also includes the fact that agricultural and forestry tractors with attachments should not drive on motorways if possible. With the BLU guidelines, a collective permit should be obtained with local authorities that agree on uniform warning devices and protective devices. There should be no restrictions on routes and times. The guidelines are intended to show "good will" to cooperate and increase road safety and send a signal that the limits of growth in terms of vehicle sizes have been reached for agricultural transport.
Road traffic law and what has to be observed when transporting biomass are the main areas of work of advisor Martin Vaupel from the Lower Saxony Chamber of Agriculture, Oldenburg. When transporting maize silage for biogas plants, a distinction must be made between agricultural and forestry transports and commercial transports, depending on the client. Only in the case of agricultural and forestry transport, the towing vehicles can be equipped with green vehicle signs and be exempt from vehicle tax. The use of these vehicles on behalf of commercial enterprises makes the transport commercial and requires a limited vehicle taxation, which can also be done monthly when reported to the local tax office.
To driving license class T
On the part of the necessary driving licenses, the new driving license class L has been in effect since June 30, 2012, with which tractors can be driven up to 40 km / h, but are limited to 25 km / h when towing a trailer. Since class B car driving license includes class L, class B license holders are now allowed to drive tractors with a total weight of over 7.5 t with trailers, even if only up to 25 km / h. This opens up better opportunities for temporary workers, interns and seasonal workers from abroad. Nevertheless, according to Vaupel, acquiring a class T driver's license is definitely recommended. The speaker sees a problem when trainees who are not yet 18 years of age and are therefore not allowed to drive tractors with a license up to 50 km / h. For owners of the old class 3, it makes sense to change the driver's license to class B and class T. According to the Road Haulage Act (GüKG), the provisions for agricultural and forestry traffic do not apply if the transport is carried out for one's own purposes or transport is carried out in neighborhood assistance and no money is flowing. When using trucks or articulated lorries for agricultural and forestry transport, accompanying documents must be carried. An exemption from the GüKG also applies if the farmer is active as a member of a machine ring or an economic group protection.
The transports may then only be carried out with tractors and trailers or special vehicles that are exempt from vehicle tax. Tractor units are not exempt from this. The driver must be the farmer himself or his employee. The exemption applies to a radius of 75 km as the crow flies, accompanying documents such as delivery notes must be carried. The same applies to contractors. In the area of ​​commercially carried out transports, the transporter must apply to the district for a permit according to GüKG. The approval is granted for a period of five years and requires proof of reliability (police clearance certificate), professional suitability (preparation and examination at the Chamber of Industry and Commerce) and financial capacity (9,000 euros equity for the first vehicle and 5,000 euros for each additional). In addition, goods damage liability insurance must be taken out.
In commercial freight transport, control devices are required for vehicles over 3.5 t and over 40 km / h, which fully document the speeds, driving and rest times. Finally, Vaupel goes into the consequences of inadequate load security. In addition to lost time and costs, for example for reloading and street cleaning, there is a risk of a fine of € 35 to € 390. If people are injured as a result, criminal proceedings and possibly a conviction for negligent bodily harm or death will result. In the case of willful or grossly negligent behavior, there is also a risk of loss of insurance cover. The responsibilities lie with the driver as well as with the keeper and loader.
The same applies in the case of road pollution, which must be removed immediately and must be identified by warning signs until then. On the other hand, the responsible authorities could have the illegal conditions eliminated at the expense of the responsible party. It therefore makes sense to contractually clarify in advance who is responsible for removing pollution.
Practitioners reported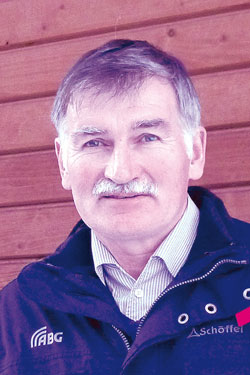 Kurt Gerhold, Agricultural Business Community Trans GmbH & Co. KG Landsberg.
Photo: Dr. Ernst-August Hildebrandt
Kurt Gerhold from the Agrar-Betriebs-Gemeinschaft Trans GmbH & Co. KG Landsberg is responsible for the logistics of a 4,350 hectare arable farm. The traffic situation of the company extends over a north-south distance of 30 km and an east-west distance of 8 km. The company does not have its own storage capacity for grain. The entire grain harvest has to be transported directly to trading partners over a distance of 15 to 65 km. During the harvest, the company works with six of its own combine harvesters, two transfer vehicles, two tractor trailers and three trucks with semi-trailers. At peak times, up to ten additional trucks are rented and preferably only deployed from noon in order to be able to utilize the permitted driver driving times. Care is taken to ensure that slight excess capacities are created in order to ensure that the combine harvesters are always fully utilized.
Example of the corn harvest
Michael Löber from Maschinenring Schwalm-Eder reports on biomass logistics using the example of the maize harvest for the Homberg biogas plant (Efze). The machine ring organizes the entire harvest of 550 hectares of silage maize from 52 growers over a campaign duration of 20 days. When it comes to transporting the biomass, neighborhood help is predominantly used.Every grower can cooperate, whereby staggered transport payments such as 3.75 euros / t FM for distances of 5 to 7 km and 4.45 euros / t FM for distances of 11 to 13 km are paid.
For further distances or insufficient transport capacities in neighborhood assistance, trucks from transport companies are also used. Löber complains about the many imponderables that complicate and hinder the organization of the logistics. The original plan to guide the transport vehicles to the harvested fields via smartphones and sat-nav devices was supplemented with map printouts that some of the transport companies can use better. In addition, it also happens again and again that the transfer vehicles are full at the edge of the field and wait for transport vehicles. The chopper then also had to take a compulsory break. The speaker sees truck transports with transport distances of up to 13 km as critical. According to Löber, the advantages of separate field and road transport, large payloads and lower diesel consumption as well as more inconspicuous road transport are offset by disadvantages such as the availability of machines and the additional use of transfer vehicles and the driving and rest times of the drivers, which make the interaction make it difficult for all those involved and hinder a continuous process. For the Homberg biogas plant with a catchment area in a radius of around 13 km, the classic tractor train is the most economical.
Slurry and digestate logistics
Contractor Winfried Herrlich from Gebrüder Herrlich GmbH in Hofbieber presented the manure and digestate logistics of his company. The contractor with two operations managers, 13 full-time employees, one trainee, several part-time employees and two office workers serves around 400 customers. In addition to other services, the company spreads around 70,000 t of liquid manure and 60,000 t of digestate every year. The technology used has adapted to the growing requirements over the years in order to cope with the tasks at hand in the available time windows, the fertilizer ordinance and other specifications as well as the weather conditions. So the company has tractors with pump tankers and baffle plates, barrels with drag hose distributors and a 21 m³ self-propelled vehicle with crab steering, 600 HP and Terra tires to which a disc slitter or a compact disc harrow can be attached.
Optimize via field navigation
The company intends to use field navigation to make feeder traffic smoother. The drivers should be guided more directly to the field and to the spreader. This should also give the possibility of a "circuit", on which the large vehicles do not meet on narrow country lanes. The advantages of these systems also result from the use of drivers who are unfamiliar with the location or use at night and in poor visibility. Despite high investment costs for software and hardware as well as maintenance costs through maintenance contracts and network costs, he believes that this investment will reduce the workload when the contractor's orders increase.
Dr. Hildebrandt, LLH - LW ​​51/2012