Just buy a gun
"Take a Glock, nine millimeters," says the blond young man next to me in a friendly manner, "it shoots through walls and doors and pretty much everything." Helpful, he continues: "It depends a little on your hand size" - we both look at my outstretched hand - "but you can't really go wrong with a Glock."
The young man, I guess he's in his early twenties, stands like me in a line of potential buyers in a gun shop in Virginia. He wants to buy a very specific pistol and that's why he was here last weekend, he tells me. "But they were almost completely sold out."
The store south of the capital Washington DC opened 20 minutes ago, but the three salespeople can barely cope with the rush. Statistically, nine out of ten US citizens own a gun, and they're buying more and more. How many weapons actually change hands is unknown - because in many cases no formalities are necessary.
How easy is it actually to buy a gun? The simplest option: a gun show. There are no background checks and no questions. Dealers and individuals alike can offer pistols and rifles for sale.
Virginia has different laws
Another option: the Internet. But as a first-time buyer that is suspect to me. Who wants to entrust their personal information to an anonymous website? To get a little more familiar with the subject of weapons, I meet with a friend in Virginia. John - he would rather not see his real name published - grew up in a small town in the state. Guns, he says, were part of everyday life there. "I was about nine years old when I shot the first time."
At 18, John bought his first rifle: a Winchester. He now owns several weapons, but attaches great importance to formalities when buying or selling. This is not a requirement in Virginia. Anyone who lives here can sell a gun to another citizen of the state like a bicycle, without a background check, without papers. John is suspicious of this rule: "If I no longer own the weapon, it should be documented so that I am no longer responsible for it," he says, because who knows what the buyer will do with it in ten years.
Off to Maryland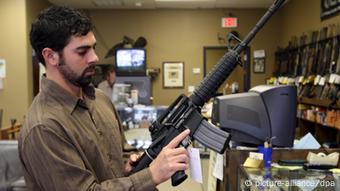 Two to three hours from choosing to buying the weapon
When he buys a gun in a shop in Virginia, John says, the background check goes quickly; after two or three hours, if there is no objection, the buyer can take the gun with him, at least a pistol or a semi-automatic weapon. I decide to go straight to a gun shop a few days later. In Maryland, though, because that's where I'm registered.
Already in the first gun shop I drove to this morning, it was very busy. The shop is located in one of the typical rows of shops, between a Taiwanese restaurant and a pet shop. The only difference to the neighboring shops: the windows are barred and cannot be seen. It's my turn - and I reveal myself as a journalist who would like to find out whether and how she can buy a gun. "Hm, let me check briefly whether I can talk to you," says the salesman and disappears into an adjoining room. The manager informs me shortly afterwards that I have to contact the press officer. It's in a different branch and unfortunately doesn't have time to talk to me.
"First time buyers? No problem!"
I'm going to another gun shop in Maryland, a little further east. Here, too, there is already a lot of activity shortly after the shop opens. This time I'm just a customer. "What can I do for you?" Asks the saleswoman kindly. "Above all else, I have a lot of questions," I reply. "First-time buyers?" She asks, and when I nod she continues: "No problem, my colleague can help you, we have a lot of people here, men and women, who are buying a gun for the first time."
Your colleague, who just served a middle-aged lady, pointed out a sign to me: "Well, first you have to go to this website here and do the course, you will get a certificate at the end, which you will bring with you and then I can sell you a gun. " I want to know, "I live in Maryland, but I'm not American, can I still buy a gun?" "Do you have a green card?" He asks back. I nod, I have this official work and residence permit. "Then that's no problem," is the answer.
Even for first-time buyers and those who are clueless about how to use it, it is no problem to get a weapon
A weapon for personal protection
Nobody here has a problem selling me a gun, although it's obvious I have no idea how to use it. How much money do I have to invest, I still ask. "$ 300 to $ 600," is the answer.
I drive home and sit down at my computer. I learn on the Maryland Police Department website that the "Firearms Safety Course" will take approximately 30 minutes. I enter my name, date of birth and driver's license number and click through the pages. I learn about the different types of revolvers, am admonished to keep the weapon and ammunition separate from each other and to keep the weapon in a safe if possible. I wonder how I can have them ready quickly when the gangster with the ski mask comes in at night that gun shop websites warn me about.
"Weapons course" in 30 minutes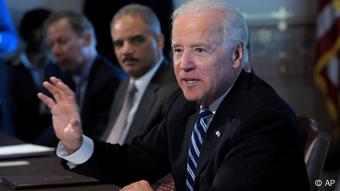 Vice-President Biden: Proposals for stricter gun laws
After half an hour I'm actually finished and can print out a certificate as proof. I have to send a section of it back to the police - and then nothing stands in the way of buying a weapon. The dealer would still do a background check, i.e. send my personal data to the police. "It normally takes seven days," he had informed me, "but they are so behind that you have to reckon with two or three weeks."
At the end of the day I drive to that gun shop in Virginia, where I wait almost three quarters of an hour for my turn. I want to know whether I can buy a pistol here, where everything is easier and faster. The dealer explains, "You could buy one here, but we have to send the gun to a dealer in Maryland for you to pick it up and do the paperwork. We're so busy here that we don't do that right now, does I'm sorry."
I thank you and leave the shop. I could go back to the dealer in Maryland now, pick a pistol, and easily take it home with me in two or three weeks. I don't feel particularly comfortable with this thought.