How good is Vietnam Airlines
Vietnam Airlines Economy Experience & Test Airbus A321 Domestic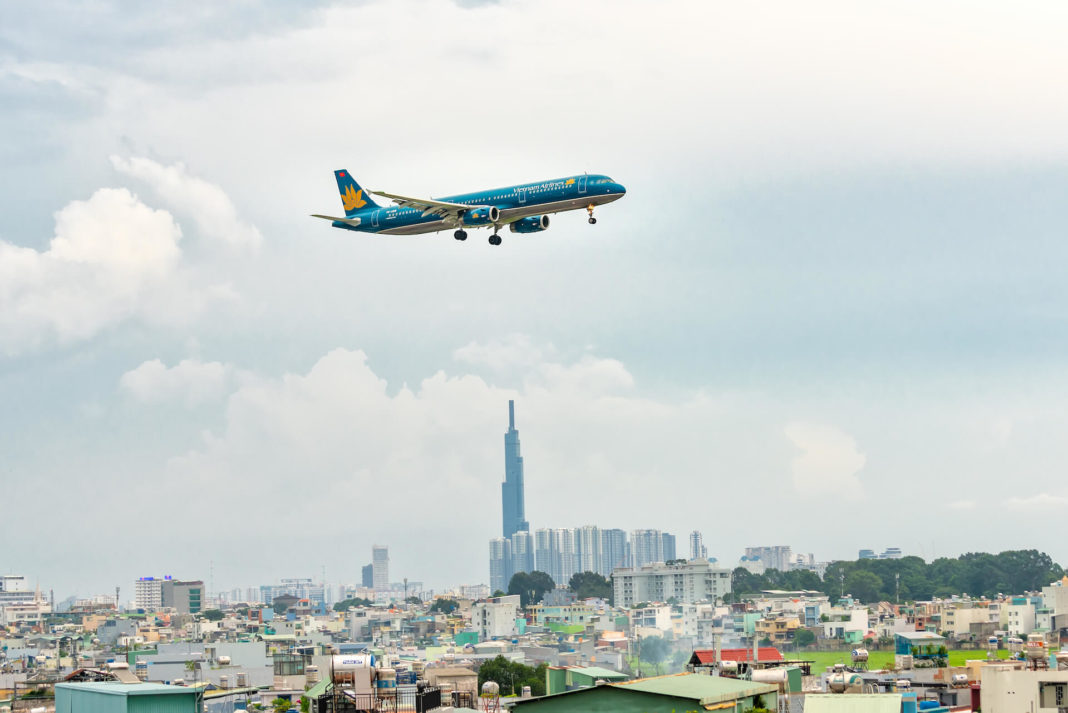 Vietnam Airlines is the main airline in Vietnam and a Skytrax 4-star airline. In addition to the many international routes, Vietnam also primarily serves the domestic routes in the premium segment. How Vietnam Airlines is doing with the Airbus A321 on domestic flights in Vietnam and what to expect in terms of seating comfort, service and food, you can find out here in the Vietnam Airlines Economy Class Test for the Airbus A321.
Vietnam Airlines flights
As the most important and largest airline in the country, Vietnam Airlines offers not only international flights but also a number of domestic connections. Domestic flights with Vietnam Airlines can be conveniently via the Airguru flight search or booked directly on Vietnam Airlines' website.
Check-in & boarding
During my flight from Nha Trang to Ho Chi Minh City, there were no problems with the check-in at the small Cam Ranh Airport near Nha Trang.
The ground staff at check-in were efficient and completed the check-in process quickly. There were no long queues at Vietnam Airlines, but this may have been due to the small size of the airport. But even in Ho Chi Minh City and Hanoi, I couldn't find any large crowds at the counters of Vietnam Airlines.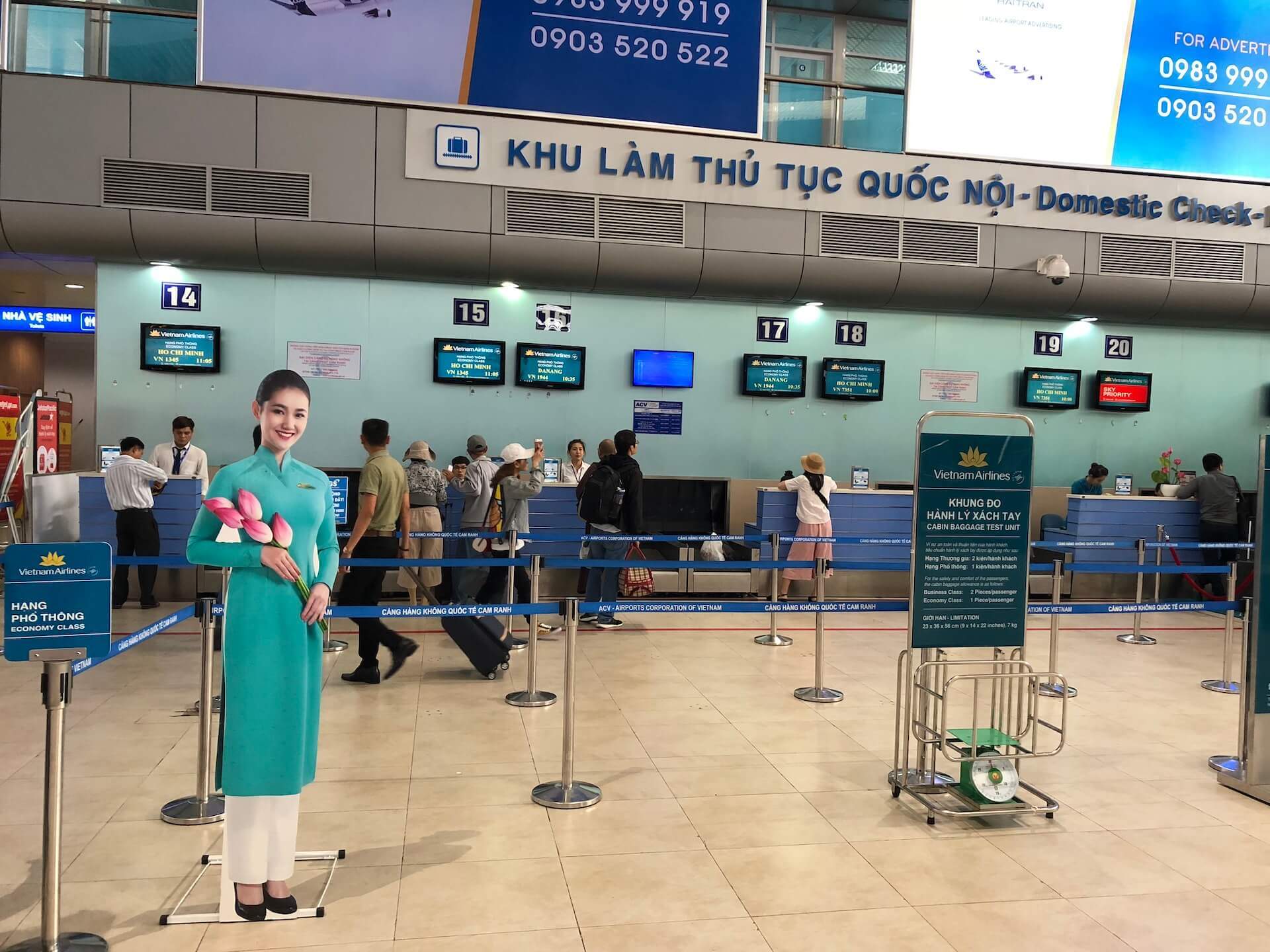 There were also no complaints at boarding. Due to the nature of the airport in Cam Ranh, a bus had to be boarded, which was carried out very smoothly and quickly. Contrary to my expectations, there was no queue at the boarding gate, so the bus transfer was very well organized in advance!
punctuality
In general, Vietnam Airlines is one of the most punctual main airlines in Asia. In an international comparison, Vietnam Airlines is in 5th place in the punctuality index, ahead of Singapore Airlines, Thai Airways, Malaysia Airlines and many other main carriers.
During my trip with Vietnam Airlines, too, the plane took off around 5 minutes beforehand. We were also at the destination a good 10 minutes before the predicted time. From this point of view, Vietnam Airlines can be recommended without reservation and is one of the top airlines in Asia.
Airplane models
Vietnam Airlines operates a fleet of different aircraft. Aircraft of the type Airbus A321 are mainly used on the domestic routes, which is also the subject of this report.
There are currently 4 new Airbus A321 NEOs in use, more have been ordered and are intended to replace the basic version of the A321, some of which have already arrived.
During my flight, one of the older A321s was used, which was noticeable in the look of the paintwork and in the interior. But more on that later.
Vietnam Airlines flies long-haul flights with the latest generation of state-of-the-art Airbus A350s and Boeing 787s.
Sitting comfort & legroom
The seating comfort on the Vietnam Airlines Airbus A321 in economy class is very good. The cabin has 3-3 seats, the seats are wide and offer enough space for tall people.
The legroom with Vietnam Airlines in the A321 is extremely generous. Even people over 1.95 should not have any problems with the seat in front of them.
With Vietnam Airlines in Economy Class, the backrest can be set back exceptionally far and enables comfortable sitting. The legs can be stretched out completely and sleeping should be possible without any problems.
Since Vietnam Airlines' business class only offers slightly better seats on domestic flights with the A321, an economy class ticket is completely sufficient in my opinion.
Vietnam Airlines offers one of the best and most spacious seats in all of Asia on short-haul routes!
In-flight entertainment
A stationary entertainment system is built into the aircraft in the old Airbus A321 operated by Vietnam Airlines. The screens go down from the ceiling. However, the system was not used during my flight.
A completely new system is said to have been installed in the Airbus A321 NEO, which streams films & music to a previously loaded smartphone application.
As with any good airline, Vietnam Airlines also has an on-board magazine. Even if the first 10 pages are just advertising, the magazine is reasonably interesting. Languages ​​are Vietnamese and English.
Amenities & attentions
On board Vietnam Airlines in Economy Class there is a refreshing towel on short-haul flights. A blanket can also be provided on request. The guests are not given any further attentions on short-haul routes. The flight from Cam Ranh to Ho Chi Minh only took a good 25 minutes anyway, so there was no time for on-board service.
Food selection
No food or snacks were served on the short flight from Cam Ranh to Ho Chi Minh City.
Choice of drinks
Immediately after the start, a mug of water or cola was served. Even on request there was no orange juice at 9 o'clock in the morning. The choice of drinks on domestic flights with Vietnam Airlines can therefore be described as thin.
Service / on-board personnel
During my flight on a domestic route in Vietnam, the flight crew was practically not present. Neither a greeting nor a proper farewell was deemed necessary by the on-board staff. In general, the staff was rather Vietnamese, cool and very disinterested.
Cabin ambience
I personally don't like the cabin atmosphere at Vietnam Airlines at all. The choice of colors and patterns do not meet my taste, they even seem old-fashioned, conservative and communist. However, this only applies to the A321 products on short-haul routes.
The long-haul ambience in the 787 Dreamliner and Airbus A350 convinced me more and I really like the pictures.
Cabin volume
The cabin of the A321 in Economy Class was surprisingly quiet, and the engines were barely audible.
Cabin climate
The climate in the cabin was on the cold side for Asian airlines, but not so cold that you couldn't bear it. I definitely think it's advisable to take a sweater on board.
Price / performance ratio with Vietnam Airlines Economy Class
Since Vietnam Airlines is the premium airline in Vietnam, the prices are of course also higher than with low-cost airlines. However, it has to be said that on short domestic flights the price / performance ratio is by no means right.
Around € 90 per person for an ultra-short haul flight from Cam Ranh to Ho Chi Minh was due. The booking was made months in advance.
However, due to the small selection of drinks, the inconsiderate service staff and the small amount of attentions, I do not find the price justified. The excellent seating comfort cannot save anything here either, because you don't really need it on short trips anyway, or it is not a decision criterion for me.
Based on my only experience in Economy Class on domestic flights, I cannot say whether Vietnam Airlines deserves a Skytrax 4 Star Carrier. The short-haul flight in Vietnam with the Airbus A321 is, in my opinion, only lower average fare and even some small airlines from Thailand can convince more with certain amenities and good service.
In general, the experience with Vietnam Airlines in Economy Class was okay. Above all, the generous seating configuration and the comfortable seats are convincing and speak for Vietnam Airlines.
I will certainly not avoid Vietnam Airlines in the future, but I will definitely prefer cheaper airlines on short-haul routes. I cannot judge how long haul Vietnam Airlines is doing at the moment, but I will test it with a high degree of probability if the opportunity arises. What is certain, however, is that a completely different product awaits you here ...
What is your short-haul experience with Vietnam Airlines Economy Class? Leave a comment!