Cashback - more than just customer loyalty
Affiliate Marketing Bonus Programs
Whether shopping, flying, refueling or calling: Consumers in the offline world have been very familiar with the principle of collecting points via Payback, Webmiles or customer cards such as the DeutschlandCard for years. With the advent of e-commerce, resourceful providers have that Model of the bonus programs successfully transferred to the online world - the Cashback idea was born. The USA and Great Britain are pioneering markets worldwide. In continental Europe, however, cashback is still lagging behind - the potential is still underestimated, especially in the German market. But the spread of mobile devices increases the potential even more.
A specialist article by Michael Klotzbier
This is how the cashback model works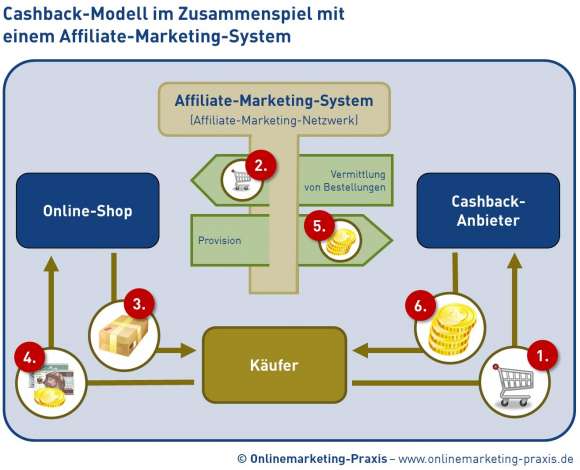 Customer purchases in an online shop through a cashback provider.
The order is sent to the online shop via the affiliate network.
The online shop sends the goods to the buyer.
The buyer pays to the online shop.
The online shop pays the commission to the cashback provider via the affiliate network.
The cashback provider pays the buyer the purchase discount (cashback)
Great Britain is showing the way
Solid arguments for online cashback come from Great Britain. The pioneering market for bonus programs in Europe already has more than 120 cashback portals. They don't just act as a Customer loyalty toolbut wear also to Acquisition of new customers at. By integrating cashback into the online marketing mix, advertising companies can tap into additional target groups. Cashback providers usually have a large number of registered members that advertisers can also reach by working with the providers. In a survey by the UK's leading cashback provider, TopCashback, of more than 750 users, 52 percent said that because of the cashback offer they had made purchases from brands that they had not previously included in their purchase decision - clear evidence of the channel's potential for new customers. In addition, the potential new customers have a high income: almost half of the members of the two largest cashback providers reported an annual income of more than £ 50,000 - almost twice the UK average of £ 26,000.
Cashback is still controversially discussed in Germany
In Germany, however, the picture is different: Even experts disagree about the importance of cashback in the marketing setup. One that is cited again and again Argument against cashback reads that it is difficult to prove that a purchase Not also came about without a cashback offer would. In addition, so frequent allegations, the well-known cashback portals are more eager to bind customers to themselves than to the external online shop. Tim Gibson, managing director of the cashback provider Shoop, contradicts this: "It is a prejudice that cashback is a pure loyalty measure. Our advertisers regularly confirm that we generate an exceptionally high number of new customers through our channel. At Shoop, we maintain a membership model that allows us to communicate very intensively with our users via email. This way we can, for example segmented subgroups special offers and thus offer our advertisers optimal opportunities to scale their offers. "The Shoop cashback portal already has over 1,600 partners with affiliated online shops.
Cashback is constantly evolving
Cashback is far more than the digital sister of the classic customer loyalty program. With the advancement of technologies, there are now a multitude of channels with which cashback providers gain attention and interest from their members. For collecting bonus points there are many useful uses: For example, toolbars in the web browser remind you of possible deals before a purchase.
Cashback providers: overview and comparison of providers of bonus programs
With the new forms of addressing and integration, providers such as Shoop, Payback and BSW are breaking the learned restriction of bonus programs and going beyond the pure function of a customer loyalty tool.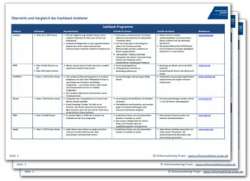 Provider cashback programs
Andasa
BSW
card4you
iGraal
Shoop (formerly Qipu)
yingiz
Provider loyalty programs
DeutschlandCard
Payback
Webmiles
tamola
providers Referral programs
providers Charity cashback programs
Education donors
gooding
gynny
Club Fund
School angel

For Dr. Robert Wetzker, Managing Director of recommendation marketing provider aklamio, shows another trend beyond traditional cashback mechanisms. "Our aklamio business model is based on a refer-a-friend service. We pour them bonus so not to the buyer, but to the recommender out. In this way, we are shifting the focus away from professional publishers and towards end users - the "social affiliates." Due to the increasing heterogeneity of customers, increasing product diversity and increasing prices for advertising space in the display and search area, Wetzker is convinced that these will become social affiliates and Referral marketing plays an important role in the marketing mix.
Cashback is increasingly also working on the move
Another development is currently emerging: Cashback is about to begin Entry into the mobile era. Consumers appreciate the convenience of information available anytime and anywhere: They use mobile search, compare products and prices while on the go. More and more users are also shopping via mobile devices. This is also shown by the Mobile Performance Barometer: In the AWIN network (formerly zanox) alone, more than four million transactions via mobile devices made. And in the course of the year to date, this rate has increased by almost 160 percent (as of May 2013).
It is therefore not surprising that the first providers such as Lyoness are building on this trend and are now offering cashback conveniently via smartphone or tablet. Advertisers who have optimized their online presence for mobile use can also acquire new customers with an affinity for mobile. aklamio shows in current pilots what a mobile friend-refer-friend solution can look like. Since the beginning of the year, the recommendation marketer has enabled its (social) affiliates to make recommendations directly via QR codes on posters, inserts or in e-mails.
Cashback as part of the publisher mix
Advertisers shouldn't see cashback as a stand-alone channel, but rather as part of a holistic customer acquisition strategy in affiliate marketing. The inclusion of cashback in the publisher mix brings additional advantages for advertisers. The effort to successfully start and operate a cashback program as an advertiser is significantly reduced by integrating it into the affiliate network and its range of services. In addition, they expand their target group to include a particularly high-spending audience.
Ideal prerequisite in Germany
It is therefore time to rethink: Cashback can do more than just generate customer loyalty. Especially in Germany, which has always been called Land of the bargain hunt applies, price awareness is very pronounced. Studies such as those by OC&C Strategy Consultants confirm that German consumers are particularly price-sensitive in an international comparison requirement for cashback systems is in this country ideal. Advertisers now need the Seize the opportunity and begin to recognize and use cashback as an integral part of their marketing activities.
The interaction between the cashback program and the affiliate network
As the operator of an online shop, you can, in principle, too directly and without an affiliate network Cashback program with a cashback provider implement. If you don't do affiliate marketing and only work with one cashback provider, this can also be advisable. Are you already using affiliate marketing as a sales channel and come several cashback programs for you, then this can be yours Affiliate network make your job a lot easier. Because you stay in the familiar administration environment of your affiliate network. You need to too do not log into various platformsto approve orders, consolidate statistics, etc.
Implementation: How to set up a cashback program through your affiliate marketing
Selection: Work out together with the affiliate network Selection criteria Your cashback partner. Focus on your choice - less can be more. Use the overview with comparison of the cashback providers.
Coordination: Contact the cashback provider and discuss with him the possibilities of a partnership in which Orders and commissions through your affiliate network should be processed.
Business card: One concise shop description with minimum and maximum cashback amount should be created and determined in advance. This description will on the cashback page and is the business card of your online shop.
Definition: Be very precise and clear in the matter Definition of your cashback conditions. For example, disclose in advance whether the cashback will be offset against the gross or net shopping cart - this way you can avoid possible subsequent bookings.
Technology: Set up the partner program together with your affiliate network and the cashback provider.
Quality check: Use test purchases to check whether the statistics show correct values and whether all Processes on orders, cancellations, commission payments, etc. work properly.
Checklist: Important Tips When Using Cashback Program Through Their Affiliate Marketing
SEMINAR TIP FOR TRAINING

Our cooperation partner eMBIS offers seminars on this topic.

Objectives: Understand cashback as Part of the publisher mix and define your goals in advance (customer loyalty, approaching new customers, sales promotions, etc.).

Continuity: Cashback is not a one-time action for example to start an affiliate program.
Partner model: Affiliate marketing is based on a partner model between you as the advertiser and the publisher. This Partnership concept should also be the guideline for the relationship with the cashback provider.
Speed: The "cashbackers" transmit their respective rewards to your customers very quickly. As an advertiser, you should therefore make it possible short and flexible too Auto confirmation times of the sales submitted by the publisher.
Goodwill: Seldom the case - but complaints from end customers are sent directly to the Cashback Publisher. As an advertiser, present yourself as a accommodating partnerso as to ensure customer satisfaction.
Data: Cashback is not big data. Trading in customer data is not part of the cashback business model.
About the author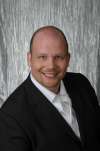 As Key Account Manager Publisher at zanox (now AWIN), Michael Klotzbier is responsible for the support and expansion of the publisher base in the incentivesed traffic area, which mainly includes cashback and voucher publishers. The zanox Group supports more than 4,300 companies of all industries and sizes worldwide in the efficient marketing of products and services on the Internet. With the transaction-based business model, advertisers only pay if their online advertising activities are measurable.