What's good and bad about Badgeville
Gamification, part 3
The play instinct spurs employees on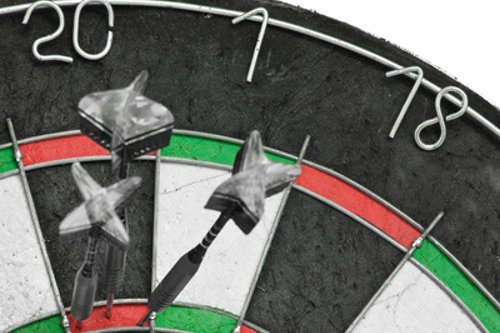 Image: Shawn Hempel
By Oliver Schonschek
There are numerous incentives for good performance. An important motive is to measure yourself against others and not only want to be good, but better. This applies in sport on the way to the podium, in gaming on the hunt for the highest number of points, but also in working life when it comes to titles, positions and salaries. This third part of the gamification series is therefore dedicated to application scenarios in companies.
No question about it, a misunderstood competition can wreak havoc within a company. Confrontation and resentment among employees instead of constructive cooperation can thoroughly poison the working atmosphere. It must not come to that. But what can happen is a playful competition.
Game elements in sales and support
When it comes to customer contact in particular, it is important to process incoming inquiries as well and as quickly as possible. Nobody wants poor quality, and long waiting times are also to be avoided. So it's about getting faster and better.
Employees who make few mistakes and work quickly have already been rewarded. However, if the reward "only" goes beyond wages and salaries, the other employees will generally not perceive the positive effects of good performance. The remuneration is mostly kept secret, so it is hardly likely to have an incentive effect on other employees. The situation is different if you use (additional) game elements to motivate sales and customer service.
Series: Gamification
Part 1 is curious what is behind the term "gamification". The aim of the game is to use game elements as effectively as possible for business. Part 2 collects and names specific application examples: from marketing, in communities and in customer loyalty. Part 3 looks at what bonus points and leaderboards can do within the company, in sales or in the service business. For an extra contribution, Roland Freist looked around, where gamification is already being used successfully.
For example, the Badgeville gamification solution can be used to motivate support staff and sales staff. Bunchball also offers solutions for sales and support to enable better business success with game elements. The examples of Ford (auto industry) and J. Hilburn (men's outfitter) show what this looks like in practice.
Points, rankings and plaques
If the company awards points for defined services, employees are given a special status from a certain number of points and the ranking is clearly visible among colleagues, this can already be a playfully motivated incentive. In practice, badges that can be seen like small digital medals (badges) in the employee ranking list have proven their worth here.
If companies then offer (small) bonuses, the drive is even greater. The rewards do not always have to be purely monetary, but can also be e.g. vouchers for events. Gamification is not primarily about quantifiable value, but about recognition for good performance. And this is precisely what many employees lack, as studies repeatedly show in which employees provide information about their wishes to management.
With consent and security
However, where companies use gaming elements to motivate employees, the moment quickly comes when the suspicion of behavior and performance monitoring arises. Therefore, before the introduction, companies should always involve the employee representatives (with a view to the co-determination rights) and the data protection officer (because of the employee data). So it can make sense not to show the real names in the ranking list, but pseudonyms chosen by the employee. Even then, every employee can see where they stand in relation to others and how they are evaluated.
Please note: The national data protection laws in the EU, including the BDSG, were replaced by the provisions of the EU General Data Protection Regulation on May 25, 2018.
Conclusion: Playing is competition
Gamification has already shown in practice that a lot can be achieved with game elements in the areas of training, customer loyalty and employee motivation. But you have to use gaming correctly, use well-made tools and keep the legal requirements in mind - the rules of the game also apply in professional life.
Oliver Schonschek As a news analyst on MittelstandsWiki.de, it evaluates current incidents and developments. The focus is on the economic aspects of data protection and IT security from the perspective of medium-sized companies. He is the editor and specialist author of numerous specialist publications, particularly in his specialty area of ​​data protection and data security.
---
Oliver Schonschek, Tel .: 02603-936116, www.schonschek.de
usefull links