Is there a platform with white lettering
Tire stickers: Tire lettering for an individual look
Tire stickers or individual tire lettering are becoming increasingly popular. What many car or motorcycle fans only know from motorsport has been available for private or corporate use for some time now. Whether manufacturer logo, your own company name or your own creation ... With tire stickers you can let your creativity run free. You can find out how and where you can get your own tire lettering and what you need to consider in our blog.
First the tire, then the tire sticker ...
Inexpensive tuning for cars and motorcyclists
In contrast to many other conversions, the tire lettering is a relatively inexpensive way to give your own car or your beloved two-wheeler a visually interesting touch. Tire labels are immediately reminiscent of Formula 1 and give every car a sporty touch. As an inexpensive set of aluminum rims or individually designed tire stickers prove, a striking tuning does not always have to cost thousands of euros.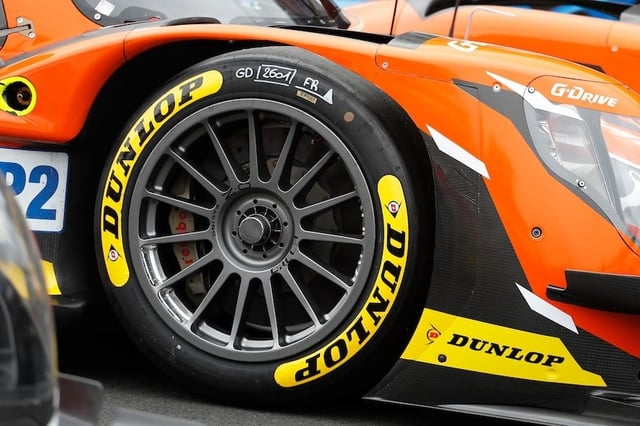 Do you fancy a real racing car feeling? Then try it out with individual tire stickers. (Source image: Dunlop)
What types of tire stickers are there?
Most online providers basically differentiate between three types of tire stickers:
Tire sticker: With this variant, you have the design in your own hands. You decide which letters, words or numbers to put on your tires. Most providers allow you to choose between different fonts and colors. The costs are calculated here depending on the size.
Tire stripes: This classic only wants one thing - to turn your car into a racing car. The fan also knows the continuous white or colored stripes on the tire wall mainly from racing.
Manufacturer logos: The well-known tire manufacturers are just as distinctive brands in motorsport as Nike or Adidas are in competitive sports. That is why many online shops (suitable for tires from popular manufacturers) offer logo stickers for your tires.
Are tire stickers really allowed?
The rubber compound of a tire is sensitive and can be attacked by incorrect storage or by contact with chemical agents. In the worst case, the tire will be damaged and can no longer be used. Professional tire stickers adhere with a special, self-adhesive method that does not attack the rubber compound. As a result, the TÜVs no objection as the stickers do not affect the performance of the tire. However, another adhesive (e.g. superglue) should never be used. This dries out the rubber, which leads to cracks and, in the worst case, the tire to burst.
How long do tire stickers last?
If the assembly was carried out without errors, tire stickers up to 5 years hold what more or less corresponds to a normal tire life. The UV resistance will then decrease and the stickers will turn pale. According to the manufacturer, the stickers should also withstand normal use of a car wash.
How are the tire stickers attached?
With the order, providers send a detailed Assembly Instructions. It is particularly important to ensure that the tire has been thoroughly cleaned of dirt and grease. In addition to detergent, alcohol, spirit or acetone should be used to clean the tire walls thoroughly. In addition, tires must have operating pressure and must not be too cold or too warm (tire and sticker temperature are roughly the same). Then the film with the sticker is carefully pressed onto the cleaned surface. Renewed removal and repositioning are not possible, otherwise the adhesive effect of the sticker will be impaired.
Cost of tire stickers: These are the prices you should expect
The price for your new tire stickers depends on the type, number and size of the stickers.
Cost example for individual tire stickers:
The costs move with the providers available to us between EUR 1.85 and EUR 2.49 per letter. Accordingly, the price increases depending on the length of the desired word and is multiplied depending on the number of stickers (or tires). For example, if you would like your name "Otto" to appear twice on the side walls of your 4 tires (1 x above, 1 x below), you will get 8 stickers. 8 x 4 letters ("Otto") are 32 letters. So you would come up total cost between 59.20 EUR and 79.68 EUR depending on the provider. The lettering "reifen-vor-ort" would cost us a proud EUR 278.88.
Costs for tire stripes:
In the offers available to us, the prices of the providers are between 39 EUR and 59 EUR for a set of strips (4 tires).
Costs for stickers from tire manufacturers:
The prices vary depending on whether you order 4 (1 sticker per tire) or 8 (2 stickers per tire) stickers between 49 EUR and 149 EUR per sentence.
Of course, tire stickers look best on new tires.
Compare prices now and save up to 40% when buying tires ...
You might also be interested in: