How do we get real YouTube subscribers
How To Get Thousands of YouTube Subscribers For Free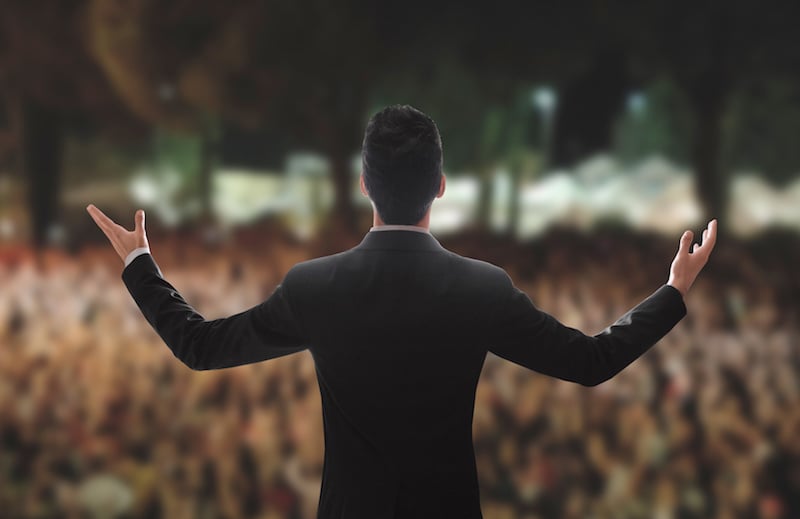 Over 300 hours of video material is uploaded to YouTube every minute.
With so much competition, you may have already given up on yourself and think that it is very difficult to become popular on the platform.
But what if you're wrong? What if you got popular on YouTube and got lots of YouTube subscribers to your channel?
One of the best ways to measure your popularity on YouTube is by the number of your YouTube subscribers.
The more YouTube subscribers you have, the more likely you are to get high video views.
Not everyone who uploads a video to YouTube has a strategy in place to increase their YouTube subscriber number.
That is exactly your chance.
If you can develop a strategy to increase the number of your YouTube subscribers, you too can be one of the companies that are doing well with YouTube.
In this post, we'll look at how you can increase your YouTube subscribers. We will analyze different strategies and think about how you can put them into practice.
By the end of the day, you should have a good feel for how to develop a strategy to use YouTube to grow your business.
Here we go!
Give your YouTube channel a topic
Before doing anything, you need to give your channel a theme.
If you look at some of the top YouTube channels, you will find that many of them stick to one topic.
For example, check out Derek Halpern's channel.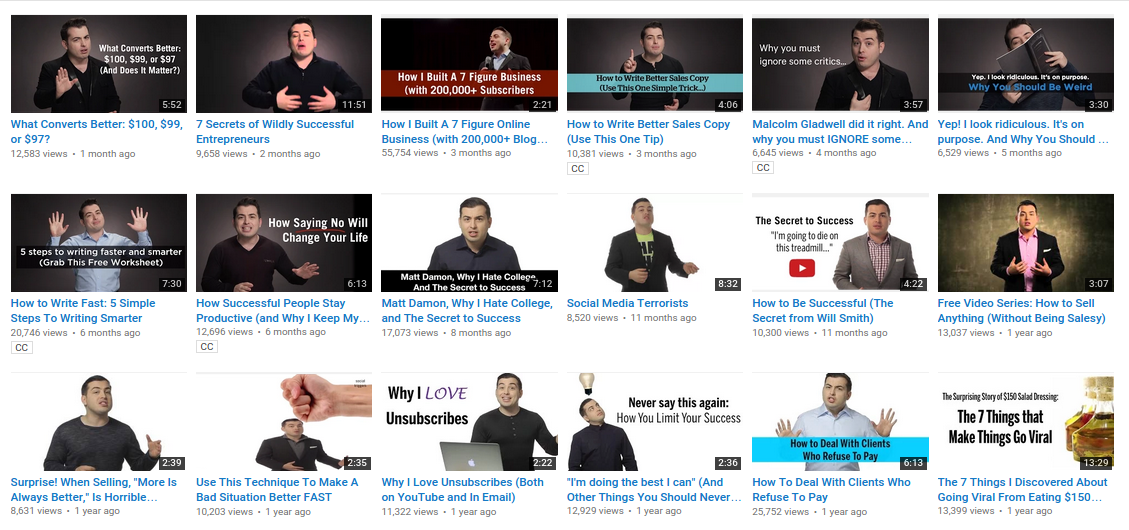 You can see that many of his videos are about specific topics related to business and success.
Having a topic will help direct all of your later endeavors when it comes to content creation.
If you set a topic, you can also make your channel a favorite place for people looking for specific content.
If your channel is focused on a specific niche, people who care about that specialty will be happy to become YouTube subscribers to your channel.
Because every time you post a video, they learn something new about their area of ​​interest - and thus learn more about a topic that they are passionate about.
For example, imagine that all of your videos are about Facebook marketing and your goal is to help business owners.
Business owners who want to learn more about Facebook marketing and who become YouTube subscribers to your channel will receive a notification every time you post a video on Facebook marketing.
In this way you give them the opportunity to always be one step ahead without investing a lot of work.
This is extremely important when you consider that 50% of small business owners don't have enough time to get everything done anyway.
If you're having a hard time figuring out a topic for your channel, think about the problems your business is solving and who it solves those problems for.
Then produce some videos on topics that you think are most useful and that are aligned with your company's services.
Post interesting content
70% of marketers report that video gets more results than other forms of media.
If you want results like this, you need to learn how to create engaging content. .
If you can create great content, much of the work associated with increasing the number of your YouTube subscribers is already done.
YouTube subscribers sign up to be notified as soon as a new post is uploaded.
If your content is great, people don't mind hearing from you again because their first contact with you and your content was very positive.
It's worth subscribing because every time you click through to the video you get something that is valuable to you.
Be it a learning experience, entertainment, or both, your videos will be worth it for them to watch.
And remember, people take the time to watch great content. 75% of executives watch work-related videos every week.
If your content is really good, you too will benefit from the fact that 54% of management employees share content.
But, even if your videos are good, you may need to remind people to subscribe - but that's not particularly difficult.
So how do you produce great content?
If you want to create great content, you should focus on what is relevant to your target audience when producing the content.
Provided you stick to a topic as mentioned above, it shouldn't be too difficult to create useful content.
Let's say you want to create a channel that covers pencil drawing.
One way to find ideas is to search YouTube for the keyword "pencil drawing".
Over 3 billion searches are performed on YouTube every month. So we know we can find relevant data here.

If you enter the keyword, you will see suggestions.
These issues may now seem a bit general. So you could take one of the keywords and repeat the process again to get more concrete results.
For example, let's add the word "tutorial".

If you add the word tutorial, you get some more specific keywords.
The fact that these keywords appear in the suggestions shows us that people are looking for these videos.
Now, you could argue that there is a lot of competition for such keywords.
That may be true, but further down in the post we'll find out how we can get people to watch our videos despite the competition - so that shouldn't be our concern for now.
The great thing about the approach outlined above is that it gives you some clues to work with.
If you want to produce videos for a specific niche, this technique can be used to see what kind of videos there is already interest in.
You can also use the Google Keyword Tool to find new ideas for content. This works so well because there are similarities between Google search results and YouTube search results.
YouTube is also one of the largest search engines in the world - after all, if users want to find a video, they have to search for it, right?
Let's stay with the subject of "pencil drawing".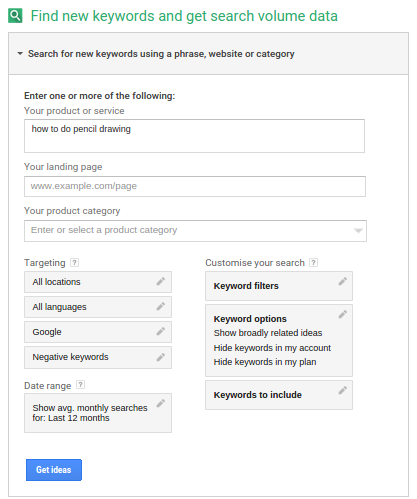 Enter a keyword in the "Your product or service" field that matches your company. If I run a business that teaches others how to draw with a pencil, I would type in, "How to draw with a pencil".
You should keep the keyword general at this point because the tool can give you a lot of ideas this way.
When you have entered the keyword, you will see this page. It shows multiple ad groups with keywords.
Each keyword group revolves around a specific topic.
As you can see, I've sorted the groups by "Average Monthly Searches" in descending order. This is how you can assess where there may be a lot of competition.
Let's click on the middle group "Drawing Techniques".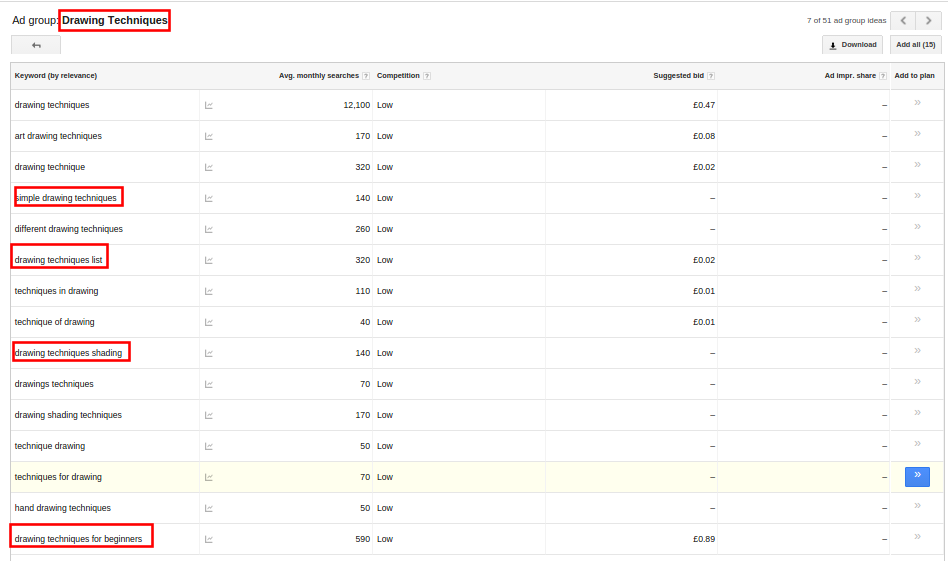 I've highlighted a few keywords that could represent good content on YouTube.
I picked these keywords because you can clearly see how you could create a targeted, high quality video around these keywords.
You may think that these keywords don't have that many search results and are therefore not worth the effort.
However, keep in mind that you won't just post a few videos and then be done with it.
In order to get a lot of subscribers for your channel, you usually have to post a lot of videos.
The largest YouTube channel has over 2,466 videos.
If you do that and your content is also relevant, you need to specialize your content as well as possible so that your viewers learn something new from each of your videos.
And when you specialize, it's only natural that the number of searches per month will decrease.
Plus, even if you focus on keywords that are rarely searched for, all of them will help add some momentum to your channel and make you feel at home in a YouTube niche.
You will also find that a lot of people have not produced good videos for many smaller keywords.
Only 9% of all US small businesses use YouTube. So if you want to produce business content, this is an excellent option.
Look what happens if I type in the keyword "simple drawing techniques", for example.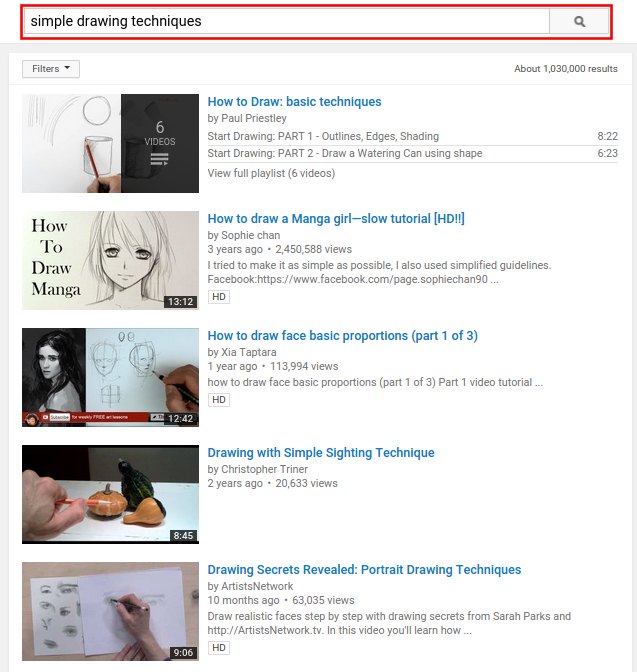 There is a playlist, but otherwise there are no great headlines at all, let alone videos that are all about "simple drawing techniques".
Another tool you can use to improve the quality of your videos is production quality. But that's not really a priority yet.
As long as your videos add a lot of added value and provide the viewer with the information they need, you're doing it right.
Once the videos start making money, you can focus on the production quality.
However, here are a few words of caution.
You have to make sure that your words are easy to understand. It is important that you speak clearly and enthusiastically. You have to protect your voice.
Otherwise, people may not understand what you are saying and in the worst case scenario, they may even be bored.
You don't have to play an extrovert; just make sure your voice doesn't sound monotonous.
If you record your video with a cell phone or laptop, the microphone may not be good enough. Then maybe you should invest in a good quality external microphone.
But first try out what it sounds like before making this purchase.
You should also make sure that whatever you record is easy to watch.
You don't want to make it difficult for your viewers.
This means that you should always pay attention to the right lighting.
If you record yourself from the front and speak into the camera, make sure that your face is clearly visible.
If someone else picks you up, make sure the camera doesn't shake.
If you record your laptop screen, make sure that your actions can be clearly seen and everything you type can be read.
When editing videos, you have several options. When we talk about video editing, we mean improving the style of the video, rather than fixing minor bugs.
Most of the time, you make minor mistakes when recording your video. You don't have to be extremely careful about getting rid of these little flaws as they won't actually harm your video.
In fact, they might actually help your video as viewers notice that they are dealing with a real person.
Editing may be easier in cases when you need to make cuts in your video or add a title screen.
If you're not a trained video editor, you could hire someone from Upwork or maybe even Fiverr to do this.

Alternatively, you could buy a video editing program and learn to do it all yourself.
This method may save you a little more money, but it may take a lot more time to learn how to edit videos yourself.
Depending on the situation, this may not be the best compromise.
As mentioned, you shouldn't over-edit your videos, but give them your own style to stand out from the crowd.
Often times, the easiest option is to have an Into and your own title screen.
Another way you can create amazing content is by creating videos about your products.
Demo videos can go a long way if you want to show that your product is really worth buying.
Indeed, it would be good to think about creating a few demo videos considering that 78% of internet users do product research online.
You can even create videos from some of your blog posts. 59% of executives would rather watch a video than read a long text.
Okay, so these are the basics of creating incredibly great content.
The next point is very important if you want to make sure that the number of your YouTube subscribers continues to grow.
Post often and consistently
That's probably the hardest part of getting YouTube subscribers - although it's also one of the most important.
96% of all B2B companies plan to make video marketing an integral part of their strategy. Posting content consistently is a great way to keep up with the competition.
And if you keep posting new content, people have a reason to subscribe to your channel.
After all, if you stop uploading videos, people are less likely to subscribe - why should they?
If you follow the tips above, it shouldn't be difficult to come up with ideas for posting new content.
All you have to do is create a schedule and stick to it.
How often should you post?
If you want to make it easy for yourself, you could take a look at the competition and then outdo them.
Often times, however, the best plan is the one that you can stick to.
So you can also set up a schedule that you can actually stick to. However, it is important that you do everything in your power to stick to this schedule.
Consistency is important because it ensures that existing subscribers keep coming back because they want to learn more.
This leads to more video views and you also get more reactions to your video.
There are the following reactions to your video:
Thumbs up or thumbs down
Share on social networks
Subscribe to
Leave a Comment
Favor
Ideally, you will improve the level of responsiveness in each of these categories.
People like to respond to YouTube content, and did you know that over 100 million people perform a "social act" on YouTube every week?
You will also be surprised to learn that 92% of those who watch videos on mobile devices share content with others.
Also amazing is the fact that 700 videos are shared on Twitter every minute.
A strong response helps make videos more visible in the YouTube search engine.
As you can probably imagine, your video will reach more people who can then become subscribers to your YouTube channel.
If you want to see statistics on how well your videos are being received, you can use the YouTube Analytics Dashboard.

You don't have to be at the computer all the time to keep posting content. Because you can use the scheduler set up by YouTube to publish your videos.
In order to get access to this feature, you must first turn on monetization for your videos. This means that you are ready to show advertisements in your videos.
Don't worry if you don't want any ads. You can determine which videos are monetized and which are not.
Let's see how that works.
Sign up for a YouTube account and then go to the "Creators Studio" section.
Select "Monetization" in the left sidebar under "Channel".

Click on "Activate my account".
When you have done that, you will have access to the time functions of YouTube.
You also have access to many other analyzes.
To schedule a video, click "Upload".

Then click on the drop-down menu and select the "Scheduled" option.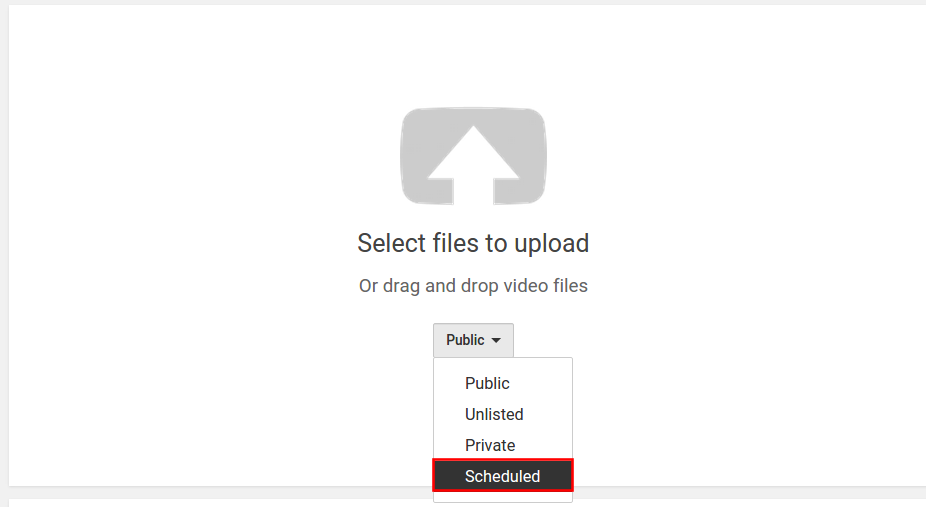 Drag and drop the video or click the button to upload it.
On the next screen you can set the details at the time.

Now all you have to do is enter the day and time when the video should be published.
YouTube subscribers to your channel will be notified as soon as your video is online.
It's also a good idea to schedule this video on your social network's management platform, if you have one.
This ensures that tweets, Facebook updates and LinkedIn posts are sent when the video is uploaded.
If you have an email list that is relevant to your video, you may be able to send them a message as well. After all, news with a video increases the likelihood of being viewed by 19%.
It would be good to send the messages a bit apart so as not to bombard people on multiple platforms at the same time.
If you find it difficult to produce a lot of content every day, you could break a few of your longer videos into smaller ones.
For example, you cover several topics in each of your longer videos.
You could choose specific topics and then create mini-videos on those topics.
You can watch it on the Inside Quest channel.
Here is one of their videos. Note that it is almost 49 minutes long.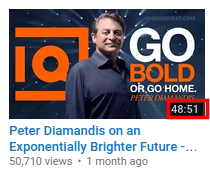 Although the average visit to YouTube from a mobile device is 40 minutes, such a long video can be potentially intimidating to someone new to the channel.
You will observe that a video is broken up into several "climax clips" on points of interest and topics.

Notice how short each of these videos is.
59% of viewers will watch a video to the end if it's under a minute.
Short videos are a great way to introduce people to your channel by giving them a taste of your content.
78% of all people watch online videos every week. So there is a good chance they will come back to see more of your videos if they are good.
Create some timeless videos
A great way to continuously attract subscribers to your YouTube channel is to produce timeless videos.
These are videos that are relevant, regardless of whether they are viewed today or 5 years from now.
This is more true of some niches than of others.
For example, I was talking about pencil drawing earlier, there is of course a lot of timeless content.
Timeless content is mostly topics that are intended for beginners.
Much of the "howto" content is timeless.
When you look at it like this, you can more easily understand how to produce timeless content.
So take a look at your niche and see if you can produce some "howto" videos that will be interesting in a few years.
Even if your goal is not to produce timeless content, it is worth creating some "howto" videos because they are viewed 70% more often every year.
In the first four months of 2015 alone, 100 million hours of "howto" video were viewed - there is a lot of demand for this type of content.
Get people to click on your videos
Even though 80% of executives watch more online videos than they did a year ago, you still have to get them to watch your video.
Because before YouTube subscribers can subscribe to your channel, they have to click on your videos.
No matter how good your video is, if it shows up in the YouTube search engine or in the sidebar, it has competition from other videos.
So how can you get people to pay attention to your video and click on it.
There are three things to focus on - the picture, the headline and the description.
These three points have the greatest impact in getting YouTube users to click on your videos and, as a result, become YouTube subscribers.
They improve your rankings on YouTube. As a result, the videos will attract more YouTube users to click on them.
Just as you should spend a lot of time formulating the headings in a blog post, you should also spend a lot of time writing the headline of a video.
How do you write a good headline for your video? If your video is about a specific keyword, it is important that the video title reflects that keyword.
This way, you increase the likelihood that someone will click on your video.
If the title of the video matches what the user was looking for, assume that the video covers everything they need to know.
Of course, that doesn't mean you should be ridiculous when writing your titles.
Keyword overcrowding can do a lot more harm than good.
One way to work around this problem is to use a colon.
We set a keyword earlier - "simple drawing techniques".
If we had a video on the subject, we could phrase the headings like this - "Simple Drawing Techniques: 5 Tips To Make Drawing Easier".
Note in the margin:It would be an interesting experiment to break down the "simple drawing techniques" into individual specialties.
For example "simple drawing techniques for cars" or "simple drawing techniques for eyes".
This is a great example of how you can take out a large niche or a keyword that is getting a lot of traffic and create opportunities within that niche.
As mentioned, you have to experiment a bit if you do it this way. But you never know what opportunities you will open up with it.

As you can see in the example above, a colon is used in the title of the video to subdivide the text.
You will also see videos with the "|" symbol.

You have to try which method works better, although this symbol may serve a similar purpose, again colon.
When creating YouTube headlines, you should follow the same rules that apply to blog posts.
You need a mix of things people are looking for, but also something that gets their attention.
To do this, you can use the keyword your video is targeting in the headline and then fill in some effective words in the gaps.
As we discussed earlier, the style of your videos affects your headline. If you have a "howto" video then you need to include that in your headline.
Similar to blog posts, numbers in YouTube headings tend to work well too.
When it comes to the picture / thumbnail, you have several possible approaches.
The first is to show a clear picture of what the video is about. So when you talk about laptops, for example, you show a picture of a laptop.
Like here:

Alternatively, you could show a photo of someone handling the thing the video is about.
As in this example:

A more important method in creating video thumbnails is to edit them so that they have some text.
Here's an example of what that looks like.

You don't just have to paste text. You can also modify the thumbnail image so it really stands out.

Here's another one.

If you want to create such thumbnails, you should follow these rules.

You can create a thumbnail using Canva.
Go to the website and become a member.
If you are a member, you will be shown various options with which you can create an image.
If you'd like to learn more about using Canva, you can go through their setup process.
However, it is not that easy to set the dimensions here.
It may be a good idea to go to the Canva home page first so you can see the bottom screen.
There you can select "Use custom sizes".
Canva doesn't have a preset option for YouTube thumbnails, so you could use the guidelines outlined above.
This means that images must be 1280 × 720 pixels in size.
Enter the dimensions mentioned and then click on "Design!".
You can now design your thumbnail image.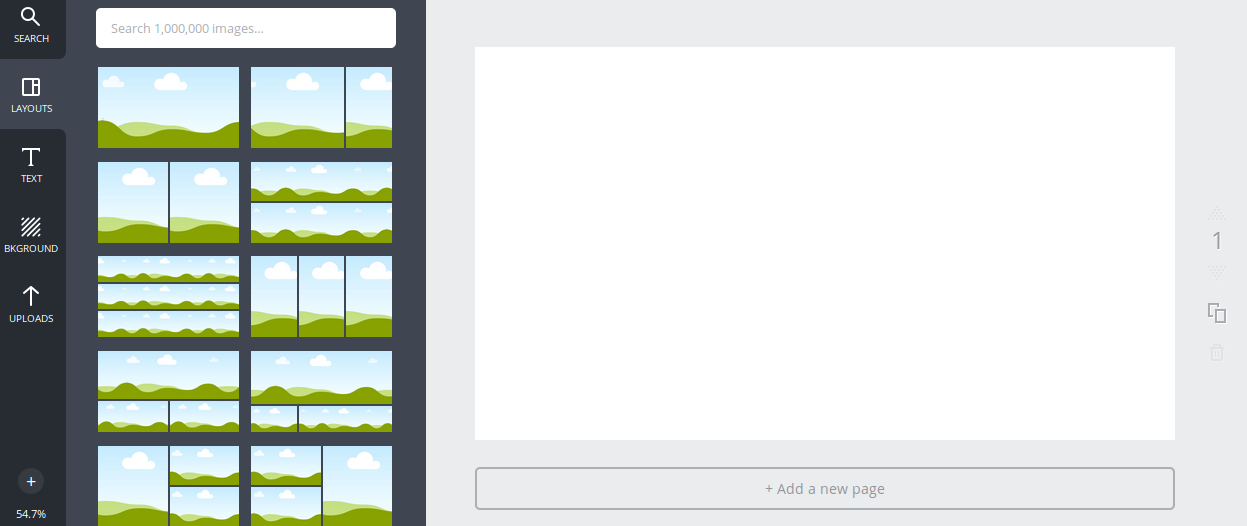 This is where you can experiment and have to try a few ways to get a feel for how it works.
If you have your own images, you can upload them to Canva and then add text.
I just explained how to recreate a simple thumbnail. Of course, you can make something much better than this.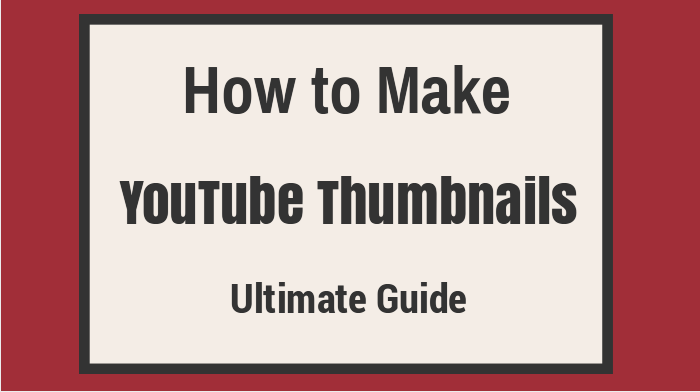 If you want to upload an individual thumbnail for a video, then follow the upload process.
On the page where you can set the video information, select the option "Custom Thumbnail".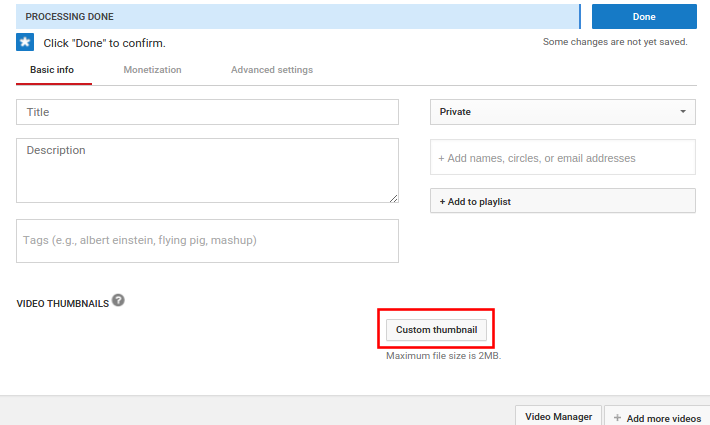 Then you have an individual picture that is displayed on the YouTube platform.
When creating a description for your YouTube videosthere are many things you can focus on. That could in itself be a contribution in itself.
Keep in mind that you have a lot of space, and that YouTube usually uses your description to rank your content.
The first few lines of your description should be written so that they can be easily read in search results.
Here's a great example.

At this point, you may want to use some of the keywords that you used in your title. This way you can make sure that the two go well together. This also improves the ranking of your videos.
When people click on your video, they can choose "Show More".
Then the description works. You can use this space to insert a "Subscribe to this channel" link.
If you want to do that, use the following link format:
https://www.youtube.com/subscription_center?add_user=
Don't forget to add the name of your channel after the "=".
For KISSmetrics that would be:
https://www.youtube.com/subscription_center?add_user=Kissmetrics
When people click that link, they'll be taken to your channel's page where a Subscribe box will pop up.
You can also include additional information in the description, such as: B. Your other social media profiles, important links and even when and how often you upload new videos.
You can also describe the things your video is about like this:

You could even mark specific time periods in your video. So: 21:48 - How to prevent Google from penalizing your website.
These timestamps will redirect users who click on them to that point in the video.
Remember - 65% of executives visit a seller's website after watching their video. Make sure it is easy for people to visit your page, and include a link in your description.
It's also important that you give your video some tags. This will increase the likelihood that your video will appear in the YouTube search engine.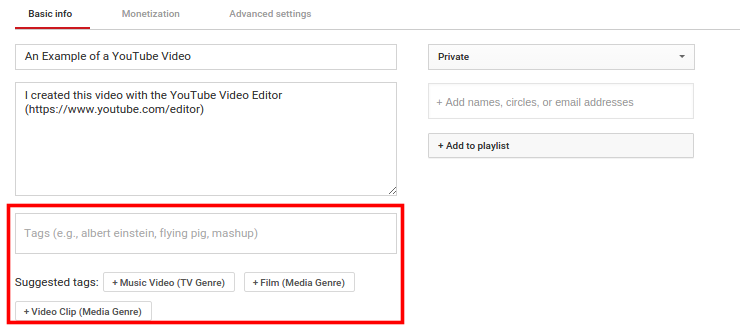 You shouldn't choose anything misleading here. Use some specific tags that describe your video. Also pick some general ones that are genre-related anyway.
It doesn't hurt to use some of the tags suggested by YouTube, as long as they actually fit the content of your video.
Use notes
Another highly effective way to increase subscriber numbers is through the use of annotations.
You have probably already encountered YouTube video annotations in one form or another while browsing the platform.
It's the little boxes that appear in the videos.
Like this video by James Wedmore:
When people click that note, they will be taken to the following page.
This is an extremely effective way to increase the number of your YouTube subscribers.
Let's see how you can do this with your own videos.
Go to the "Creator Studio".
Click on "Video Manager".
Select the video that you want to add annotations to.
Then select "Annotations" from the "Edit" drop-down menu.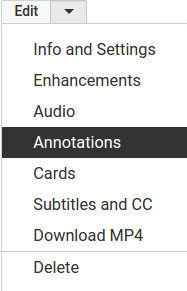 Then you should see the following screen.
To add a note, click on "+ Add Note".
Aside from the "Title" option, you can create a link for any of the options listed.
So, you might want to experiment a bit to see what kind of annotation works best for you.
I choose the "Speech Bubble" option because it is the most noticeable.
Enter some text in the text field. This is then your annotation text.
You can experiment with the color of the text and the speech bubble.
Surely it would be good to take something that stands out. What stands out, however, depends on the colors that appear in your video.
YouTube has this to say about choosing the color of your annotation:

Since my video has a black background, I choose the following setting which I think gives the best contrast.
Once you've added some text and set the colors accordingly, it's up to you to decide when the annotation will appear.
As with most things, it's best to experiment a little with this too.
Logically, it would be best to include the annotation towards the end of the video when asking people to subscribe to your channel.
At the beginning of the video, people don't really have a reason to subscribe to your channel because they don't yet know your content.
If you put your comment at the beginning of your video, there is a risk that it will distract people or even upset them.
YouTube says the following about annotation duration:
If you put your comment at the end of the video, you can fade it in for more than 5-7 seconds.
That's because you earned the right because the content was good - you know that because your viewers stayed through to the end.
The exact position where the annotation should appear depends on your video.
For example, with some videos, you'll find that people point to a specific section of the video when they ask the audience to subscribe.
The place they point out or mention is usually where the subscription box is.
If you do that, you should be careful that the two go together.
If you don't, YouTube recommends the following placements:
When you've done all of that, click on the link option.
Select "Subscribe".
Then you have to enter the channel name in the text field. You don't have to enter the exact web address - just enter the name of the channel.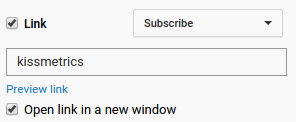 Click the preview link to make sure everything is set up correctly. If that's the case, you should be redirected to the channel page and the subscription box should open.
Just like here: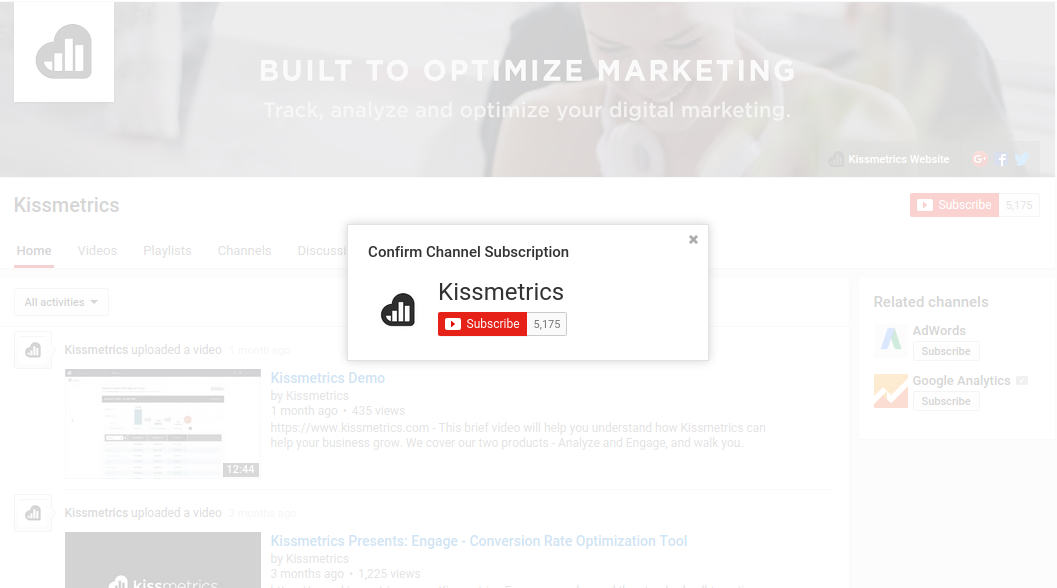 When you have everything set up the way you want it, just click on "Apply Changes".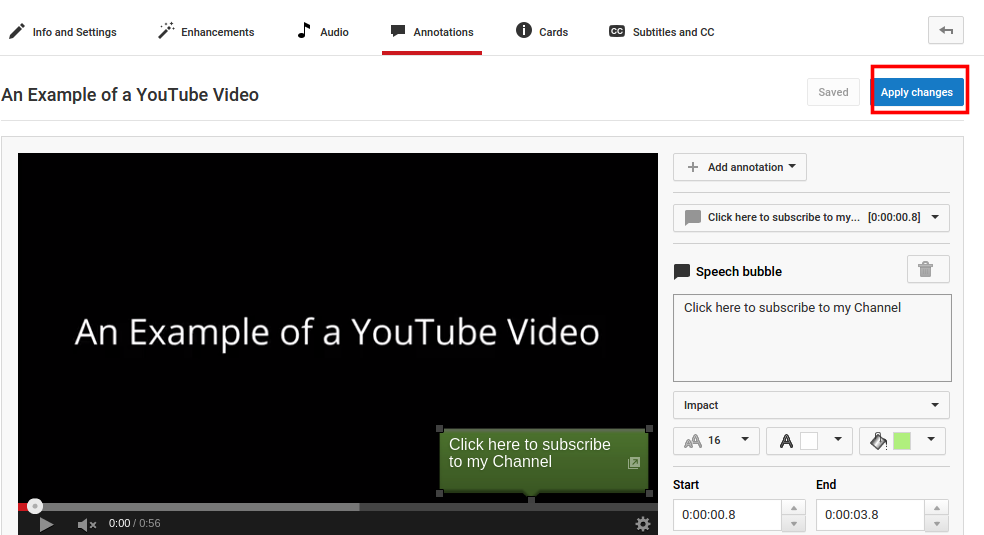 If everything was saved correctly, the button should then change as follows:

Don't forget to test your video to make sure the annotations are doing what they're supposed to.
You can also use YouTube cards. This feature is less direct, as you cannot use it to create a subscription pop-up like with the comment.
However, it can still be useful to insert it in the middle of your video.
For creating a YouTube map, you would do the following.
Select the "Video" option in the "Video Manager". Click the edit drop-down menu on the video that you want to add the card to.
Then select the "Maps" option.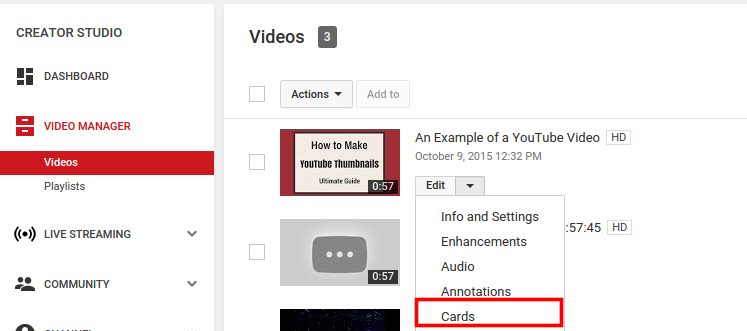 Then you should see this screen.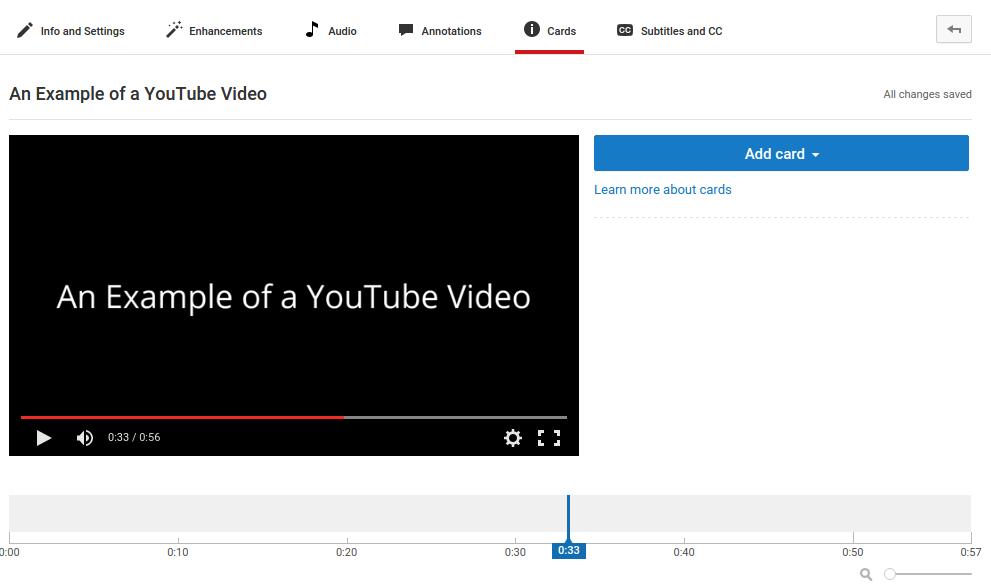 Click on the "Add Card" option and then select "Channel".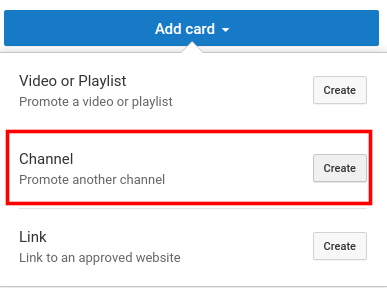 Enter your channel name and a text.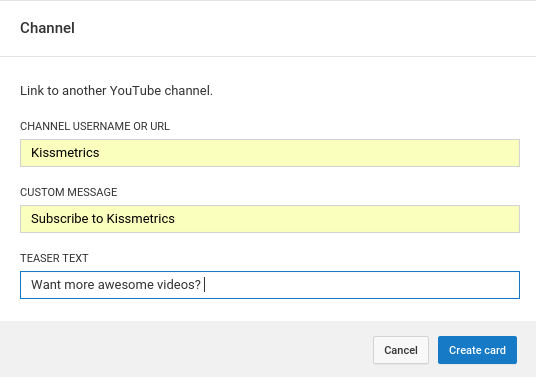 The teaser text is the text that appears on the small graphic that appears in the video.
It will look like that: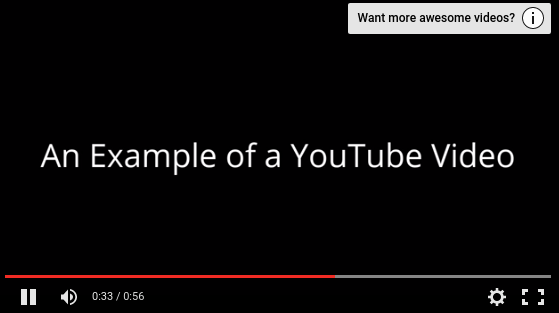 If you want to set when the card shows the "teaser text", adjust the slider below.

However, you will notice that the "i" is always visible in the video.
When people hover their cursor over the "i", this is what they will see.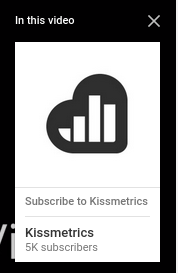 This card will also appear at the time you selected above.
When users click on it, they'll come straight to your channel. However, no subscription box opens.
Interact with your audience
Another way to increase the number of your You Tube subscribers is to interact with your audience.
There are several possibilities for that.
The first is to respond to every comment you get for your video. Then people will feel that you value their opinion. Also, the fact that you are making this effort might encourage them to subscribe.
You could also see this as customer service that improves the user experience.
When you look at it from this perspective, you're capitalizing on the fact that 22% of people post positive things about a company after previously sharing something negative - and that's only because they got a response.
If you get any negative comments for your YouTube videos, you should deal with them quickly.
Ultimately, this leads to the increase in You Tube subscribers because people see this reaction to your videos and appreciate that you take care of them.
The second option is to organize a question-and-answer session. You can do this with Google Hangouts. Perhaps, at the end of a video, you just ask your viewers to ask their questions in the comments section.
Then, in the next video, you could spend some time going through the questions you received.
Another way you can connect with your viewers is by creating custom videos. For example, you could ask your viewers what topic to talk about.
Based on the suggestions of the viewers, you can then create a video and address the suggestions.
Think about a cooperation
When it comes to increasing your YouTube subscribers, you can also collaborate with others.
Cooperations can greatly support your marketing efforts.
If you do things the right way, you might end up in the 18% of all companies that describe their video marketing as "very successful".
The best practice is to find channels that have similar audiences.
You could then organize an event where both can benefit from working together.
YouTube recommends the following about collaborations:
When collaborating, it's important that you encourage people to become YouTube subscribers to your channel.
It is also important that the videos that you publish immediately after the cooperation are so great that they justify the decision to become a YouTube subscriber.
Alternatively, you could consider conducting interviews. If you can interview top people in your niche, you can attract their audience to your channel.
If your channel has a decent number of YouTube subscribers and is growing continuously, you will have more and more such opportunities.
Of course, that shouldn't stop you from trying it out.
Email a few people who might be worth having on your channel and ask if they'd be willing to be your guest.
If they say no, respectfully ask them if they would be willing to do so once your channel has more YouTube subscribers. Perhaps they can give a rough estimate of when they would be attending.
Remember: You don't want to be rude, but there is nothing against asking if there might be an opportunity to do so in the future.
Use YouTube advertising
I've talked a lot about the use of YouTube advertising here.
In 2014, YouTube's advertising revenue was $ 1.13 billion - people are spending their money here for good reason.
It seems that users actually watch the ads, as ComScore found that every person watches an average of 16 minutes and 49 seconds of online video ads per month.
For it to work, you should address the keywords that your videos are about.
This ensures that your videos will appear at the top of search results when people type in that keyword.
If you have a plan for how you want to make money on your YouTube channel, this could prove to be a very powerful option.
Those who have a plan are likely among the 54% of B2B marketers who use YouTube for product launches.
Conclusion
YouTube can be a little intimidating as it is all about videos.
However, due to the high number of regular users, it would be a mistake to ignore the huge potential.
One of the keys to continued success on YouTube is to have a channel with lots of YouTube subscribers.
This also increases the number of people who watch your videos on a regular basis.
These views have a trickle-down effect because after watching your video, people get in touch with you as a company or individual.
When it comes to how you can increase the number of YouTube subscribers, you have to implement different strategies.
The most important thing is to produce exceptional content that will impress viewers so much that they will love to hear from you again.
In the next step, you have to make sure that the decision to click on your post is always made easy for people.
That means you should design great thumbnails and headings.
When people finally click on your video, let them know about the possibility of becoming a YouTube subscriber to your channel.
That means, you have to remind them with notes by mentioning the possibility to become a YouTube subscriber at the end of your video.
However, once you've followed these basics, you can experiment with collaborations and YouTube ads.
If you put in enough effort, YouTube will offer you undreamt-of possibilities in the future.
All you have to do is get started!
What suggestions for increasing the number of your YouTube subscribers did you find useful?