Which country has the cheapest prostitutes?
Greece 2017 - sex for the price of a sandwich.
As reported by CretePost, citing the Washington Post and the Times, young Greek women are now selling themselves to clients for the price of a sandwich. After more than six years of painful troika-imposed austerity, Greece is on the verge of absolute financial ruin, according to a study published last Friday (how many actually - and how many more do you need ???? !!!) occupied.
The study, which compiled data on more than 17,000 "sex workers" working in Greece, found that Greek women are now dominating the country's prostitution industry, replacing Eastern European women. And that the sex that is sold in Greece is the cheapest in Europe. Is it a super place 1 !!!!(Editor's note: We ask you to forgive a slight cynicism in the reporting ...).
"Some women just do it for a cheese pita or sandwich because they're hungry"says Gregory Laxos, a sociology professor at Panteion University in Athens. "Others do it to pay taxes, bills, for urgent expenses or a quick drug"said Laxos, who led the three-year study.
When the economic crisis hit Greece, the rate for sex with a prostitute averaged 50 euros, Laxos said. Now prices have dropped to around two euros for a 30-minute session. That's how much a cheese pita or a sandwich costs…. According to Laxos, Greek women currently make up 80% of prostitutes in Greece. Before that they were mostly women from Eastern Europe (which doesn't make things any better ...).
He also says his extensive study shows that the numbers of desperate young women - those who offer the cheapest sex - seem to be on the rise. "It doesn't look like these numbers will drop anytime soon"he told the Times. "Rather, they grow at a steady and constant pace. "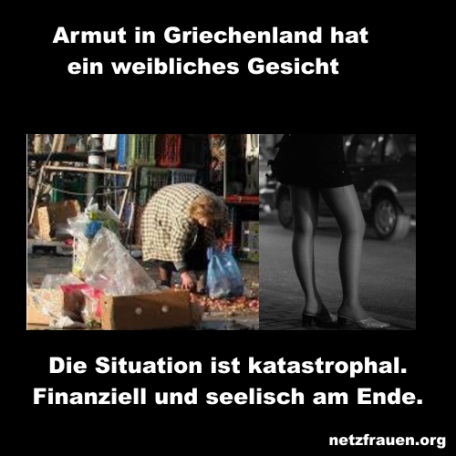 The price of sex is falling globally as the internet offers more and more sexual content online. The average price of 180 euros an hour (for whatever ...) in Europe has fallen dramatically, the Times continues to report.
Prostitution is legal in Greece, but few of the country's brothels are licensed, leaving many of the estimated 18,500 prostitutes in Greece trying their "luck" on the streets.
"The increasing number of girls who get in and out of this business depending on their financial needs and the total number of female prostitutes is alarmingly high.", says Laxos. The study shows that the age of the "newcomers" is between 17 and 20 years.
Laxos' study came almost exactly a month after a shocking report of an unemployed Greek mother who "made" her 12-year-old daughter "available" to a priest and pensioner for money. The 44-year-old mother was sentenced to 33 years in prison and a fine of 100,000 euros. The Greek media called the woman "monster mother" and the whole country was outraged.
Laxos believes that both this case and his study reflect a society that refuses to perceive the changes that are taking place. He even warns: "The state authorities must finally act instead of remaining indifferent ".
Radio Crete - what kind of world, what kind of Europe do we actually live in?