Which Facebook Ads Are Most Effective
Facebook is and will remain the leading social network in Germany - and thus, as an advertising space, continues to guarantee reach. According to the company, around 32 million Germans log in at least once a month. A good 23 million of them log in every day and are shown a variety of different advertisements. The tech giant from Palo Alto is the largest advertising platform in the world.
But which Facebook ads work best for your company and what should you watch out for? We'll show you using six examples from successful advertisers on Facebook.
Examples of Facebook Ads: What types of ads are there?
Facebook currently (as of July 2019) offers these ad formats, among others:
Image Ads

Video Ads

Lead Ads

Slideshow Ads

Carousel Ads

Collection Ads

Instant experience

Messenger Ads

Playable Ads
Since all Ads on Facebook and Instagram Must contain a picture Image Ads in a certain way the basic equipment of the ad formats. You can also use Video Ads will also use videos as advertising media.
Several such images or videos can then be saved as Slideshow Ads switch - Carousel Ads even allow up to ten motifs including different links. Collection Ads however, work more like a catalog with a fast-loading main subject.
Instant experience ads are full-screen versions of the ads and only work on smartphones. Messenger Ads are placed in the user's messenger mailbox. Playable Ads are video-format interactive ads promoting a trial version of a game app.
All ad formats have one central call-to-action in common, which is intended to motivate Facebook users to take a follow-up action. So when choosing the right ad format, the first thing you should consider is the goal that an ad is supposed to be working towards.
Facebook ads: the goal determines the format
Facebook itself points out that the different formats are each designed for very specific goals. An online shop that wants to present different products is better advised to use carousel ads or collection ads than simple image ads. Because this gives potential customers the opportunity to browse through the range directly in the timeline instead of having to be led to the shop itself.
At the same time, it can make sense for a single product to narrow the focus and only focus on a picture or video handy call-to-action to direct users directly to a landing page and deliver further content there. The desired marketing goal should therefore be considered when choosing the format Ideal to use ads on Facebook. Based on this, the creative material, i.e. image or video and text, must then be designed in line with the marketing goal.
Inspirational examples of Facebook ads
The following will show you how companies can successfully implement this Examples of successful Facebook ads.
1. Information to the point
Users are literally flooded with information in the network. The Facebook news feed is no exception - on the contrary, it is an endless string of visual input. Accordingly, those advertisements that stand out from the crowd, for example by communicating clear, unambiguous messages, have an advantage. That can be done with concise statements and minimalist design to reach.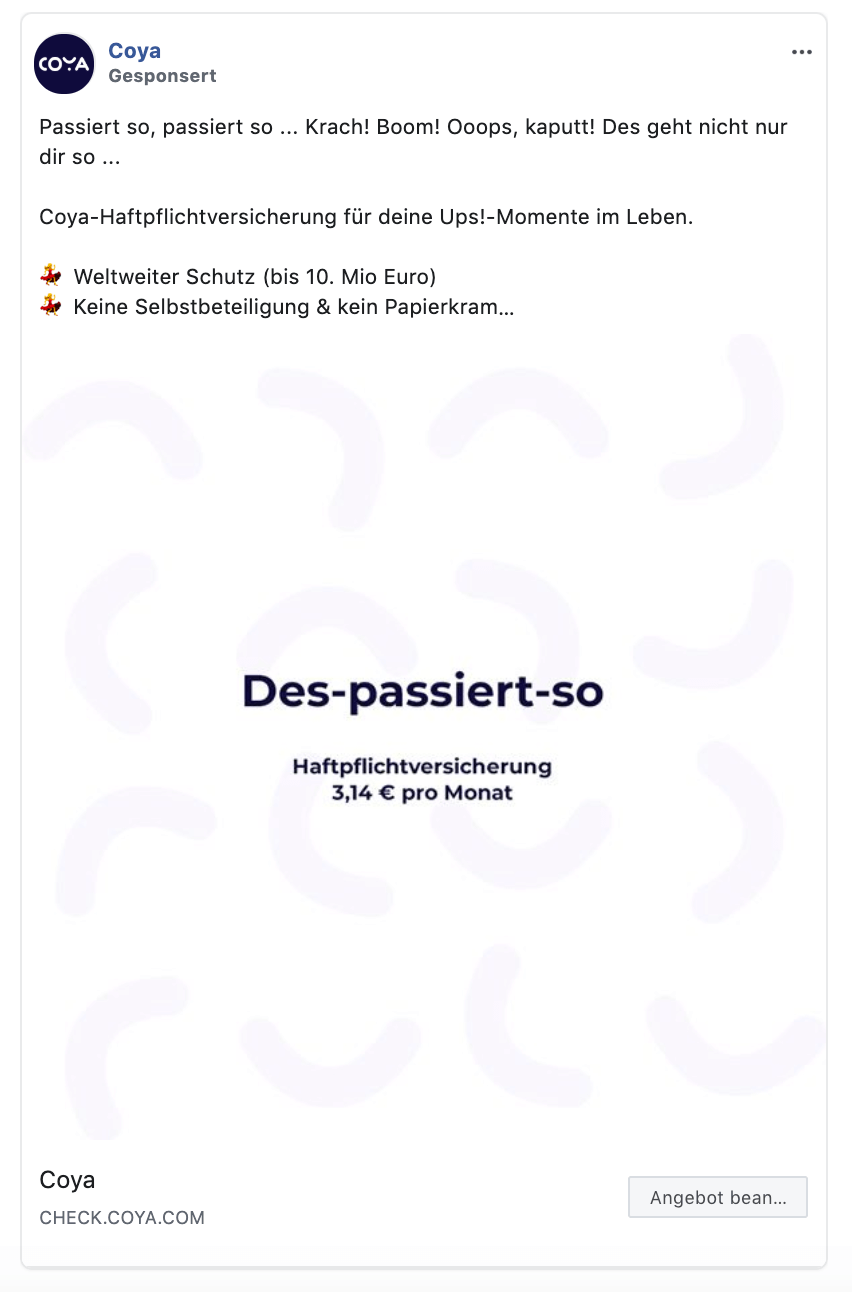 A good example is provided by the digital insurance company Coya, which communicates its offer in an understandable way at first glance - and attracts attention in the feed with a skillful play on words.
2. Clearly communicate benefits
Added value is a key success factor in online marketing. Only the content that is relevant to the user by addressing a specific need is competitive with the mass of content. This also applies to Facebook Ads.
In this sense, Briefodruck does without flowery words or creative slogans in its video ad and instead advertises a beneficial offer for its clientele. Accordingly, the heading says: "More Response". And the description also argues purely benefit-oriented when it offers 80 mailing inspirations.
The offer is then explained in more detail in the video.

3. Put on "Microinteractions"
Leafing through an advertisement like through a catalog - this advantage of the social media platform is ideally adopted by the fashion labels AEVOR and KAPTEN & SON. In this way, potential customers gain an overview of the product range as well as the prices before they even visit the actual shop.
In view of this, the description text takes a back seat and, in the AEVOR example, is reduced to the most important information for interested users. KAPTEN & SON, on the other hand, chose to address them directly to inform users about the products in their shopping cart. In this case, it is apparently a retargeting ad that is shown to shop visitors as a Facebook advertisement.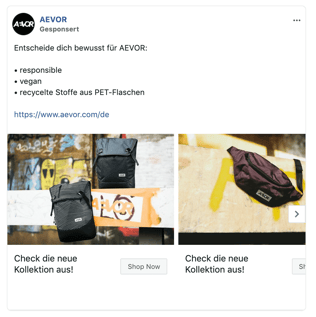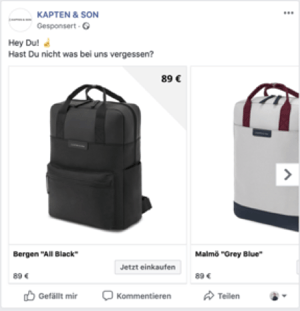 4. Use irritation as an eye-catcher
In information overkill, reduction and clarity can be an advantage, as the first two examples show. But targeted irritation can also attract attention. Marketers know that gaining attention comes before actually perceiving information. It is not for nothing that the well-known AIDA formula puts the A for attention right at the beginning.
Targeted irritation, for example, not only attracts the eye and thus the attention of users. In addition, this irritation also creates the desire for clarification or contextualization. The strange motif in the following example from Netflix almost automatically causes you to take a look at the headline - which informs about a new publication.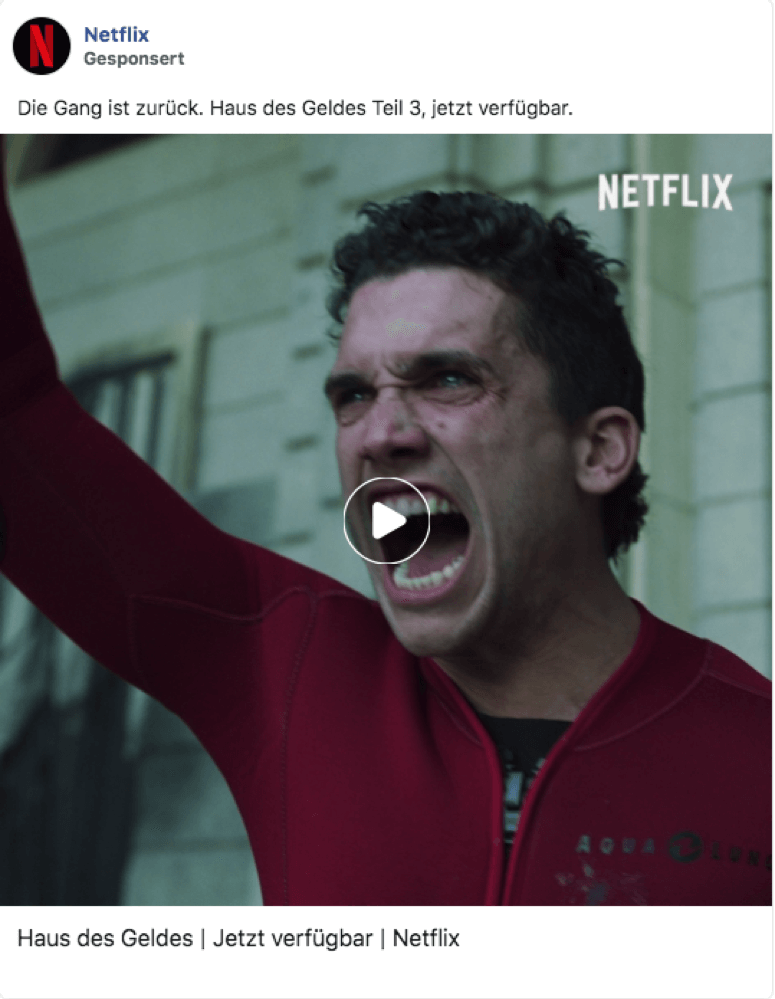 5. Involve customers directly with a question
Instead of a visual eye-catcher, a (provocative) question can also be used as bait to confront the targeted user with the content of an ad. Questions work much better than closed statements because they encourage the audience to think.
A question like "Would you rather earn more money or have more free time?" almost forces our brain to search for an answer. And after we have found this, we compare it with what the ad gives us. For example, the following ad from Google plays the ball to readers in this way.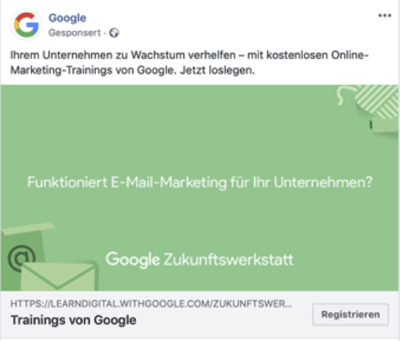 6. Address the audience emotionally
A recent study by Kantar Millward Brown showed that emotional advertising lasts the longest. If an ad is aimed not only at the rational part of the brain, but addresses the emotional level, the likelihood of success increases. Some companies are already using this knowledge in their Facebook marketing in a very convincing way.
In particular, this method is used in social projects or non-profit organizations - which regularly present us with emotional motives or strongly activating formulations. A similar example is provided by this Facebook ad from etepetete - which sends a clear emotional message with emotionally charged words such as "save" and "thrown away".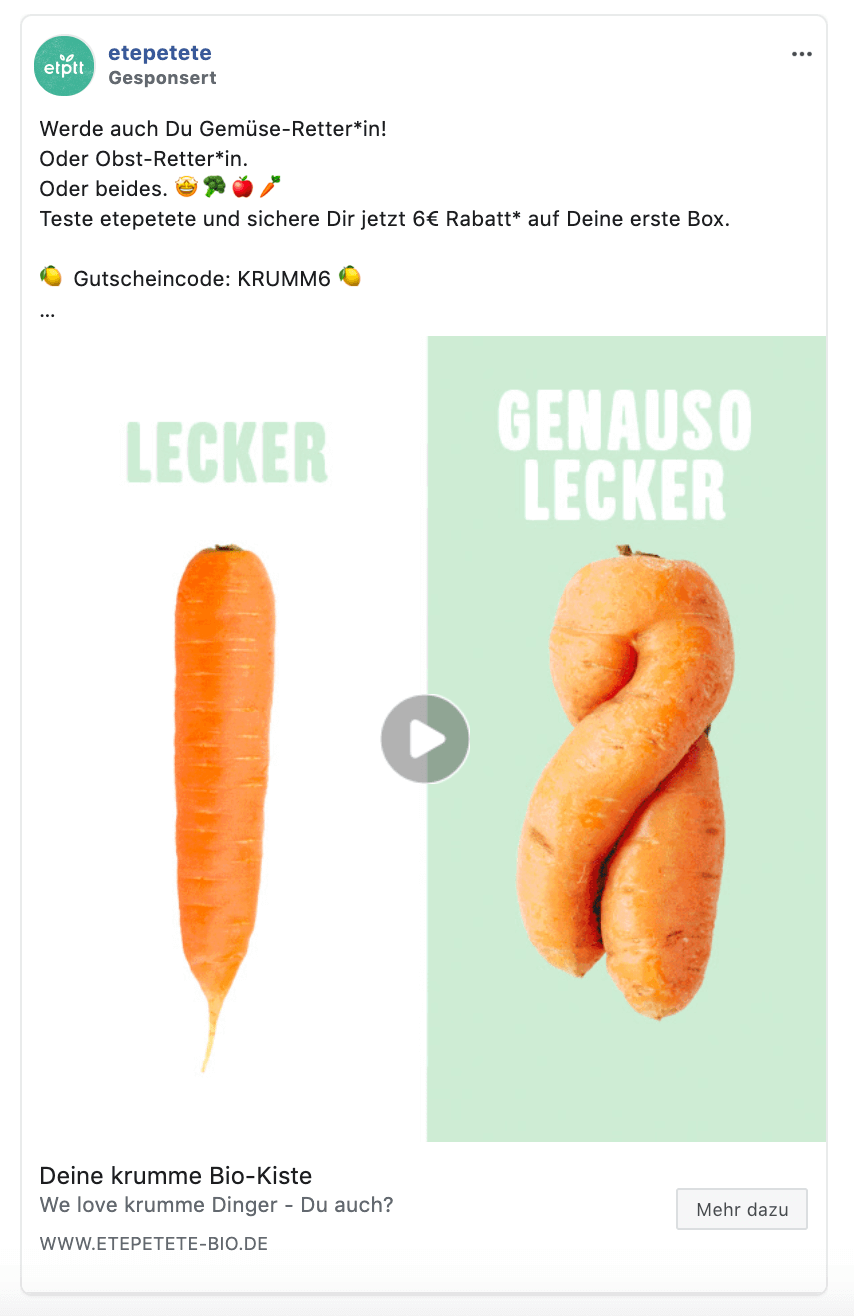 How to get ads on Facebook
In order to successfully place ads on Facebook yourself, you should first be aware of your goal. What behavior would you like to evoke in potential customers after viewing? Then you should check the various ad options to see whether they work ideally for this goal. When it comes to creating a specific advertisement, our examples provide you with important assistance:
While visually strong products that do not require much explanation, for example from the fashion sector, Visually staged directly via Facebook Ads In the case of services that require explanation, clear communication of the benefit can be just as effective as an emotional address, questions or a clever eye-catcher.
Originally published August 21, 2019, updated 11 February 2021
Recommend this article: