How can I market my business 1
How you can market your e-commerce shop with YouTube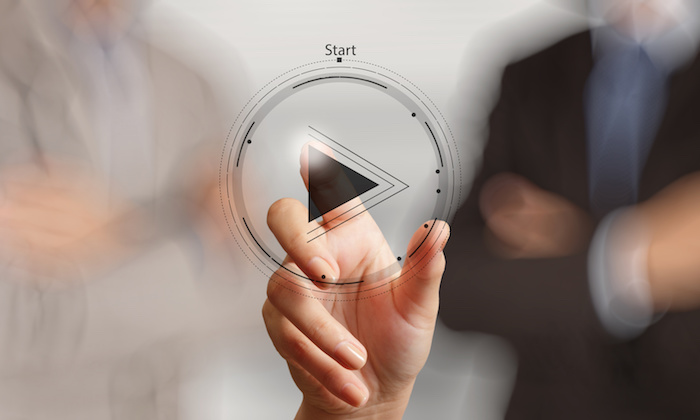 One of the best marketing channels for an ecommerce store is YouTube.
Yes, it's a bit strange to think of YouTube as an advertising platform, I'll give you that. But on YouTube you can present videos that really show the benefits of all of your products in a way that would otherwise not be possible.
In addition, YouTube is one of the most popular Internet sites. You can bet your ideal customer will spend a lot of time there. Of course, that doesn't help you very much if the search results only lead these customers to the e-commerce sites and products of your competitors.
So if you can figure out how to take advantage of YouTube, you have the opportunity to significantly increase the sales and growth of your ecommerce site.
If you've had problems with this up to now, you can breathe a sigh of relief now. There are proven solutions that are sure to give your online business the success you want.
In this post we look at how you can use the marketing for your e-commerce shop on YouTube and generate sales.
We'll go over relatively inexpensive methods. But I'll also show you a few approaches that deliver great results if you don't shy away from investing.
At the end of this post you will then know how you can use YouTube to market an e-commerce shop and be successful with it.
Let's start.
A clear approach to content marketing

YouTube is a great platform for content marketers as the audience is already using this search engine to consume content.
However, YouTube is all about videos. As you can imagine, many content marketers are reluctant to dig into videos.
The reasons for this vary. However, you should be aware that these perceived higher entry barrier represents an opportunity for you as a marketer and your e-commerce website.
Less competition leads to great search results, brand awareness, and possibly even new leads and conversions for your online business.
Even if there is a lot of competition in your industry, you will likely still get good results because many of your competitors may not understand as much about marketing as you do.
If you want to market your shop with YouTube, you should take the right attitude towards your content marketing strategy in advance.
What does that mean?
Content marketing is generally about creating content for people in different stages.
There are many customer stages. If you're new to content marketing, it can all get a little too much.
So to simplify it - imagine the whole thing like this ...
You have to create content that draws people's attention to your product / offer.
You need to create content that will convince people that your product / offering is better than the competition's product / offering.
Content marketing can be quite complicated. So there is nothing wrong with exploring other avenues - but these two approaches should help you focus your efforts.
How do you create content that draws people's attention to your product or offer?
Instructions are ideal.
People use YouTube to solve everyday problems and dilemmas.
The proportion of searches for instructions was actually 70% in 2015.
You can be sure that this number will increase even further in the future as more and more people use YouTube as a source of education and information.
It's important to find out what problems your ideal customer is facing and create content that meets their needs.
By doing this, you can make your content appear when people are looking for solutions to these problems.
If you are creating content that is about a specific problem, you can either show how your product can be used to solve that problem, or you can show how the problem can be solved otherwise.
If you choose the latter method, you can mention your product at the end and motivate people to look at what you have to offer.
Remember, your goal is to get attention for your product. Then you won't be under pressure to make direct sales with these video tutorials.
The good news is that many content marketers have found that how-to guides actually generate revenue as this content gets more and more people to see and get interested in your brand.
Luxyhair is a company that was able to reach a seven-digit audience with instructions.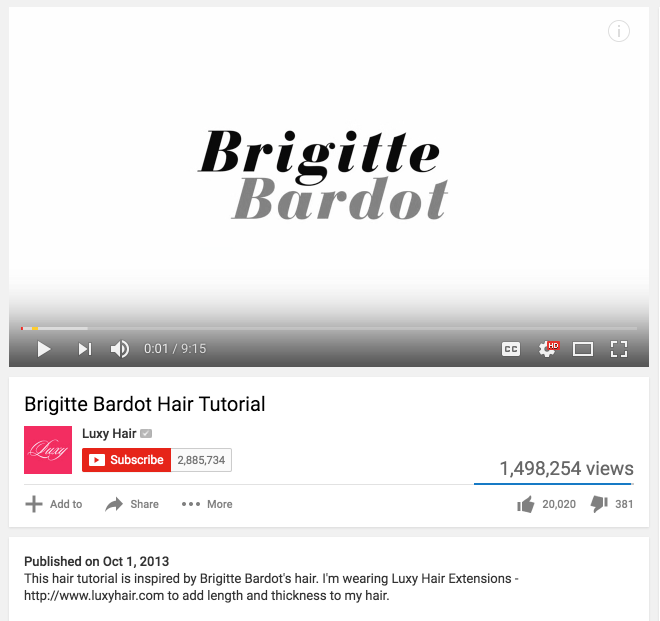 If you want to emulate this success, you have to understand your audience and know what interests them.
You can find out by talking to them.
You can also check out some of the best blog posts in your industry and create videos about those blog posts.
With Buzzsumo you can find such posts.
Let's say I have an e-commerce shop selling home decorations.
When I've spoken to my existing clients, I know that my target audience is renovating parts of their home. With this knowledge, I can create content and show people how to go about decorating the interior.
If I want to find good content on interior design, I can search Buzzsumo for "Interior Design Tips".
I can already see four topics that would look very good as a video.
If you want to create content that shows that what you are offering is better than the competition, there are several approaches you can take.
For example, you can show your product in action. With videos you can show everything that makes your product better. You can show why your offer is better than any existing solution.
You can also include case studies and customer reviews and show your customers' experiences with your product.
Videos like this are particularly effective because they show that your customers are different in spite of all the competitiondecided for your brand because your product is simply the best.
Microsoft does it that way with its Surface Pro 4 content.
If you take a closer look at these videos, you will find that they are basically nothing more than reviews in video format. Users are filmed discussing why Surface Pro 4 is the best solution out there.
You can do something like that with your offer.
You can even publish sales figures from your ecommerce store and show the benefits customers get when they switch to your product.
Paid ads
You can also use paid advertising to market your ecommerce store on YouTube.
With paid ads, you can quickly take advantage of the benefits YouTube has to offer.
Since it costs money, you have to be careful because you don't want to blow your budget upside down and end up with nothing.
Here I show you how you can create your own YouTube ads.
When it comes to YouTube ads, there are three things to look out for.
Your video
Your YouTube ad format
The target group orientation
The video you use to market your product depends on the type of ad format.
There are basically two formats that you can use with YouTube ads:
YouTube search ads
YouTube video ads
When you run search ads, you are less restricted in the style of your video.
You can sell something to the audience in the search ad and get them to interact with your video.
In the following screenshot you can see how this works.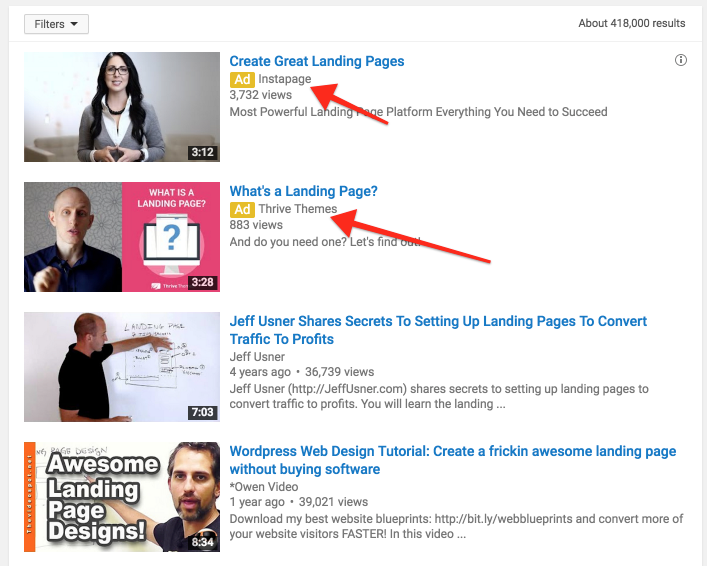 When you run video ads, you're under pressure to get viewers interested right away.
After five seconds, they can skip your video. So you have to make the most of this time.
The best way to do this is to make your viewers curious.
If your product has a distinctive feature that sets it apart from the rest, you should mention that feature right away.
That can tell a story or just show the feature.
Zagg, a company that makes screen savers for iPhones, created a video ad showing a key scratched an iPhone screen.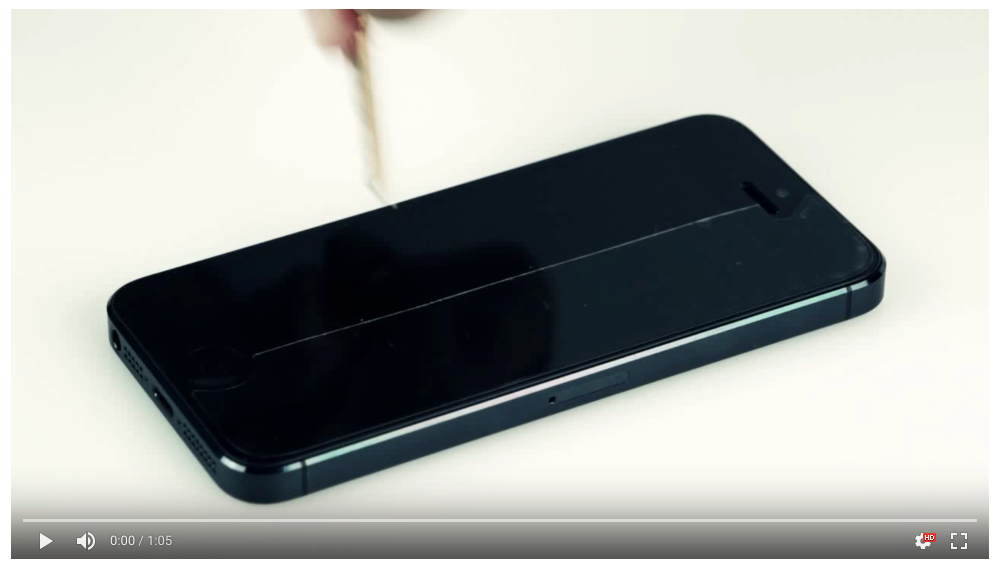 So you can imagine how effective the video will be when found by someone who is actually looking for a powerful screensaver.
With YouTube advertising, the company was able to increase its conversion rate by 75%. So the strategy was obviously successful.
If you want to use paid ads, your ecommerce store needs to be set up properly.
You need to make sure it's optimized for conversions so that the customer can easily add and check out products as they click through.
Enter into partnerships
Another way to market your ecommerce store on YouTube is to partner with other users of the platform.
With this strategy, you have to make sure that the selected person also fits your brand.
Both should share the same audience - even if you serve them in different ways.
You also shouldn't shy away from a smaller niche when contacting a YouTube channel.
A small YouTube channel with a concentrated fan base similar to your target audience often works better than a huge YouTube channel with a huge fan base.
You can partner with another YouTube channel in a number of ways.
For example, you can send free product samples to the operators of other YouTube channels.
If you think they liked them, you can ask nicely and unobtrusively if they could do a video review for your product.
The effort is well worth the effort considering the likelihood that visitors will search for it online after watching the product video is 46% higher.
Alternatively, you could offer to sponsor their show.
In general, YouTubers don't make that much money from ads. Other sources of income are therefore very welcome.
Unless you harm the relationship the YouTuber has built with their audience, most are open to sponsorship if your product is good quality and good for their audience.
You can sweeten the deal for the YouTubers by offering them a coupon code that they can pass on to their fan base.
You can also use affiliate marketing. Then the customers who buy something with the coupon provide the YouTuber with a partner commission.
You could also help the partner create content for their show by offering them a day with you.
This day can be a tour of your manufacturing facility and information about your company's history.
There is no obligation. You are not forcing them to post this content. But since YouTubers are YouTubers, they'll probably do that anyway. Good for you!
If you want to make the process a little less labor intensive, you can work with a platform like Famebit.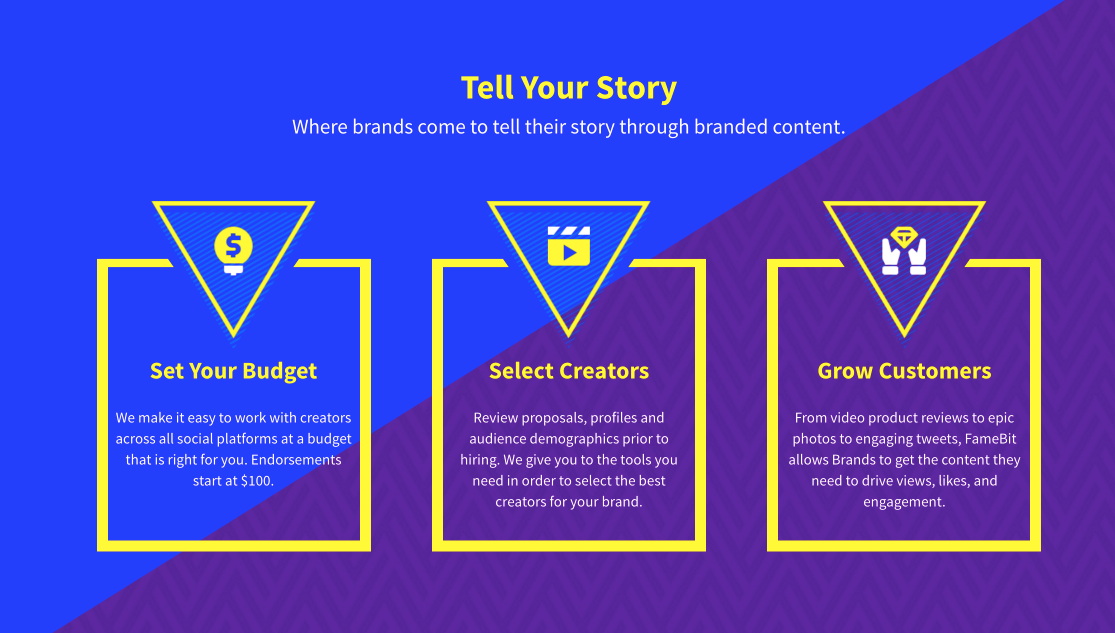 With this platform you can optimize the recruiting of influencers.
You should definitely try Famebit - the effort is worth it if you are interested in "influencer marketing".
The potential problem with such platforms, however, is that they can stifle your creativity when it comes to creating unique offers that YouTubers will find difficult to refuse.
In addition, you are paying for advertising and not recruiting real brand ambassadors.
If you can build a really good organic relationship with a YouTuber, then you can turn them into a brand ambassador.
Then he will talk about your product and promote it, even if he does not have any financial advantages himself. Of course, it pays off in the long run.
Conclusion
There are many ways to market an ecommerce store, and YouTube definitely has the potential to produce great results.
You now know that you can effectively market an ecommerce store with YouTube.
There are numerous approaches you can take. You don't have to focus on just one. Go "partnerships" or run YouTube ads.
The most important thing is not to sit idly until the train has left. Then you are wasting all the valuable time that you could have invested in marketing your shop.
Do you have any more tips for marketing an ecommerce store on YouTube? Please share them with me in the comment section.