Is Bali a good destination
Bali: Tips for your trip
Bali is the most popular island in Indonesia. Several million tourists flock to the island of the gods every year. And there are many good reasons for this: Green rice fields, Buddhist temples, great beaches, volcanoes, yoga, wellness, delicious food, a colorful underwater world and a variety of activities. Here are all the tips.
Disclosure: The article below contains referral links. If you buy or book something through these links, we receive a small commission. You have no disadvantage and you pay the normal price. You can also support our work and the further expansion of the site. Many Thanks! More info.
Island of the Gods or the Ballermann of Australia? In any case, Bali is one of the most popular travel destinations in Southeast Asia and is still the dream of many people to travel abroad. Conversely, of course, this also means that tourism has unfortunately now shaped the face of the island more than the local culture.
The south in particular attracted so many travelers with its postcard beaches that you hardly notice you are in Indonesia with all-you-can-drink offers and souvenir sellers. Beauty is a burden.
But that doesn't mean that they no longer exist, the powdery-fine beaches, the magical temple atmosphere and the green jungle forests. Here you can find out where you can still find quiet corners and where the next party mile is. Have fun while reading!
All tips for your trip to Indonesia
Inspiration: Most beautiful destinations ✭ Book a round trip ✭ Flights: Cheap plane tickets ✭ Travel planning: Indonesia packing list, best travel time, visa & entry, best travel credit card, travel guide ✭ Traveling with children ✭ Health: first-aid kit, travel health insurance ✭ On site: find hotels , Excursions & Tours, Train Tickets, Bus Tickets, Ferry Tickets
To the Indonesia blog
Travel tips for Bali
Bali - the name alone sounds promising like an exotic dream island. Today the Indonesian island is more of a package holiday destination than an insider tip, but that doesn't necessarily have to be negative.
The big advantage of extremely developed destinations like Bali is a good infrastructure. You can easily buy what you have forgotten, withdrawing money is no problem at all, the choice of restaurants and accommodation is enormous and there are international clinics. In short: the common tourist does not have to worry about a few things and can set off quite unsuspectingly.
The Australians are largely responsible for this. The short flight and the low prices have made Bali an incredibly popular travel destination for Aussies and thus gave the island the unflattering name "Ballermann of Australia".
The party crowd is mainly in the south, around Kuta and Denpasar. And if you study the map, you will notice that there is still a large piece of island left for those seeking peace and quiet.
So, as always, it's not as bad as people say. Nevertheless: Bali is completely developed for tourism and, like for Mallorca, there are hardly any insider tips.
Nor do we want to hide the fact that Bali (like many tourist hotspots in Southeast Asia) has a real waste problem. So much for the island idyll. But as always, only two things count: planning and expectations.
If you know what you want, just do some research beforehand to find out where you can get it. If you are a nature lover with a great need for peace and quiet, the north is the best place for you. If you feel like partying and a lot of people, you will be bored there and you should book your accommodation in the south.
Conclusion: Bali still has the potential to make every traveler happy! After all, around 3.5 million tourists book a holiday on the island of the gods every year. In addition, many digital nomads, globetrotters and dropouts have settled here permanently.
Worth knowing in advance
It is estimated that Bali has been inhabited since 1500 BC. Like many Indonesian islands, this was also temporarily occupied by the Dutch and Japanese until Indonesia declared its independence in 1945.
In 2002 and 2005, terrible bomb attacks rocked the tourist areas of Bali, and the local authorities assume that there were Islamist attacks. Since then, extremists have been cracked down on in Indonesia, so these attacks remained an exception.
And just by the way, in Indonesia there is religious freedom by law. Christianity, Islam, Buddhism and Hinduism are recognized - the latter is the absolutely predominant religion in Bali and the engine of everyday life for the Balinese.
The great spirituality is also evident from the number of temples, which is as large as hardly anywhere in Southeast Asia. About 20,000 sacred buildings are officially registered on the small island, the actual number is likely to be significantly higher, because it does not include temples that belong to a particular family, for example.
The importance of belief in Bali cannot be overestimated. In a constantly changing world and with a view to a future that is not always entirely predictable, Hinduism for many not only represents a belief in a higher power, but also gives people support and identity.
By far the most important branch of the economy is tourism; a large part of the Balinese earn their living working in hotels and restaurants, as transport service providers or tour operators. So you have an inkling of what catastrophe the corona pandemic must be for the island - we are talking about a loss of around 550 million euros per month (!), To name a house number.
Many people who supposedly had a safe and well-paid job have lost it because there are no more tourists. Anyone who has no savings immediately slips into poverty, as there is no state aid such as unemployment insurance.
The Balinese government wants to and has to take countermeasures and has started an extensive tourism campaign by inviting over 4000 influencers to spend a free holiday in Bali, and of course to promote the whole thing under "we love Bali".
Well, the desperation is understandable, but the fact that the tourists are absent is probably not due to a lack of interest on the part of the holidaymakers, but simply to the pandemic world situation. At the same time, however, there are also voices that argue for a sustainable new beginning in tourism and not simply want to continue as before.
We all hope, of course, that tourism in all of Southeast Asia will recover very quickly - also in a more sustainable way.
orientation
Bali is located in the Indian Ocean and is part of the Lesser Sunda Islands of Indonesia. By the way, Bali is a province that includes 85 inhabited and uninhabited islands, including the surfing paradises Nusa Penida and Nusa Tenggara. The capital of Bali is DenpasarThe international airport is also located there.
If you want to travel to Bali, it is helpful to know roughly which corner of the island and what to expect.
In a nutshell: The (mass) tourist center is definitely Kuta, which is also not far from the island's capital Denpasar. The largest range of accommodation and restaurants awaits you here, but little local culture.
South of Kuta is the Bukit Peninsula, which is best known for its great surfing conditions. You will also find many exclusive hotel chains here, if the vacation can be a little more luxurious.
North of Kuta you will find the small town of Seminyak, here it is a bit more upscale and orderly, but the price level is a bit higher than in other places. Further north is Canggu, the paradise of digital nomads and expats. The atmosphere here is incredibly relaxed, but the scarce transport infrastructure shows that most of the other westerners live here permanently.
Further inland is the village of Ubud, famous for its rice terraces, where you can get to know the Balinese culture best. A stay here in the middle of nature is wonderful, but there is no beach nearby. If you want to vacation completely away from mass tourism and black beach is completely to your taste, we warmly recommend the town of Lovina in the north of Bali.
Beaches in Bali
Whether black sand, postcard island dream or rocky snorkeling spot: Bali has something in its program for every beach gusto. Sure, an island has many kilometers of beach, and which one you will like personally, you will find out for yourself.
Among the most beautiful beaches are those on the Bukit Peninsula in the south, such as Dreamland Beach, Jimbaran Beach, Bingin Beach and Balangan Beach. With their powdered sugar beaches and great waves, they all offer perfect conditions for sunbathers and surfers alike.
If you like it more exclusive, you might stay in one of the posh hotels on the beautiful Nusa Dua Beach, which is also worth a visit for non-hotel guests.
In the east of Bali we recommend a visit to Virgin Beach, which is also characterized by postcard beach idyll.
In the west of Bali you will find the most beautiful beach with black volcanic sand, Balian Beach.
What you can do in Bali
We can understand the longing for a beach holiday, but a Bali holiday is far too good only for sunbathing! There is so much more to experience and see here than the sea and palm trees. Far away from Kuta and Denpasar there is a lot of nature to discover, and nobody should leave Bali without visiting some impressive temples.
The very photogenic rice terraces and sleepy villages are also worth more than a quick glance. Excursions can always be arranged with travel agencies or directly through your own accommodation without any problems. Please always remember to negotiate the prices for the transport beforehand!
Here you will find our detailed article about the most beautiful sights in Bali, for a little foretaste just read on.
Sightseeing in Bali
temple
Where should we start and, above all, where should we stop? We do not want to list several thousand temples at this point, but recommend the sacred highlights to you. You shouldn't miss the sea temple Tanah Lot, the time-honored Pura Taman Ayun and the Pura Luhur Uluwatu with its spectacular view and the monkey hordes.
Gunung Kawi royal tombs
The memorial was built for King Udayana and parts of his family and is one of the most beautiful and sacred sights in Bali. When visiting, please make sure to cover your shoulders and knees! Here you can read more details about the royal tombs.
Rice terraces
They belong in every tourism brochure for Bali, and if they are also available in other places in the world, they represent Bali like hardly anything else: the enchanting rice terraces. The best known are the Tegalallang rice terraces in Ubud, but there are others, for example in Jatiluwih.
The best tours, excursions, and activities in Bali
Mount Batur
Mount Batur is an active volcano at a height of 1717 meters, its ascent is one of the most popular excursion destinations in Bali. Rightly so, because fabulous views of the surrounding nature and the crater lake await you. Booking a guide is mandatory for this excursion! Read our experience report on the Mount Batur tour here.
Excursion to Ubud
Since "Eat, Pray, Love" at the latest, the small town of Ubud is no longer an insider tip, but a visit is still definitely worth it. Here you have the chance to catch a bit of rural and original Bali despite the tourist flows, as well as to get an insight into the local handicrafts. Here you can find our tips for Ubud.
Diving & snorkeling
Bali is not only a popular travel destination for swimming and sunbathing, the island has also attracted divers. There are extremely many diving spots with different levels of difficulty, and of course you also have the opportunity to get your diving license here.
Diving schools are a dime a dozen, it is best to find out which ones are recommended on site. Here you can find our report on the diving spots in the east of Bali, another article on diving in Bali from our colleagues at Indojunkie.
Scooter tour
If you want to explore the island in a hurry and perhaps visit one or the other insider tip, it is best to take a Bali scooter tour on your own. But always be careful and with a helmet, children!
surfing
Without question, Bali is a surfer's paradise. Both beginners and professionals will find a suitable place here to go into the water with the board.
Recommended reading: Surf Bali (book / e-book).
Eating & Drinking: Restaurants in Bali
Getting full is your smallest problem in Bali. The island cuisine is just as varied as the island itself. Local specialties are well-known dishes such as Nasi Goreng or Nasi Campur, as well as sate skewers (chicken with peanut sauce).
In Bali it is like everywhere else: where there are many tourists, there is more choice, but there it is also more expensive. Around Denpasar and Kuta there is everything you can think of, from fried noodles to Italian pizza and international fast food chains.
Rule of thumb: The more international and "fancier" a restaurant is, the less you should initially expect. Exceptions prove the rule, but you don't get the best food in the posh steakhouse, but at the Indonesian mom around the corner who cooks for construction workers at lunchtime and serves her food at the plastic garden table.
Away from the tourist areas, you can also get excellent local dishes for only 1-2 euros in small cookshops and street snack bars. In addition, Bali is also known for the large veggie scene. The area around Canggu in particular has a huge number of vegan and vegetarian restaurants. If you also do without animals, Bali could become your food Mecca.
Here you can find an overview of the best vegetarian dishes in Indonesia.
And here to cook: 38 great Indonesian recipes (book / e-book)
Night life in Bali
No surprise: Kuta also has the edge when it comes to nightlife. Party-loving people will find like-minded people on the beaches all the way to Seminyak. Under "night life" we generously include everything that includes music and drinks, because the spectrum is really huge.
From well-kept clubs and bars with a more upscale ambience (in which globally known DJs sometimes play in the main season) to drinking buckets on the beach - in Bali every demand is met with a corresponding supply. A drink at one of the many beautiful beach bars at sunset is of course highly recommended for everyone.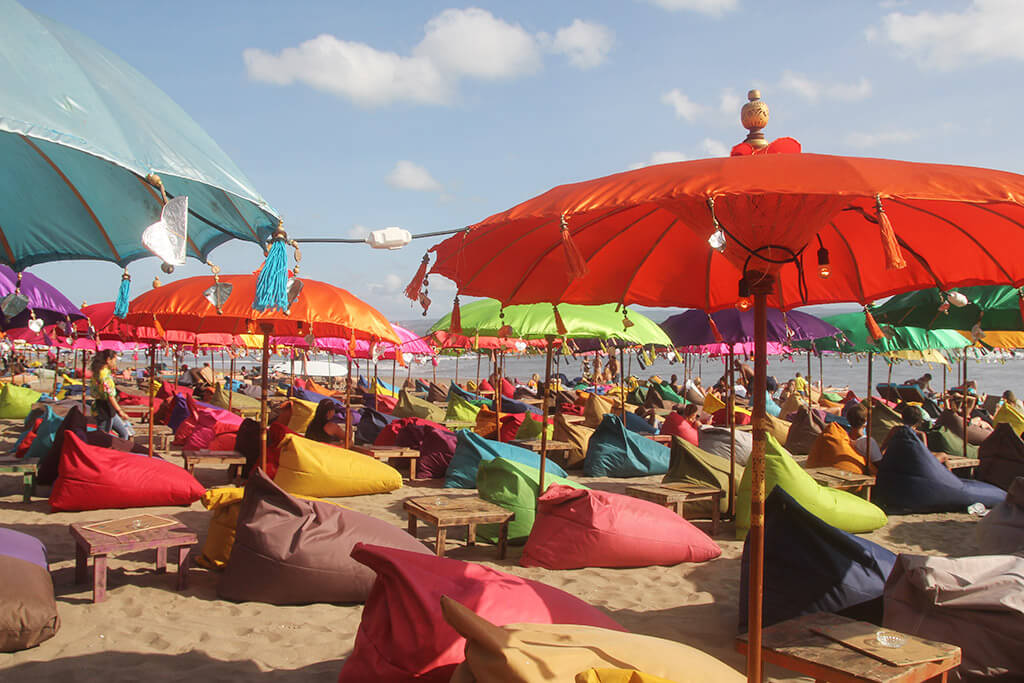 In the countless clubs, bars, pubs and discos, not only tourists but also local party-goers cavort. The prices for alcohol and entry are low compared to Europe and you can meet people from all over the world.
So if you feel like celebrating, just jump into the fray and see what you like. A drink at one of the many beautiful beach bars at sunset is of course highly recommended for everyone.
Please be careful if someone is selling "nice young Balinese girls". There is prostitution in Bali too, and where there is prostitution, HIV and hepatitis are not far away either.
Shopping: Shopping tips for Bali
From the international shopping mall to the night market with local handicrafts - Bali offers friends of sophisticated shopping trips a wide range. There are plenty of shopping malls from Denpasar to the south, one of the most famous is the lifestyle center "Kuta Beachwalk" with its various international brands.
You don't need to expect bargains here, the prices are not much lower than at home or online. There are also plenty of night markets where you can shop for souvenirs and clothes. The Night Market in Ubud is particularly pretty, where you can find local handicrafts and really nice souvenirs.
Bali with child
Bali is a great destination for a family vacation such as parental leave. The island offers all the advantages of a western destination at much lower prices in comparison.
The medical care is good, as is the infrastructure, the range of good and cheap accommodation is huge and parents and kids can swim and play together wonderfully on the many beautiful beaches.
A detailed report with many tips on traveling to Bali with children can be found at wanderlustbaby.de.
Tips for your stay in Bali
Overnight in Bali
We have already clarified that Bali has the right offer for every taste. As far as accommodation is concerned, Bali even creates an offer where there may have been no demand before.
There are countless types of accommodation here, from tree house hotels and luxury jungle lodges to cliff hotels and bamboo huts - we would be very surprised if wishes were left unfulfilled.
Sure, hotel prices are one of those things. The more special, popular or better equipped an accommodation is, the higher the prices.Instagram does the rest to promote these special accommodations and make them unaffordable for average earners.
But even if you have to look a little more on the budget, you will find cheap hotels and hostels on the island of the gods. In Kuta, a hostel bed is available for as little as 10 euros per night, but even good middle-class hotels don't cost the world.
One of the best hotel search engines for Indonesia is booking.com, here you can find the Bali overview.
Public transportation
There is no public transport in this sense, with the exception of a few buses in Bali. As a result, the traffic in the busier areas of Bali can be a real nightmare, as everyone travels individually by scooter, car, minibus and taxi.
If you don't want to join an organized tour, you only have two options for getting around: taxi and scooter. Renting a scooter is very popular among individual travelers.
There are scooter rentals in practically every place and the rental prices are extremely cheap. Just please always be careful in traffic, especially at rush hour!
Budget: How expensive is Bali?
There are cheaper spots on earth, but God knows there are also more expensive ones. A Bali vacation is as expensive as you do it. In general we would like to say that (apart from airfare) everyone can really afford Bali.
Good local food can be found on every street corner for just a few euros, and nice, cheap accommodation can be found everywhere. Organized excursions and taxi costs (due to the lack of public transport) can put a strain on the travel budget.
Tip: Renting a scooter and exploring the island and its sights on your own can save a lot of money. For some sights you need a guide, like for a tour to Mount Batur, but Bali's magical temples are great to visit without a group excursion.
Sometimes a taxi ride is essential or just convenient - in that case it is best to choose one of the reputable Blue Bird taxis (the app is free) to avoid being ripped off.
ATMs / withdrawals in Bali
In Indonesia, withdrawing money is free, unlike other countries, there are no local fees. Fortunately, because if you don't want to walk around with a travel bag full of money because of the many bills you deal with there, you stand at the ATM quite often.
It should also be noted that there is a withdrawal limit of 1,200,000 or 1,500,000 rupiah (approx. 90 euros).
In short: Having a credit card with you is absolutely essential in Indonesia, because otherwise you will not be able to handle the large number of banknotes and their low denomination.
Having a small emergency reserve of cash (euros or dollars) with you, of course, gives you more security on every trip. You can find ATMs in Bali on practically every street corner and they usually work without any problems.
The best travel credit card for Indonesia
You can save a lot of money on your travels with the right credit card. Here you can find out which cards you can use to withdraw cash free of charge worldwide and pay in local currency at no additional cost. And who is currently the only provider who reimburses you for third-party fees at the machine, for example in Thailand or Vietnam.
Here is the credit card comparison
Medical care in Bali
Bali is one of the few Indonesian islands that is considered malaria free. Nevertheless, we would like to advise you to always pay attention to good exposure prophylaxis, because dengue fever and other nasty mosquito pathogens are also found here.
That means being careful not to get stung in the first place. So: don't forget the DEET-containing mosquito spray!
Rising fever and flu-like symptoms are the first clues to see a doctor.
Be sure to get advice from a trained tropical medicine specialist on risks, vaccinations and hygiene measures before your trip. In Bali you are medically very well cared for, thanks to tourism, there are several clinics at international level and with English-speaking doctors.
For example, you can look for medical help at an international level here:
International SOS Bali Clinic
Address: Jl. By Pass Ngurah Rai No.505X, Pemogan, Kec. Denpasar Sel., Kota Denpasar
Phone: +62 361 710505
Homepage: https://www.internationalsos.com/locations#Indonesia
Opening hours: 24 hours
If you need medication, no problem, there are a few small but well-stocked pharmacies in Bali. You should be able to explain exactly what you need in plain English. Having a basic supply of medication with you definitely can't hurt. Here you will find tips for your own first-aid kit.
One way or another, medical treatment abroad must always be paid for immediately. If you have international health insurance, you can have the costs reimbursed later. For this you should absolutely keep all treatment records and all receipts carefully, even if someone just sticks a plaster on you!
Packing list for Bali
Sometimes a small checklist can't hurt - here you will find a suggestion for an Indonesia packing list that really thinks of everything.
You can easily buy the most important everyday items in Bali.
Climate, weather, best travel time
The rainy and dry season into which the climate is divided in tropical countries also applies in Bali. The rainy season begins accordingly in October and ends in March, the dry season lasts from March to September / October.
The rainy season should not prevent you from traveling, because the heavy monsoon rain comes suddenly, but usually only lasts for a short time. The best travel time is the German summer, i.e. May to August / September, as it is the driest time on the island.
Since the temperatures are wonderfully warm and tropical all year round, Bali is considered to be easily accessible all year round.
Here you will find more tips on the best time to travel to Indonesia.
Bali: Events, Festivals and Holidays
Bali is a very spiritual island, this is not just a travel brochure promise, but a reality. In addition, the island has an incredible number of temples, so that a festive setting for the many religious holidays is provided.
Some festivals are pure tourist folklore, others of extremely high importance for the Balinese. Here you will find an excellent detailed overview of festivals in Bali. On days of the temple festivals, markets and shops are usually closed, because of course the locals want to take part.
facts and figures
How is the time change?
Bali (GMT / UTC +7) is six hours ahead of Germany, Austria and Switzerland during summer time and seven hours in winter time.
What is the currency like?
In Bali you pay with the Indonesian Rupiah (IDR), as in the rest of the country. In daily money transactions you will encounter the following denominations: banknotes in 100, 500, 1000, 2000, 5000, 10,000, 20,000, 50,000 and 100,000 rupiah, as well as coins in 1, 25, 50, 100, 200, 500 and 1000 rupiah.
The high denominations of the banknotes mean that even small purchases are juggled with large sums and you usually run around with a thick wad of bills. Keeping track of things. Can get really difficult here.
Also note that, as in most emerging countries, the exchange rate is sometimes subject to considerable fluctuations - a good help for converting are appropriate currency apps that also work offline. Furthermore, you can always call up the current exchange rate here.
What language is spoken?
In Indonesia they speak Bahasa Indonesia. The official language is spoken and used by as many as 162 million people, in contrast to most other Asian languages, the Latin alphabet.
You can get through the day well with English in all holiday areas, this also applies to Bali. The Balinese language still exists here, which is spoken by a total of 3.8 million people.
How many inhabitants does Bali have?
Around 4.2 million people currently live permanently on Bali.
post
Even if postcards could sometimes take a little longer to get to Europe - the Indonesian post is considered to be reasonably reliable. You will find the numerous post offices mainly in and around Denpasar. All major parcel service providers also have their branches here - in case the souvenir is a bit bigger.
WLAN / SIM card
As a tourism hotspot, Bali is naturally well supplied with the Internet. The mobile network and network coverage in Bali are therefore very good. Wi-Fi is free in most hotels. SIM cards with data packages are cheap in Indonesia including data volume, there are special offers for tourists.
Travel guide for Bali
Highly recommended and really something different is the wonderful travel guide "122 things to do in Bali".
In addition, travel guides from Stefan Loose and Lonely Planet are recommended.
The best travel guide for Bali
The book "122 things to do in Bali" contains almost 400 pages of all the important sights of Bali as well as numerous insider tips. Discover the most beautiful places away from the crowds! There are also many valuable suggestions for sustainable travel. The travel guide is available in our shop and on Amazon.
More information about the book
Arrival and onward travel
Getting to Bali is pretty easy and cheap thanks to the Denpasar airport and many ferry connections. Like all Indonesian islands, Bali is perfectly networked with the rest of the country, but also with the neighboring countries.
By plane
Thanks to tourism, Bali has an international airport in the island's capital, Denpasar. So you can enter Bali in Indonesia directly without detours. There are no direct flights from Germany, a change at at least one international hub such as Bangkok, Singapore, Dubai or Kuala Lumpur is necessary.
If you are already traveling in Southeast Asia, the onward journey to Bali is also very cheap with one of the low-cost airlines such as Air Asia. The best way to compare prices is at Skyscanner.
By boat / ferry
The most comfortable way to get there is still by plane, but if you have a little more time and are traveling on one of the neighboring Indonesian islands, you can also travel by ferry or speedboat.
From Bali it is also easy to travel on by water, for example to Lombok or the Gili Islands. Most ferries leave from Serangan port, you can look for connections at directferries or 12go.asia.
Another option: the trip to Bali via Jakarta by land.
We need your support!
Due to the corona crisis are almost all income broke away practically overnight from the fascination of Southeast Asia. Nevertheless, we will continue to report updated daily about the situation on site, expand our content and update existing posts. So that this is still possible, we need your support. With a membership or a one-time donation, you help ensure that we can continue to create useful content for Southeast Asia travelers in the future. THANKS!
How can I help?
Photos:
Ferry Lombok - Bali from Galina Savina / Shutterstock.com
Did you like the article? Then divide it up: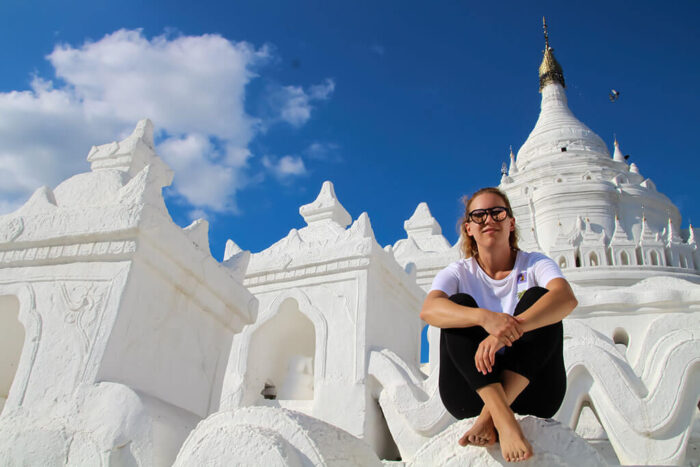 About the author
Josie lives in Hamburg and lost her heart to Southeast Asia many years ago. Her main job is in the office, but whenever time permits, she takes the plane eastwards. In addition to her great loves Cambodia and Myanmar, to which she returns again and again, she and her camera also enjoy discovering new places, markets and food. You can find more pictures and stories from Josie on Instagram.
Similar articles: