Is a fire engine a commercial vehicle
Europe's first fire truck with an electric drive
Europe's first electric fire service vehicle drives in Linz
About two years ago, on the initiative of the LINZ AG company fire service, three innovative Upper Austrian companies came together with the aim of implementing a completely new vehicle and thus following a common vision. The cooperation between Rosenbauer, Kreisel Electric and LINZ AG resulted in an absolute novelty in the emergency vehicle sector.
Europe's first fully equipped tactical fire fighting vehicle with electric drive will be on the road in Linz.
"Together with public transport, environmentally friendly e-mobility makes an important contribution to reducing fine dust pollution and pollutant emissions in private transport and thus to the quality of life in Linz. LINZ AG provides important impulses and proves technological leadership in the public transport sector with the new, innovative e-bus. Another milestone is now being set. With the use of the first fully equipped fire fighting vehicle with electric drive, LINZ AG is setting an example and is once again assuming a pioneering role. LINZ AG is an important partner for the state capital's innovation offensive. The cooperation with the world market leader Rosenbauer proves the innovative strength of the Linz central area ", emphasizes Mayor Klaus Luger.
Deputy Mayor Mag. Detlef Wimmer: "Since I have been using electric vehicles for about ten years myself, I am particularly pleased with the innovation from the LINZ AG company fire service. E-mobility offers a number of advantages, especially in inner-city areas, and is therefore a very good addition to the conventional vehicle fleet. "
LINZ AG General Director DI Erich Haider: "While the electrification of vehicles in the company fire brigade is new, the e-mobile commitment of LINZ AG already extends far. 73 percent of our public transport passengers are electric, and we are constantly expanding the charging infrastructure for private transport. In the commercial vehicle sector, LINZ AG presented Austria's first garbage truck with a fully electric loading system in December 2017. With the current emergency vehicle innovation, we are once again underlining our pioneering role in the practical implementation of new drive technologies. "
The LINZ AG company fire brigade was the initiator of the lighthouse project
"As part of a further education course, I dealt with the energy transition. The idea of ​​a fully electric emergency vehicle also emerged for the first time. As a possible answer to the question of what I can do for environmental and climate protection in my own environment, "reports Harald Forstenpointner, commander of the LINZ AG company fire service and project initiator. From a practical point of view, the idea of ​​climate protection has long since arrived in the fire service. Experts say that fire brigades have to move out more and more often because of extreme weather events that are attributed to climate change. As a result, climate protection is also self-interest for the fire brigades.
Innovation partnership with Rosenbauer & Kreisel
Dr. Dieter Siegel, CEO Rosenbauer International AG: "Rosenbauer has been working on new concepts and alternative drives for fire fighting vehicles for over five years. During this time, the issue has become more explosive. Emission-free driving is becoming a must, especially in inner-city areas. It is our declared goal to remain the industry leader in the use of new technologies. The innovation partnership with LINZ AG and Kreisel for the construction of the first fully equipped fire fighting vehicle with electric drive enabled a quick and functional solution - this is the right, strong symbol at this time.
Markus Kreisel, CEO Kreisel Electric GmbH & Co KG: "Commercial vehicles such as fire engines are an ideal area of ​​application for electric drives: in many cases they only have to cover short distances and charging can take place between uses. I am thinking particularly of guards in districts of large city centers, in town centers and small communities in the country or at airports. In the case of the compact emergency vehicle for LINZ AG, we were able to contribute our extensive experience in building prototypes of electric vehicles. The basis is a Mercedes Sprinter - a commercial vehicle that we have already successfully electrified for bus and freight companies. "
How does the E get into the e-mobile?
At the Kreisel location in Rainbach in the Mühlviertel, the vehicle was trimmed or converted to "E" by the specialists in two months. The KLF-L emergency vehicle from Rosenbauer is based on the body of a Mercedes Sprinter, for which Kreisel Electric has already implemented e-mobility solutions for various applications. For example, buses for passenger transport and delivery vans for goods transport on a Sprinter basis have already been implemented in projects with industry. In the KLF-L emergency vehicle, four gyro batteries are used in a modular design. The total capacity of 86 kWh is sufficient for all deployment trips. Despite the considerable weight and taking into account the driving style in use, a range of 160 km can be assumed. The vehicle is fully charged again within a short time thanks to the quick charger. An electric motor with permanent electrical power of 120 kW provides the necessary propulsion.
The highlights at a glance
Innovation: the first fully equipped, fully equipped, tactical fire fighting vehicle with electric drive that is well-known in the whole of Austria and Europe will be in action in Linz
Showcase project with potential for imitation: The project is suitable to make clean mobility of tomorrow tangible and visible, to show possibilities and to bring new ideas around e-mobility. In addition, the fire service - in Upper Austria alone the fire service has almost 100,000 members - is a great multiplier for e-mobile solutions.
Economy / environmental effect: with the electric drive, the new emergency vehicle will be significantly cheaper to travel than with conventional drive concepts. Practical experience will show the specific CO2 savings achieved by operating the vehicle. The assumed mileage of 12,000 km per year means that 4.8 t of CO2 savings can be expected annually.
Ease of use: The vehicle is very easy to operate with the accelerator / brake system and has excellent acceleration - advantages that can be decisive, especially during operations
Usable synergies: LINZ AG is in the fortunate position of having a lot of know-how in the field of e-mobility in its own ranks. This applies to the charging infrastructure - an e-charging station will be set up at the FHKW fire brigade location - as well as the operation of electric vehicles as a whole.
Pioneering position: With the fully electric fire service vehicle, LINZ AG is once again underlining its pioneering position in the field of e-mobility
Immediately in use
In 2017, the LINZ AG company fire brigade was deployed every four to five days on average. 22 times it was a technical mission, 51 times a fire and 12 times a diving mission. The new electric vehicle will be stationed in the FHKW-Mitte fire station, Nebingerstraße 1, and will be integrated into the vehicle fleet with immediate effect and used if necessary. As with every new vehicle, appropriate driver training courses take place prior to commissioning.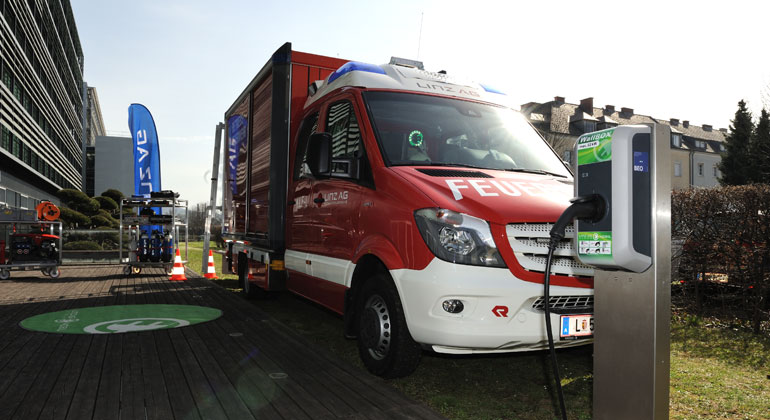 source
LINZ AG 2018