What 10 things to do in Malaysia
15 things to do in Kuala Lumpur
This post is also available in: Deutsch
Kuala Lumpur is not just the capital of Malaysia or a place for a nice stopover. It is much more than that! A melting pot of many nations and so the Malays, Chinese, Indians, Tamils, Thais and a few more mingle in this really impressive city.
Kuala Lumpur Sights and Attractions
In this guide, we introduce you to 15 places and sights that you should visit if you spend a few days in this city. Take your time and explore KL, it's worth it!
---
Arrival to Kuala Lumpur
You can get to Kuala Lumpur very easily by plane. The city's two airports Kuala Lumpur International Airport (KLIA) and KLIA2 are two of the largest transport hubs in Southeast Asia. There are direct flights and flights with a stopover from all countries in Asia as well as from Europe and the Emirates. Flights with low cost airlines such as AirAsia arrive at KLIA2 and flights with better airlines such as Emirates, KLM etc. arrive at KLIA.
If you are looking for cheap flights to Kuala Lumpur and want to compare departure times, prices, flight duration, etc., we recommend Skyscanner or Momondo. Here you will find all information about your flight clearly.
If you are traveling from neighboring countries such as Thailand or Singapore, there are other options such as the bus or train. You can find departure times and prices for these modes of transport from our partner 12go.asia.
Overnight in Kuala Lumpur - our hotel tip
To best explore Kuala Lumpur, it is important that you have accommodation good location Has. The Aloft Kuala Lumpur Sentral is located almost directly on one of the most important train stations in Kuala Lumpur - KL Sentral. From there, you can easily take trains, trains, and buses to almost any neighborhood / location in Kuala Lumpur and the rest of Malaysia. The rooms are very modern and there is also a swimming pool. You can find more hotels in Kuala Lumpur here.
Kuala Lumpur: Tours and Tickets
---
1. Merdeka Square & Kuala Lumpur City Gallery
Kuala Lumpur's Independence Square. This is where the formerly tallest flagpole in the world stands, on which the Malaysian national flag was hoisted for the first time on August 31, 1957. That is also right on the square Sultan Abdul Samad Buildingwhere the Malaysian judicial authorities are based.
The is also right on Merdeka Square KL City Gallery. A museum about the history and future of the city that you are welcome to visit on occasion. Admission costs only RM 5. If you want to know more about the museum, you should take a look at our report on the Kuala Lumpur City Gallery.
You can also discover these two highlights together with the Twin Towers, the National Mosque and the Royal Palace on a private half-day tour of KL.
2. The KLCC Park
Behind the Petronas Twin Towers and the Suria KLCC There is a beautiful, green park in the middle of all the high-rise buildings, the KLCC Park. Everything is very well maintained and there is even a small public swimming pool for children.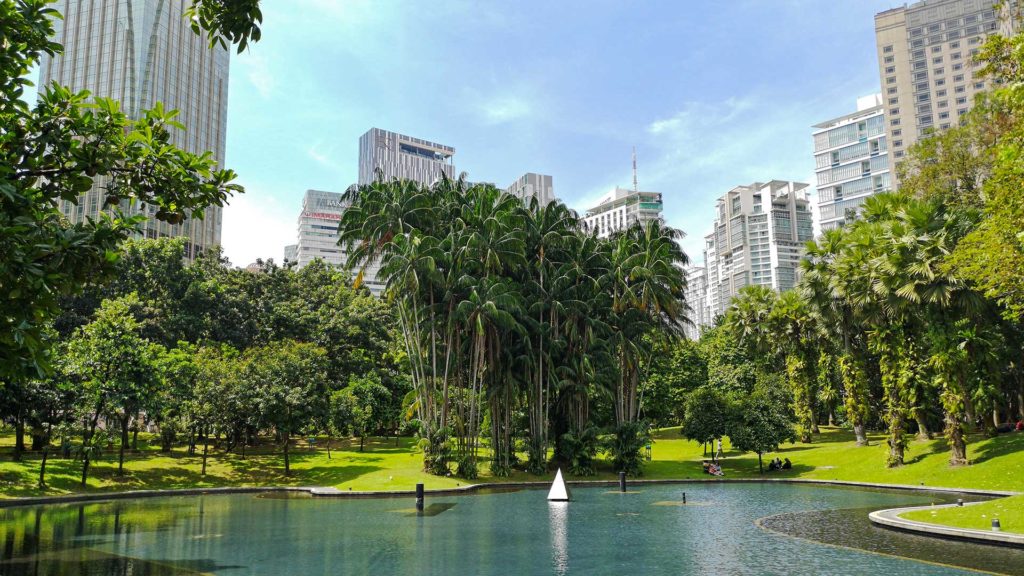 Many tourists and locals come here to relax in the shade of the trees and enjoy the view of the surrounding buildings and the twin towers. Highly recommended if you want to escape a bit from the big city.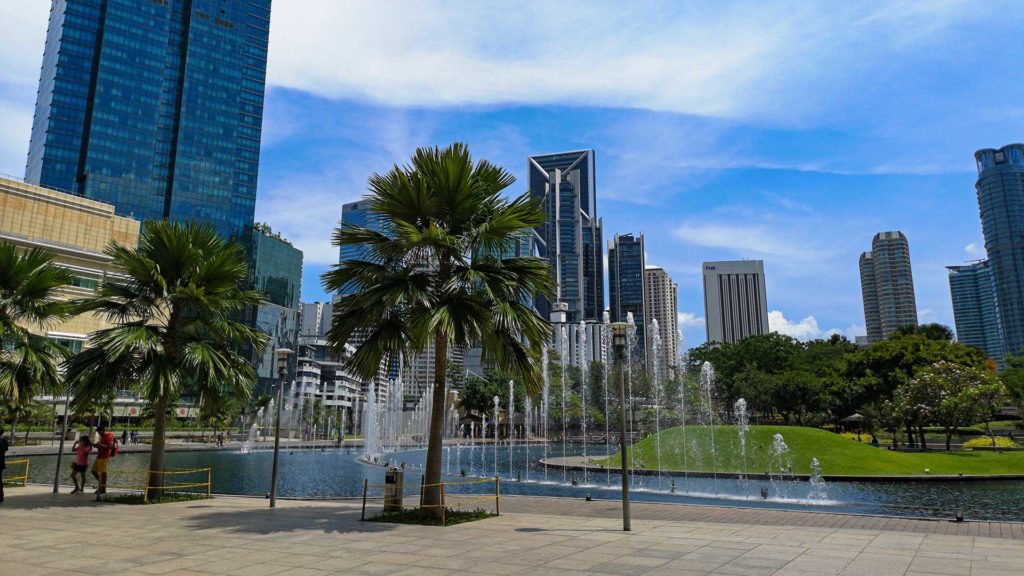 3. The Petronas Twin Towers
The Petronas Towers are probably the symbol of Kuala Lumpur. Almost everyone knows them and everyone who visits KL will definitely stop by!
It was not until 2004 that the towers were replaced as the tallest building in the world, but they are still the current ones tallest twin towers in the world.
We have not yet gone to the Petronas Towers ourselves, as we think that these would then be missing from the skyline. But it's possible. If you feel like it, you can also go to the skybridge, which connects the two towers, or that Observation deck on the 86th floor visit.
The ticket prices are RM 80 (approx. € 17.00, as of June 2019) and if you want to buy one, you should do so early in the morning from 8.30 a.m. at the entrance. The tickets are limited to one number per day.
Otherwise, you can secure a ticket online in advance so that you don't have to queue. But we'd rather recommend going to the Menara Kuala Lumpur, too KL Tower called to go.
4. Menara Kuala Lumpur aka KL Tower
The television tower of Kuala Lumpur, currently the seventh highest in the world, offers a spectacular 360 degree view of the city. A shuttle bus runs every 15 minutes from the entrance so that you don't have to walk the last bit.
There are two options for how you can visit the tower:
1. Observation deck: The price is RM 52 and you get a 360 degree view of KL. However, this is behind glass panes at a height of 276 meters.
2. Open deck: The price is RM 105 and you get an open 360 degree view of the city at a height of 350 meters.
You can find more information in our article "Above the roofs of Kuala Lumpur - the KL Tower at night". Here you can find online tickets for the KL Tower.
5. Bukit Bintang
One of the most popular Nightlife and shopping district from Kuala Lumpur. Here you will find almost everything your heart desires, from hawker centers and shopping malls to night markets and bars. This area is particularly popular among the younger generation in Malaysia.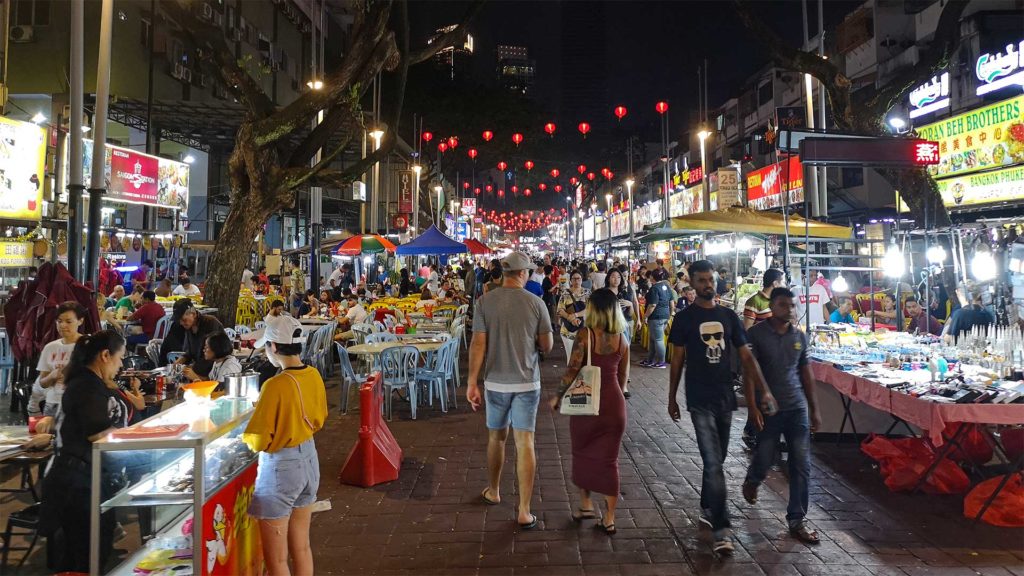 Not only tourists, but also many locals can be found here and romp around in the nightlife. There is also a so-called Arab quarter with many delicacies that invite you to dinner in the evening.
It's best if you come with her KL monorail Train there. The station is also directly called "Bukit Bintang", so you shouldn't have any difficulty making the right stop.
6. Masjid Negara - the national mosque
The State mosqueWhat Masjid Negara actually means, offers space for almost 13,000 believers. The 73 meter high minaret and the star-shaped roof, which is reminiscent of an umbrella, are the main features of the very modern designed national mosque.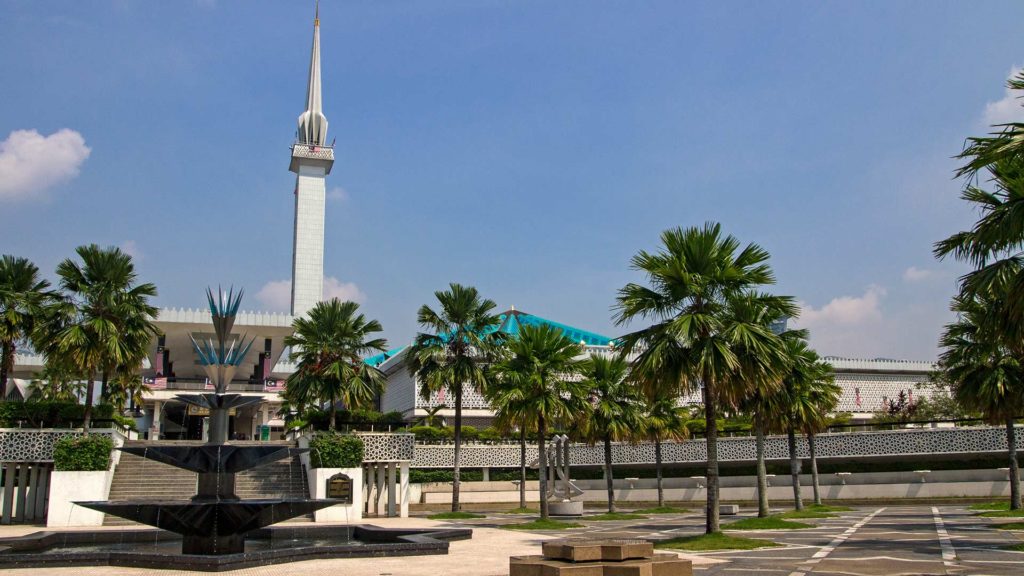 You can visit the mosque every day. Head and body covering will be provided on site for both men and women. You don't have to pay attention to your clothes beforehand. However, it can sometimes take a while to get in when all coverings are borrowed. Everything is free and you get a great insight into the national mosque of Malaysia.
7. Orchid Garden
If you follow the street "Jalan Perdana" (which is right next to the national mosque) up the mountain, you will come to an orchid garden which is part of the Perdana Botanical Garden is. In addition to the beautiful orchids and the pleasant atmosphere - far away from the street noise of Kuala Lumpur - the garden offers two other highlights.
From here you have a wonderful view of the Skyline from KL and if you go a little deeper into the garden then there is a good chance you will find a few wild monkey meet who are up to mischief here.
The garden is open daily from 8 a.m. to 6 p.m. and admission is free.
8. Chinatown - Petaling Street
It's not really busy during the day on Petaling Street, but as soon as the late afternoon starts, life starts here! Numerous stands are set up with all kinds of articles. You can buy everything here - from t-shirts, shorts, souvenirs, handbags, watches to shoes, soccer jerseys and of course lots of Chinese delicacies.
The street is paved in good German with stalls and places to eat. In the evening, just let yourself drift through the alleys between the shops and let the whole thing affect you.
If you want to buy something, be prepared to negotiate. The price is often set very high and you can easily set your own price at around half.
If you need a little help with bargaining, check out our guide "How to Get the Perfect Bargain - Tips for Bargaining in Asia".
If you want to experience Petaling Street at night, then the Sri Maha Mariamman and eat some real Malaysian, then we can recommend the Culture Night Tour.
9. Kasturi Walk
Not far from Petaling Street is another market, the Kasturi Walk. Just as popular with locals and tourists, you can also stroll through the alleys here and buy one or two souvenirs to take home.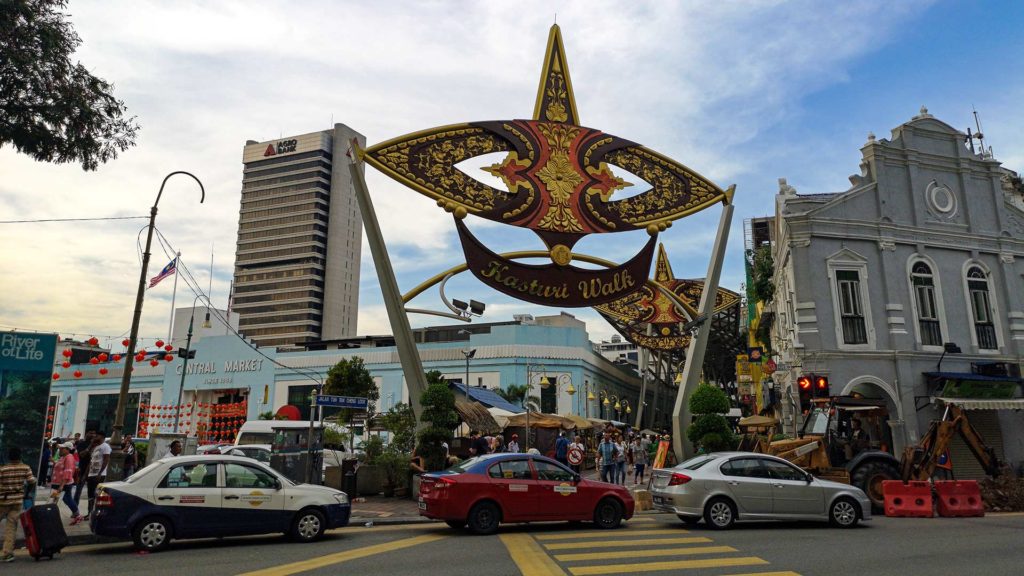 But you will not only find souvenirs here, but also many of the so-called Hawker Center, where you can taste your way through the diverse Malaysian cuisine.
In contrast to Chinatown with its Petaling Street, everything here looks a little more classy and modern. Nevertheless, you should stop by here, because the Kasturi Walk is only about 3 minutes' walk from Chinatown. The Kasturi Walk is open daily from 10.30 a.m. to 10.30 p.m.
10. Brickfields - Little India
A few minutes south of the KL Sentral Central Station is the Brickfields neighborhood - better known as Little India!
In addition to a number of shops selling Indian goods and Indian food, the street comes to life in the evening. Then the sidewalk is lined with chairs and tables and you can smell the smell of Indian dishes everywhere.
If you love Indian cuisine or want to try it, then you've come to the right place. You should definitely experience a little bit of India in the middle of Kuala Lumpur!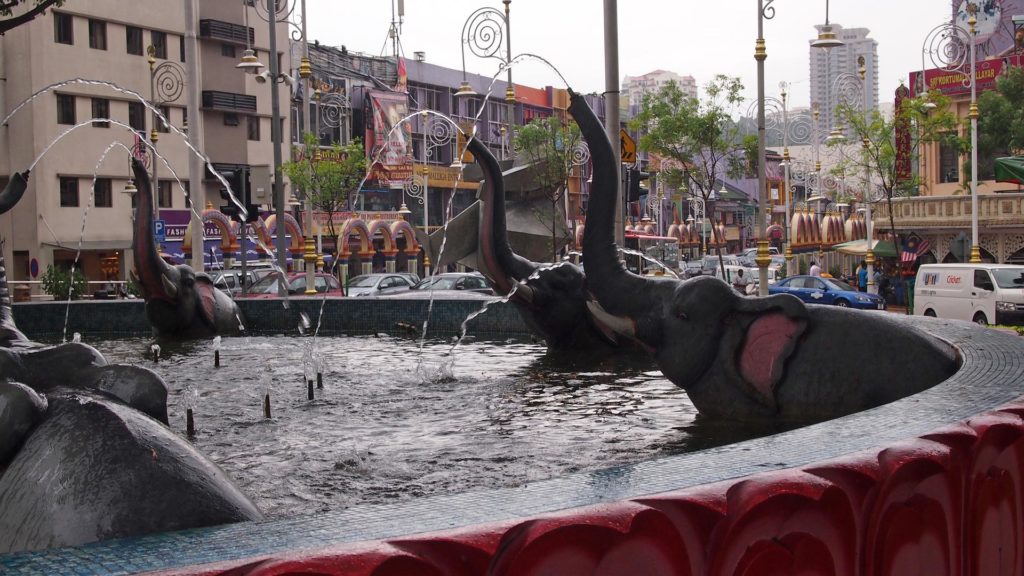 11. KL Sentral
At the Central Station from Kuala Lumpur there is almost no way around it. The building is not just a train station, but that at the same time "Nu Sentral" - a huge shopping center.
If you take the shuttle buses from KLIA / KLIA2 or the KLIA Ekspres train, you will also end up at KL Sentral. All regional trains (e.g. to the Batu Caves) and all S-Bahn and U-Bahn lines also depart from here. It is KL's main transport hub.
There is currently a lot of construction going on in the area around KL Sentral, so that many more high-rises will be built there in some time and the whole district will be very modern.
You won't starve to death here either, because there are numerous places to eat outside the train station. Indian, Chinese, Korean, Thai, Malaysian - everything your heart desires. KL Sentral and its surroundings are definitely worth a visit.
12. Batu Caves
The Batu Caves are located with the KTM Komuter about 20-30 minutes from Kuala Lumpur. The caves themselves are made of limestone rocks and have several Hindu inside Shrines and temples.
You will probably immediately connect the huge, golden statue at the entrance with the Batu Caves. There are plenty of wild monkeys on the stairs to the caves too, so you should be careful with your belongings.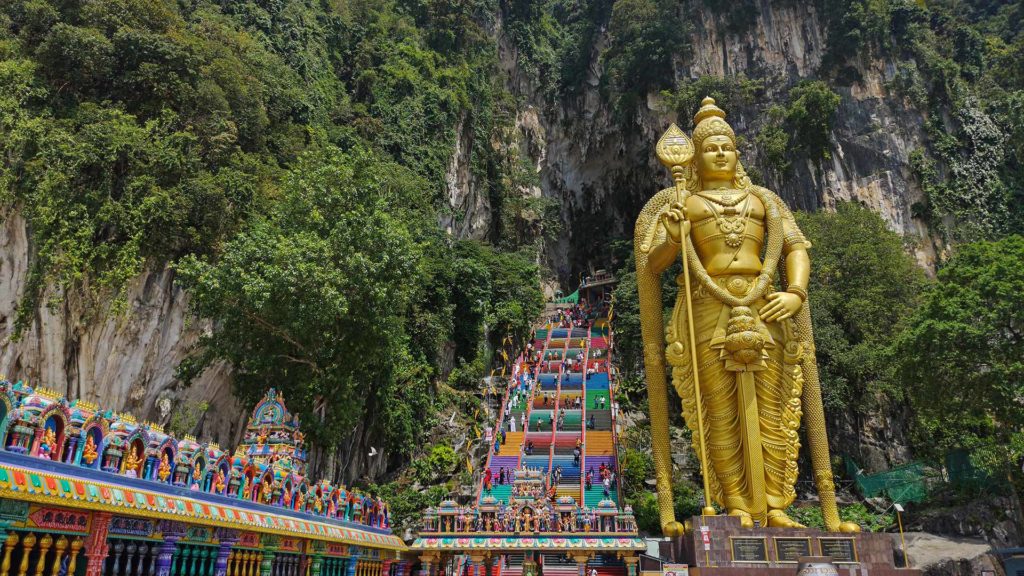 The area around the Batu Caves has been properly cleaned up and provided with new attractions since our first visit in February 2013 until our last visit in January 2019. A great tip for a half-day excursion.
For more information, check out our Batu Caves article.
13. Menara KH - Helipad Lounge
After the half-day trip to the Batu Caves, you have enough time to explore Kuala Lumpur further in the evening. We can recommend the Helipad Lounge at Menara KH. An even more active one Helicopter landing pad over the roofs of KL, which in the evening becomes a bar is repurposed.
Entry to the bar is free, but if you want to go to the landing site, you have to buy a drink from the bar. But really worth it with the spectacular view. The bar opens at 6 p.m. and if you want to experience a beautiful sunset, you should come early and secure a seat!
Unfortunately, the Helipad Lounge is no longer an insider tip and so there were many more visitors on site when it came back in January 2019. Many tables and benches were also set up on the landing site. Still a wonderful place for a nice drink and sunset and an evening view.
14. Masjid Jamek
The Jamek mosque is one of the oldest in Kuala Lumpur and was built in 1909. Until the opening of the national mosque, it was the largest and the focal point for the Muslim population for a long time.
You can also visit the mosque, but it is closed during prayer times. You should of course make sure that your knees and shoulders are covered if you want to visit the Masjid Jamek.
The mosque is not far from the Merdeka Square, more precisely at the point where the rivers Gombak and Klang converge. Construction will continue here in the future, so that these rivers and the surrounding area should be beautiful. The mosque is a great sight even today.
15. Kampung Baru
The Kampung Baru district is right in the heart of Kuala Lumpur and should be built on at one point or another. However, the residents are reluctant to do so, as they would like to preserve the original Malaysian life there.
At Kampung Baru there are various in the evening Restaurants or. Hawker Center / Food Stallswhere you can have great food. Since there are few or no tourists here, it is a little more difficult to get on with English. But everything can be regulated with hands, feet, menu cards and pointing. A small but worthwhile dining adventure.
In addition, the view from here is of the Petronas Twin Towers not to be despised and just beautiful at night.
---
By the way, here you can find an article about Kuala Lumpur from our world trip.
Start planning your trip to Kuala Lumpur now
Other hotel recommendations for Kuala Lumpur:
Popular routes to Kuala Lumpur:
How do you like our Kuala Lumpur highlights? Should we look at something else that should definitely be on this list the next time we visit? We look forward to every comment - leave us your opinion!
Did you like this article and did you find it helpful? Sign up here to receive our best travel tips straight to your inbox on a regular basis!
We guard your data like our passports! We only use your email to send you the latest information about Home is where your Bag is. Free of charge, of course! You can unsubscribe at any time. Data protection
You might like it too
Tobi
Hi, I'm Tobi, a freelancer in the field of translations and copywriting, but above all a passionate travel blogger. I prefer to be in Southeast Asia and work online from all kinds of places. If you want to know what I'm doing or where I am, then it's best to follow me on Twitter, Instagram or check out Facebook.
This article contains Advertising and Affiliate Links. Through the affiliate links we receive a small commission with which we can finance this blog and publish content for you free of charge. There are no disadvantages or extra costs for you.