What an experience you will never forget
"A great experience that I will never forget"
12.07.2017
Sabrina Pohl decided relatively late to study at the IST University. Sometimes you have to gain some experience first to really see where your professional journey should go. The Berliner knows now and her first stopover was Seville. Here she completed her semester abroad.
After graduating from high school in 2006, Sabrina Pohl first trained as a hotel manager and also worked as a commis de bar. But she wasn't that happy with her choice at the time and changed to a receptionist for a housing association. There, too, the young woman quickly got bored and so she took on freelance promotion jobs and worked as a hostess at trade fairs and events.
At some point Sabrina was at an "intersection" where she wondered if she wanted to continue as before or if she would finally settle down professionally. She remembered her hobbies. The fun she had when she researched and compiled travel offers and leisure activities for her family.
Since she worked as a trade fair hostess across Germany and Europe, she was looking for a course that she could incorporate into her life in a completely flexible manner. She found what she was looking for. In 2014 Sabrina enrolled for the bachelor's degree in Tourism Management at the IST University.
As part of her studies, Sabrina was also able to choose an internship or a semester abroad as a teaching unit. She chose a semester abroad, which she completed at the IST partner university Estudios Universitarios y Superiores de Aldalucia (EUSA) in Seville.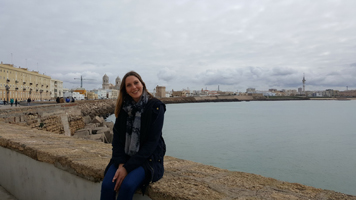 "It has long been my wish to learn Spanish and improve my English," explains Sabrina. "When I heard about the partner university in Seville from Prof. Kempf, I didn't hesitate and signed up straight away. It was a relatively spontaneous decision and I didn't think about it for long or make any preparations. The registration deadline was over in December and I only registered shortly beforehand. I then had until the end of January to organize everything else. I had to apply for an Auslandsbafög, sublet my apartment and find a room in Seville. "She laughs. "Everything worked."
Her everyday life there was relatively relaxed. She had taken three courses and only went to university three times a week for a total of 12 hours. However, there was homework and presentations that were often very time-consuming.
"In my free time, however, I did a lot and looked at the surrounding cities or went on a weekend trip to Barcelona. Since I had decided to live in the middle of the center in a very popular area with many bars and clubs, I was almost always in the middle of the action and there was always something going on. "
The student had specifically looked for a shared apartment so that she could quickly find contacts. It was important to her to get to know the locals and not just travel with Germans. She found a flat share that was shared by a Spanish student from Asturias, a young man from Seville and an Italian.
"Only young Spaniards lived in the rest of the house, with whom I quickly made friends and undertook a lot. I also made contacts very quickly at EUSA. I met people from Germany, Holland, the USA and Spain there. There were also many activities and excursions on the part of the EUSA, which made it even easier to get to know other students. "(As our photo on the right shows. By the way, Sabrina is the woman in the red plaid shirt.)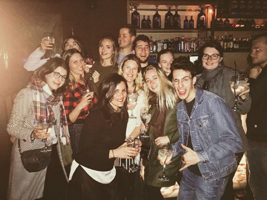 Eva Sroka from the International Office made contact with EUSA and helped Sabrina with the first steps and questions. The EUSA's International Office was then the first point of contact. "Not only from Ms. Sroka, who also visited me in Seville to see how things are going, but also from the EUSA I received great support and care right from the start. I felt very comfortable and the company was always very warm and friendly. It was also repeatedly asked whether everything was okay and whether I was okay. If there were any problems, they were taken care of immediately. "
In autumn Sabrina will attend a language course in Malaga to improve her Spanish. Then soon the bachelor thesis is due. What is Sabrina up to after that? She definitely wants to stay in tourism, but has not yet committed to a specific area.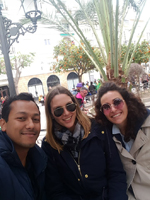 Until then, however, she looks back on a wonderful time in Seville. "I can recommend the semester abroad to everyone. It was a great experience that I will never forget. I got to know great people and made many new friends with whom I will keep in touch, "says the 29-year-old happily. "I have gained a lot of life experience, have become much more self-confident and have no longer any inhibitions about traveling alone because I have seen how quick and easy it is to meet new people."
We wish Sabrina Pohl all the best for her Spanish course, we keep our fingers crossed for her bachelor thesis and her professional future.
You can find all information about the Bachelor's degree in Tourism Management here.