What's your best marketing idea
Start-ups and small companies are often in a bind: on the one hand, they should be fully active in marketing in order to assert themselves in the market, on the other hand, there is usually no budget for large-scale advertising. These 25 marketing ideas prove that effective marketing measures do not always have to be expensive.
What you can invest in your marketing ideas
Money is probably the first thing that comes to mind when you think about investment. However, if you are in short supply, you should invest something in your marketing above all else: time! The more intensively you deal with your target group and know which topics, questions and needs concern them, the more effectively you will hit the mark with measures that only require a small budget.
Success through content: the key to customer acquisition
Content is King - this principle is no coincidence. The modern consumer expects relevant content, answers to their questions and solutions to their problems. Helpful and entertaining content is far better accepted by consumers than classic advertising: That is the conclusion of several content marketing studies. The good news for a small marketing budget: Every company can produce good content relatively inexpensively and distribute it in a variety of ways. So with every single measure, think about the benefits your target group can derive from it and provide them with the decisive added value.
Small purse - big effect: With these measures it works
Creativity is required to be able to do marketing cheaply. What you choose and what works best for you depends on your company, your target audience, and your goals. It is best to try a combination of different measures to find your individual success strategy. You will find helpful suggestions in the following alphabetically sorted list:
1. Put together offer packages
Put together offer packages that are optimally tailored to the needs of your target group. A clearly defined scope of services conveys transparency and convinces your customers.
2. Use reviews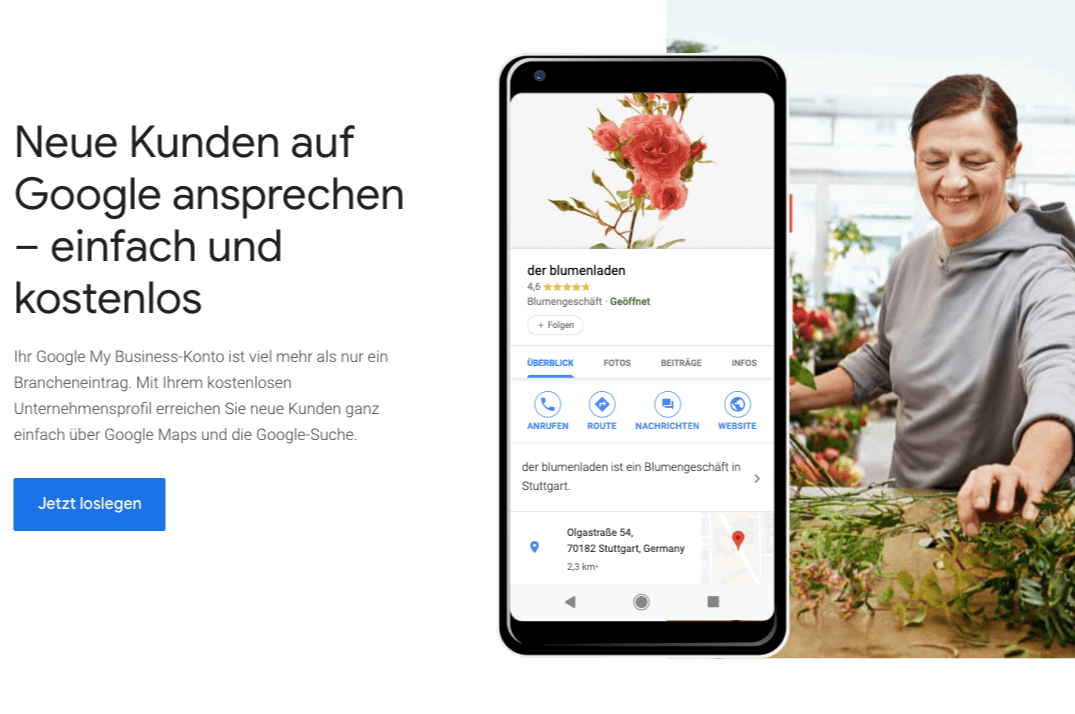 Image: Google My Business
Studies show that the vast majority of consumers research a product, local business or company in advance and read several reviews online. It is therefore advisable to use platforms such as Google My Business and create a Facebook company page. A related point in this context is social proof. Here you can increase your credibility through customer ratings by asking satisfied customers for a statement, which you then post on your website and social media channels.
3. Expand blog
Start a blog for your company, which you regularly expand with articles relevant to the industry and target groups. In this way you continuously supply your customers with helpful content and underline your know-how.
4. Offer bonuses
Attract your target group with a bonus - monetary incentives such as discounts or free services are just as possible as exclusive content.
5. Integrate calls-to-action
Newsletter registration or contact, comment or download, non-binding offer or purchase - include a call to action in every measure.
6. Start challenges
Start a competition and encourage participation with a material or emotional incentive. Be it a photo contest or a cup of ideas - social media channels in particular are suitable for challenges, as hashtags and an invitation to share the contribution can generate a lot of reach.
7. Share success stories
Show what you've already achieved: Tell about successfully completed projects and, above all, about how your customer's situation has improved as a result. This can be conveyed clearly and emotionally in the context of storytelling. Testimonials are also suitable here.
8. Use Facebook groups
Get involved in your community by starting a Facebook group or joining existing groups. Here you can exchange ideas, draw attention to your company and your services in an innocuous way and, of course, network.
9. Share photos
Let your target group participate in your day-to-day business: a look behind the scenes, employees at work or a snapshot of the last event - the camera on your smartphone is sufficient to take current, meaningful pictures for your next blog entry or social media post. In this way you can influence the perception of your company in a targeted manner.
10. Distribute freebies
Image: HubSpot Free Ebooks
Use lead magnets such as e-books, white papers, checklists and much more to collect valuable contact information from your target group. If your offer is convincing enough, you will be rewarded with conversions.
11. Write and collect guest posts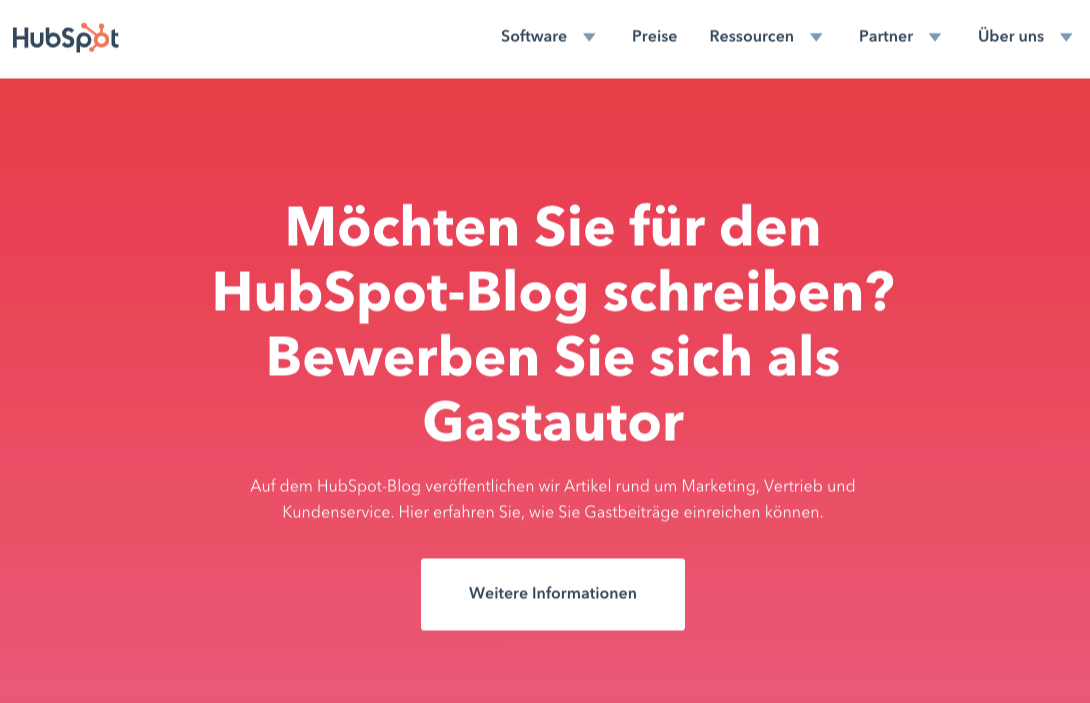 Image: HubSpot guest post
Increase your reach by writing guest articles for external blogs and media or by inviting other bloggers and experts as guest authors for your company blog.
12. Organize competitions
Organize competitions and raffle your product, service or other prize that matches your offer. If you run your competition on social networks, you can ask participants to link two friends under the post. In this way, greater reach and greater attention can be generated in no time at all.
13. Create how-to tutorials
Present the solution to their problem to your target group by showing them what exactly it can look like. How-to tutorials are suitable for this, which are offered as blog entries, photo series or video instructions and explain a solution step by step. This format also has the potential to lead interested parties from one phase of the customer journey to the next, as important questions and concerns - such as the handling of the product - are clarified at this point.
14. Create infographics
Offer your customers surprising numbers, data and facts as graphics. Free tools like Canva make it quick and engaging to create infographics that your audience can share with one click.
15. Giving and conducting interviews
If you have already built up a certain reputation as an expert in your industry, you can make yourself available to others as an interview partner. This not only helps your professional networking, but can also make the interviewer's partner community more aware of you.
If you are not well known in your area, you can change this step by step by inviting top-class interlocutors for interviews yourself. In this case, too, the partner community will most likely consume the content - so you too will become aware of them.
16. Optimize landing pages
Image: Instapage
Create simple landing pages for special offers or services with free tools like Instapage. Also think of the additional benefits (download option, special offer, etc.).
17. Engage employees
Satisfied and motivated employees are valuable multipliers. Integrate them into your corporate communications, for example by asking them to write an article for your corporate blog. You can also encourage them to spread their messages independently, for example by sharing them on their social media accounts.
18. Expand network
Use existing contacts from your private and professional environment - and build on them continuously - so you can benefit from valuable cooperation opportunities.
19. Send newsletter
Stay in touch with your prospects through regular newsletters. Email marketing tools like HubSpot are free to some extent.
20. Record podcasts
Use audio files that you offer as a subscription to make your audience heard. With relatively little effort and little equipment, you can become a podcast host yourself.
21. Use social media
Whether Facebook or Instagram, XING or LinkedIn, YouTube or Pinterest - social networks are an ideal platform to get in touch with your target group. Research which channels your target group is on and alternately provide them with information, entertainment and offers. By continuously interacting with your community, you build loyalty and trust in your brand.
22. Submit start offers
Win new customers with a particularly cheap or even free offer. Whether a free initial consultation or a test product at a special price - once the first step has been taken, further offers can follow.
23. About me
Show your personality: from the about me page on your website to authentic postings on social networks - your individual touch should definitely not be missing in your communication. Some very successful marketers like Neil Patel take this highly personal branding to the extreme by making their face their figurehead.
24. Attend events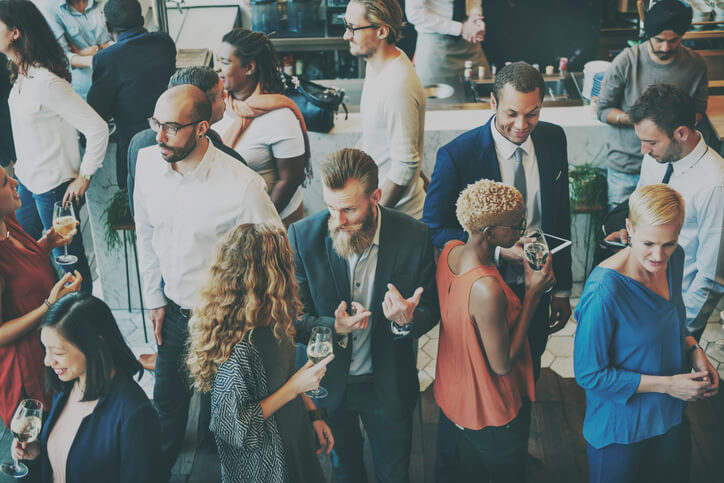 Image: Rawpixel / iStock / Getty Images Plus
Show yourself at events in which your target group takes part: You can easily make new contacts in a relaxed small talk atmosphere. If you work in the B2B sector, for example, with a little research on career networks such as LinkedIn, you can find events that are taking place in your area.
25. Give lectures
Give lectures on the relevant topics of your target group - in front of an audience or as an online video. So that as many people as possible can tune in and the lecture can be used in the long term, you can also host it as a webinar. This also offers the opportunity to produce a whole range of lectures on a specific topic, which you can then offer in an archive on your website.
Efficient marketing can therefore also succeed without a large financial outlay. Effective measures can be implemented even with small budgets, provided they are well thought out and offer the target group added value.
Header image: CasPhotography / iStock / Getty Images Plus
Originally published October 7, 2019, updated March 03, 2021
Recommend this article: