What definition of lead generation
Lead generation
definition
The term lead generation describes the process of winning potential customers for an offer, a product or a service. Basically, it's not about a direct sale, but rather about generating interest in an offer. This turns an unknown visitor into a familiar face, i.e. a lead. Such a lead agrees to be contacted and provided with further information.
In e-mail marketing in particular, such a legally flawless declaration of consent is the basic requirement for companies to be allowed to come into contact with interested parties in the first place.
Used correctly, lead generation in marketing both online and offline is an important compulsory exercise in order to regularly win new customers.
Lead generation through content marketing
There are a number of different ways to generate new leads. On the Internet, for example, this is done using customized content on a highly relevant topic. It is important that a target group that is as clearly defined as possible and has a specific profile of interests and requirements is provided with information. The better you succeed in filling certain topics with relevant and valuable content, the better you can address the right people. Ideally, this means that with the corresponding traffic on the respective website, you will also establish contact with many potential leads.
Traffic is only the first step, however, because known interested parties must then be generated from the many unknown visitors to a website. This is usually done using an opt-in procedure. Here, the interested party enters their data in an information or newsletter mailing list. Often the entry is also stimulated by the prospect of additional information, for example in the form of an e-book or white paper. Ultimately, there is a give and take at this point, i.e. email address (and other information) in exchange for additional premium content.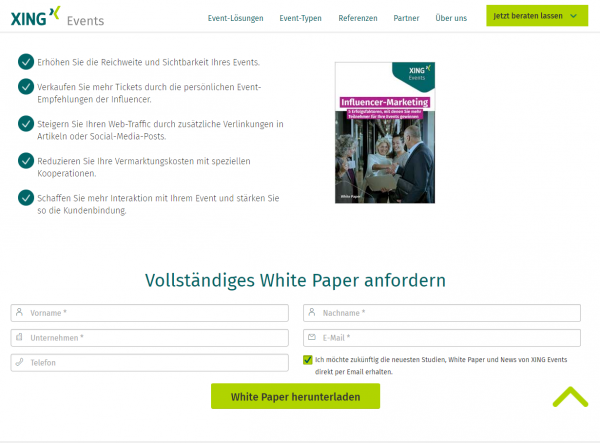 Screenshot with example of lead generation through a white paper from xing-events.com
Even if no legally binding information is passed on here, the following note on the opt-in procedure should be noted: every opt-in procedure requires a confirmation email with a corresponding confirmation link. Any email the lead receives from then on must still have an easy way to unsubscribe. In addition, a data protection declaration must be available, which is placed near the registration form with a note.
Lead generation through push and pull marketing
There is no universal strategy for overcoming the individual challenges in lead generation. In concrete terms, this means that individual products, offers, solutions and services can gain new leads in different ways in every industry. The different approaches can basically be assigned to push or pull marketing.
Classic marketing, as we encounter it every day in our everyday life, is represented by push marketing. This involves placing print ads, sending out advertising letters or flyers, broadcasting TV and radio advertisements and communicating intensively on all channels. The aim is for customers to take action due to the marketing pressure. Telemarketing is often used here, but this is only allowed if the customer has given their consent. But since some black sheep obtain precisely this declaration of consent under the radar of customers, this form of contact has now fallen into disrepute and many customers block contact.
When it comes to push marketing, the company is very active in attracting leads.
Pull marketing works the opposite way. Put simply, the company is so present here that customers take action on their own initiative. This is done, for example, through the provision of high-quality content on the Internet or an audience-effective strategy and positioning in social media. Ultimately, this is about establishing contact with the target group on a certain level. The sale of products, offers, solutions or services is not the focus, but only takes place afterwards. Rather, the first thing is that customers get to know the provider and his offers on the basis of a lifestyle and thus build a trustworthy basis.
In pull marketing, in a certain way, the customers become active and have a specific interest in the company and its products. In this context, active means that customers get information on the Internet, join groups, read blog posts, listen to podcasts or watch YouTube videos in order to be informed about a topic that interests them particularly. This in-depth research is often the basis for customers' purchasing decisions. In many cases, friends on Facebook are also asked for their opinion in order to make the best possible decision in the end.
Pull marketing is becoming more and more important in the digital age of the Internet, because the Internet is the linchpin of their communication, especially for current and future generations. Push marketing as the sole measure, however, is becoming less and less important. The forerunners of this trend are the "Please do not post advertising" stickers on numerous mailboxes.
Customers increasingly want to discover information themselves, research and find out which products are suitable for them and which are not. If this trend is picked up and implemented accordingly, it offers some lead generation opportunities on the internet as customers get more and more used to requesting information or leaving their email address.
These opportunities should be used by making it as easy as possible for potential customers to get to know the company and what it offers, and by giving potential customers the opportunity to express their interest in a simple way.
Related Links
Similar articles
To quote the article, just copy this link:
https://www.seobility.net/de/wiki/Leadgenerierung