What are the hot restaurants in London
English gastronomy | London travel guide
London travel guide
Tips before leaving for London: Preparing for the trip
London airports: how to get to the center
Accommodation in London: the best options
What to see in London
Transportation in London
English gastronomy
The night life in London
London and Surroundings: Which Cities Not to Miss
The multiethnic population of London enables a very diverse gastronomic panorama. You can find everything in the city: Chinese restaurants in the China Town area, French bistros, Italian pizzerias, Thai or Spanish tapas bars. But really English cuisine is hard to find. While most people believe that English cuisine doesn't have very many traditions to offer (it can't be compared to French or Italian cuisine, of course), it is nevertheless a very ancient culturethat has delicious dishes to offer, even if many of them are perhaps not very well known. But of course that all depends on a person's taste. I personally like the English food very much. And especially the food from London. These dishes are always a Mix of different nations, different tastes and different ingredients. For me this is perfect because I love to combine and try new things. Although I'm Italian, I don't really like pasta (and not for dietary reasons), I like rice a thousand times more, especially basmati. In London you can try a wide variety of oriental dishes, because the second largest population group in London after the English are Indians. But before I tell you about the variety of restaurants in London and give you useful tips for the city, I want to show you a list of typical English dishes because they are not very well known abroadbut I think it should definitely be tasted if you get the chance and come to England. Don't worry, you won't only get fish and chips, pizza and junk food to eat.
The English tradition
When England is talked about, I am sure that most people first think of the famous fish and chips think, but English cuisine is not just made up of that (simple, but enjoyable, but not edible every day, like pasta, for example). The English kitchen has a lot many dishes based on meat or fish and with which you eat vegetables (almost always) as a side dish. Additionally there is often Puff pastry pocketsenjoyed with homemade sauces or jams. There are also different types of rolls (or rather sandwiches), the famous English ones teawho shared with Shortbread biscuits is served (this tradition actually comes from Scotland) or English pastries (scones, etc.). Oh, and Bacon and that "English Breakfast"One mustn't forget either.
Personally, I love salty foods, and my mouth was watering while I was writing this list. If you can't imagine how these dishes taste, just try them, don't be skeptical and trust me, because I promise you, these dishes taste really wonderful! Perhaps one of these dishes will even become your absolute favorite. And just because many dishes from the English tradition are not known on the international market, it does not mean that they do not taste good because of it. In Northern Europe, however, generally knows more about English cuisinethan in the countries of southern Europe (perhaps because they all think their cuisine is the best).
The Tags English cuisines are numerous, some of which are: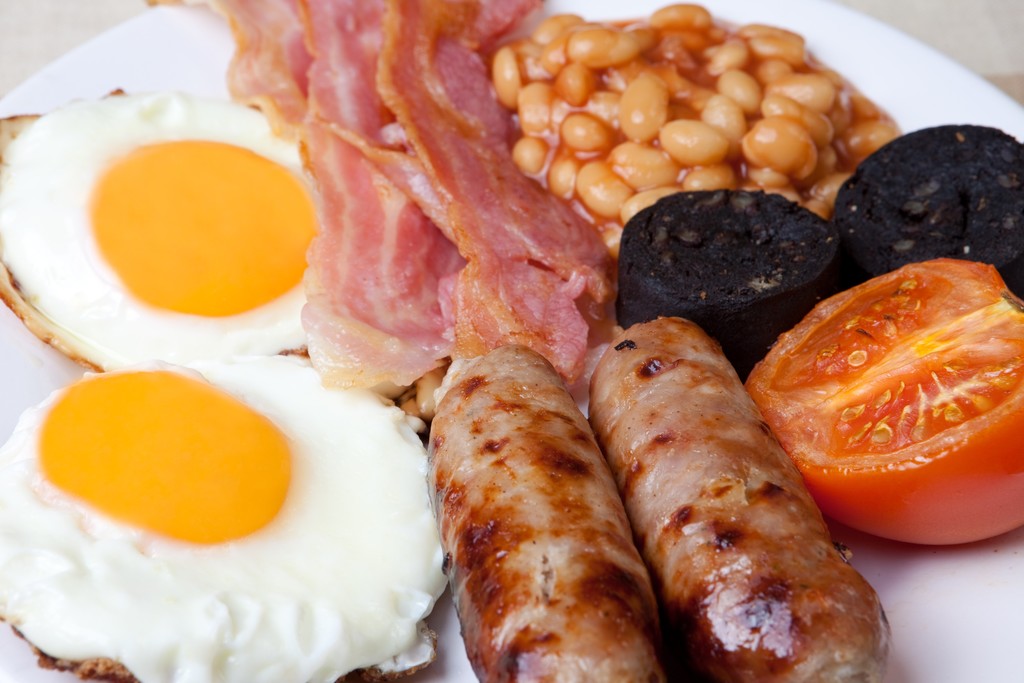 (English breakfast / brunch)
source
Roast (Roast meat)
Pie (cake, both sweet and savory)
English breakfast
Mash (puree)
pudding (both sweet and savory)
Gravy (sauce, especially for meat dishes)
Of course, the kitchen experts among you will now think that some dishes are still missing from this list, but I just wanted to give you a general picture of the typical elements of English cuisine before we go into some English dishes in detail. Because these are not complete corridors, but only Keywords for the most important ingredientsthat can be found in most English recipes. Meat and fish are very often prepared in the form of roast or put in a kind of savory cake or casserole, hence the English term "pie". The same principle also applies to the rest of the terms on the list. Now I would like to bring you closer to the different names of typical and simple English dishes that could also be combined well with Italian cuisine. I am sure that you will find the Find recipes easily if you search for them on Google, and if you search a little more carefully, you will find the recipes in your own language too.
Here you have the delicious dishes I would like you to try:
Savory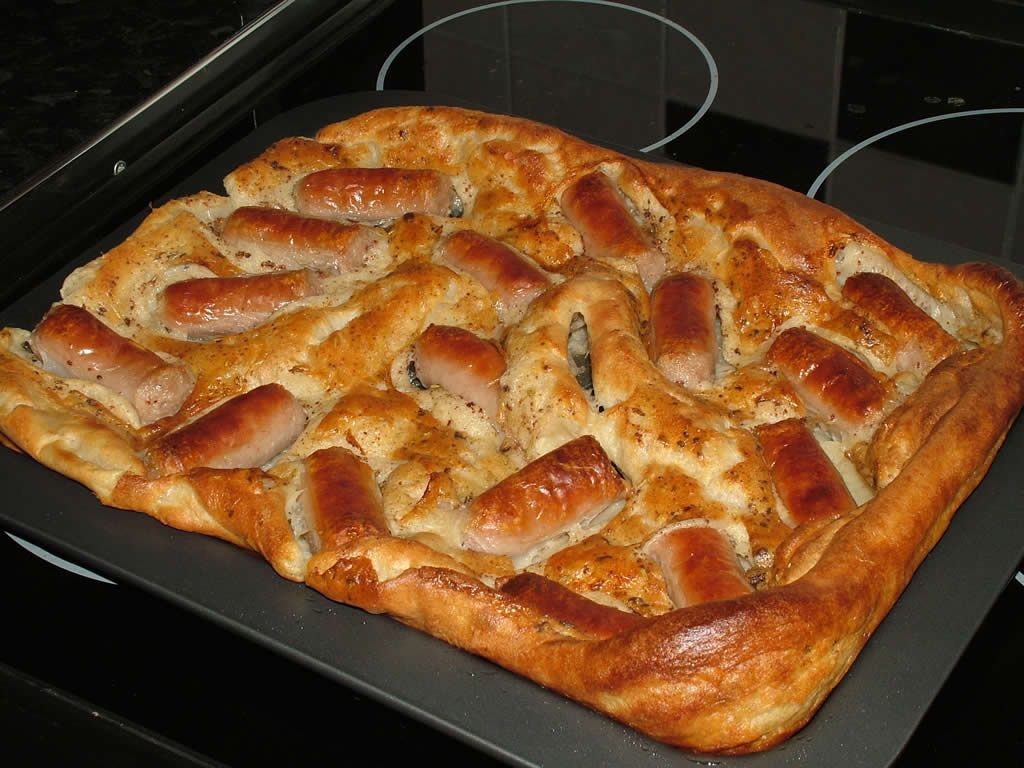 (Toad-in-the-hole)
source
English breakfast (beans, sauce, sausages, eggs, bread, "hash brown" (potato pancakes), bacon, mushrooms, tomatoes, but the side dishes can vary, on the photo, for example, you also have the black pudding, which is also perfect for brunch is suitable)
Roast beef and Yorkshire pudding (typical Sunday dish for an English family)
Toad-in-the-hole (Sausages that are poured with butter and fried and then placed in a kind of casserole)
Black pudding (also "blood pudding", consists of pig's blood and is completely black, but tastes really good, you definitely have to try)
Scotch Eggs (eggs wrapped in meat)
Cornish pasty (, dumplings filled with pies, basically spicy, but can also be sweet)
Pork Pie (pork pie, there are different variations, pie can also be filled with other things, for example: "apple pie", "mince pie", "fish pie", etc ...)
Beef Wellington (Beef gratinated with dough, which is roasted in the oven and is full of little surprises)
fish and chips
Steak and Kidney Pie (spicy tart with kidney or other meat)
Jacket potato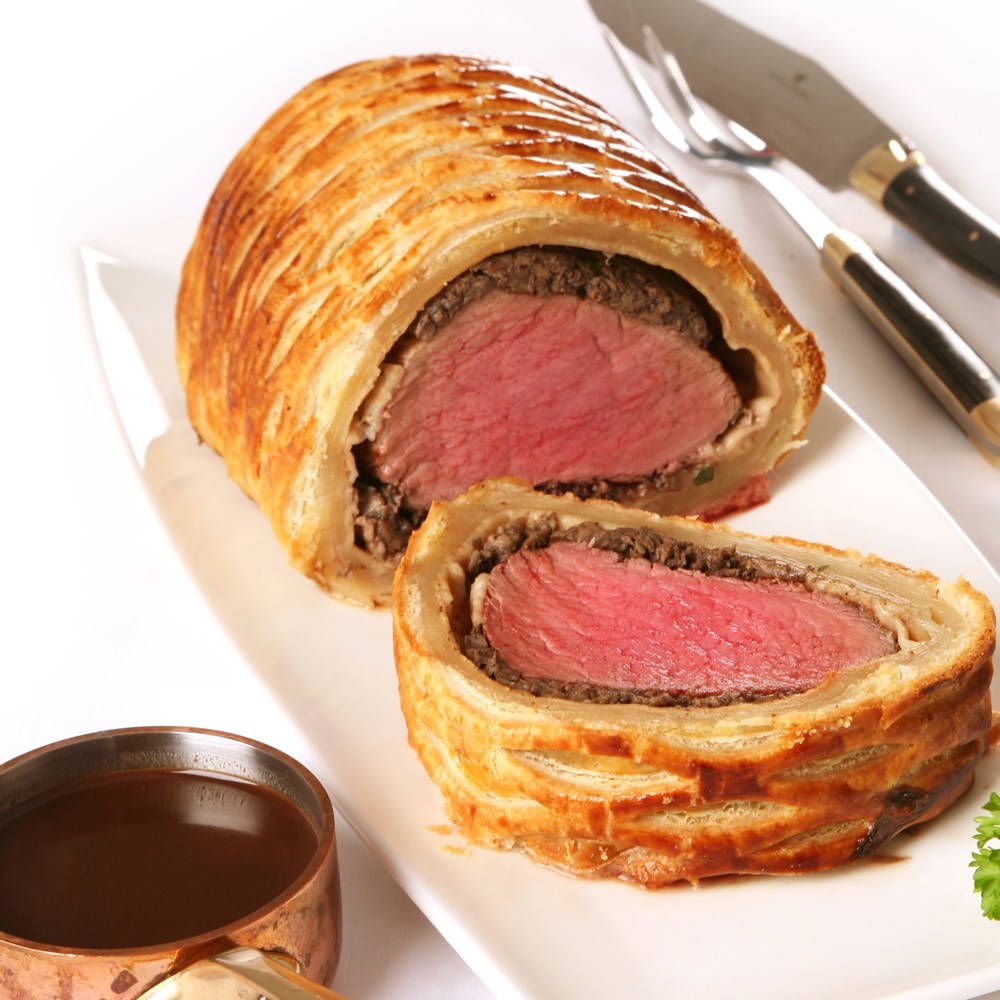 (Wellington Beef)
source
You can go with any of these dishes as you like Gravy (Meat sauce), Chuntey (Sauce with pickles) or cranberry sauce (Cranberry sauce).
The latter is very popular, especially at Christmas, to make the giant Christmas turkey to immerse yourself in it. In addition, Brussels sprouts, stingrays, sweet potatoes and other vegetables are usually served. The puree is also a welcome side dish, which often accompanies the main course, for example smoked salmon. Then wash it all down the English prefer beer (English beer of course, but sometimes Irish too), wine or "Cider"(Pear or sparkling apple wine), but of course it all depends on personal preferences, as you know, some prefer carbonated drinks, some just drink water, some tea and some even milk.
Where to get this food served in London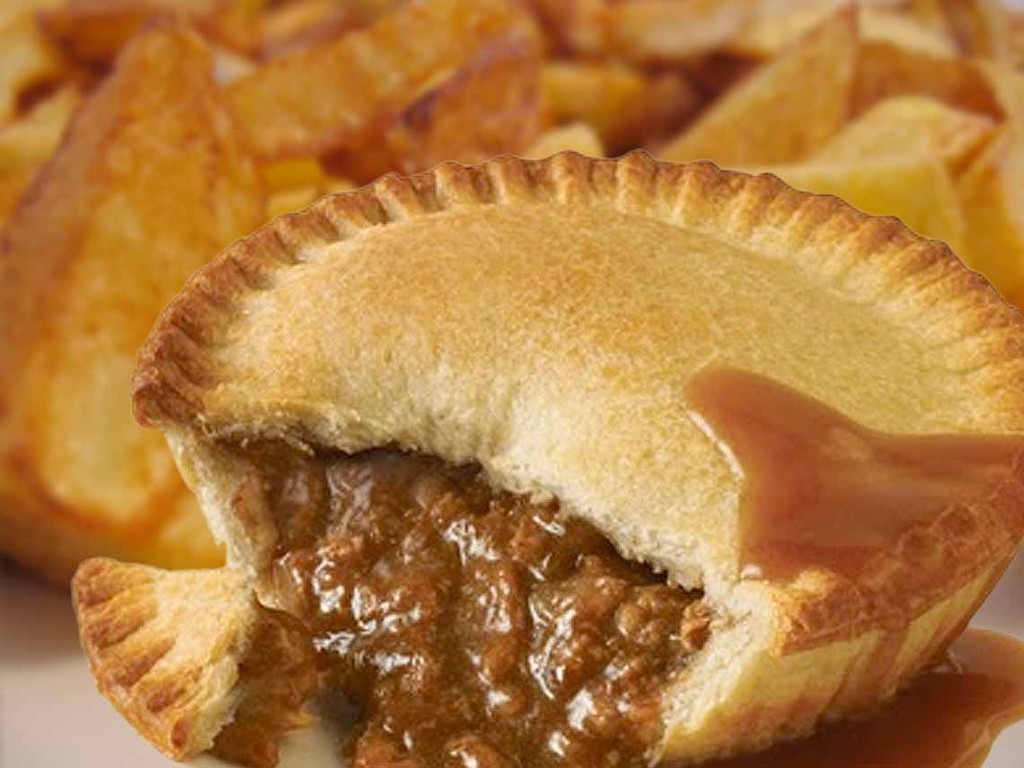 (Mince pie)
source
In London, paradoxically, it is very difficult to find a restaurant that serves typical English food, it is much easier to find an Indian or Chinese restaurant, but if you search, you will find. Don't worry, you can always find fish and chips anywhere in town. I'm not going to tell you about specific places here, but about areas, and when you are there yourself, you can decide what you like best. There are countless areas where you can try dishes from other countries, and you can also find fast food shops everywhere (Burger King, MC Donalds and my personal darling KFC (Kentucky Fired Chicken), as well as a Hard Rock Café for all collectors. Restaurants that offer Asian or Oriental cuisine can be found in Soho (but also in other areas, such as Marble Arch or Marylebon, but if you look around a bit, you will discover good Asian restaurants all over the city). If you are in the mood for Italian, Spanish or French cuisine, you can actually find it everywhere in the city, French restaurants are particularly well represented in the more affluent areas. I have Spanish tapas bars in the area of London Bridge discovered some exquisite. But the best corner is clear Camden Town, because the Camden Market not only offers all imaginable frills, but also everything to do with food. There are two compartments that sell food, one outside where it is a stand for all possible nations in the world there, so you can find something there for really all tastes. The other one is inside the market hall and mainly serves Asian cuisine (try different things because it tastes great and is really cheap), but there are also a few Italian pizzerias and some stalls with sweets and pastries. Last but not least, there are those Brixton and Brick Lane Markets or Portobello in Notting Hill, they are very well represented, especially on weekends.
But if you do more Fancy the national English dishes you can go out to eat in the center, where you have a few options, but it's sinfully expensive. Personally, I've never been to a restaurant like this because I prefer to try the food myself and prepare it at home. Sometimes I was invited to a friend's house and was able to try something there, so I never had to pay anything in the restaurant, but I would have done it if I had no other option, because I believe that you don't just get to know a foreign culture by learning the language or looking at the traditions, but also by eating their food. Because it is the kitchen even the a lot about the traditions, the history, preferences and culture of a population tells.
Where to go
The Wolseley - 160 Piccadilly
Rules - 35 Maiden Lane, Covent Garden (1798, oldest restaurant in London)
Simpson's-in-the-Stranf - 100 Beaches
Brady's - 513 Old York Road
Brick Lane - East London
Albion Cafe - 2 Boundary Street, Shoreditch
Canton Arms - 177 South Lambeth Road
The Windmill - 6-8 Mill Street, Mayfair
Vanilla Black - 17-18 Tooks Court
The Three Fishes - Mitton, Lancashire
Porters English Restaurant - 17 Henrietta Street Covent Garden (acceptable prices)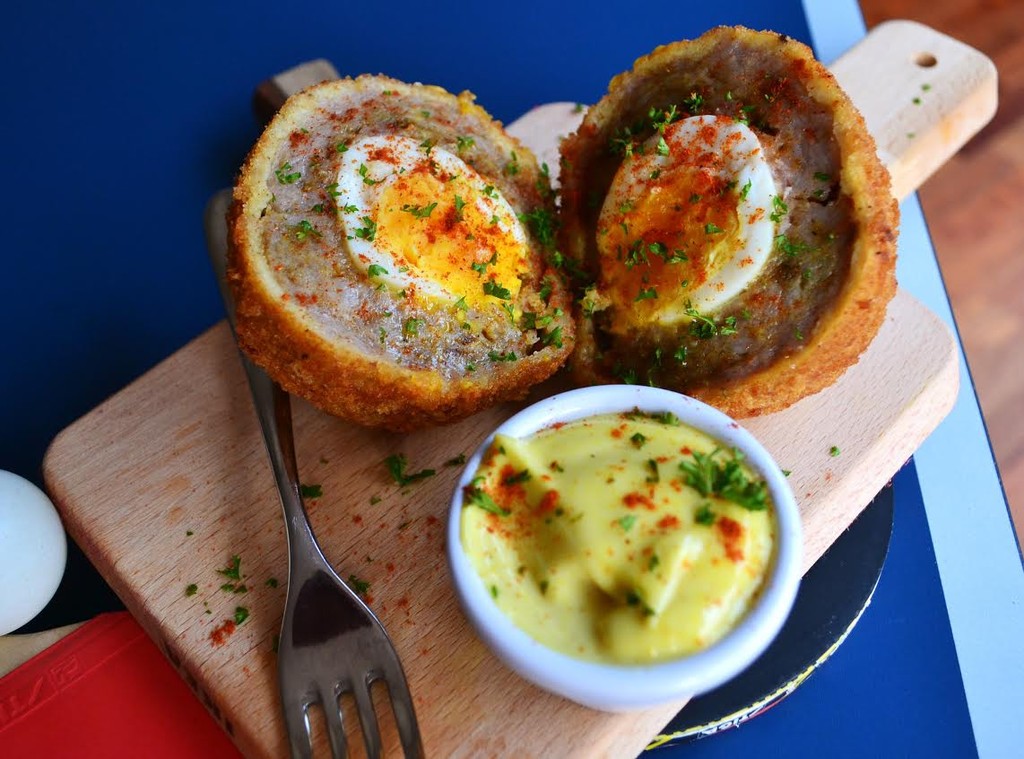 (Scotch eggs)
source
The tea
The tea represents the greatest prejudice there is about the English. But actually the tea does not come from England at all, but was only imported from India and China to the British island during the colonial times and then became part of English culture. You can try all possible and imaginable types of tea that this wonderful country offers as you wish. Even people who really don't like tea are seduced by its magic in England. You drink it with lemon or with milk and occasionally eat pastries or biscuits with it. The English themselves even drink the tea with dinner (I love drinking tea with rice). Alo with tea, it's something you definitely shouldn't miss.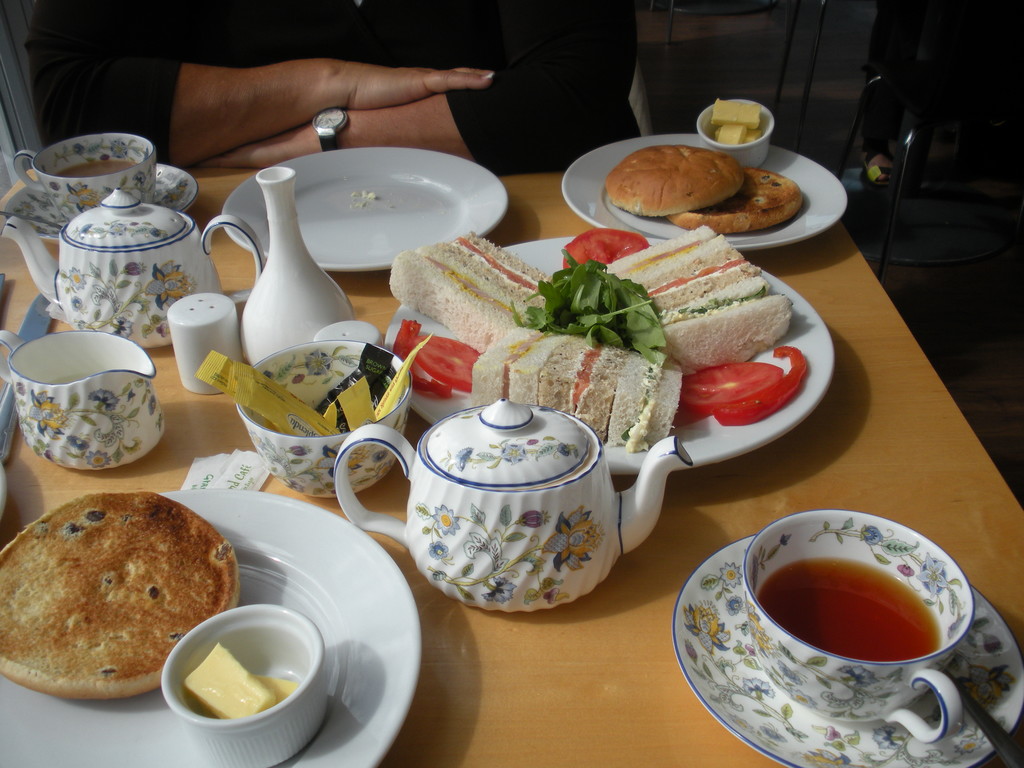 (English tea style)
source
Where to drink the best tea
London Afternoon Tea Bus Tour on Vintage Double Decker - Belvedere Road (Jubelee Gardens, across from the London Eye)
The Orangery Kensington Palace - Kensington Gardens
The Ritz - Palm Court 150 Piccadilly London
Claridge's - Brook Street, Mayfair
The Lanesborough - Hyde Park Corner
Camelia's Tea House - Carnaby Street
The English Restaurant - 50/52 Brushfield Street
Albion Café - Boundary Street 2/4
High Tea of ​​Highgate - Highgate High Street
The Orange Pekoe - White Hart Lane 3
Bea's Bloomsbury - Theobalds Road 44
The Vintage Emporium - 14 Bacon Street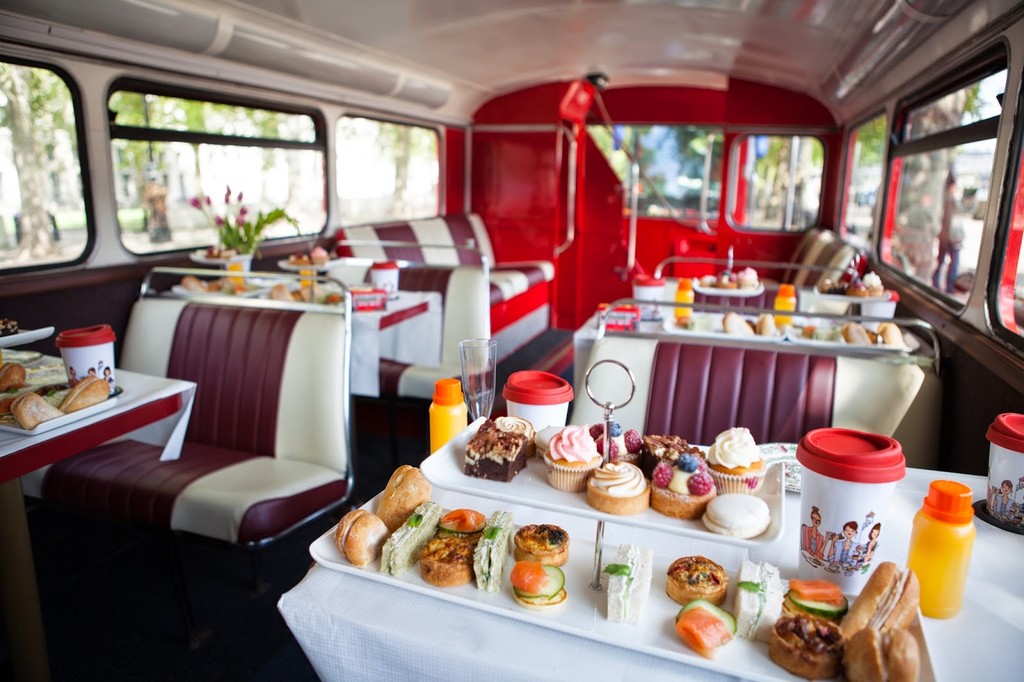 source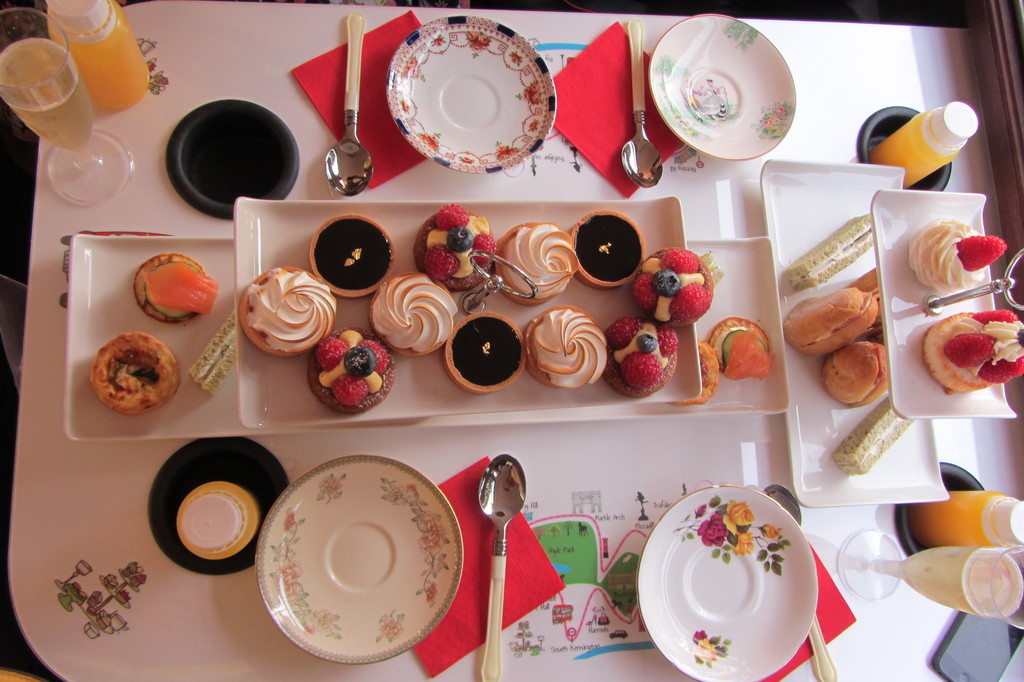 (Tea bus tour)
source
In the end it doesn't matter where you drink the tea, the most important thing is that you drink it! I can especially recommend the first place on the list, it's really cool and the shop has only been open this year. The prices are unfortunately a bit high, but it really pays off, it's like traveling back in time to a bygone world ... and that has its price! And what do you drink your tea with, apart from milk and lemon ?!
Sweet, sweet and sweet! Hunger, hunger and hunger!
Pastries
The desserts are a very important part of the culinary tradition in England. Aside from the wonderful items that can be bought in the supermarket, there are many pastries that you can try yourself at home or taste in a more upscale restaurant. But before I present you the list for all sugar addicts, I would like to show you the sweets that are worth buying in the supermarket: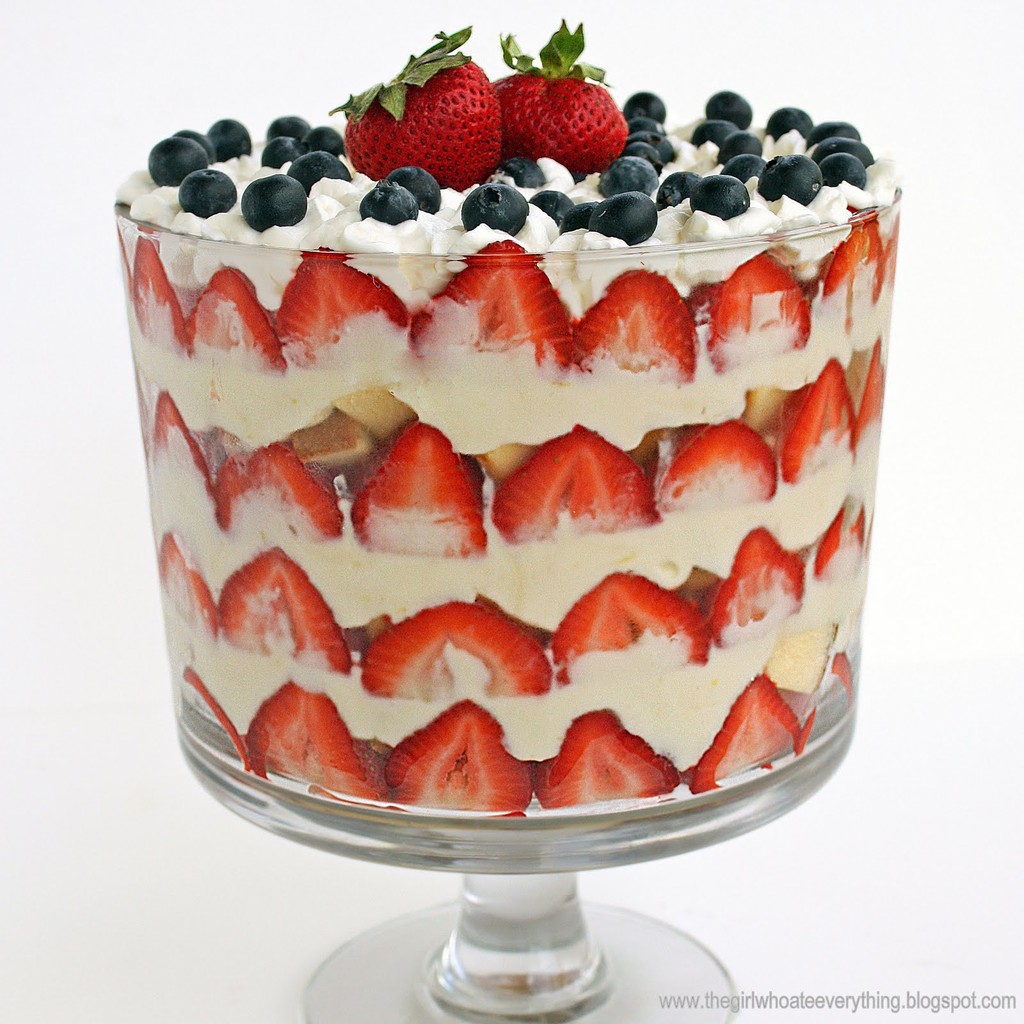 (Trifle)
source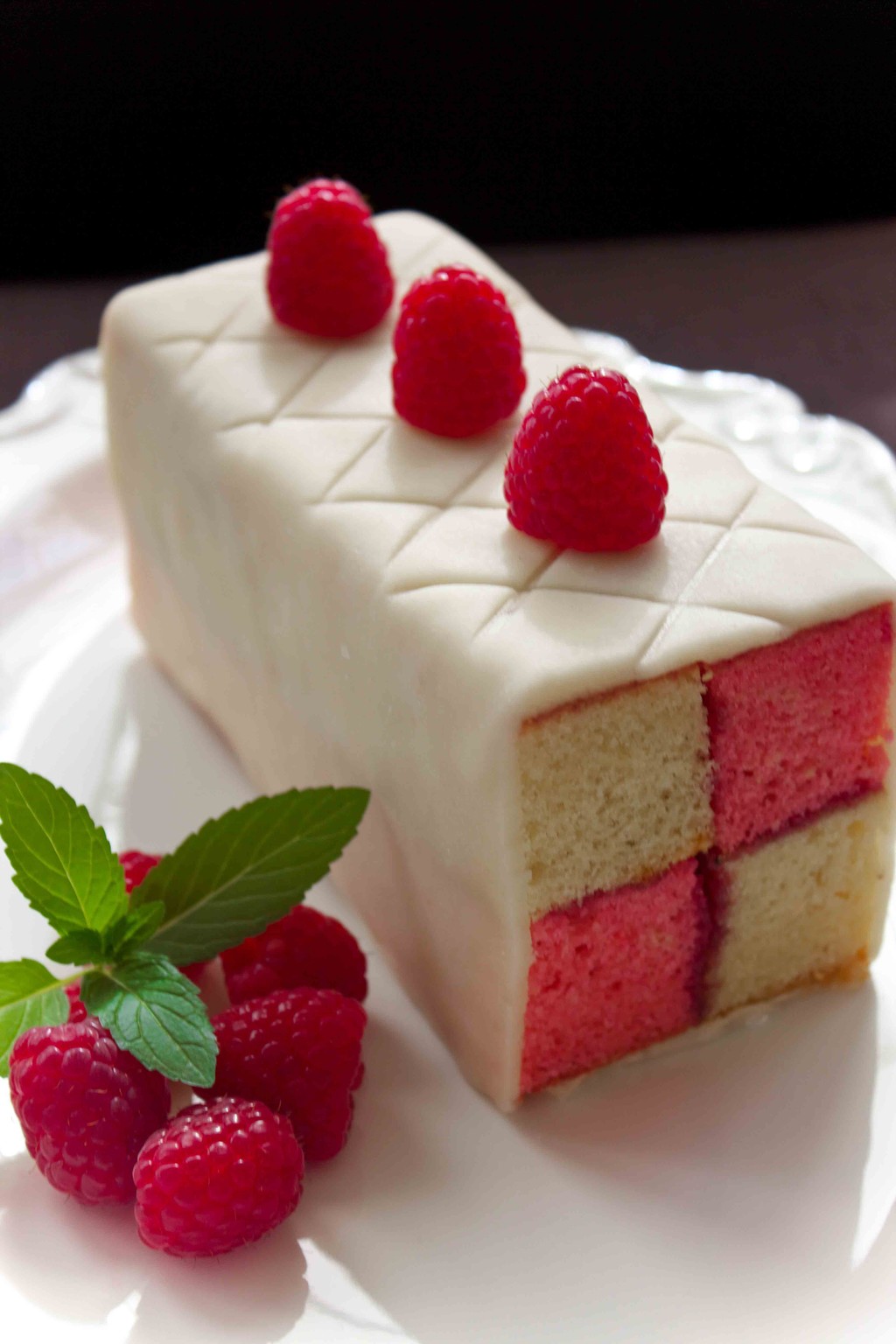 (Battenberg Cake)
source
Reese (Chocolate bar, something like Mars, filled with peanut butter, delicious!)
Aero (chocolate filled with orange or peppermint, the second type is more unique and also more typical of the English tradition, as the English often use mint as a flavor)
Milkyway and other types of chocolate bars (super tasty!)
Magnum or cornetto with peppermint (incredibly good, but only if you also like peppermint, because the taste is very strong)
Trifle (You can find this on the refrigerated shelves in all supermarkets, cream with whipped cream and jam, you really have to try it!)
Muffin with white chocolate or wild berries
Brownie (I'm sure you all know the muffins and brownies, usually with chocolate, but there are a lot of different types here, try them all!)
Mr. Kiplings (Apple tarts, but there is also a spicy variant with minced meat, the first variant is delicious, the second rather less)
You can always go to a store (many are open 24 hours a day) and take a look around the confectionery and ice cream department, there are always new and unusual products, I can't even remember all the things that I do Have eaten in the past few years, but I'm sure you can let off steam with these selections. Now we come to the real pastries, the sweet dishes of the English tradition, which you can of course also find in the supermarket, but which I would rather eat in a pub or restaurant in London.

(Areo mint chocolate)
source
Apple (o mince) pie (apple pie)
Banoffee pie (Cake with bananas and caramel, delicious!)
Custard (vanilla cream)
Carrot cake
Crumble (often served with apple)
pudding (Rice, Christmas, ecc ...)
Victoria Sponge (a very unusual cake)
Crumpets (You don't actually have tea with tea, but I could eat tons of it for breakfast, these are spicy muffins, just wonderful!)
Scones (Scottish flatbread)
Buns (Chelsea Bun)
Trifles (love it, check out the photo above)
Pastries
muffins
Stilton and Walnut pie (blue cheesecake with Stilton and nuts)
Rhubarb pie (rhubarb pie)
Jaffa cake (Biscuits with chocolate and orange)
Treacle pie (beetroot cake, in English golden syrup)
Battenberg cake (on the photo above)
Jam roly-poly pudding (or dead man's arm, jam roulade)
Bread and butter pudding (pudding with raisins and butter prepared in the oven)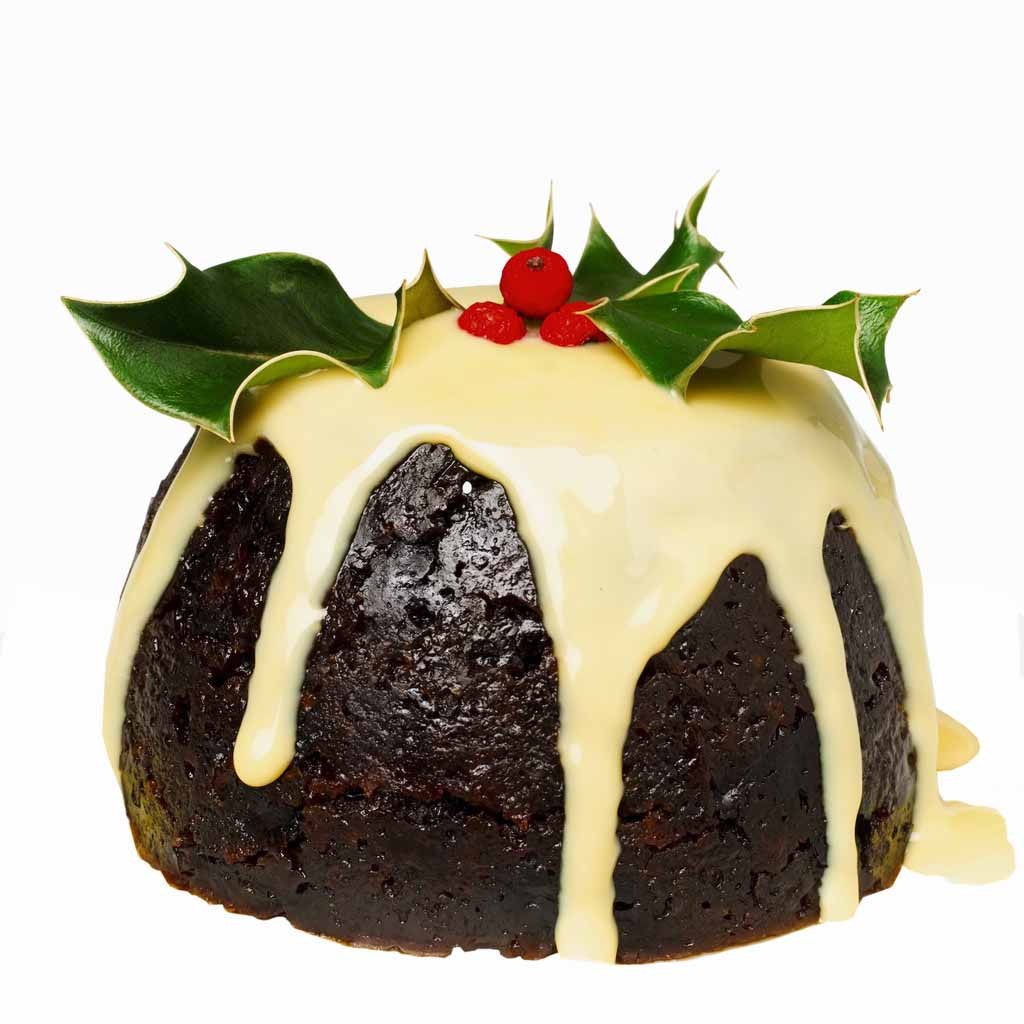 (Christmas pudding)
source
Where to eat these delicacies
Market - 43 Parkway, Camden town
Roast - The Floral Hall, Stoney Street, London Bridge
Canteen - 2 Crispin Place, Spitalfields
Of course, I will not let down all lovers of the savory, also because I am one of them myself. When it comes to spicy dishes, there is actually just as much choice, from small snacks to fast food (chicken nuggets, but also Chicken popcorn, so small balls with chicken, which you can find at KFC, for example) to chips with all kinds of flavors (bacon, barbecue, chicken, apple and thyme, cheese and onion, cocktail sauce and shrimp, the latter are among my absolute favorites) . The most famous types of chips are Walkers and Tyrrellbecause they are of English origin, but there are many other brands as well. Among the best chips are clearly those with Thai-Taste (with different spices).
But now to the most popular dishes of the Londoners.That doesn't necessarily mean that these dishes are from England, but many of them are, of course, English specialties. In my opinion it is important to respect your own culinary traditions, but on the other hand, with its multiethnic inhabitants, London also has a tendency towards the exotic and it is easy to fall in love with the food of other traditions here. I'll tell you about my favorite restaurants at the end of this article.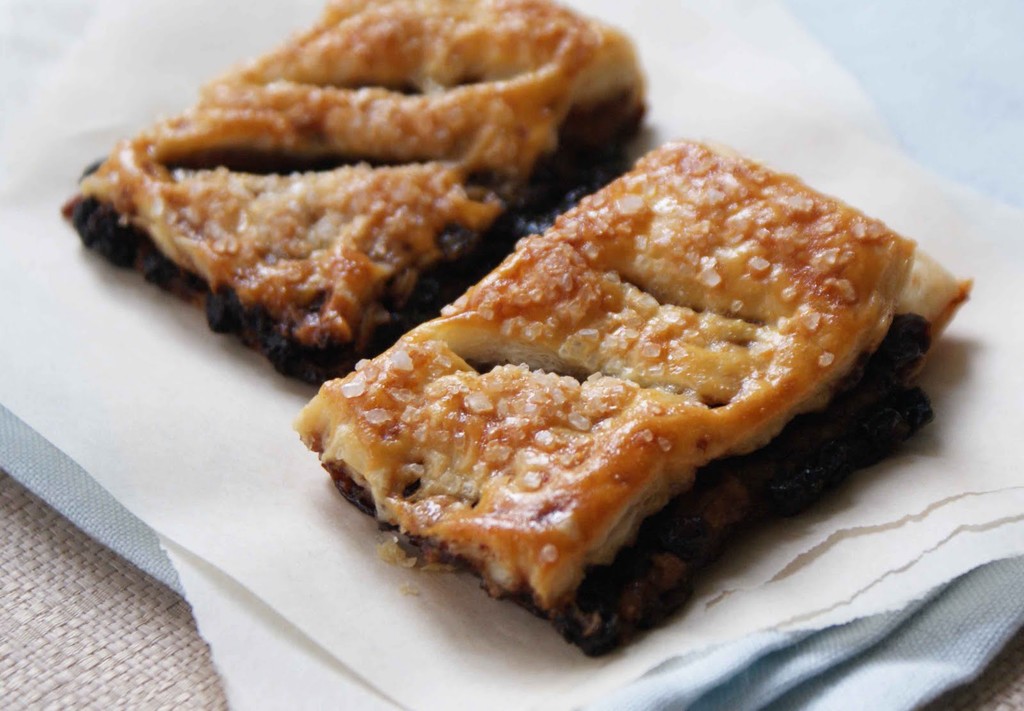 (Eccles cakes)
source
The 13 most popular dishes in London
chicken tikka masala
Scotch Eggs (* read in the spicy food section, if you want to know what it is)
Onion Bahji (Fried Onion)
Pork pie (Pork pie)
Kedgeree (fish, rice, curry)
Chelsea buns
Bacon Butty (a sandwich-shaped calorie bomb)
Deviled Kidneys on Toast (Kidney and toast)
Steak Kidney Pie (kidney pie)
Roast Beef and Yorkshire Pudding (meat and bread)
Bacon-Wrapped Toads in a Leek-Filled Hole (onion wrapped in bacon)
Reform Lamb Cutlets (Lamb Ribs)
Lemon Cardamom Syllabub (Dessert with lemon and cardamom, similar to sorbet)
You always combine something to drink with food (at least almost always), so ...
What to drink in London
beer
Cider (Sparkling apple wine)
milk
water
Tomato juice (Mmmmmhh, my mouth is watering just thinking about it! You drink it with black pepper and whisked caraway seeds, which are mixed in a bottle beforehand, and some Tabasco. It goes perfectly with burgers, but is also used to cocktails like Bloody Mary (vodka is added to this).
Carbonated drinks
Fruit juices (orange, apple, pineapple, etc.)
tea
Where?
Well, pubs are a dime a dozen in London, so it's easy to find nice bars in any area and at any price. I love that O'Neils Pubwhich is in Clapham Common, across the street from the subway station, next to Starbucks. Incidentally, I love this one because of its fabulous Peanut butter (Peanut butter). :) Try the frappuccino with whipped cream and caramel or chocolate and eat a "Cinnamon roll", a kind of cinnamon-flavored roulade. Stuff yourselves full of calories, do not be afraid, you will burn the calories again if you walk around town a little.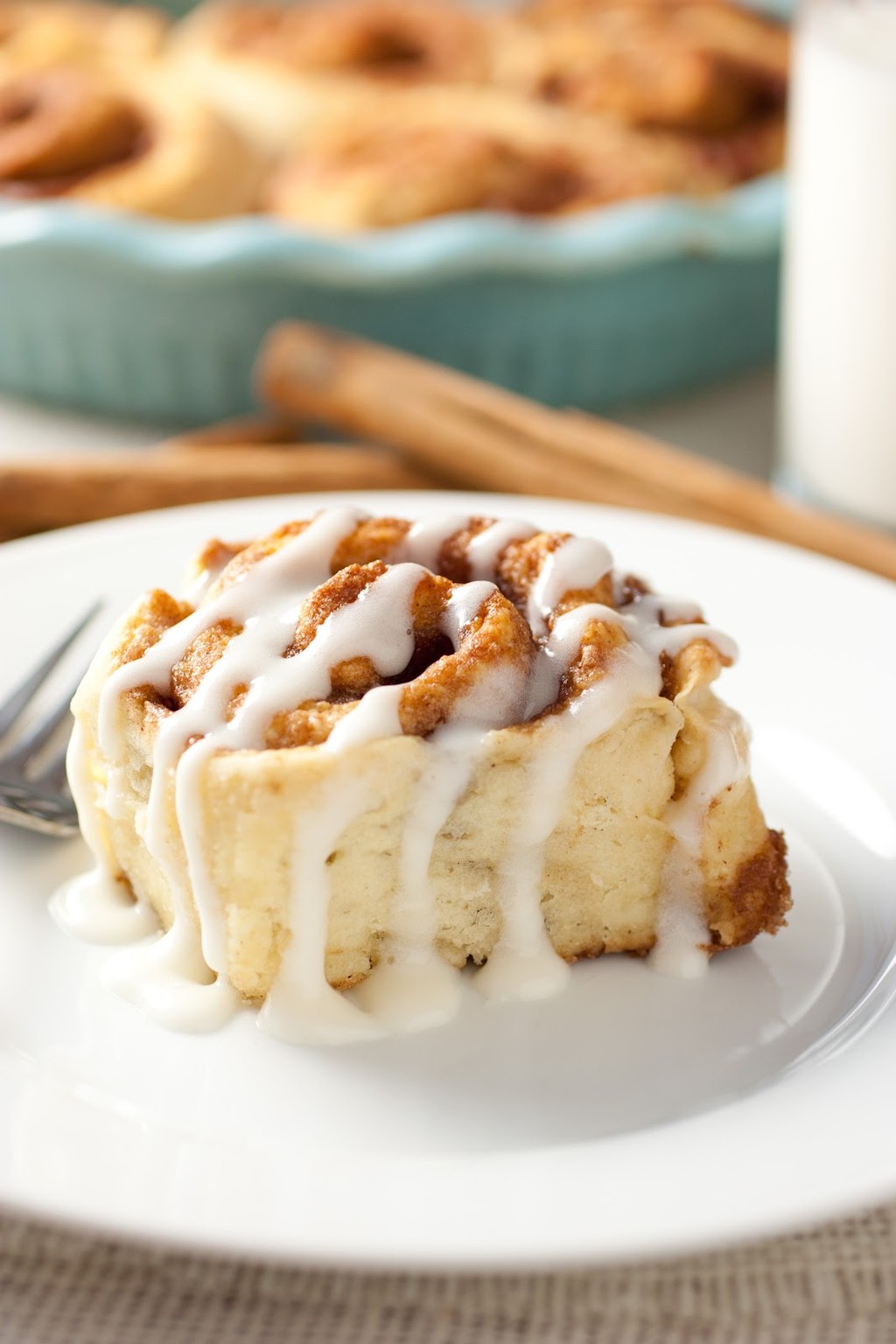 (Cinnamon Roll)
source
Last but not least, I'll write you a list of my favorite dishes and the places where you can eat them best. But you can also simply order them to your home, because in England (also in Spain and France) there is an online service where you can order all kinds of things to your home, it is called Justeat. On the app, you can then see which restaurants provide this service, which ones are near you and when they are open. You can also simply browse through different categories, whether sorted by price or taste. You search, decide, order, wait and eat! So here is my list:
Basmati rice (in all supermarkets)
Oriental rice (idem, but you better look in the specialized shops)
sushi (I love sushi, the best place is Yo sushi, a chain that has stores all over town, including the train station)
grilled chicken (preferably at Chicken Cottage)
Fried Hunh (KFC, Kentucky Fried Chicken)
Burger (Bukowsky at Brixton Market, everything is delicious there, I recommend The Mother's caramelized onions or the meat plate)
Warm pineapple (in Portuguese restaurants)
Meat (Steak House, Bukowski, Brazilian or Argentine restaurants)
Pizza or pasta (Vapiano, you can find one at Oxford Circus, try the Hawaiian pizza with ham and pineapple)
Potato Wedges (Alternative to normal fries)
Cheesecake (I like best homemade, maybe I'll publish a recipe for you soon)
Peanut butter (if possible, then "Crunchy", I spread it on the bread and then put pieces of banana on it, it is said that this is the most beloved sandwich of Elvis Presley and that Joe Bastianich (from the TV program Masterchef) also likes it very much.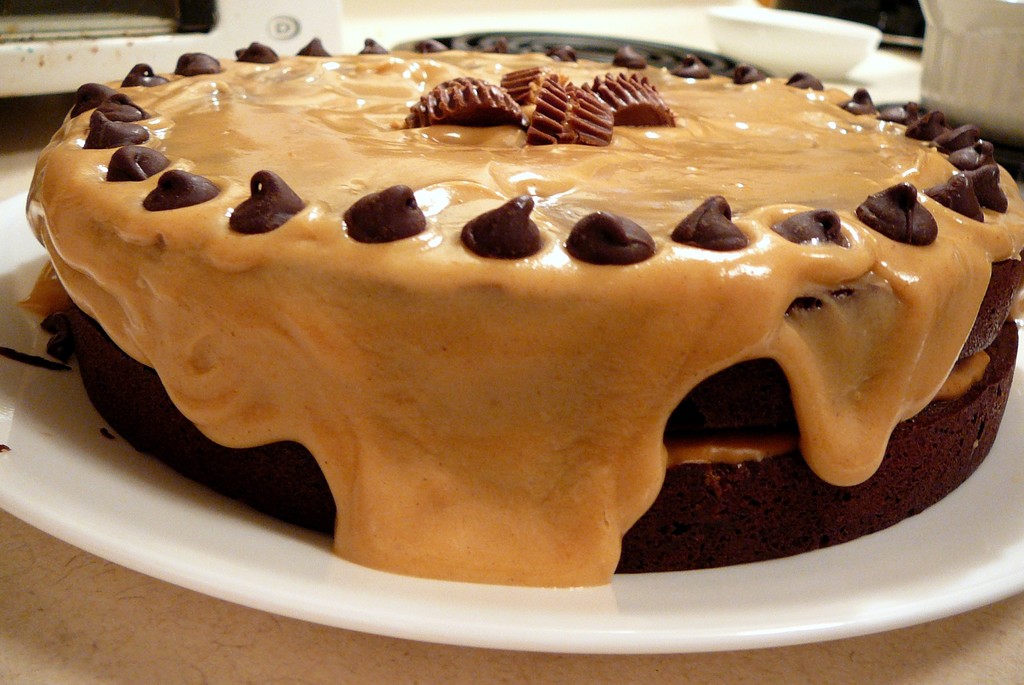 (Chocolate and Peanut butter cake)
source
My gastronomic guide ends with this, I hope you have now got a lot of desire to try all of these great dishes. If you don't want to go to a restaurant, at least try them out at home. I can only say one more thing about this: Bon Appetit
---
Photo gallery
---
---
Content available in other languages