Live broadcast of Trump briefings: Even Fox is fed up with it
The TV channel MSNBC cut the transmission of Trump's daily corona briefing for the first time. US stations are considering moving together now.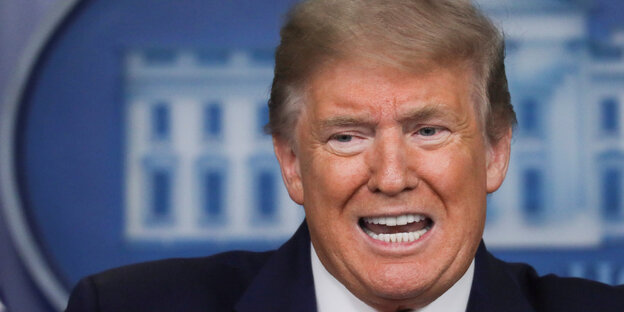 April 13: President Donald Trump in "conversation" with the media Photo: Leah Millis / Reuters
The show was great. Tucholsky's advice to a bad speaker was followed 150 percent. And then also the embarrassing film. No, not "Anne Will", she canceled because it was Easter. What is meant is the so many "White House Briefing" with a President of the United States of America. And Donald Trump was in shape.
In such a way that the US news broadcaster MSNBC broke off the transmission. Have you ever seen this before? A news channel cuts off the live talk of a US president, and moderator Ari Melber says, quite rightly, "We are now avoiding sending more of this White House Briefing." You never want to again. But it will happen more often.
"A toddler went into a fit of self-pity on Monday night live on TV. Unfortunately, it was 73 years old, wore a long red tie and ruled the most powerful country on earth, "sums up the Washington correspondent of Guardian, David Smith, performed together.
It is old hat that Trump insults and insults journalists and otherwise tells a stunner. Nevertheless, the daily Corona briefing from the "White House Press Room" on Monday marked a paradigm shift. Because Trump and his team served the press corps in the White House with their little films so crude misinformation and propaganda that the touched-away Trotsky appears almost subtle in the pictures of the Russian revolutionaries 100 years ago.
So cheap, so Trump
The reason was obvious: The "Fake News New York Times"(Original sound Trump) published a long" fake news "story (original sound Trump) on Easter Saturday about how much Trump's government wasted valuable time in the corona crisis and ignored the warnings of its own experts. Sure, that's why he has to get upset and change history, as with Orwell's 1984?
So cheap, so Trump. So there was a scientist who didn't think Corona was that important on any TV show in January. And a timeline that should show that Trump took the virus seriously from the start and acted decisively and courageously. When asked about the credibility of this quark, which was thrown out by the "White House Social Media Team", Trump went crazy. All fake that NYT, CBS and CNN anyway. "Everything we did was right," said the president.
So we come to the paradigm shift. Even Fox News didn't broadcast to the bitter end. Rather, there are considerations between the broadcasters not to broadcast the Trump show live at all. And that would be almost a happy ending.